Did you know there is technical difference between a baked 'crumble' and a 'crisp'?  Apparently, in a traditional fruit 'crisp' the topping would contain oats, but a crumble would not.  Yeah, I had no idea either!  Personally, I don't care what you call it as long as I get a big warm piece of it fresh out of the oven and WITH a big scoop of vanilla ice cream on top!  I swear, is there anything better?  I would take a fruit crisp or apple pie a la mode over ANY other dessert, any day of the week!
Now, I've been making apple pies and apples crisps for years.  They have been a family favorite for as long as I could remember.  As soon as the Fall season approaches, my family instantaneously requests some of my apple baking action.  I already knew that come Thanksgiving and Christmas, my regular double crusted Dutch apple pie would be making its regular appearance, but until then I thought I would hold them over with an apple crisp.  They are much easier to make than apple pie and equally delicious in my opinion!
However, to kick things off this year I wanted to step out of the box just a little bit and try something different.  Apples are great on their own, but I figured I would add in a different type of fruit for some extra flavor and color contrast.  Since both my husband and daughter LOVE plums, it seemed like a good option to pair with the apples we always use.  I already knew the deep, intense color of the plums would be an immediate attention grabber.
More on that filling in a minute though… can we take a moment and savor the perfection of this topping?  I could peel off that crisp topping and go to town!  SO amazing.  Crisp and crunchy on top, but all that fruity gooeyness is directly underneath.  Such a great combination of textures just in the topping.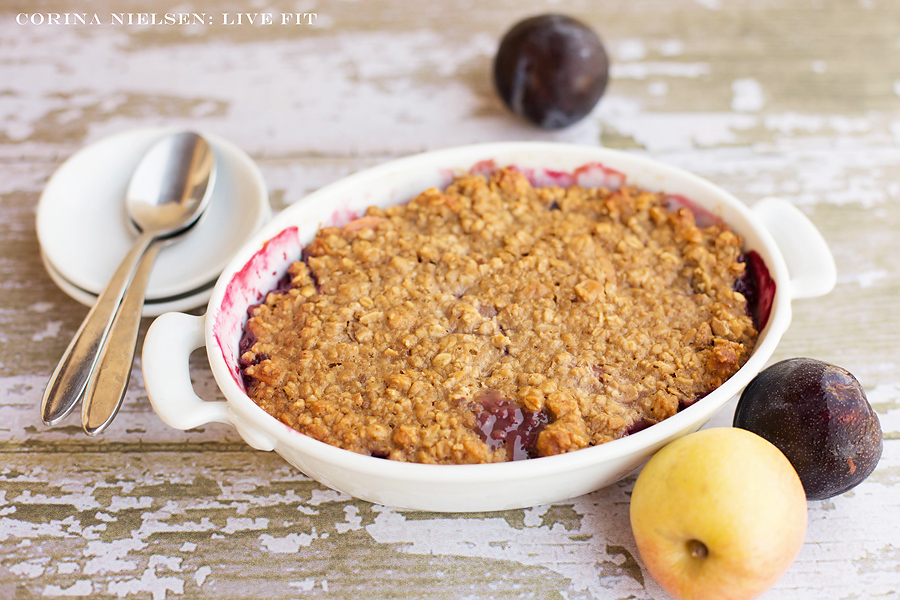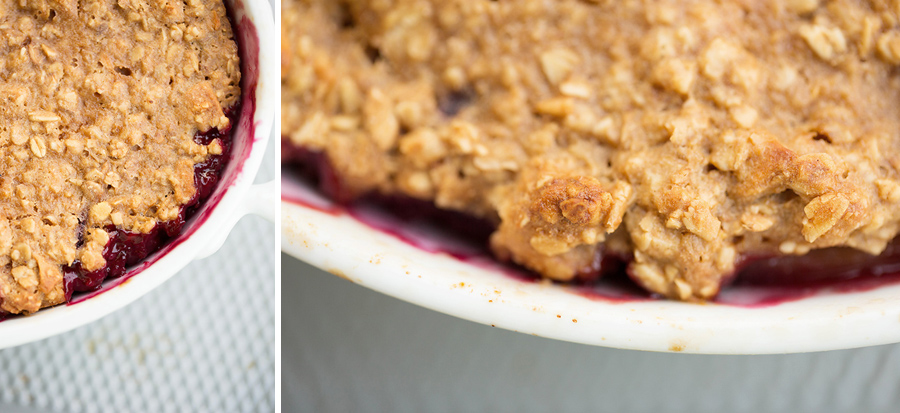 Once I looked past that perfect topping though, as soon as I took it out of the oven all I could see was that intense color bubbling around the sides.  It even seeped through in a couple of spots… so gorgeous!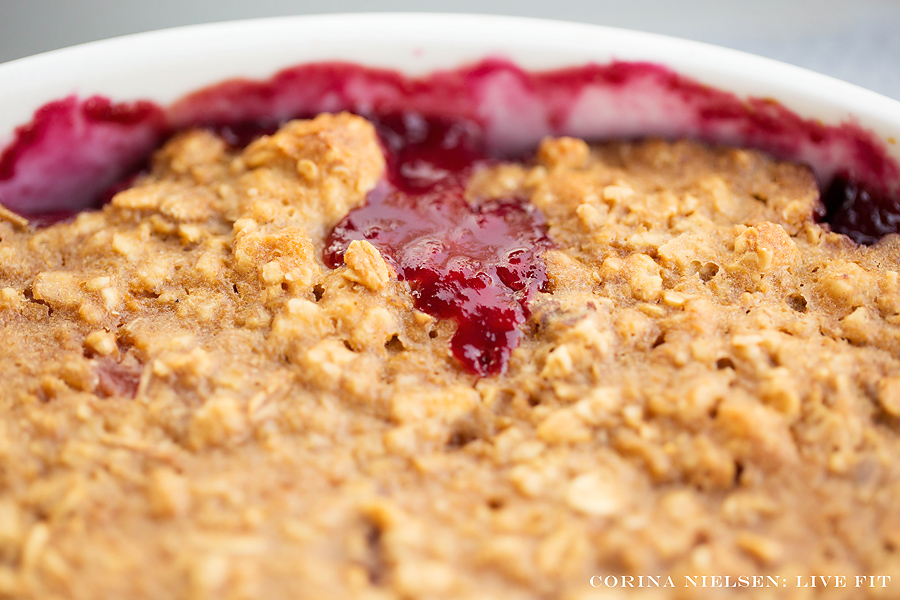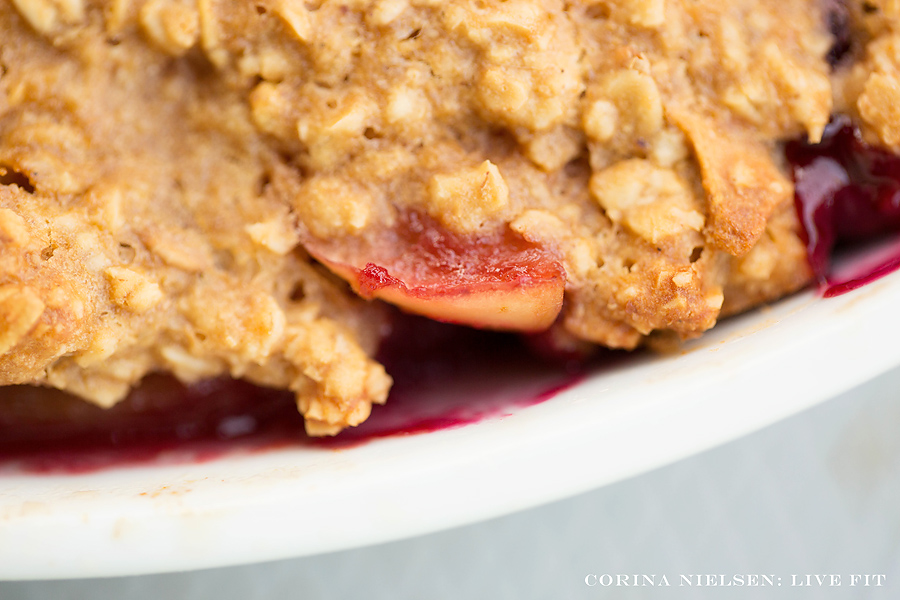 Time for that first scoop.  It was exactly as I had imagined.  Probably even better.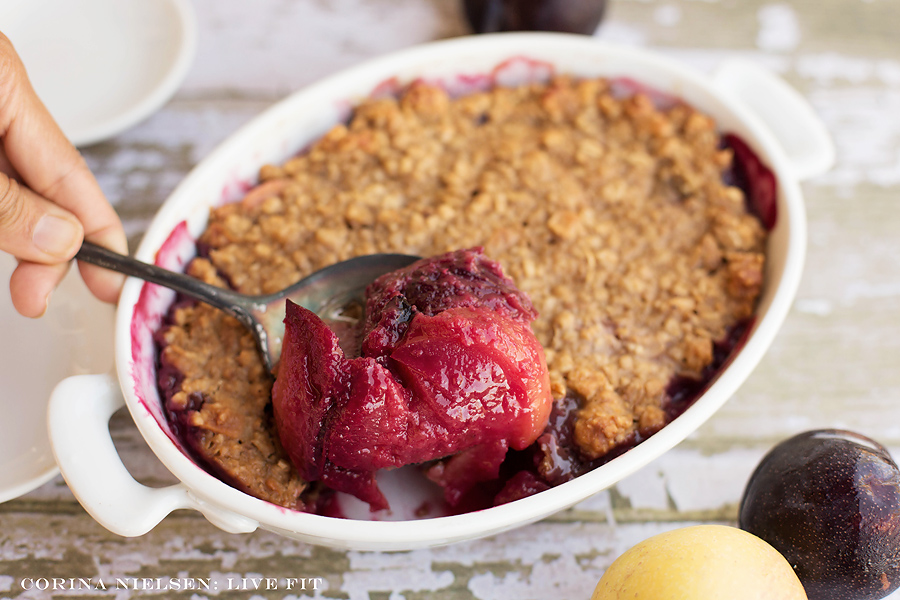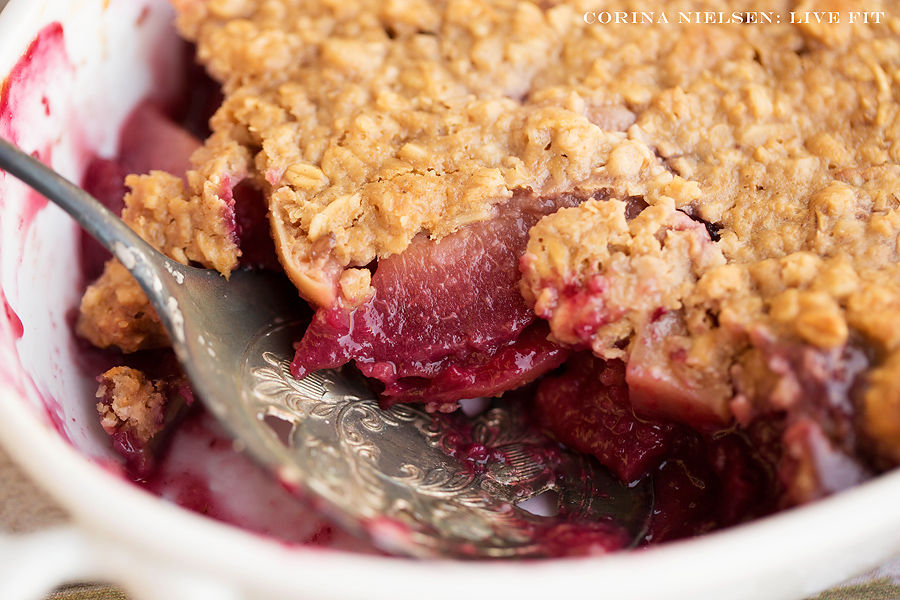 Of course no apple pie, crisp, crumble, or even cobbler could be complete without that scoop of vanilla ice cream right?  I usually let my ice cream melt for a couple of minutes.  That creaminess NEEDS to reach every bite!!!  There is NO other way in my opinion.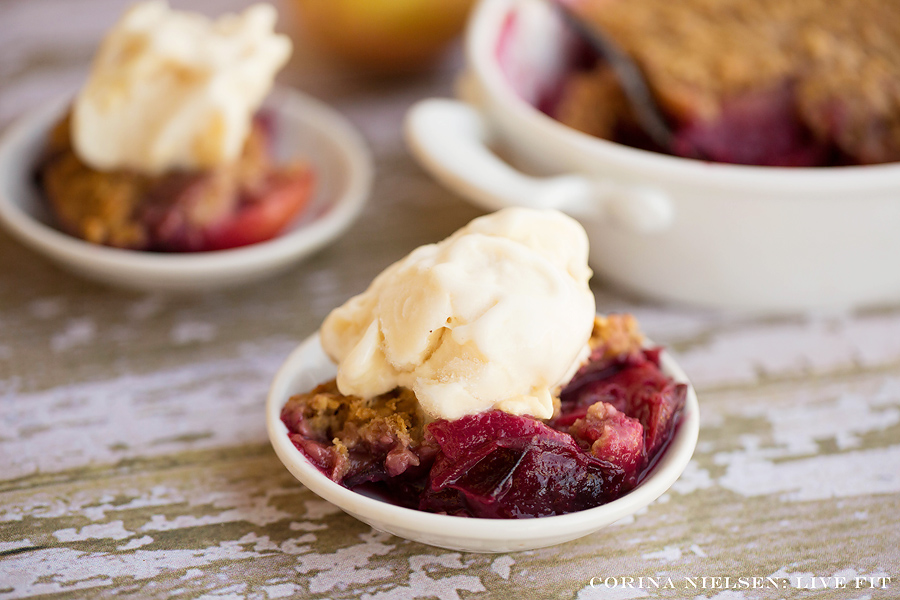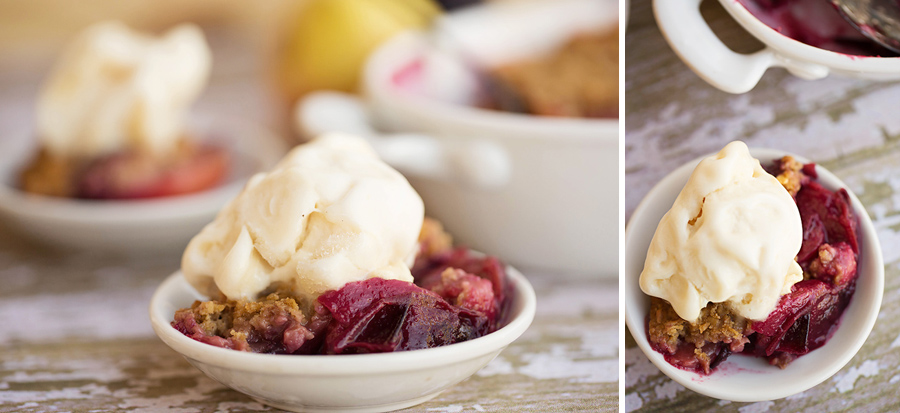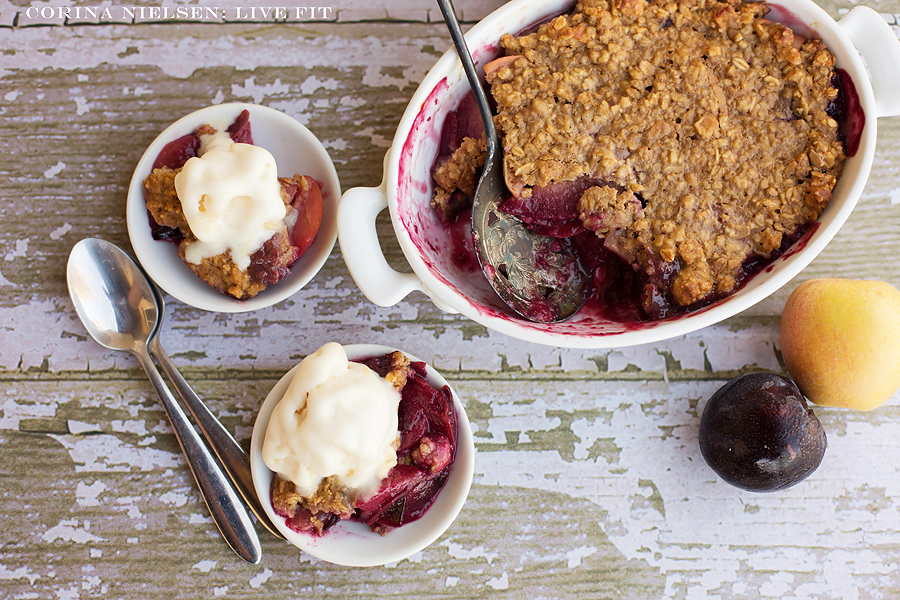 Nothing will ever take the place of my family's favorite apple pie recipe, but when I'm pressed for time and can't quite muster up the energy to bake a entire apple pie from scratch… this apple plum crisp will be a new go to alternative!!!
Apple Plum Crisp

Print recipe
| | |
| --- | --- |
| Serves | 8-9 |
| Prep time | 10 minutes |
| Cook time | 30 minutes |
| Total time | 40 minutes |
| Meal type | Dessert |
Ingredients
6oz Granny Smith apples (sliced)
13oz red plums (sliced)
1 tablespoon Sweet Leaf stevia or sweetener of choice
1/4 cup unsweetened applesauce
1 tablespoon butter or coconut oil
2.3oz 1 container Apple Kodiak 'Oatmeal Unleashed' (** TOPPING **)
2 tablespoons Kodiak Power Cakes (** TOPPING **)
1 tablespoon softened butter or coconut oil (** TOPPING **)
1 tablespoon unsweetened applesauce (** TOPPING **)
1 tablespoon Sweet Leaf stevia or sweetener of choice (** TOPPING **)
3 tablespoons milk of choice (** TOPPING **)
Directions
Step 1
Preheat oven to 350 degrees and coat a small baking dish with non stick spray. My dish was roughly 6.5" x 8.5" x 2.5".
Step 2
In a small sauce pan, add apples, plums, 1/4 cup applesauce, 1 tablespoon butter, 1 tablespoon stevia/sweetener. Cook under low-medium heat for 5-6 minutes until apples are softened. Stir occasionally. Turn off heat and pour mixture into baking pan and make topping.
Step 3
In a small bowl, add oatmeal, Kodiak mix, 1 tablespoon butter, 1 tablespoon applesauce, 1 tablespoon stevia/sweetener, and milk. Stir until well combined. Place mounds of topping onto plum/apple mixture.
Step 4
Bake for 30 minutes until crust is golden and fruit is bubbling. Serve warm with ice cream if desired.
Note
NUTRITIONAL INFORMATION (makes 8-9 servings): calories- 91, fat- 4 grams, carbs- 14 grams (fiber-2 grams, sugar- 8 grams), protein- 2 grams PER SERVING