'These gluten free lemon blueberry pancakes and prepped daily school lunches will change your life!  A healthy start everyday with a balanced kids breakfast and fueling nutritious lunches!'
Ok seriously.  Is it winter break yet?  Only nine weeks into this school year and I already feel burnt out!  Between school, after school activities, volleyball practice, volleyball tournaments, my husbands ridiculously changing schedule, major developments in my health, birthdays, starting acupuncture 2x per week, and doctors appointments sprinkled in… I for one and certainly ready for a bit of a break!  Thanksgiving is around the corner though and will be a nice precursor to Christmas vacation!  Can't wait to catch my breath a bit.  Soon, very soon Corina 🙂
Until I get a break in the clouds though, lets talk about another week of prepped breakfast for Makena!  One of our FAVORITE things to prepare are pancakes.  You'll probably see many variations and flavor combinations in this series because they are AWESOME!  Makena loves them because they are pancakes (duh) and I love them because they are FAST & EASY to prepare, especially with the help of a big griddle pan.  Make the batter (you can even do this ahead of your actually prep day and pop it in the fridge), preheat the griddle pan, and you can easily make a five day 'stack' in under 10 minutes!  The sausages only take about 5-7 minutes to cook so those usually go in a pan during the first batch of pancakes on the griddle.
This week we paired the pancakes with breakfast sausage (store bought maple turkey sausages) and two of Makena's favorite fruits… pineapple and strawberries!  Rotating fruits and vegetables is super important around here.  I always want to make sure I'm providing #1 variety and #2 a chance to soak in a wider selection of the nutrients found in beautiful, fresh produce.  This also reduces the chances of acquiring food allergies, intolerances, and sensitivities.  Fruit and vegetables (and food in general) are so abundant in our world today!!!  Each type of produce can offer our bodies something slightly different, it just makes sense to take advantage of all the selections we have!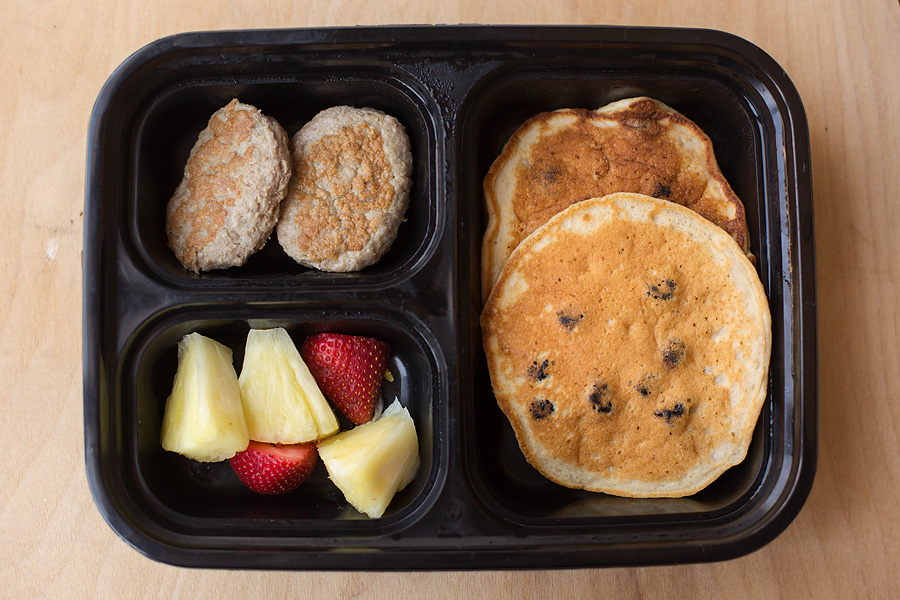 Two fluffy 4″ pancakes (perfect portioned for a child), two sausages for protein to recover and build her volleyball muscles, and fruit… because its awesome, delicious, and full of health benefits!  In the morning, we can pop the pancakes in the toaster (this is the BEST method for reheating because it gets them nice and toasted but still fluffy on the inside), microwave the sausages for 30-40 seconds, drizzle on some maple syrup, and done!  Breakfast is served for baby girl!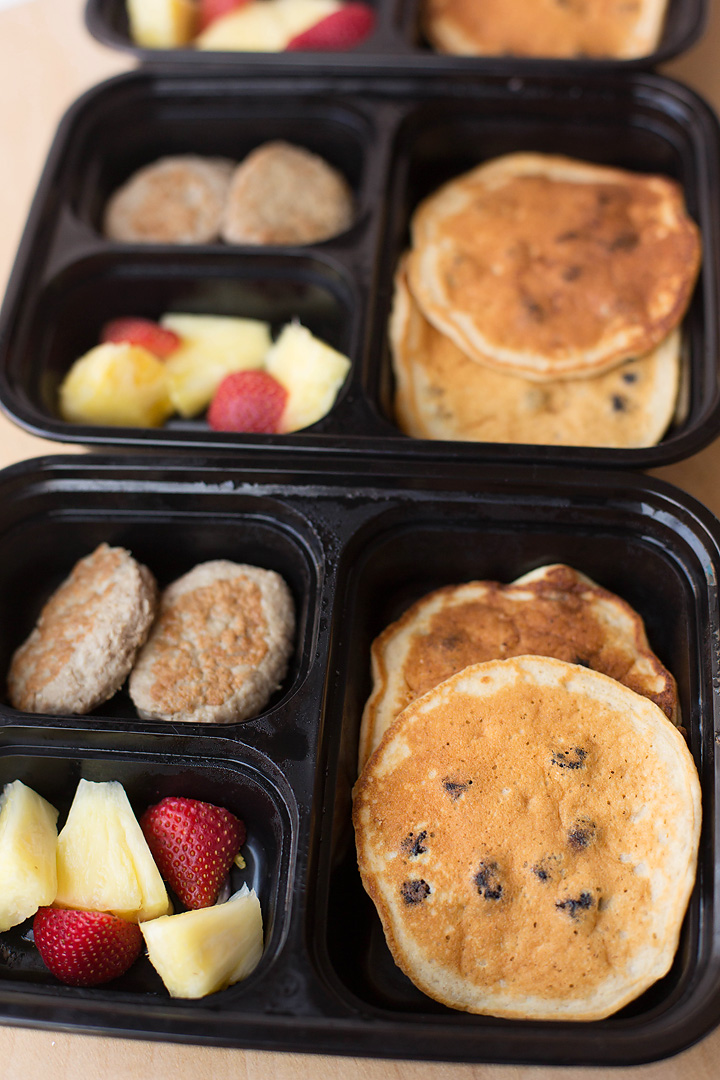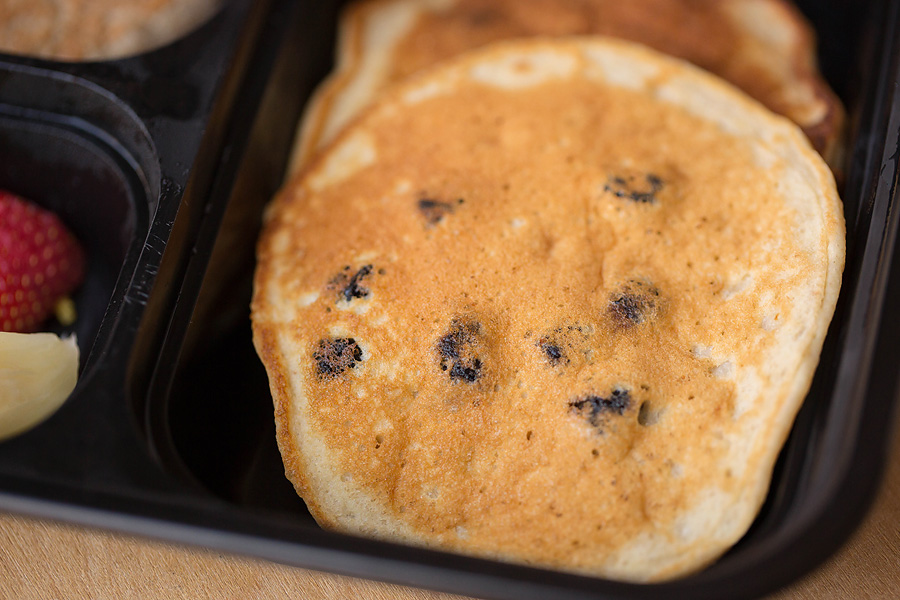 And FYI… when cooking sausages (or any meat for that mater), get your skillet nice and hot before you add them to the pan.  That sear and those grill marks on proteins are key!  They lock flavor and juices in AND are extra delicious to eat.  The flavor is so much more concentrated on the seared parts.  Not only that, they look better also.  Nothing worse than light brown or grayish looking food.  Yuck!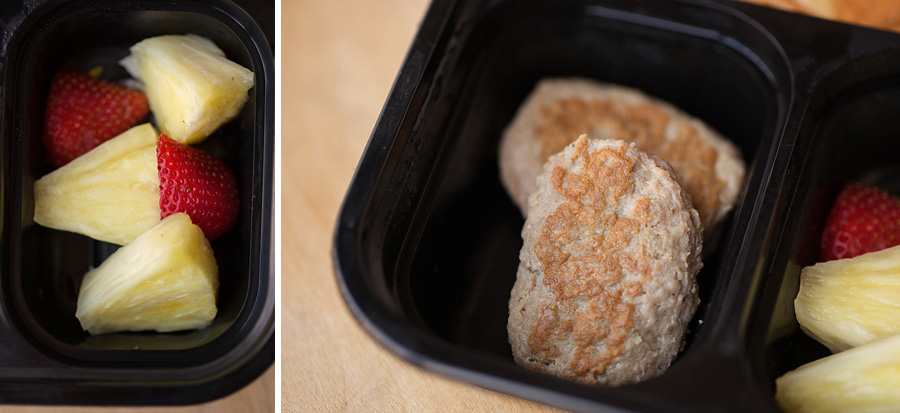 A couple of readers have asked why I only show four meals in all of my breakfast preps when school weeks are actually five days long… so funny to have noticed!  There is actually a reason behind that.  Sundays our family typically makes a BIG homemade breakfast each week.  Typically it includes scrambled eggs, blueberry muffins, and bacon (98% of the time).  I always prepare enough for Sunday AND Monday mornings.  This allows Makena to only get four days of the 'same' breakfast as opposed to all five days.  Saturday she usually grabs her own breakfast (she gets up earlier than we do), Sunday we make the traditional BIG breakfast, Monday we reheat the leftovers, and then Tuesday-Friday she has the four prepped meals!
See sometimes, I do think and there is a method to all the madness in my head 🙂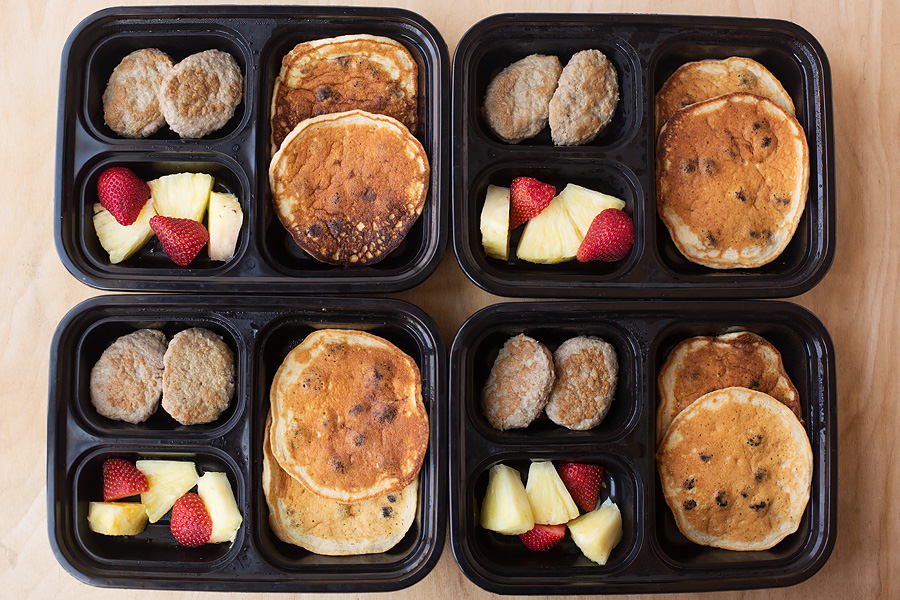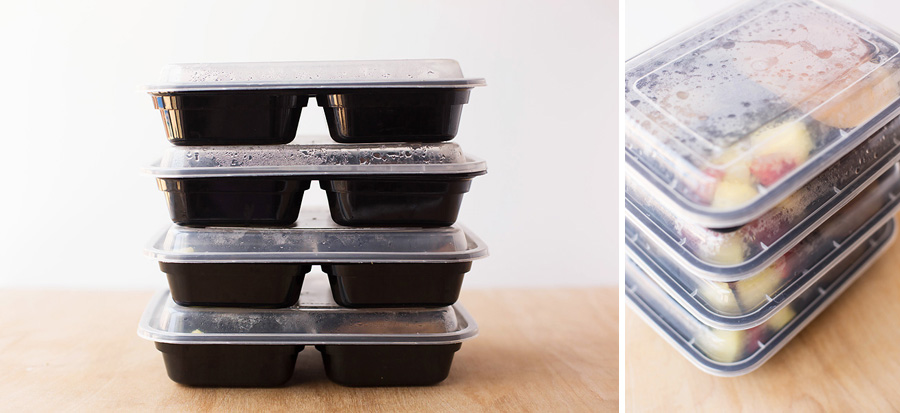 Breakfast done, here was lunch for the week:
MONDAY:
Salsa chicken wrap, carrots, kiwi, and Wheat Thins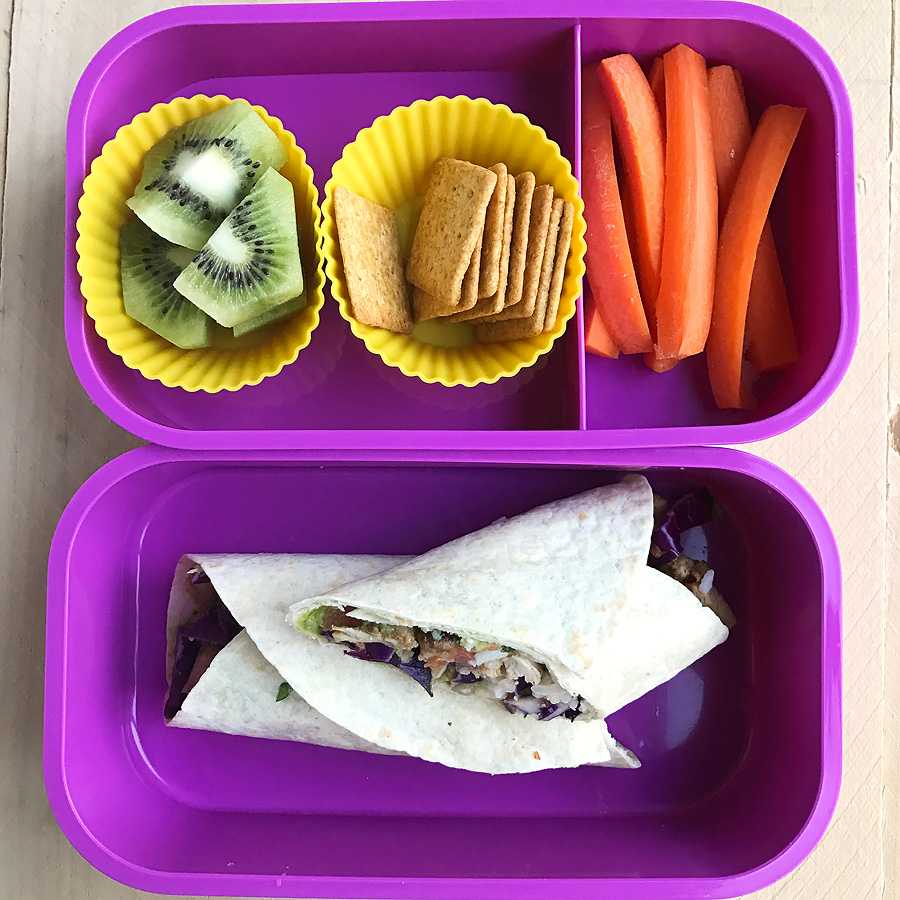 TUESDAY:
Greek chicken salad, Snackimals, Pop Chips, Trader Joe's fruit sauce

WEDNESDAY:
Leftover teriyaki chicken with rice and zucchini, popcorn, blueberries, and pistachios

THURSDAY:
Leftover BBQ chicken sandwich, blueberries, carrot chips, and brown rice chips

FRIDAY:
Leftover ground turkey burrito, sliced radish, homemade guacamole pesto, mixed berries

And now… back to work for me!  Shooting, deadlines, playdate this afternoon, volleyball tournament tomorrow morning (bright and early), and family meal planning for next week!  Never a dull moment around here!!!  Have a WONDERFUL weekend friends!
And here are all of the previous prep weeks right at your finger tips:
Find me on Facebook:

Find me on Instagram for daily food inspiration, ideas, and tips: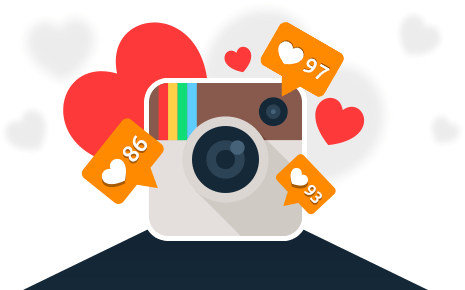 MY FAVORITE FOOD & MEAL PREP SUPPLIES