Instead of letting chronic illness steal my life away, I'm taking advantage of every single "good" day that I'm fortunate to have.  I never know when my body will shut down anymore, I have no idea what or where tomorrow's pain will be, but I refuse to give up!  
The last time I went MIA on social media and my blog, I found myself at one of the lowest points of my life.  5 months of constant, severe nerve pain and associated symptoms took a beating on me and I was left feeling vulnerable and defeated as 2016 began.  Despite my daily efforts to carry out even the most simple of tasks like bringing my daughter to school, grocery shopping, making meals for my family, or even taking the dog for a short walk I usually found myself having to decide on one "activity" each day.  If my daughter had volleyball practice one evening, I had to force myself to restrain from doing much while she was at school.  If I was going to attempt a 1 mile walk during the day it was only because we had absolutely nothing planned for the evening or the following day.  Through constant trial and error, many weeks of taking one step forward and five steps back, I achieved a new normal.  It wasn't an interesting or fun kind of normal, but I managed to find myself coping and "living" the best I could as I pulled myself out of the horrible place I was in emotionally and physically.
Because my "good" days were so far and few between, one of the most valuable lessons I have learned over the course of these last 8 months was to continue fighting to live.  And by "live" I mean cherishing each day I'm blessed to have.  I may have stumbled and fell 100 times, but eventually I ended up getting up 101 times.  So when it came time for our annual Lake Tahoe trip and my husband was suggesting we go ahead and cancel because it would be far too hard on me.  Considering I can only sit upright for 10-15 minutes at a time before needing to stand up for some relief, taking a long 8 hour to Tahoe seems like an impossible task.
However, after having a virtually flare FREE week at the end of February, I made the decision Tahoe would be a go.  I wasn't going to let the possibility of a flare cancel something that we look forward to.  This is a trip that means SO much to my daughter.  I would be smart and cautious, but I would NOT let my condition steal anymore from me.  If it came down to it and I ended up in a flare, I would get up that 102 time.  No question.
Lake Tahoe, here we come!
Before I share bits & pieces of our amazing trip, I wanted to share our "travel arrangements".  One of the main reasons why my husband traded out his Nissan Titan truck for a Chevy Tahoe was so that I would have a place to lay down anytime I needed while on the go.  Having third row seating became a necessity for us.  With my husband driving, kids in one row or one in the front seat, I'm able to take up an entire row all to myself.  Being #funsized definitely has its perks!!!  Although my husband may disagree, this was the easiest 10 hour drive ever haha!  Why didn't I think of this set up sooner?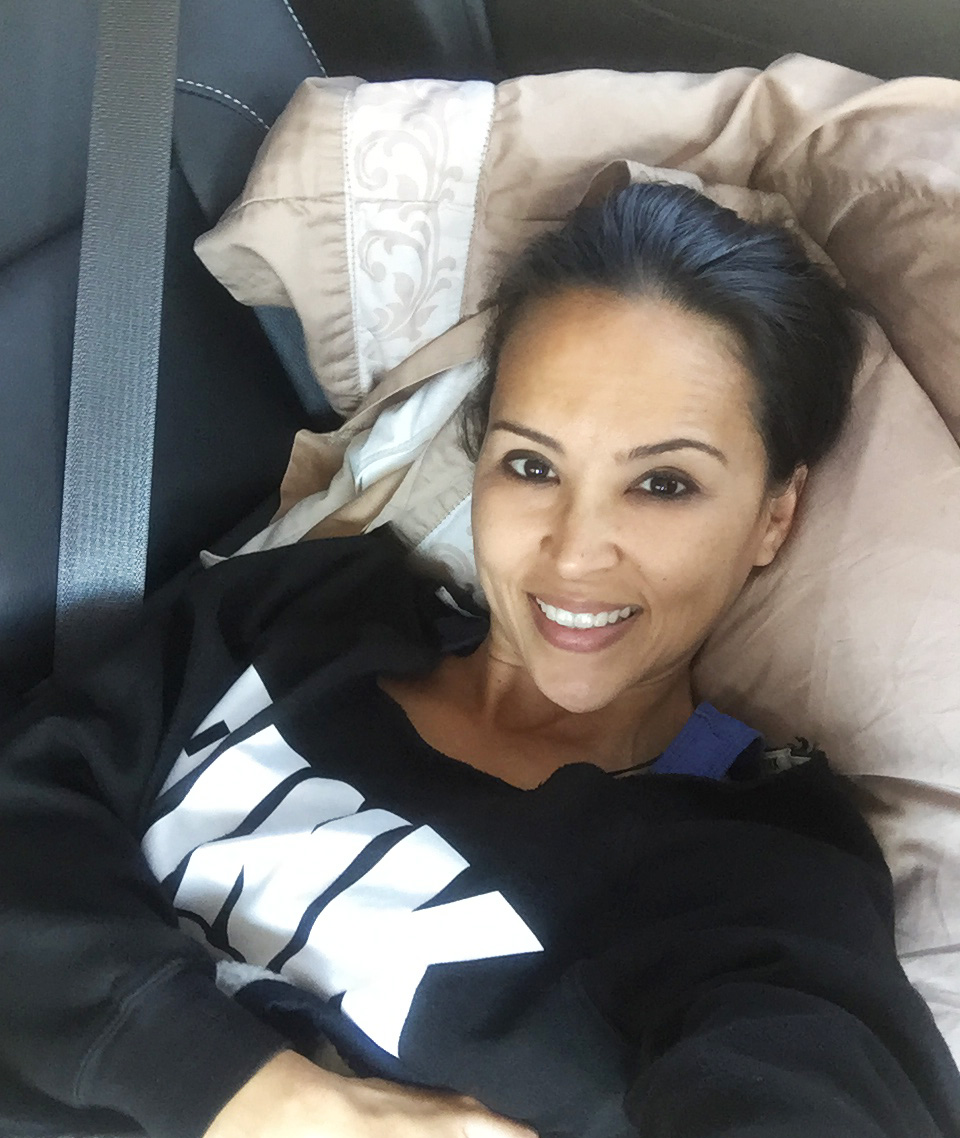 I realize this probably isn't the safest way to drive, but we did what we could weaving me in and out of the seatbelts to make sure I was fairly secured and safe.  Lots of pillows, a big comfy blanket, plenty of snacks to keep me fed… yeah, I could easily take this trip every month if I had to 🙂
After 10 full hours, traffic, lots of stops for bathroom breaks and stretching, rain, snow, and icy roads we made it to Lake Tahoe… with very little pain and NO flare up!!!  We had a quick bite, watched some TV, and turned in.  The next morning, we were greeted with fresh snow!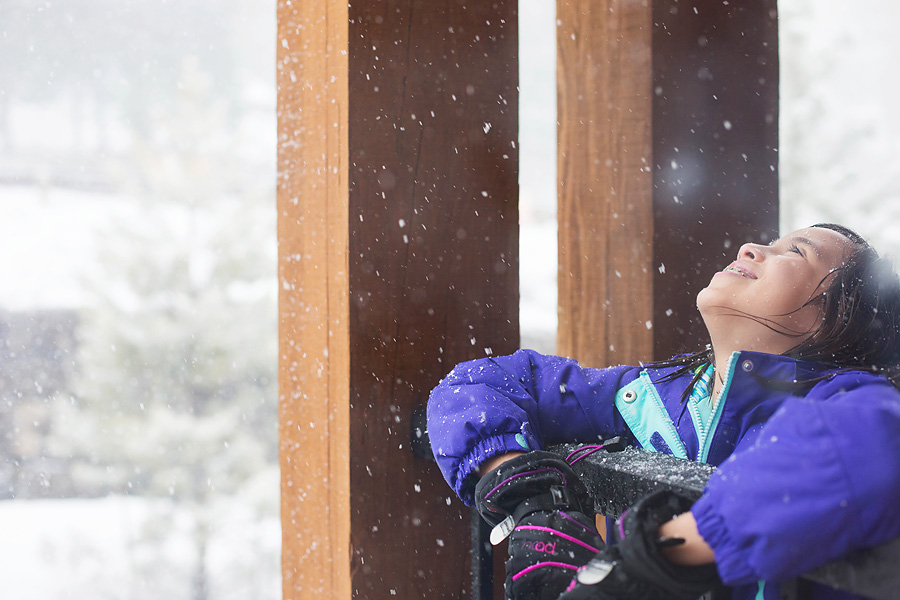 Even if I ended up in a flare or the drive home would do me in for a few weeks… this single moment made up for it.  Watching this beauty get SO excited about a few snow flakes would be worth it.  She couldn't stop smiling as she stood on our balcony in her pajamas the following morning.  She must have stood out there for 1/2 hour trying to catch snow flakes with her mouth.  Best.  Moment. Ever.  And one I will never forget.  THIS is why I had to force myself to take this trip!  I'll remember taking this photograph for the rest of my life.
Alright, lets see how much of this cold weather I can take.  Being born, raised, and living in SoCal my entire life… cold to me is 60 degrees!  I'm not made for this cold, wet, white stuff!  To help improve my chances of remaining flare free while battling these primitive conditions, one of the first things I packed for the trip was my portable heating pad.  With at least 4 sets of fully charged spare batteries, I hooked myself up and it was time to play!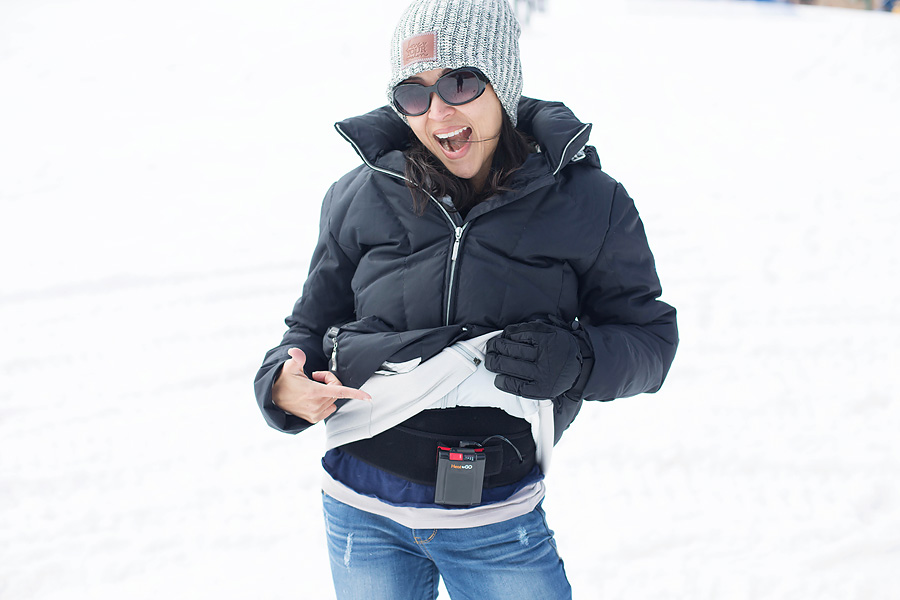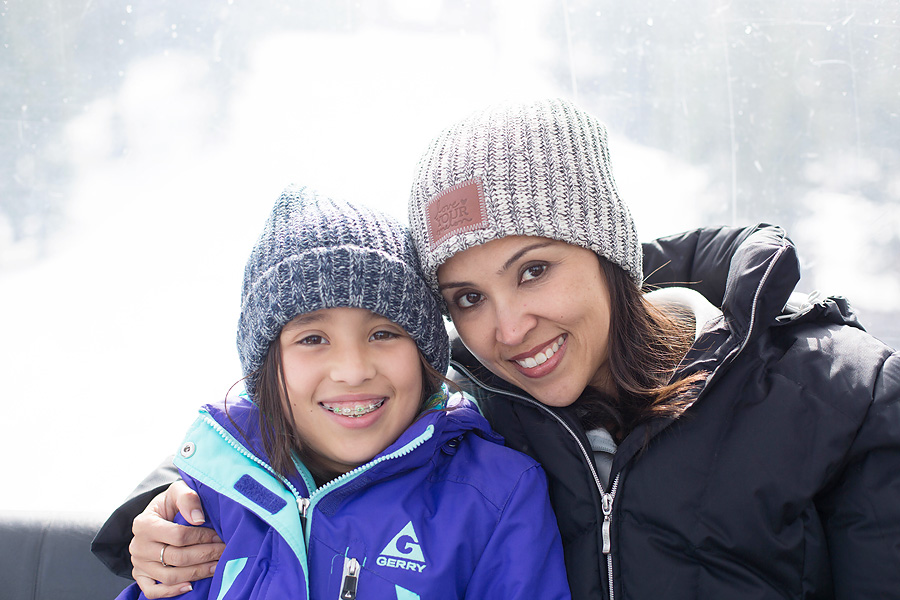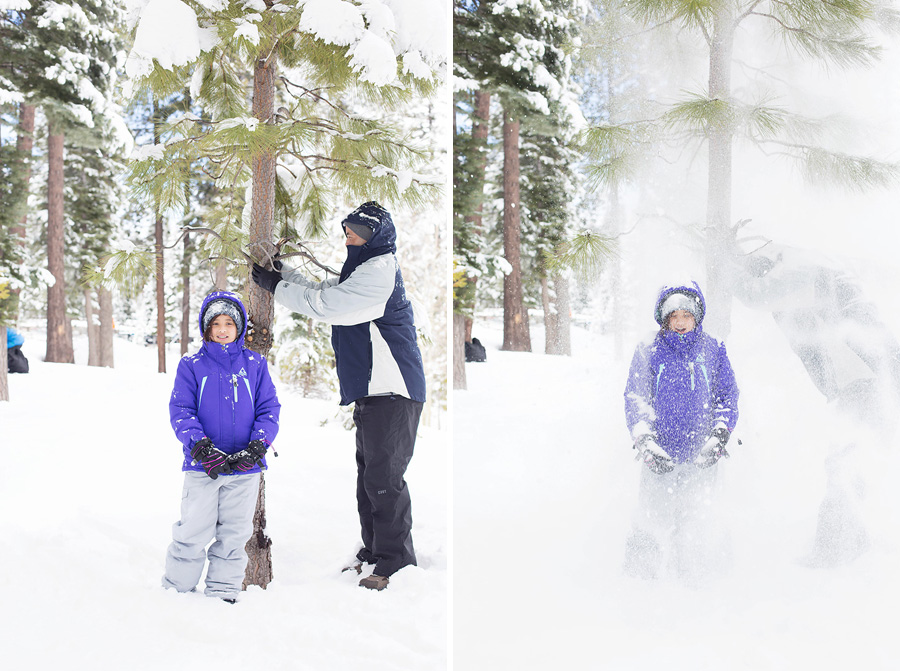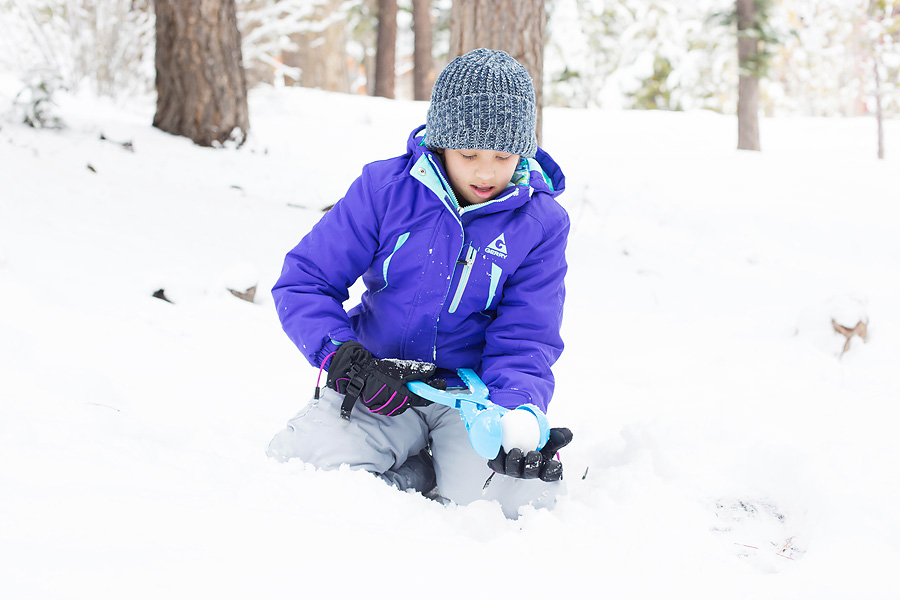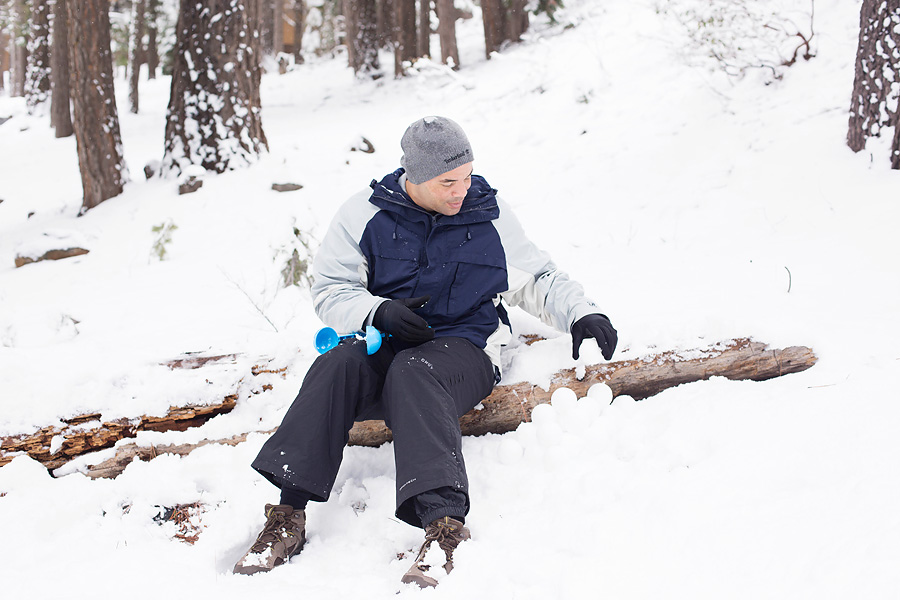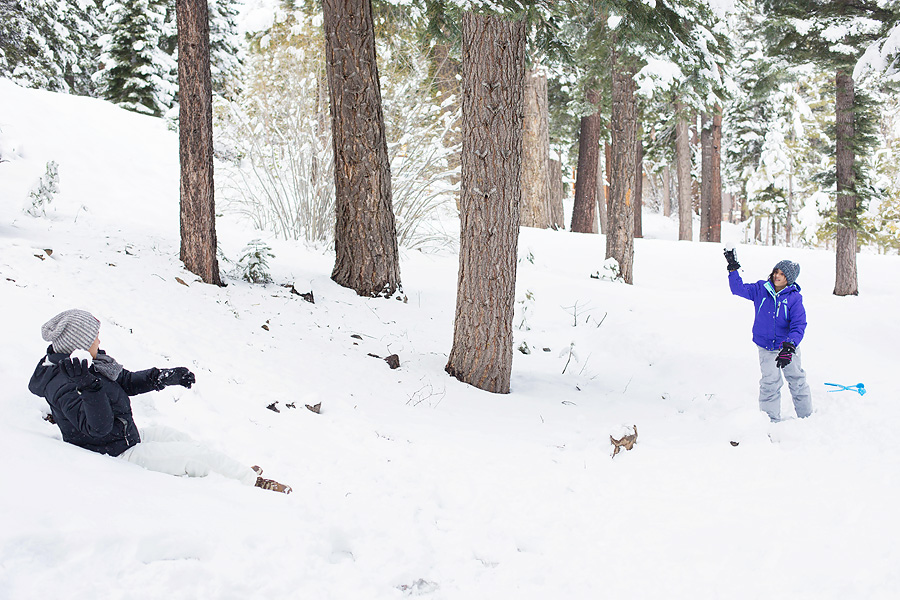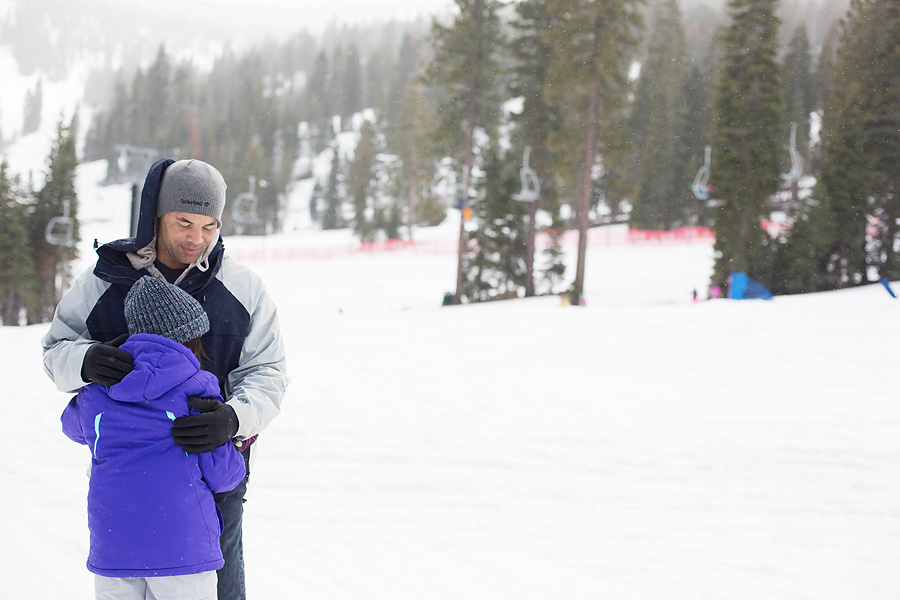 I moved slowly & carefully, alternated between standing/sitting/laying down/walking, changed my heat pad batteries as needed, and soaked up every single moment I could.  Making snow balls, throwing snow balls, making a snow man, and watching my daughter smile ear to ear nearly nonstop… yeah, whatever shape I come back to San Diego in… totally worth it.
An added bonus was having my birthday fall on our vacation week!  My husband and daughter even continued their tradition making me my birthday cake, but unlike previous years where the fire department may need to be called out for excessive candle usage I was lucky enough to only have four this year!  With extra thought and time spent on my wish… my 38th year was off to an amazing start!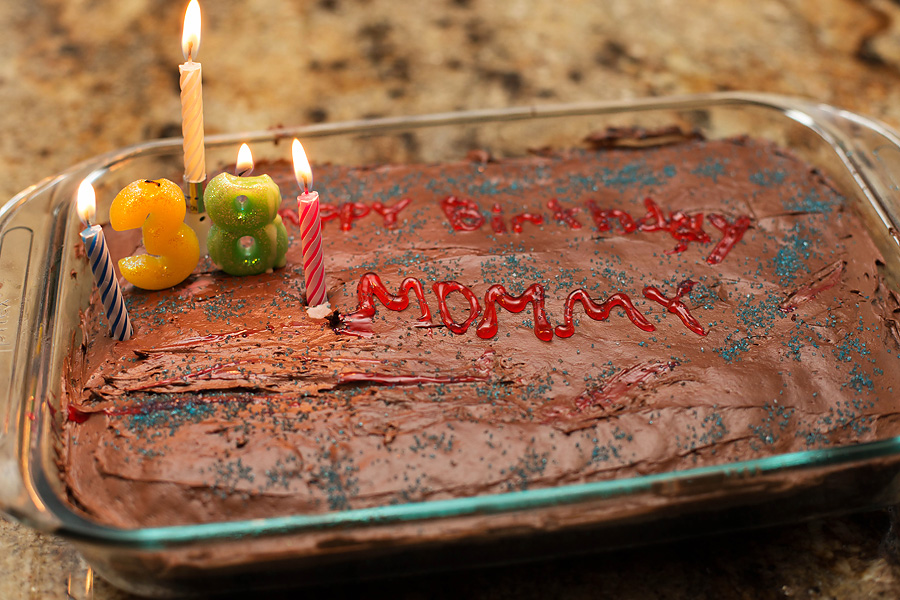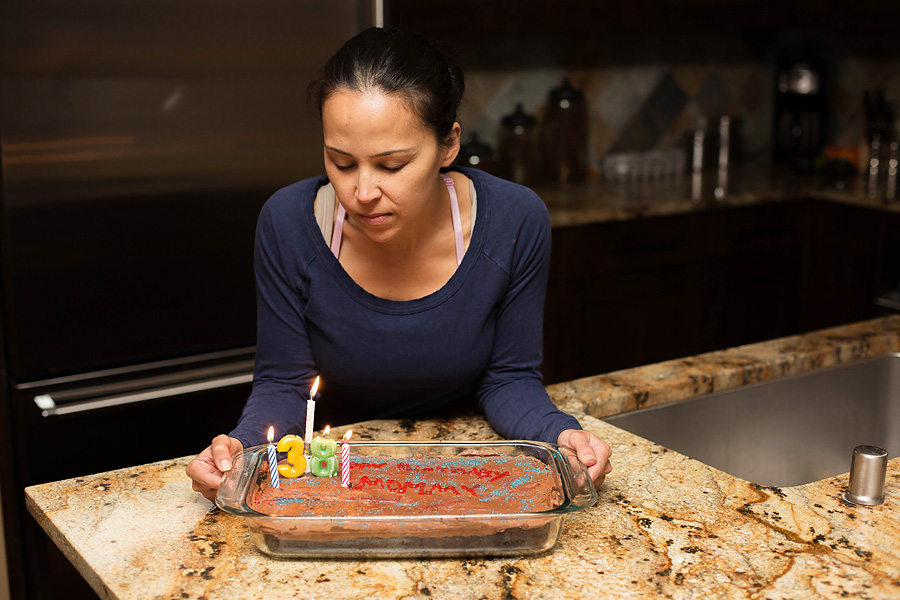 The entire week went off with only a few brief pain glitches.  I paid attention to my body, worked hard on cues it was giving me, took it easy when it was necessary, but never stopped enjoying the moments I was blessed with.  More fun in the snow, watching my husband and daughter together, and I even managed to sled down a very small hill a few times!  Pretty impressive huh? One month I'm telling my husband I can't handle life anymore and the next I'm having a snow ball fight.  Chronic pain/illness certainly is mysterious!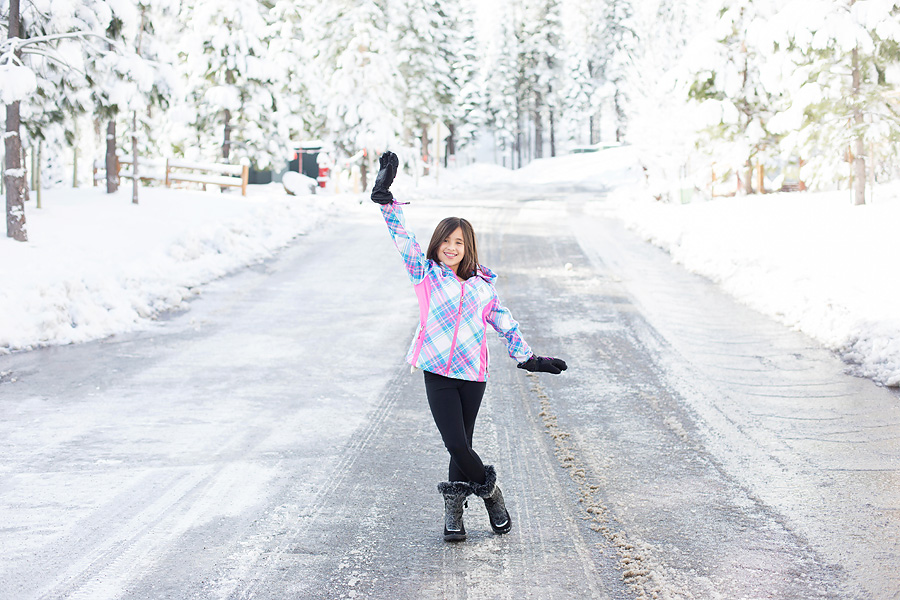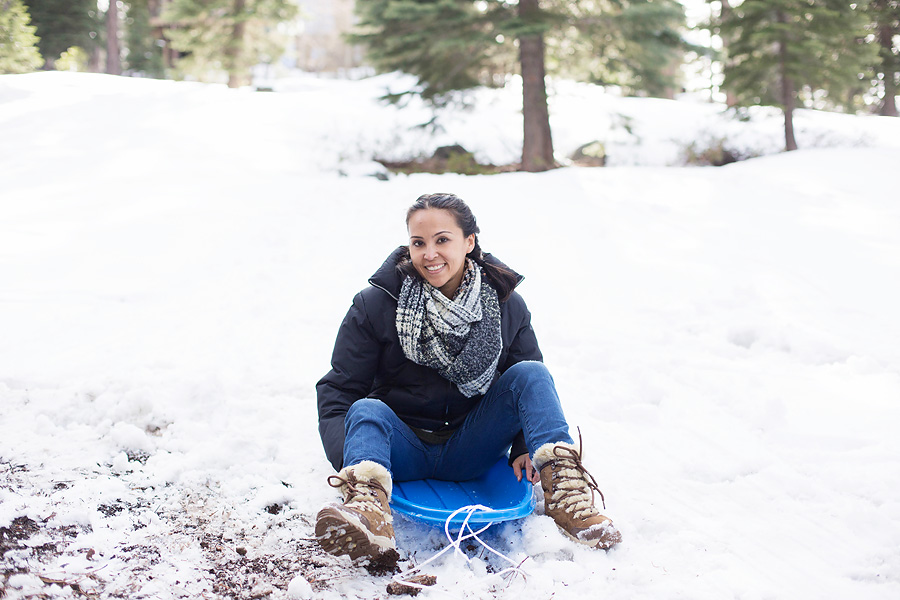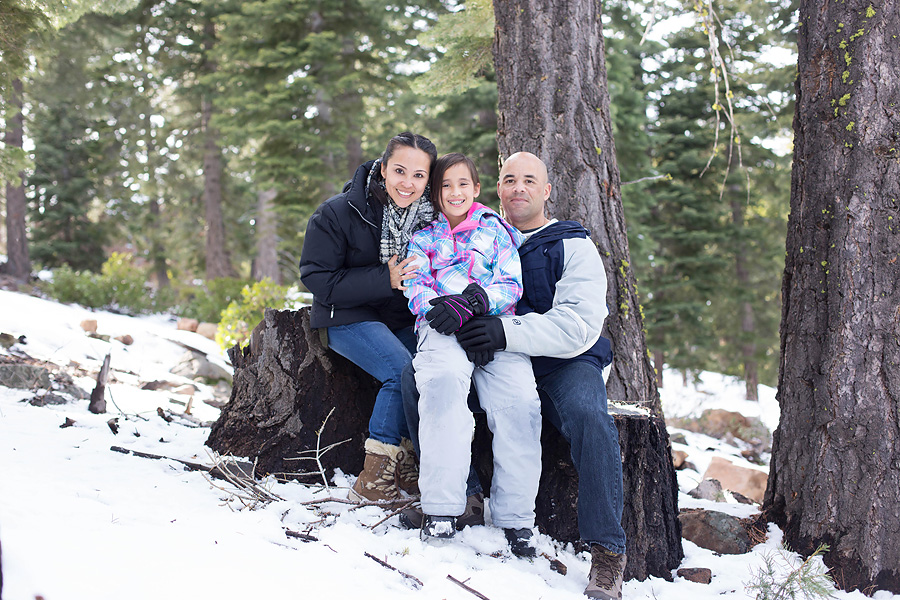 Since I was feeling so good, I decided to push my body a bit more and toss the volleyball around with my daughter!  We went over some serving, hitting, peppered a bit, and my husband took over when I needed a break.  This is definitely the most activity my body has had in over 8 months and boy, did it feel GOOD!!!
When we weren't enjoying the beautiful outdoors, we were either eating (my favorite activity ever), playing cards, or putting a puzzle together.  We had never done one before but the resort had a few available for their guests.  Never in a million years would I have thought we'd enjoy putting a puzzle together.  Not only did we complete this 1,000 piece one, my husband and daughter ended up finding two new fun puzzles on Amazon that were waiting for us when we got back home!  Still in shock how addicted we are to them now!!!  We've already completed four 1,000 piece puzzles in the past couple of weeks.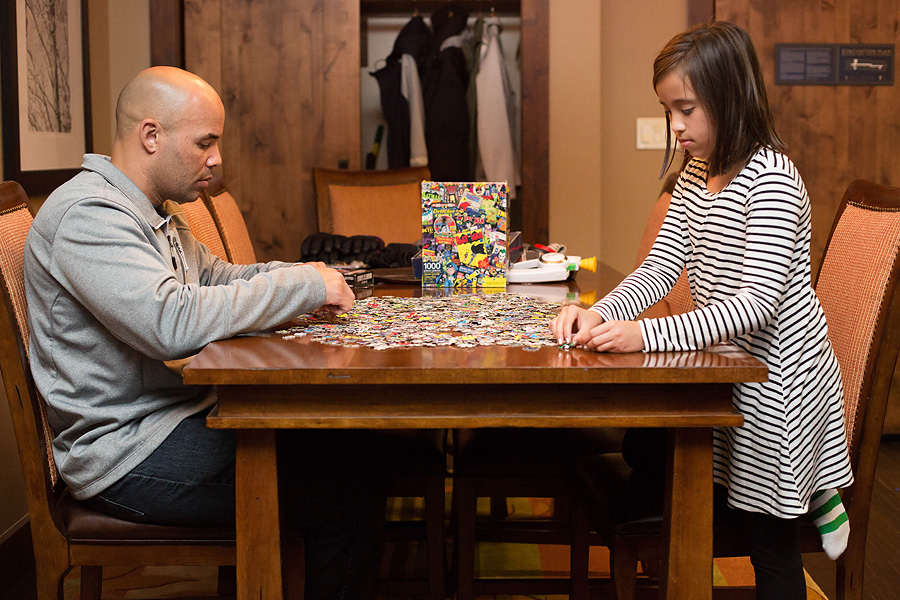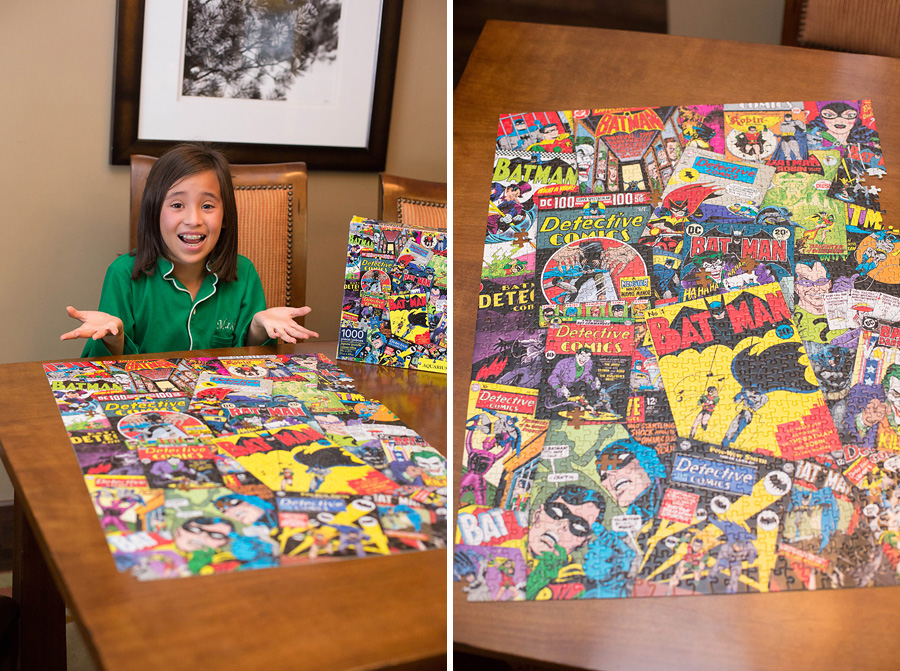 All in all… one of the BEST trips we have ever taken.  I know this sounds strange, but I feel like I owe these amazing experiences solely to my medical condition.  Because of this shit hand I have been dealt, I've also been forced to think about life differently, specifically how I want to live each and every day.  I've learned to appreciate ALL the good days, find the positive anywhere and everywhere I can, and capitalize on every single moment with my loved ones.  My life will be forever changed by these ridiculous spinal cysts, but I've finally begun to see beams of silver linings & light.  This Tahoe trip truly served as the catalyst to make even greater changes to my life and how I live it from now on.
Aside from the memories, the greatest take away I have coming out of this trip was the profound effect being "unplugged" has.  It wasn't necessarily intentional, but my mind set has changed so much over the course of dealing with my medical condition.  I used to be glued to my phone, feeling the need to see what everyone else was doing, feeling the need to share what I was doing, posting on social media just because I felt I had to.  Almost immediately as we arrived in Lake Tahoe, I began to notice this shift with the relationship with my phone.  Longer periods of me having no idea where it is, not feeling an overwhelming need to post (or even look) at social media, being perfectly OK with not having my phone on my at all times.  Even after being back an entire week, I truly have no desire to post or scroll.  To be perfectly honest, the few short times I have logged in to social media it rarely takes more than 1-2 minutes before I think to myself "Why?  Why am I reading this?  Why am I here?  It's not bringing me any type of joy or happiness and I'm actually feeling increasingly more annoyed the more time I spend on my phone."
Being unplugged… it's a very good thing.  Good for the mind and the soul.  Give it a try.  Profound positive effects await you!
I feel good.  I feel free.  I feel blessed.  I feel thankful.  I feel re-energized to continue fighting to LIVE!!!  This Lake Tahoe trip has set the tone for the rest of 2016.  I will NOT be defeated and I will continue to get up every single time I am knocked down.  I owe this to my family AND to myself!!!