Skip the Asian take out with this healthy and delicious one pan, Whole 30 approved dish that is ready to eat in under 30 minutes!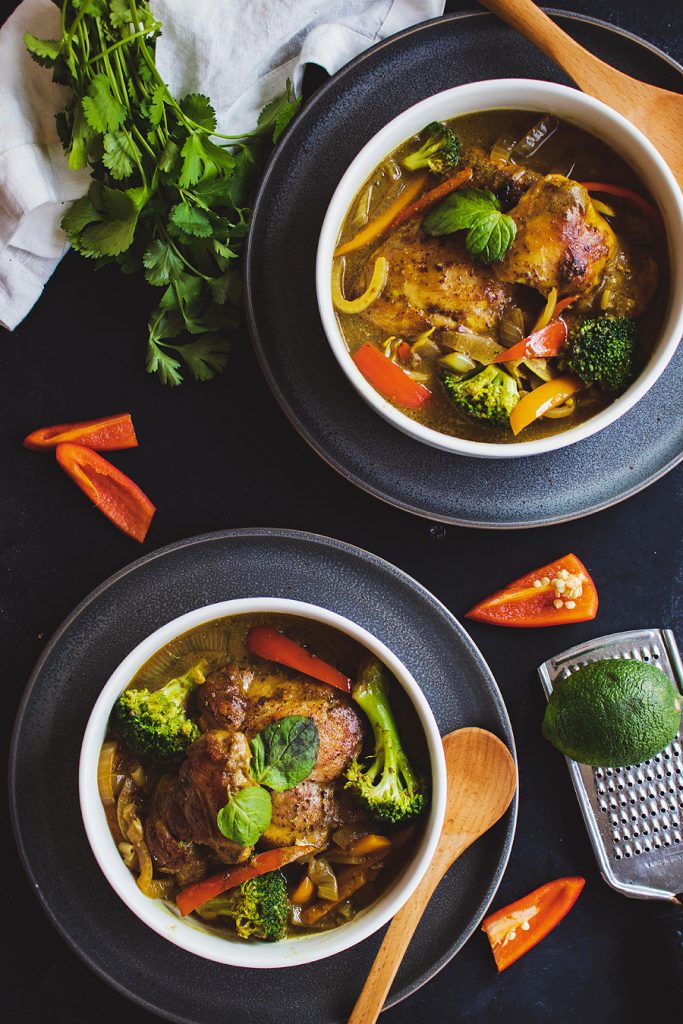 This has to be one of my favorite one-pan meals of all time.  It's all of the things you want in a main course. This gluten free chicken skillet meal is QUICK to prepare, hearty, tangy, sweet, creamy, with just a hint of heat (I am a wimp when it comes to spice).  My love for this meal runs deep.  However I actually do not make it very often simply because my family is not a fan of anything curry or coconut related.
Party poopers.
The good news is that when I do make it, the entire skillet is ALL mine!  Mine, mine, mine.  What I normally do is make a batch on a meal prep day, have a fresh serving for lunch, and then portion out the leftovers for the following few days.  This coconut chicken curry is amazing fresh out of the skillet, but also reheats beautifully.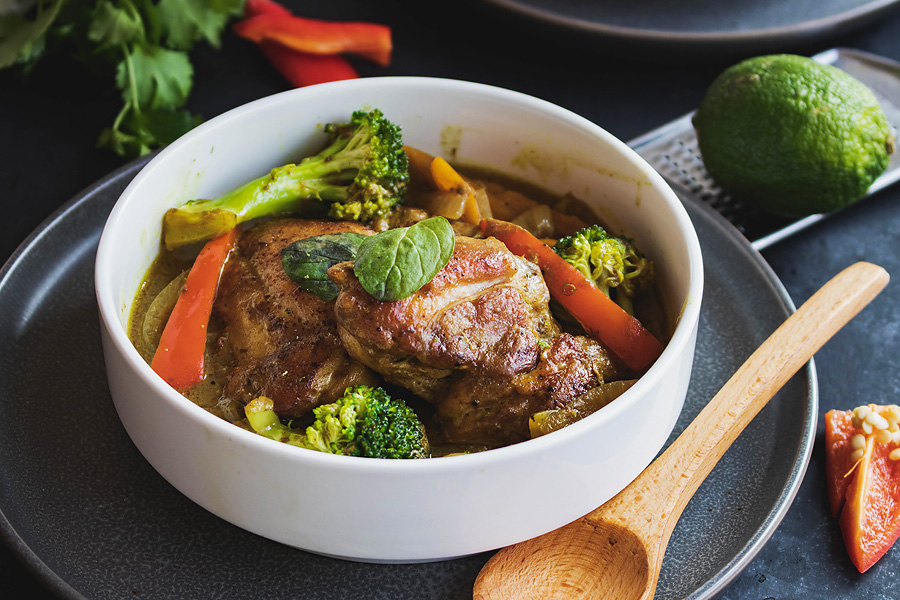 The Chicken:
This meal is very "forgiving" when it comes to the cut of meat you use.  Skinless chicken breasts will do you just fine.  They are easy to find and most people have them on hand at any given time.  However, my favorite option is chicken thighs simply because they are far more flavorful and provide a richer, deeper taste.  Using skin on chicken thighs is even better because really, who doesn't love that salty, crispy bite?  Therefore, the first option is chicken thighs!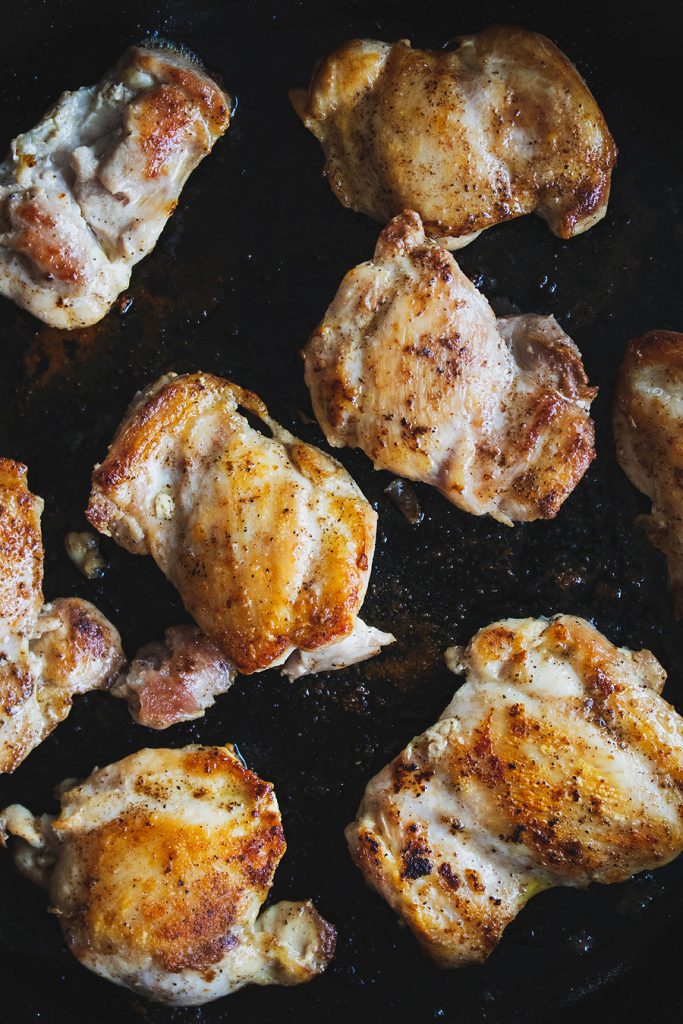 The Coconut:
Full fat coconut milk can be found at any regular grocery store these days, but coconut cream is a bit more difficult to track down.  I prefer coconut cream in this chicken curry dish simply because it is doesn't separate the same as coconut milk does.  It is also a bit smoother and adds just a touch more natural sweetness.
The Veggies:
The skies are the limit with your vegetables in this dish.  Red bell peppers and onions add a great crunch and sweetness, but even if you do not have those on hand really anything will do.  Carrots would be great, peas, snap peas, zucchini, or even add cauliflower rice to the skillet.  The more color, the better though.  For added nutrients, you could also stir in a couple of handfuls of greens.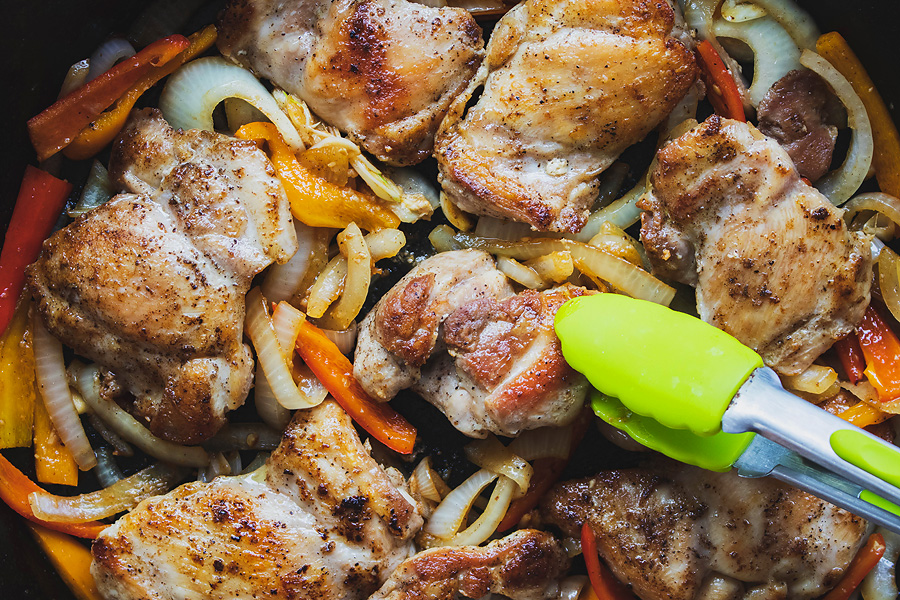 Another HUGE bonus to this dish is it's cooking versatility.  I prefer it as a one-pan skillet because you get more variety in textures, but this can easily be adapted for your Instant Pot or slow cooker as well.  This coconut curry chicken recipe would make for an AMAZING soup as well.  Just add 2-3 extra cups of chicken stock and you are well on your way to the best ONE-POT meal!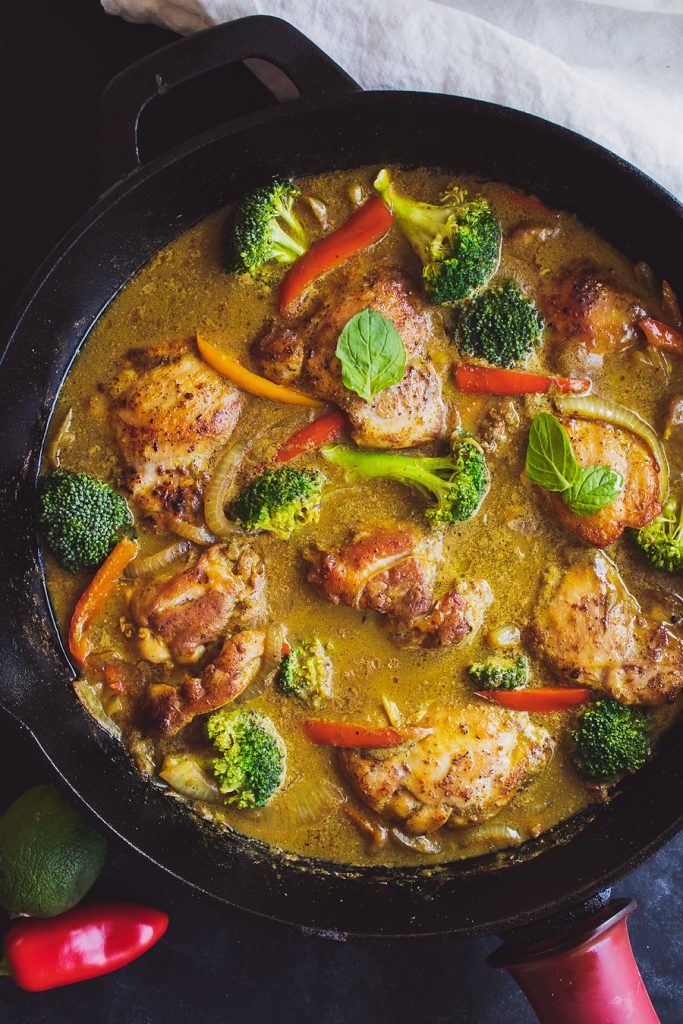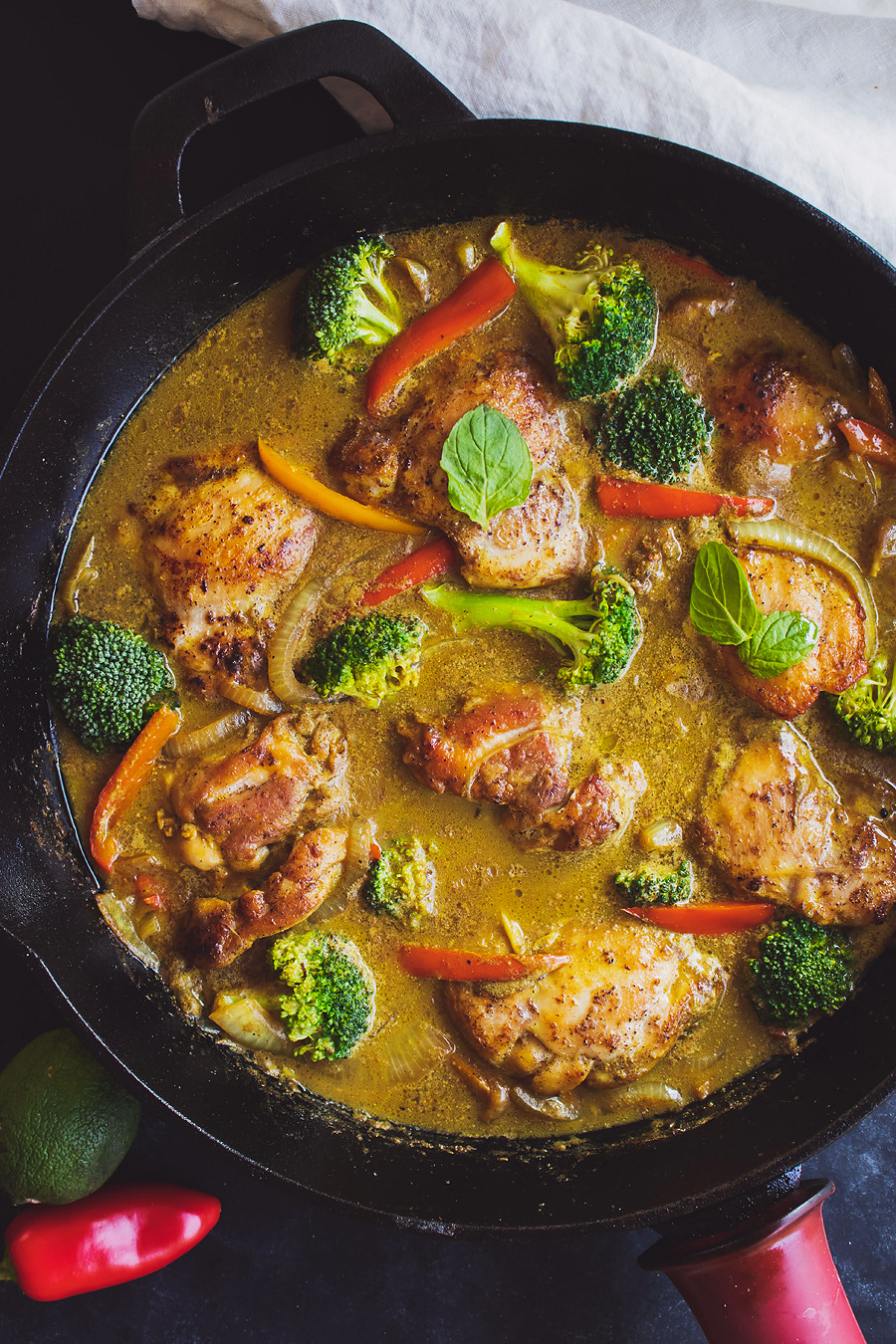 The next time you get a craving for Indian food, Thai food, or any other kind of food… this one-pan coconut chicken curry will satisfy all of your tastebuds.  Serve this over fluffy white rice, cauliflower rice, or enjoy this as a Thai curry soup!  It honestly won't matter how you have it, just have it!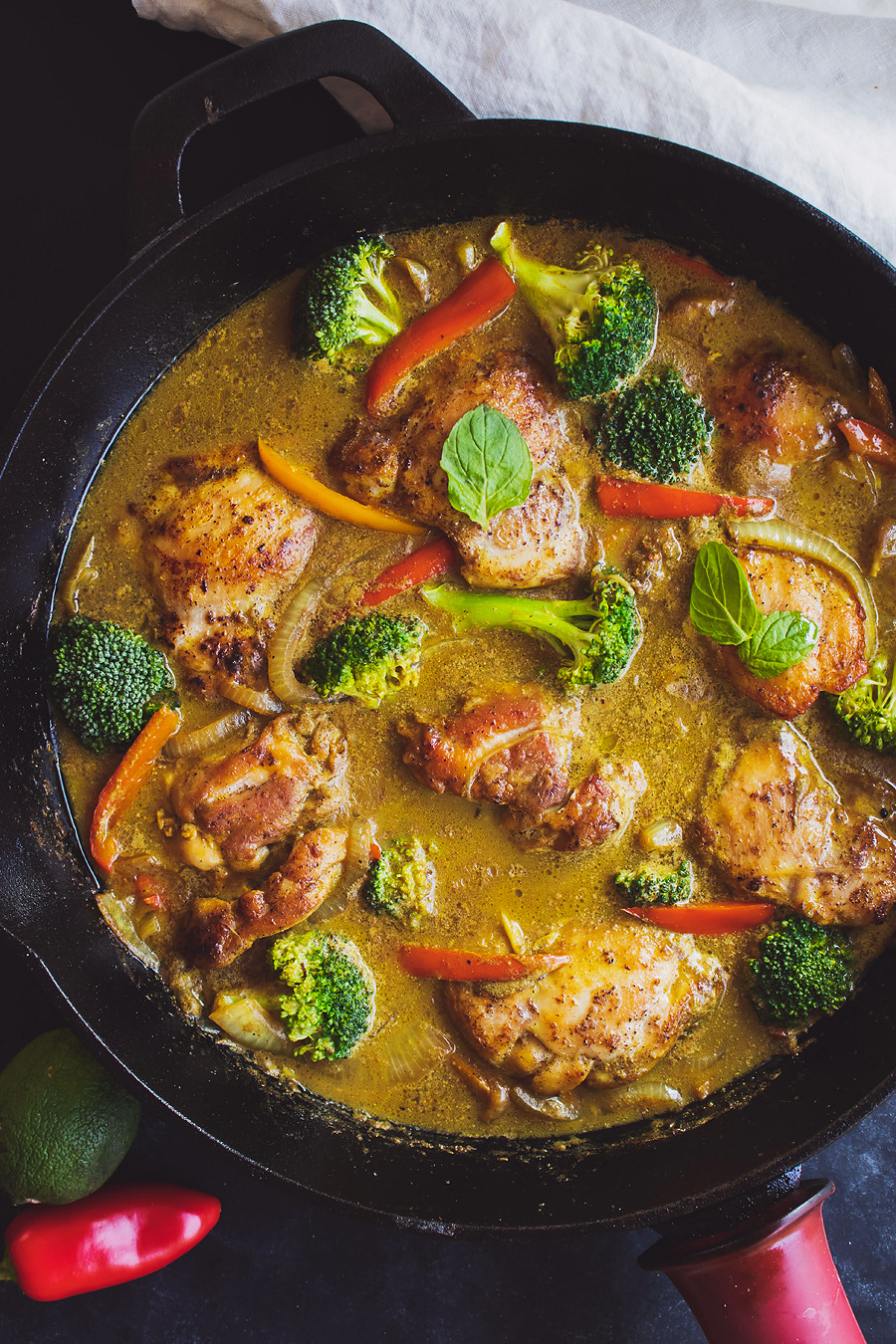 Print Recipe
Coconut Curry Chicken Skillet
Ingredients
1 tablespoon butter of ghee or coconut oil

8 chicken thighs

1 onion, finely chopped

1 red bell pepper, thinly sliced

3 garlic cloves crushed

1 teaspoon fresh ginger (grated)

1 teaspoons Garam Masala seasoning or curry powder

1 teaspoon ground coriander

1/2 teaspoon ground cumin

1 teaspoon ground turmeric

1/4 to 1/2 teaspoon cayenne pepper or chili paste (optional for heat)

14 ounce can coconut cream

1 cup chicken broth

1 teaspoon Lakanto Monk Fruit Sweetener or 3-4 drops liquid stevia or 1 teaspoon honey

2 tablespoons lime juice

1 1/4 teaspoon salt

1/2 teaspoon black pepper

1 pinch red pepper flakes

2 cups broccoli florets

2 tablespoons fresh cilantro, chopped
Instructions
1
Melt butter/ghee in a large skillet under medium-high heat on your stove top. Lightly season chicken on both sides with 1/2 teaspoon of salt and 1/4 teaspoon of black pepper. When pan is hot, add chicken (skin side down). Fry the chicken on both sides until golden and crisp, remove and set aside. Chicken does not have to be cooked through.
2
Add the sliced onions and bell peppers in the same pan and cook until soft and translucent then add the grated ginger, garlic remaining salt, pepper, red pepper flakes, and other spices. Fry for another 30 seconds until fragrant.
3
Pour in the coconut cream and sweetener, heat to a small simmer. Add the chicken thighs back into the pan and turn down the heat to medium-low and cook for 15 minutes.
4
Add in broccoli florets and cook for an additional 5-7 minutes until they are tender.
5
Divide and portion, add a squeeze of lime juice and chopped cilantro to serve.