It was so difficult to pick which recipe I would share first on this new blog.  I have been playing in the kitchen and testing things out for weeks now, working up the courage to bite the bullet and just start posting!  I'm really looking forward to sharing my journey,my food, my photographs, and my thoughts with you!  I knew the first recipe had to be a good one, so this is what I chose for this special day!
I knew I couldn't go wrong with a chocolate oat cupcake and cookie chip dough right?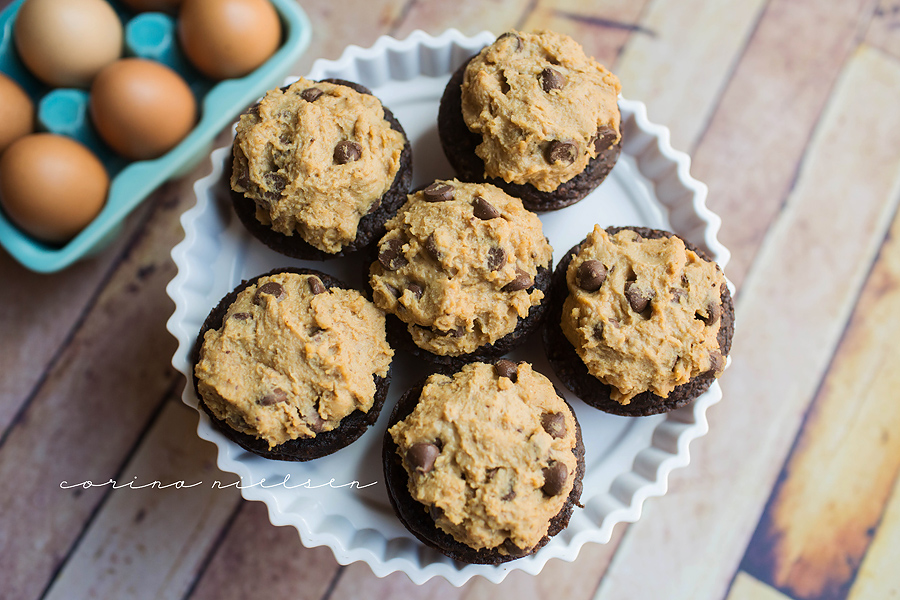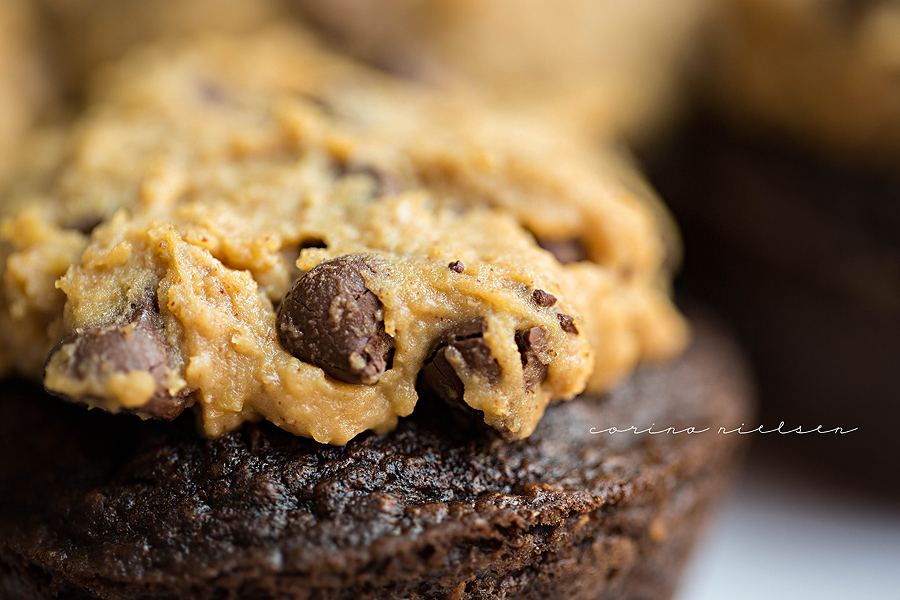 Crap, these look so good… I wish I had more right now!  I'm literally drooling right now…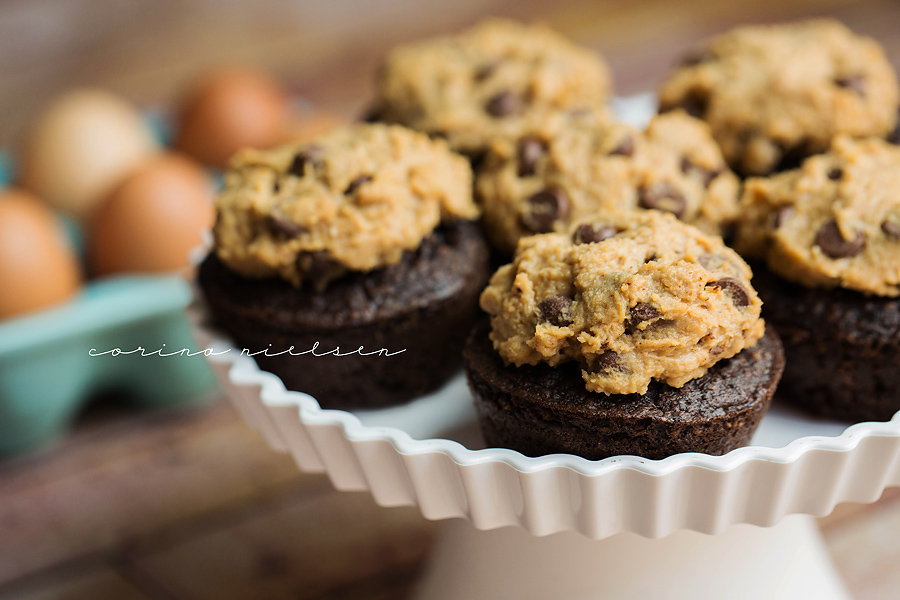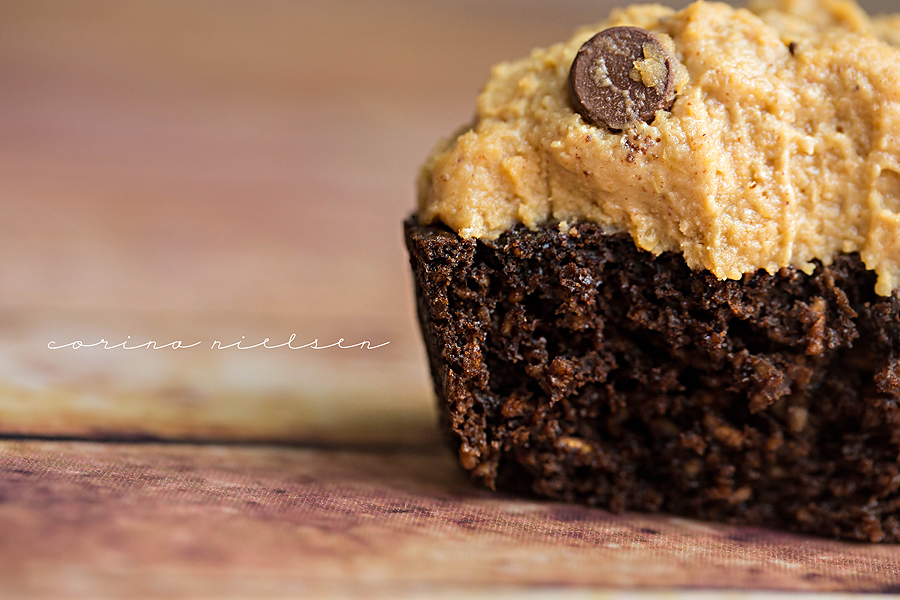 Need I say more?  Oh wait, yes…. I must.
These are totally healthy for you.  Yeah, they don't look like it, but they are.  Won't feel too guilty about eating these guys.
I will split up the recipes (base & topping) in case you want to do the cupcakes on their own, maybe as breakfast muffins?  That would be divine actually, maybe even with a big scoop of peanut butter on top… mmm.  And the cookie dough part?  Well, that can literally just be eaten on it's own, anytime of day, all day.  I would 100% graze on that.  A spoonful here, a spoonful there.  Yup, all day.  You should probably make 2 batches of the cookie dough now that I think about it.
Did I mention I'm drooling?
And before you go looking at the cookie dough ingredients and get crazy on me, I know the main one might scare ya away.  Believe me, it scared me too BUT I promise, when combine with the other ingredients, you won't even know what's in it (well, obviously you will know what's in it, but it's so good it won't matter)!  Coming from someone who HATES this ingredient with a passion, I was hesitant too.  Give it a try, it will be worth it!
OK OK, recipes.
Here you go:
Chocolate Oat Muffins

Print recipe
| | |
| --- | --- |
| Serves | 18 |
| Prep time | 10 minutes |
| Cook time | 15 minutes |
| Total time | 25 minutes |
| Meal type | Breakfast, Dessert, Snack |
Ingredients
1 1/4 cup rolled oats
2 tablespoons coconut flour
1 scoop chocolate protein powder (I use Trutein)
3/4 cups cacao powder (I use HERSHEY'S dark cacao)
1 teaspoon baking powder
2 teaspoons baking soda
1 teaspoon salt
1/2 cup coconut sugar
1/2 cup honey
1 Large whole egg
2 tablespoons egg whites
3/4 cups 0% Non Fat Greek Yogurt or Coconut Milk Greek Yogurt
1/2 cup unsweetened apple sauce
1 tablespoon coffee concentrate or brewed espresso
40 drops chocolate stevia
1/4 cup unsweetened almond milk
Directions
Step 1
Preheat oven to 350° F and use non stick spray on 2 cupcake pans (will make 18 cupcakes).
Step 2
Place rolled oats in a food processor and grind until it resembles a course meal. Depending on your oats, it will still have some texture which is perfectly fine.
Step 3
Add in remaining dry ingredients and pulse a few times. Add all other ingredients and pulse until well combined.
Step 4
Divide batter into cupcake pans (1/4 cup per cupcake).
Step 5
Bake for 15-18 minutes until toothpick comes out clean and tops of muffins slightly bounce back to the touch.
Step 6
While cupcakes are cooling, prepare the cookie dough and then top with heaping 1 tablespoon of the mixture.
Note
NUTRITIONAL INFORMATION (per cupcake/muffin): calories -67, protein- 4 g, carbs- 12 g, fat- 1 g
Chocolate Chip Cookie Dough

Print recipe
| | |
| --- | --- |
| Serves | 18 tbsp |
| Prep time | 15 minutes |
| Meal type | Dessert, Snack |
Ingredients
1 can garbanzo beans (no salt added)
1/4 cup almond butter
2 teaspoons vanilla extract
2 tablespoons coconut sugar
1 tablespoon honey
20-30 drops vanilla cream stevia
1 tablespoon unsweetened almond milk
1/4 cup dark cacao chips
Directions
Step 1
Rinse garbanzo beans under cold water, pat dry, and remove skins.
Step 2
Place all ingredients (except chocolate chips) into a food processor. Pulse until combined and smooth. Taste mixture and adjust sweetness with more honey, stevia, or coconut sugar.
Step 3
Place mixture in a bowl and stir in chocolate chips.
Note
NUTRITIONAL INFORMATION (per tbsp): calories- 57, protein- 1.8 g, carbs- 7.2, fat- 2.7