Perhaps one of the best homemade "salad's" I have ever had.  This was so good, it's been my lunch every day this week.  Although technically, this recipe doesn't have any greens in it to make it your typical "salad", it's packed full of nutrients and you can easily adjust what you put in it based on what you have on hand.  All those veggies make it "salad" enough for this girl.  All you need is the basic dressing, red quinoa, veggies, a peach (or other fruit will do) and some nuts.  Let's get going… I took a lot of pictures today so I'm excited to share them with ya!
First you need to make the dressing.  Super super simple, even my husband can do this properly if he uses one of my favorite kitchen gadgets… it's a mini food processor.  We got it at Costco and I use this thing just about every day. Actually, it has dual uses: a hand emersion blender and the mini food processor.  Because it's mini sized, it's great for smaller batches dressings, nut butters, sauces, salsa, guacamole, or grinding oats to make oat flour in the morning.  I adore this little thing.
Anyways, back to this recipe.  Just throw everything into the mini food processor and blend until its all well combined.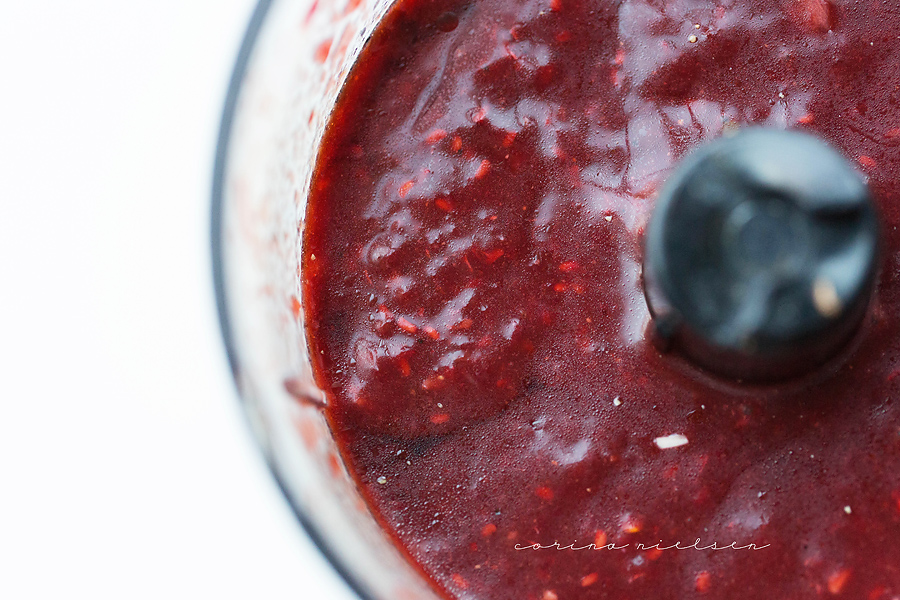 Now for the actual salad….
I suppose you could just rough chop your veggies and that would be fine BUT I will say that using thin slices using my vegetable peeler like I did make a BIG different in the texture and overall yumminess of this dish.  Vegetables still have the crunch to them but they aren't so big you are chewing forever (or so little you have no idea what is what). Your choice, but you are missing out if you don't take the time to "peel"… I promise its worth it and it really doesn't take much longer than cutting anyways.
Grab your carrots and zucchini and start peeling away.  I found that having it lay flat on your cutting board makes this process much easier (I show the carrot at an angle here though).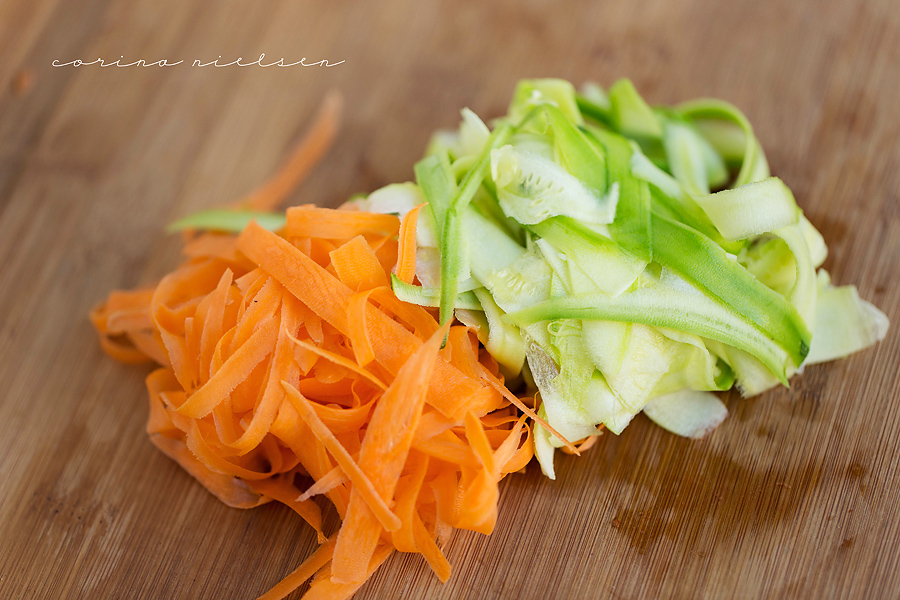 Boom, done.  Only took a couple of minutes at the very most.
Preheat a griddle pan and spray with a little non stick.  Again, you can totally just use the fruit raw but have you ever had grilled/cooked fruit?  So delicious.  Flavors are richer, have more depth, and are just all around yummy!  You must try fruit this way if you haven't already.
Grab your peach… you only need half of it unless of course you want to use the whole thing, by all means.  Cut it in half and then slice around the pit.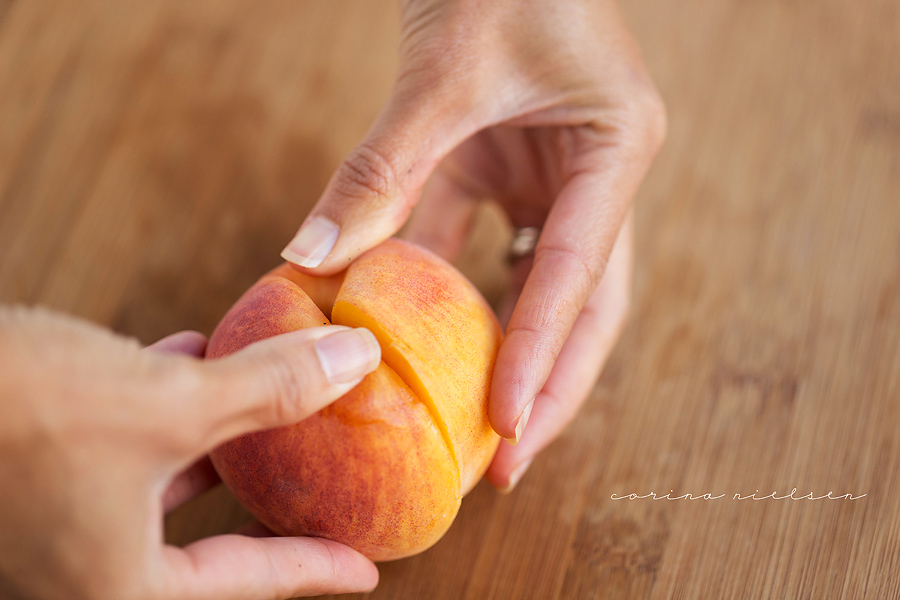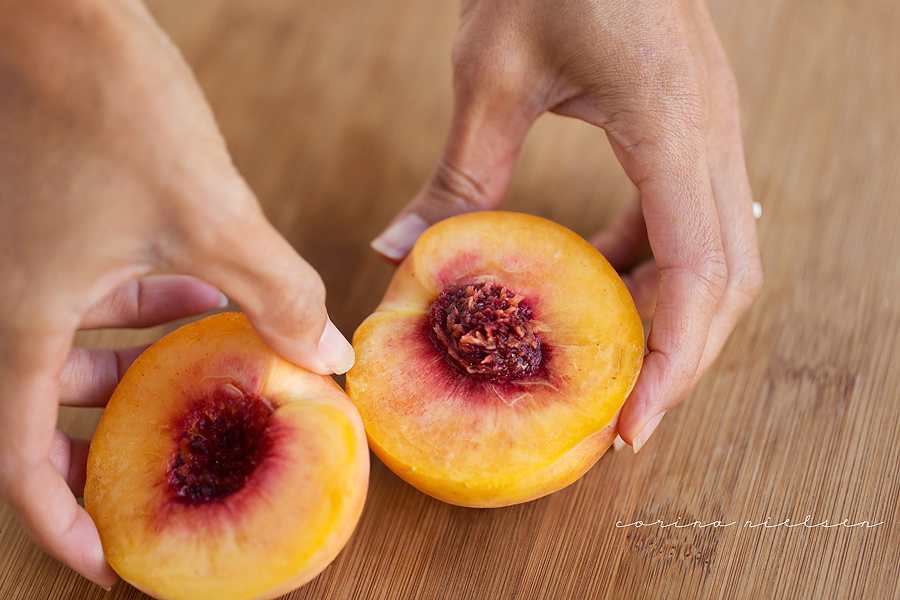 Throw them on the grill pan and cook 2-3 minutes on each side until you see the nice grill marks.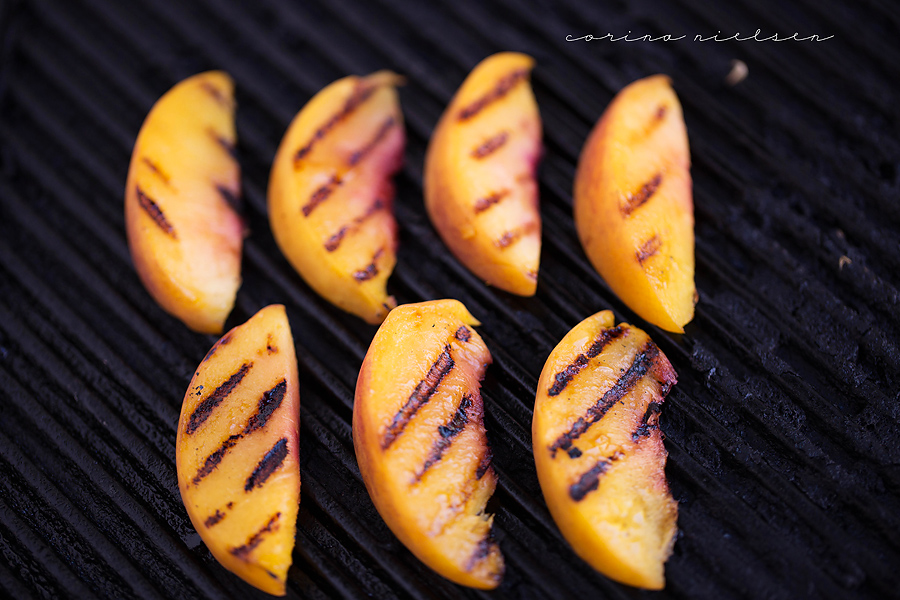 Throw your cooked red quinoa, veggies, sunflower seeds, and dressing into a large bowl and mixed until everything is coated…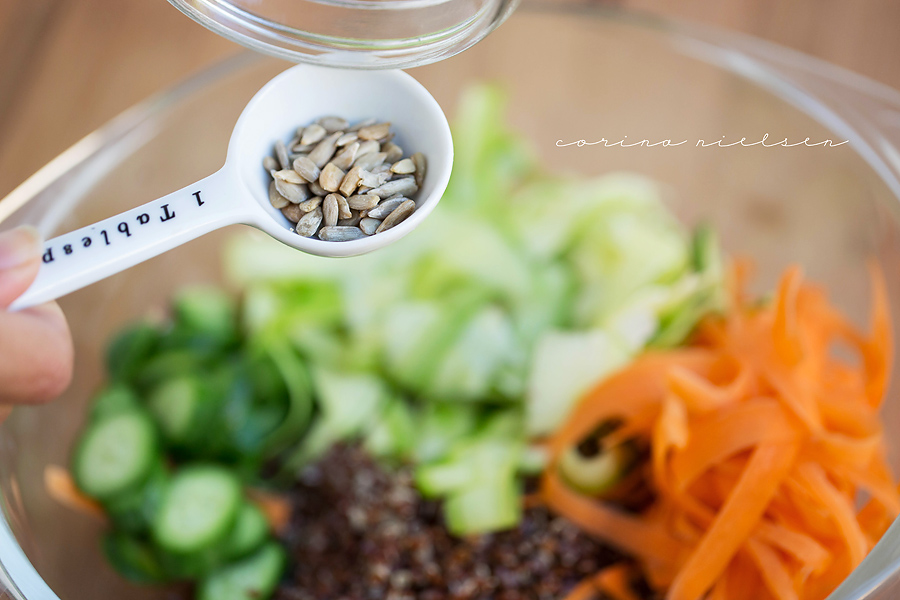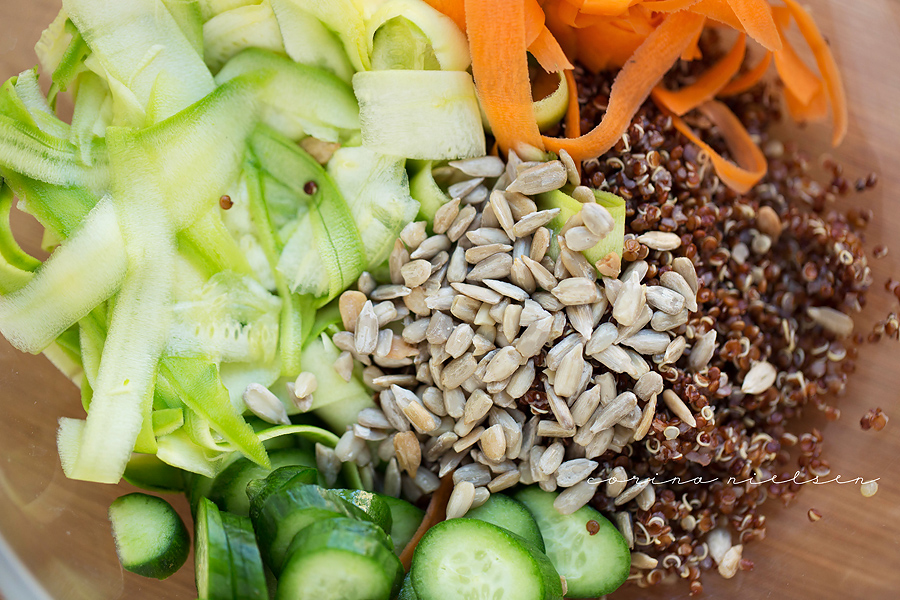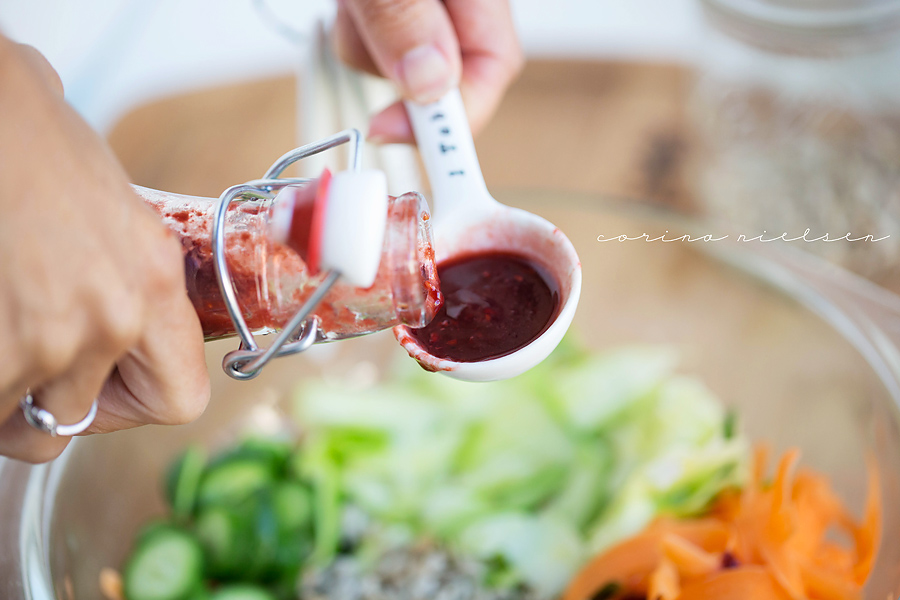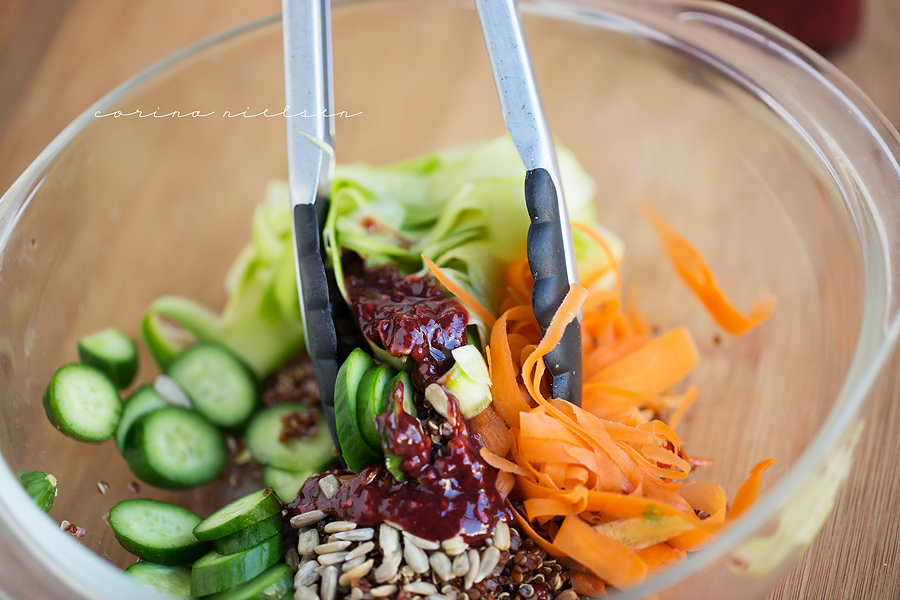 Add in your beautiful & delicious grilled peaches, drizzle with a little extra dressing or balsamic vinegar and enjoy… isn't this a gorgeous bowl of food?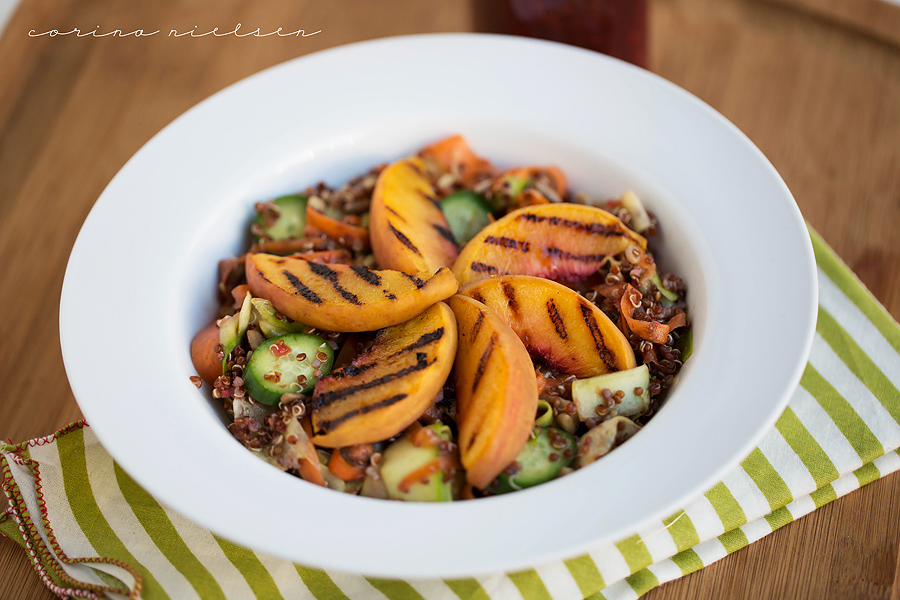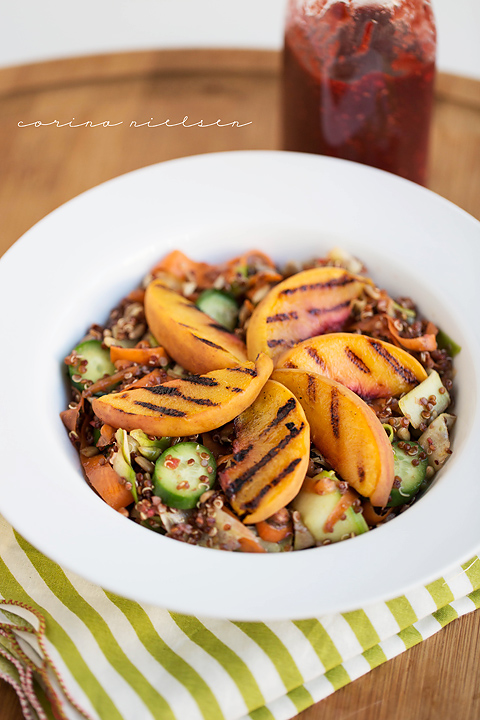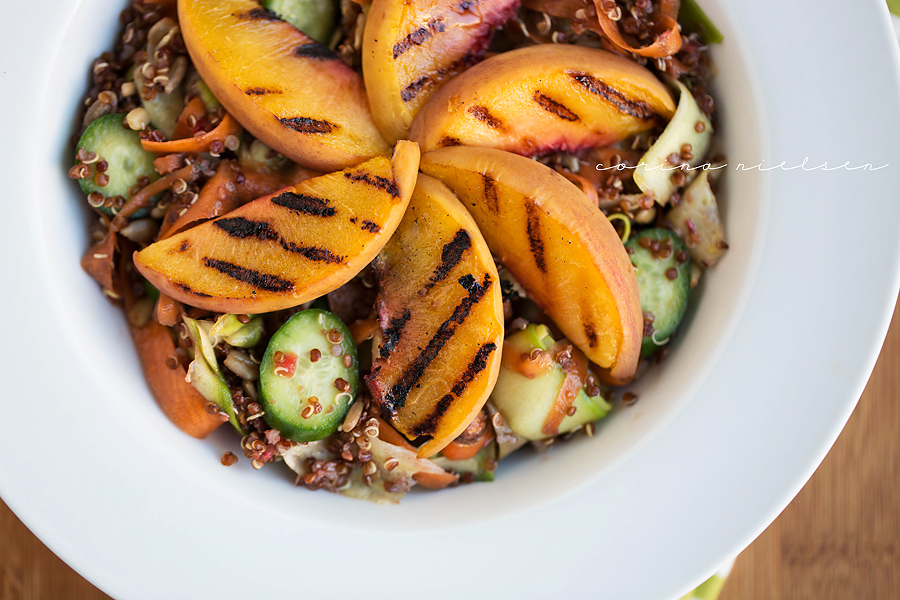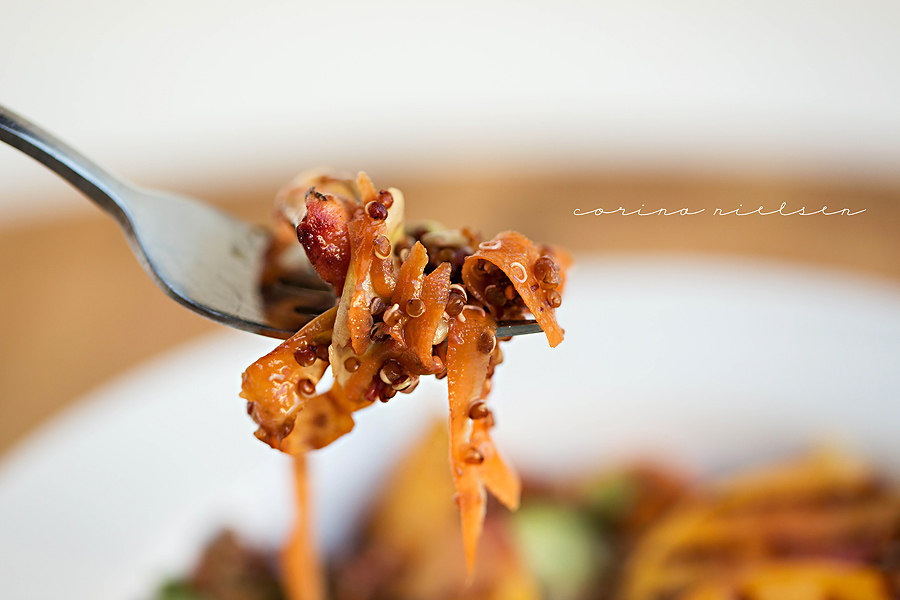 Raspberry Vinaigertte

Print recipe
Ingredients
3/4 cups fresh raspberries
3/4 cups balsamic vinegar
2 tablespoons extra virgin olive oil
1 clove garlic
1 Small shallot
1/2 teaspoon garlic powder
1/2 teaspoon dijon mustard
2-3 heaped tablespoons honey ((add to taste))
1/4 teaspoon himalayan pink salt
1/4 teaspoon black pepper
Directions
Step 1
Place all ingredients in a small mini food processor and blend until well combined and emulsified.
Red Quinoa & Grilled Peach Summer Salad

Print recipe
Ingredients
1/2 cup red quinoa ((cooked and chilled))
1/2 peach
1 Small zuchinni
1 carrot
1/4 cup cucumber ((chopped))
1 tablespoon roasted & unsalted sunflower seeds
3 tablespoons raspberry vinaigrette (** printable recipe above **)
Directions
Step 1
Slice peaches and place on preheated grill pan for 2-3 minutes on each side until grill marks are apparent
Step 2
Using a vegetable peeler, shave slices of zucchini, carrot, and and cucumber OR you can simply slice the vegetables.
Step 3
Combine quinoa, sliced veggies, corn, and sunflower seeds in a medium sized bowl. Top with vinaigrette and toss until everything is well coated.