Who doesn't love a good chocolate chip cookie dough bar?  I mean really, who doesn't love a chocolate chip anything for that matter?
I made these bars about a month ago when I first decided to start this new blog.  It was one of the first recipes I wanted to test out and was extremely happy with the result.  Aside from a tiny piece I gave my son to try, I ate the whole damn 8×8 pan over the course of one and half days.  It was far too easy to fit them into my macros and what do IIFYM'rs do when they want to eat something?  They eat it.  I mean look at them.  Could you resist them if you were all alone and they were just taunting you every time you set foot in the kitchen?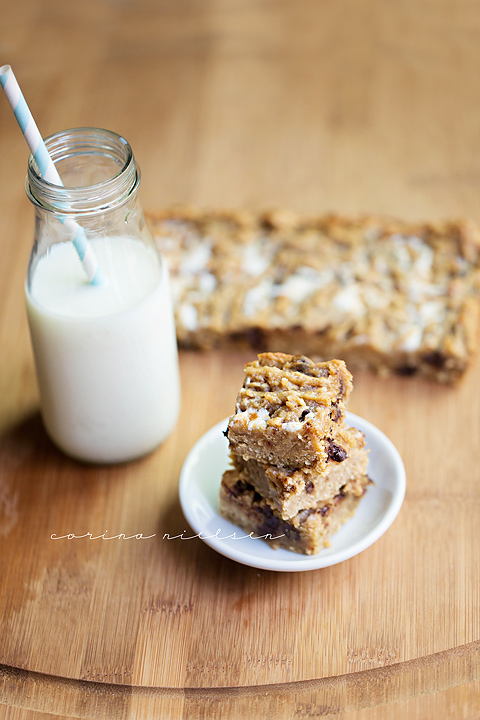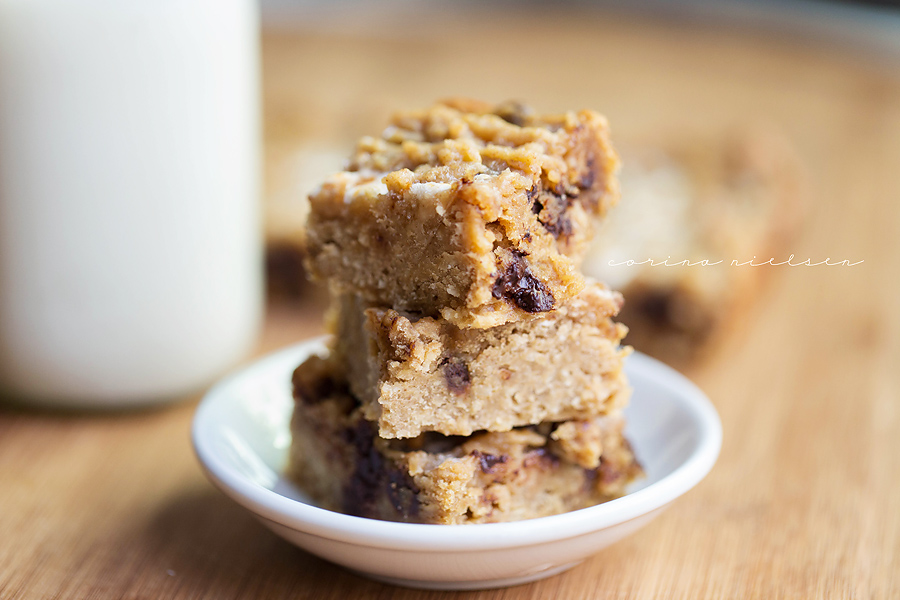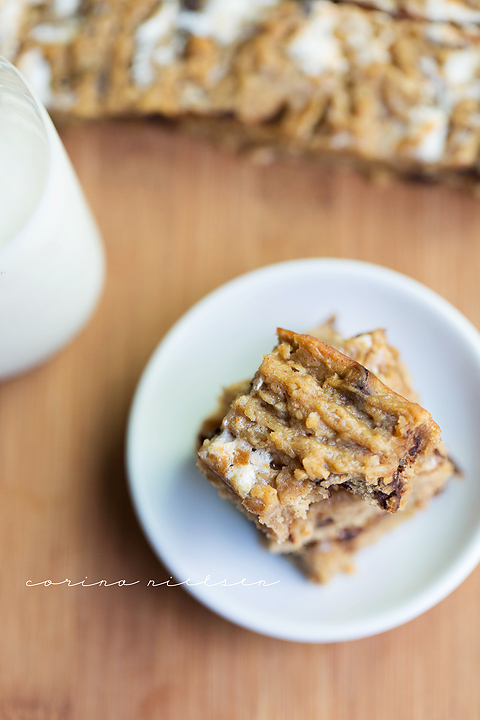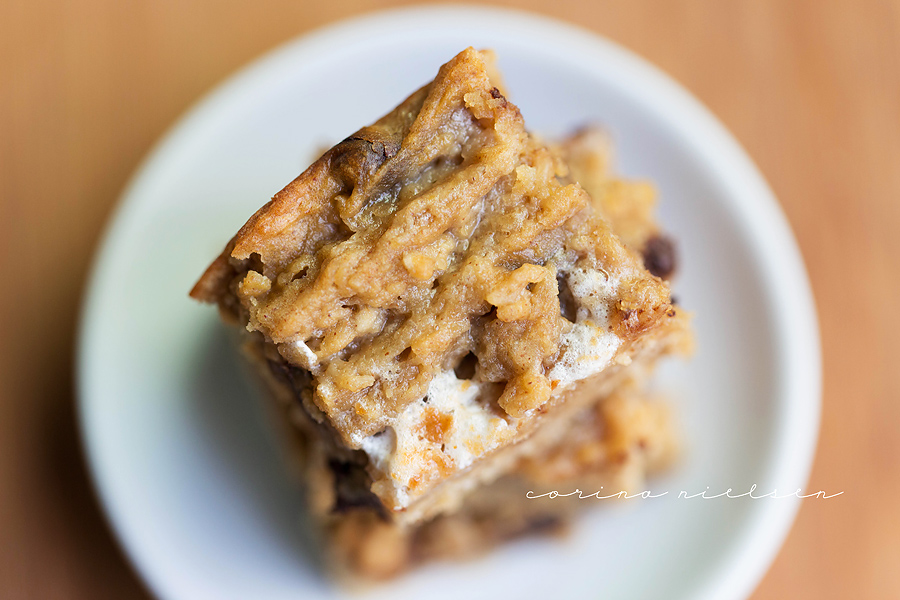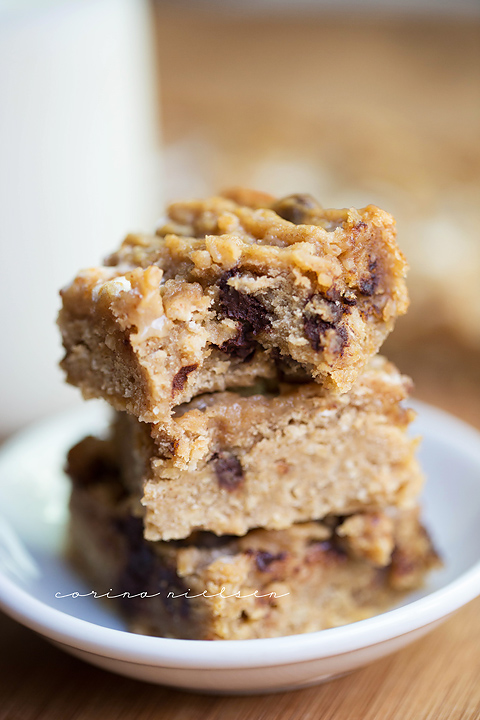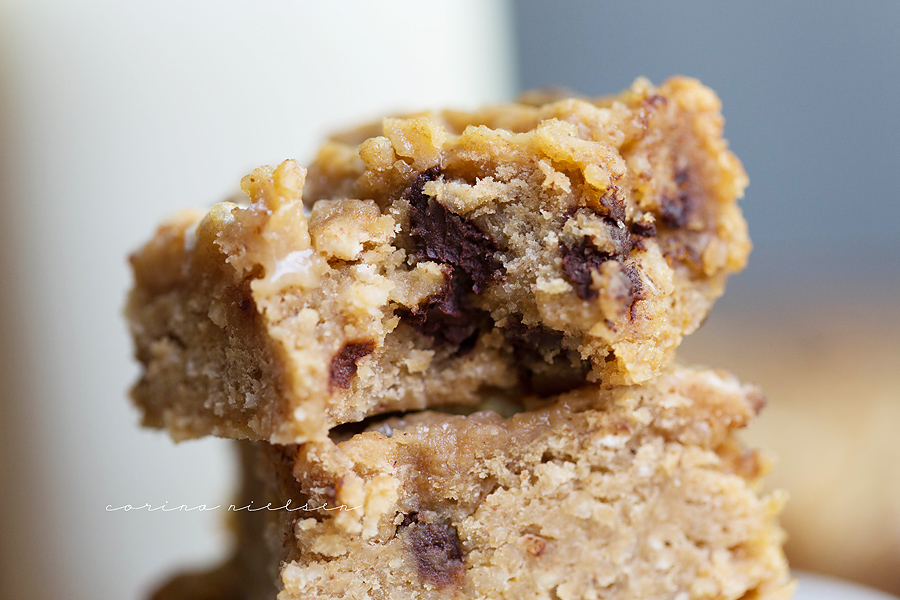 Yeah, don't kid yourself.  You'd eat them all too.
Before I share the recipe though, I must preface this by saying do NOT get scared of the main ingredient these call for: garbanzo beans.  I do NOT eat beans on a regular basis.  I HATE refried, black, navy, pinto, kidney… you name another bean, I will hate that too.  However, because these garbanzo beans are pureed AND mixed with a lot of other yummy things like nut butter and honey… yeah, I'm A-OK with them.  You really don't even taste them, I promise you.  Pinky swear.  I tried making black bean brownies once.  Um, nasty.  Even tried two batches just in case it was my error the first time.  Yup, still gross.  These however are perfectly no bean tasting!
Give them a go.  I bet you won't be able to eat just one tiny little square!
Chocolate Chip Protein Bars

Print recipe
| | |
| --- | --- |
| Serves | 16 |
| Prep time | 10 minutes |
| Cook time | 30 minutes |
| Total time | 40 minutes |
Ingredients
1 can garbanzo beans (no salt added) (drained, skins removed, rinsed)
1 scoop Cookies & Cream PEScience protein (30% off coupon below)
2/3 cups rolled oats
1/2 cup almond butter
1 Large whole egg
2 tablespoons vanilla MuscleEgg egg whites (or plain egg whites)
4 tablespoons honey or maple syrup
2 teaspoons vanilla extract
1 teaspoon baking powder
1/2 teaspoon pink himalayan sea salt
4 tablespoons unsweetened vanilla almond milk
1/2 cup dark chocolate chips
1/2 cup marshmallow fluff (** OPTIONAL **)
Directions
Step 1
Preheat oven to 350° and grease an 8x8 pan with nonstick spray.
Step 2
Drain and rince garbanzo beans
Step 3
Place all ingredients (EXCEPT chocolate chips and marshmallow fluff) in a large food processor. Blend until smooth.
Step 4
Gently stir in chocolate chips until combined.
Step 5
Pour batter into pre greased pan and press flat. If you are adding marshmallow fluff, drops by the tablespoon full every couple of inches and then take a knife and run it back and forth to make it swirl into the batter.
Step 6
Bake for 25-30 minutes until edges are golden brown.
Note
NUTRITIONAL INFORMATION (per bar): calories- 125, carbs-13, protein- 6, fat-6
If you are interested in receiving 30% OFF Cookies & Cream Select Protein or on any & all PEScience products, use my code CORINA at checkout at www.PEScience.com