Super quickie post for a super quickie recipe!  An "Under 5" Ingredient recipe to be exact!!!
Last week I was contacted by Detour, one of my favorite companies for protein & snack bars!  I was asked if I was interested in creating a recipe for a contest/promo they were having with ABS Pancakes and Sweet Spreads.  Pancakes, nut butter, and Smart bars?  Count me in.  Count me IN!
Since I didn't have a ton of time on hand and my pantry was somewhat bare, I had to keep things sweet, simple, and FAST!  First inclination for a recipe is of course pancakes (duh), but I knew I could dig a bit deeper than that!  Anytime I'm craving pancakes or waffles, but want to step out of the box I always grab my (well, actually my daughter's) mini donut/cake pop maker!  I'm a HUGE fan of this little machine because #1 my daughter can use it herself to bake, #2 donut holes (nuff' said), and #3 I can make STUFFED donuts holes in less than 10 minutes!  I discovered a fascination for stuffed donuts that when I made THESE… mmmm.
It was a great time to break out this fun little gadget again!  Doesn't get any easier than this… 1 scoop of 'Cinnamon Roll' ABS Pancakes, 1/3 cup of Vanilla MuscleEgg egg whites, 1/3 cup of cashew milk.  Mix until smooth.  Pour a little batter into the preheated donut hole maker, add a piece of the Apple Cinnamon Smart bar, a dollop of Caramel French Toast Sweet Spreads, more batter to cover, close lid, cook for 2-3 minutes.  BAM!  Don't have one of these amazing little contraptions?  Don't fret.  Use a mini muffin pan!!!  They turned out perfect.  And I have to admit… biting into anything that's stuffed puts a little smile on my face.  It's like getting a little surprise package in every bite!!!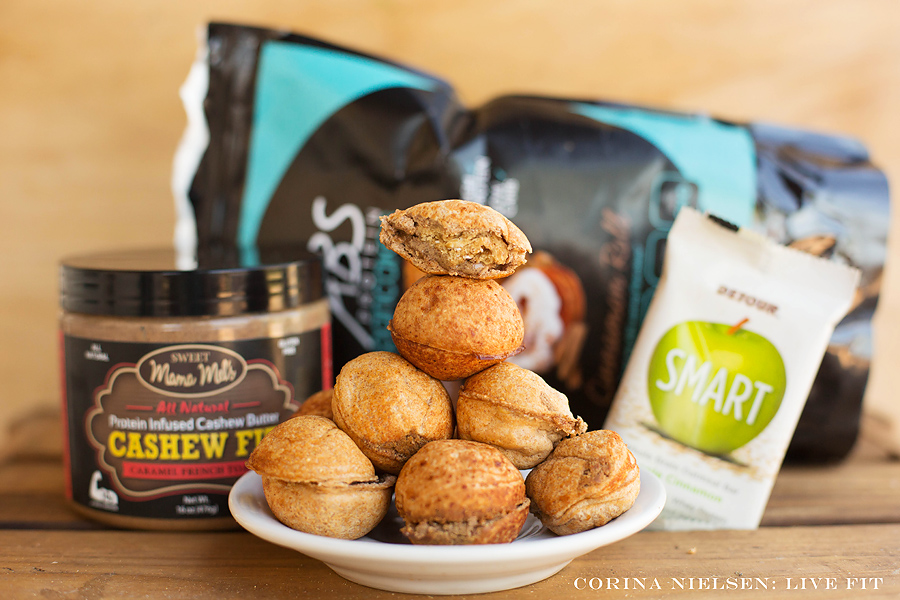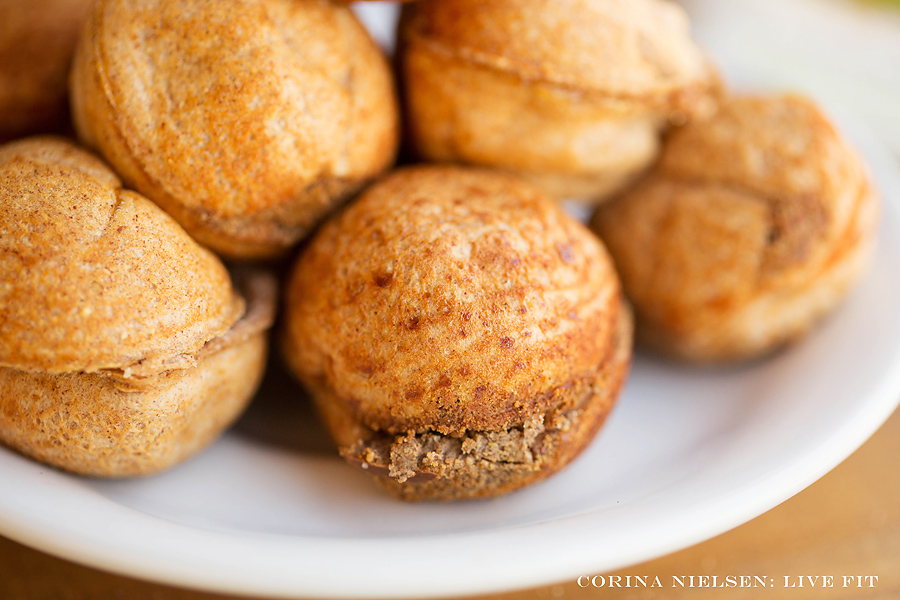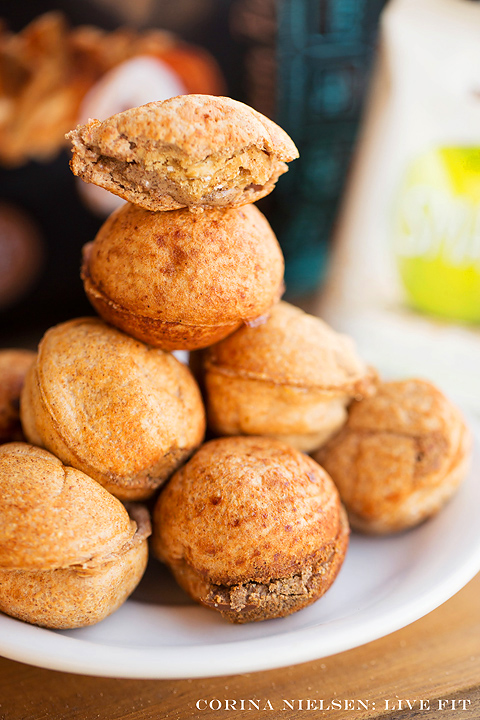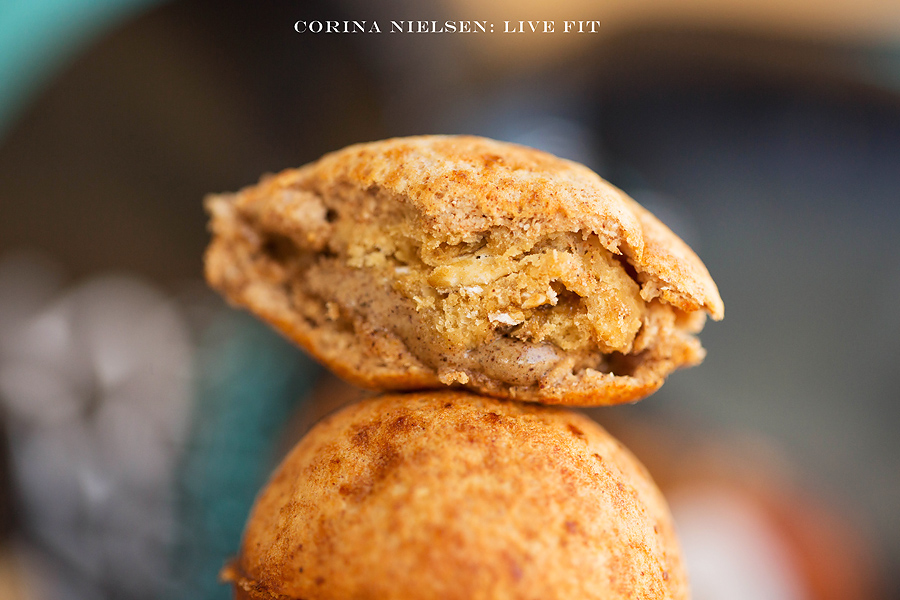 Ready to whip these up, but don't have the ingredients?  Want to win them for yourself?  Head on over to Instagram, follow DETOUR, ABS Pancakes, and Sweet Spreads, then repost this picture and tag them!!!  Great companies and quality products!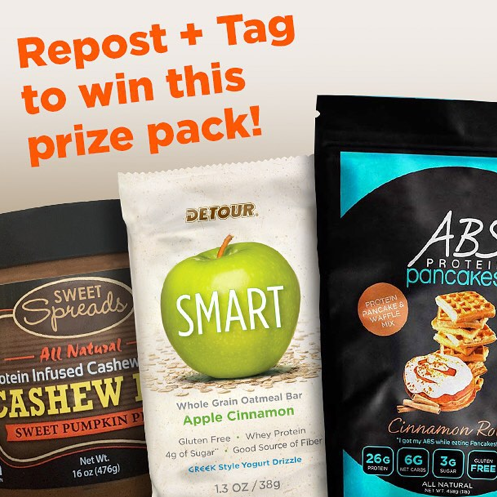 Cinnamon Apple Stuffed Donut Holes

Print recipe
| | |
| --- | --- |
| Serves | 1 |
| Prep time | 5 minutes |
| Cook time | 10 minutes |
| Total time | 15 minutes |
Ingredients
1 scoop ABS Cinnamon Roll pancake mix (www.abspancakes.com/)
1/3 cup Vanilla MuscleEgg egg whites (www.muscleegg.com)
1/3 cup milk of choice
1 Small Detour 'Apple Cinnamon' Smart Bar (www.detourbar.com/)
2 tablespoons Sweet Spreads 'Caramel French Toast' cashew butter (www.sweetspreads.com)
Directions
Step 1
Preheat oven to 350 degrees and coat a mini muffin pan with non stick spray (using 8 spaces only). ** I used a plug in mini donut hole maker **
Step 2
In a medium sized bowl, combine ABS mix, egg whites, and milk. Mix until smooth.
Step 3
Place Detour bar in the microwave for 8-10 seconds until softened and pliable. Divide and roll into 8 equal small balls.
Step 4
Pour 1/2 tablespoon of batter into each donut hole/mini muffin spot. Add Detour bar balls on top of batter, then 1/2 tsp -1 tsp of cashew butter, then additional batter to cover completely.
Step 5
Bake 10-12 minutes or 3-5 minutes in donut hole maker until golden brown.
Note
NUTRITIONAL INFORMATION (makes 8 donut holes/mini muffins): calories- 67, fat- 2 grams, carbs- 5 grams/fiber-2 grams, 7 grams PER HOLE