It doesn't matter how many times I make this (and it's A LOT), it never gets old and my family looks forward to eating it every single time.  I started making this shredded crockpot chicken at least 3 years ago and it has been a staple in our weekly meals ever since (yes, I make a batch of this weekly)!  We use it for tacos, salads, rice bowls, enchiladas, burritos, quesadillas, and any other meal where we need something easy and delicious.  I've seen a ton of variations of 'shredded crockpot chicken' and I may be a little biased, but this is the best I have ever had.  It requires a few more ingredients than the typical "throw you frozen chicken in a crockpot, cook, and shred", but the end result is worth it and it's still almost just as effortless.
Since my family has this chicken in variations so often and I post so many of our meals on my Instagram, I ALWAYS get asked for my recipe.  I never mind sharing it, but after constantly reposting it I decided to actually write up the recipe here!  Its going to be so much easier referring people here to the blog…. AMEN for streamlining things!!!
This is what the final product looks like…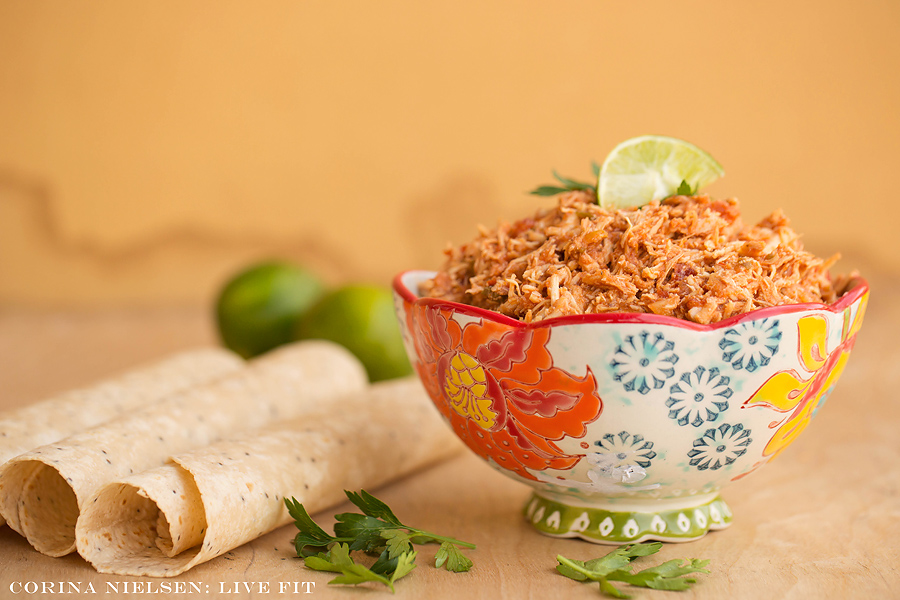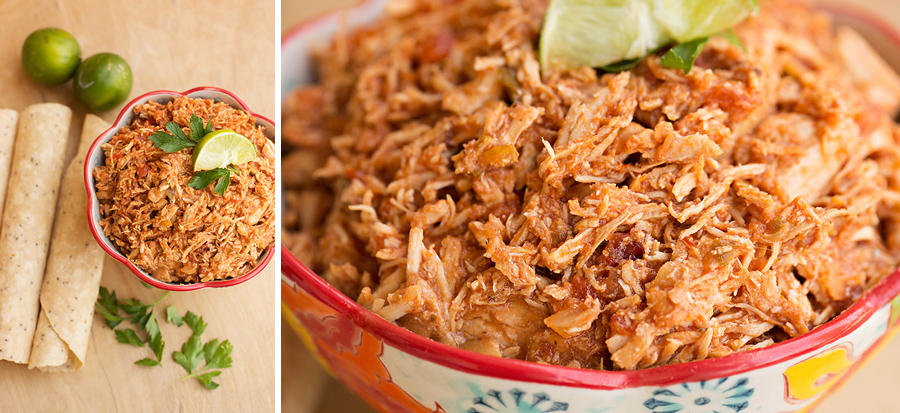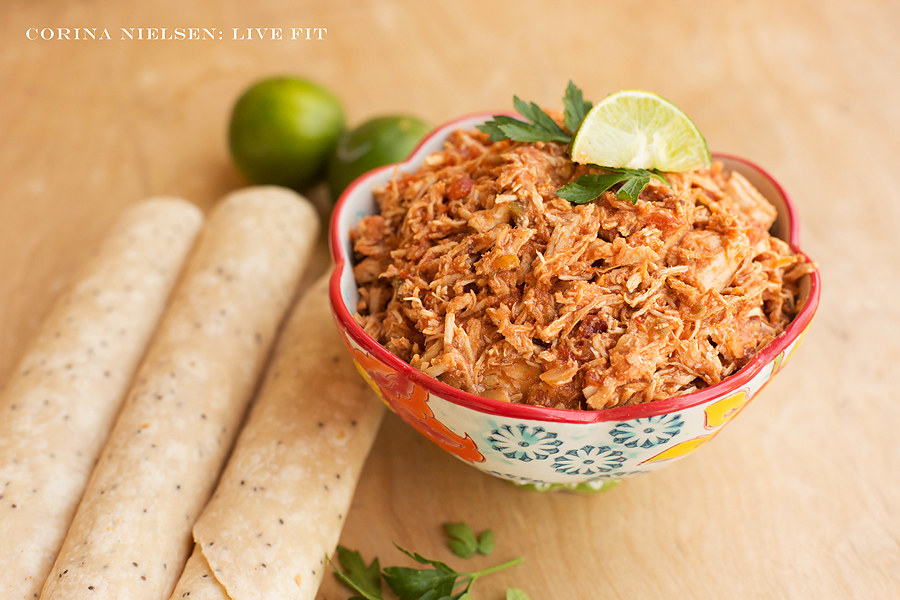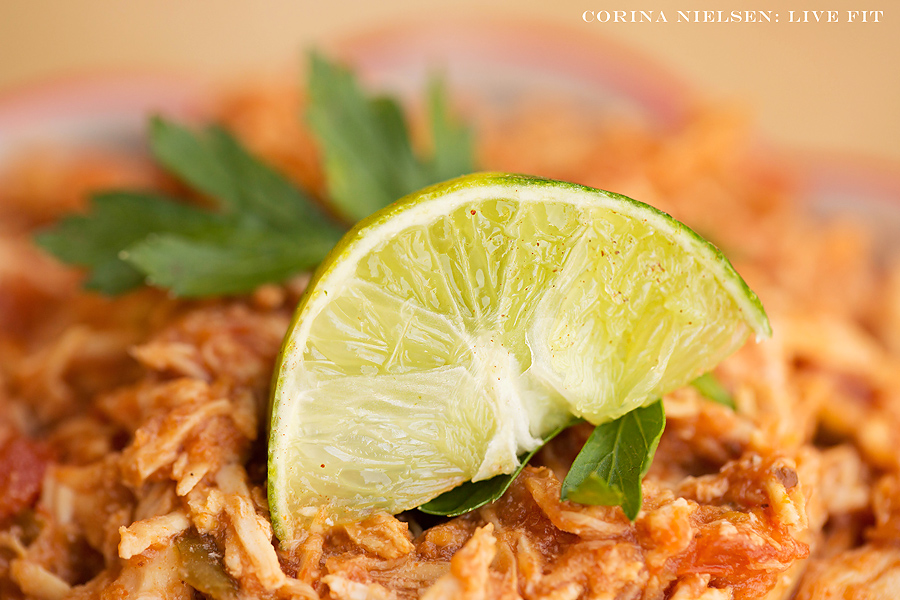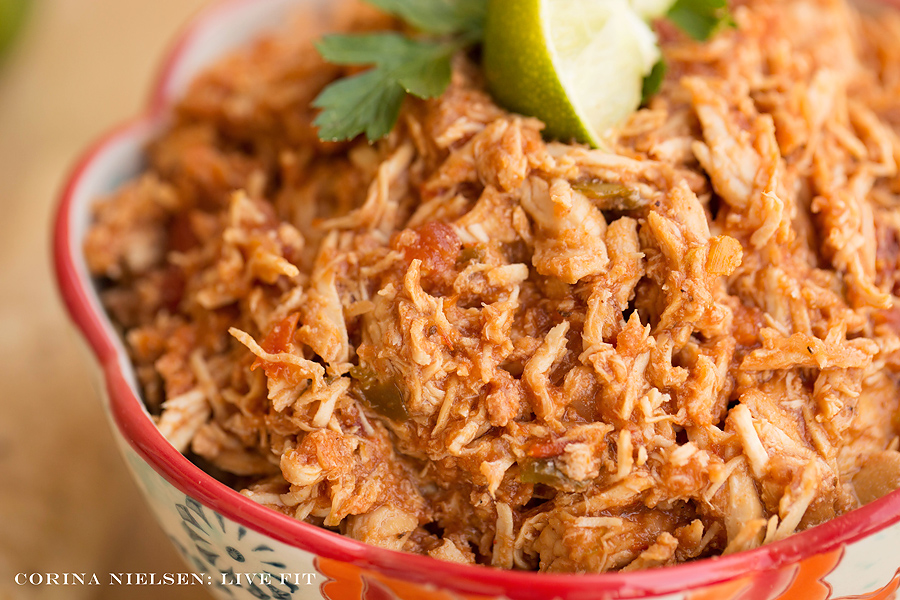 And here is the recipe…
Fiesta Lime Crockpot Salsa Chicken

Print recipe
Ingredients
6-8 frozen or thawed chicken breasts
24oz favorite salsa (I use a pineapple salsa from Vons/Safeway))
1 tablespoon garlic powder
2 teaspoons onion powder
1 tablespoon Mrs. Dash 'Fiesta Lime' seasoning
1/2 teaspoon pepper
1/2 teaspoon salt
2 tablespoons apple cider vinegar
2 tablespoons fresh lime juice
Directions
Step 1
Add salsa, apple cider vinegar, and all dry seasonings in crockpot. Stir well. Place chicken in salsa mixture and try to coat breasts as best as you can. Set to high for 6 hours.
Step 2
Roughly 1/2 to 3/4 way through the cooking process, cut chicken in smaller pieces and stir. I usually just cut them in half. Let cook for remaining time.
Step 3
Approximately 1/2 hour before serving, shred chicken using two forks. Add fresh lime juice and stir well.