Out of pure laziness, I have been making eggs for breakfast EVERY morning for quite some time now.  Same old scramble made up of 1 whole egg, 1/2 cup of egg whites, spinach, bell peppers, avocado, and salsa.  I do enjoy it because it tastes good (especially when I have my big cup of coffee and a side of toast with COOKIE BUTTER), but I have mainly been eating it because its so darn easy and fast to whip up in the morning after I drop the kids off at school.  After having my egg scramble for at least 3 weeks straight, I decided it was time for a little change of pace.  I was definitely craving something sweet.  Definitely time for some sweet.  Of course French toast would be my first option (did you know I am a self proclaimed French Toast queen?  Yes, it's true.  I gave myself that title last year on Instagram.), but needed to think of another dish that not only tasted good and fit my macros, but that I could also get some vegetables in to, gotta keep things balanced on a flexible diet right!?  Yes, French toast is my all time favorite "go to" dish and I usually make it entirely healthy but I still have yet to think of a way of getting my veggies into them!  That day is coming at some point, mark my words.  Waffles (or pancakes) were the next logical choice because I knew I could blend some greens into the batter (and hopefully not know they are in there).
I have to be honest with you.  When I first tested this recipe out, I was completely apprehensive taking that first bite.  Sure, my stack looked really pretty… well kinda weird, but pretty nonetheless.  There is something about a stack of green waffles that just looks so wrong.  They looked like they belonged in a Dr. Seuss book, they were so silly.  Luckily, the teeny tiny little nibble I took was enough to sell me and the rest of this stack was consumed in under 2 minutes flat.  As my family watched me take my huge bites at the breakfast table, I literally said out loud "Crap, these are good" after each and every single mouthful as they disappeared into my belly.  They were absolutely perfect.  Totally tropical, sweet, and fluffy.  They were so darn good, I had to make them again.  And again.  And again.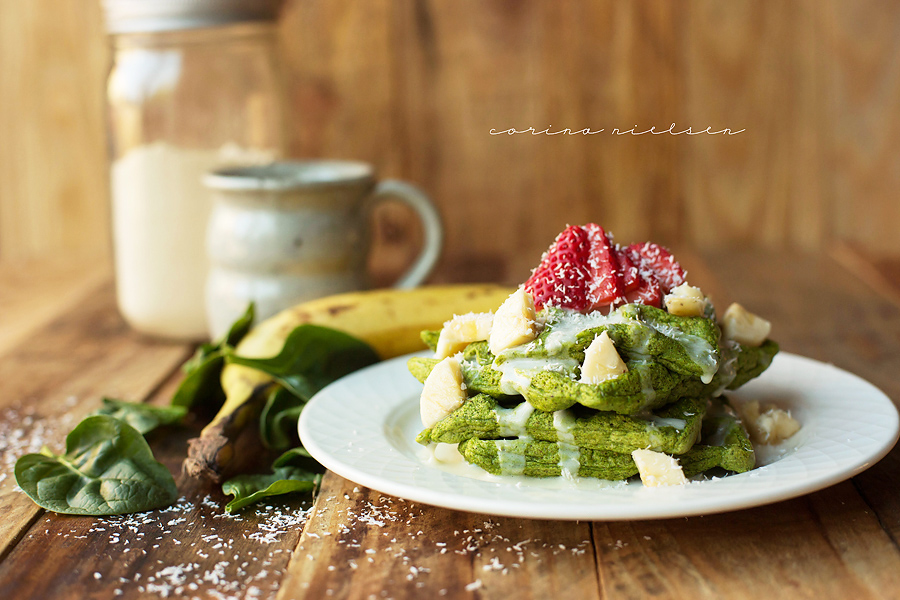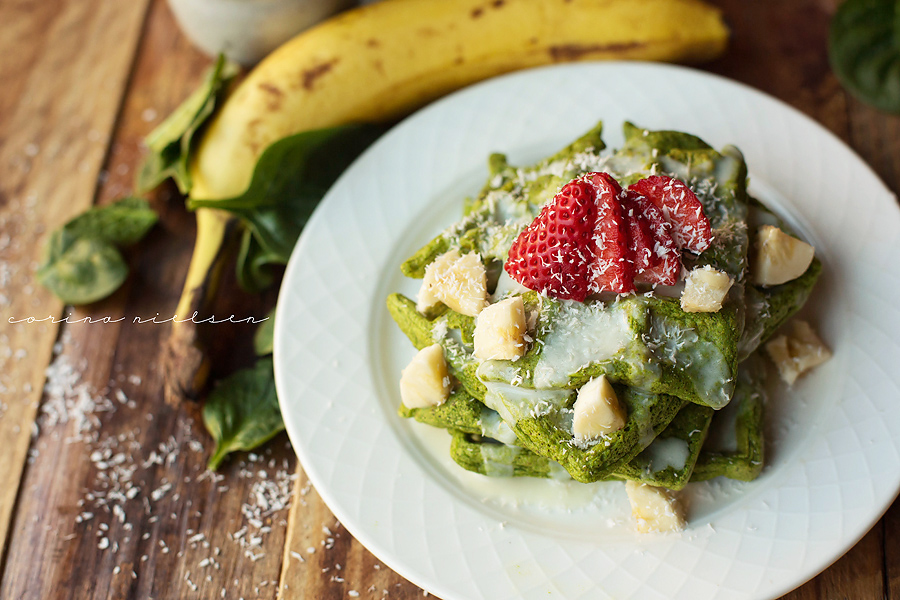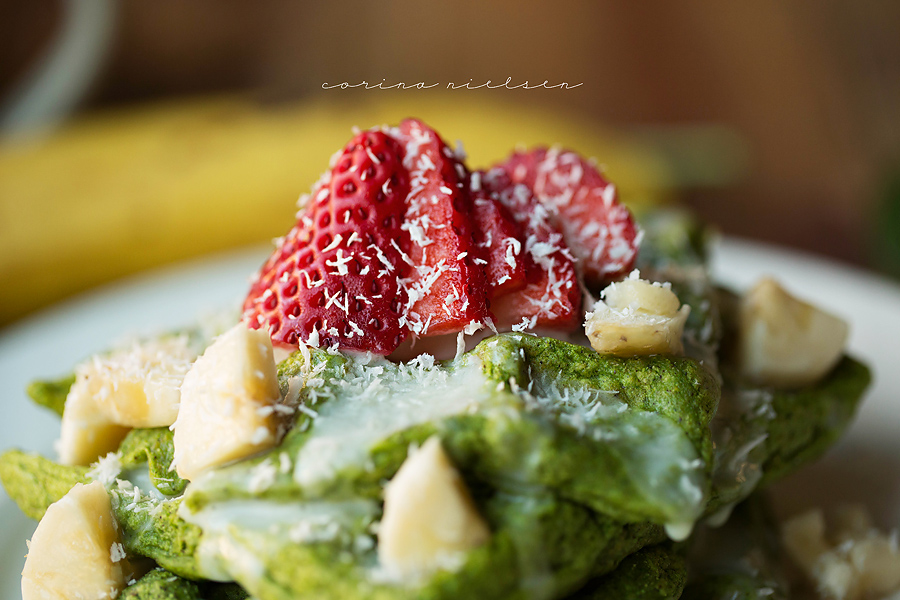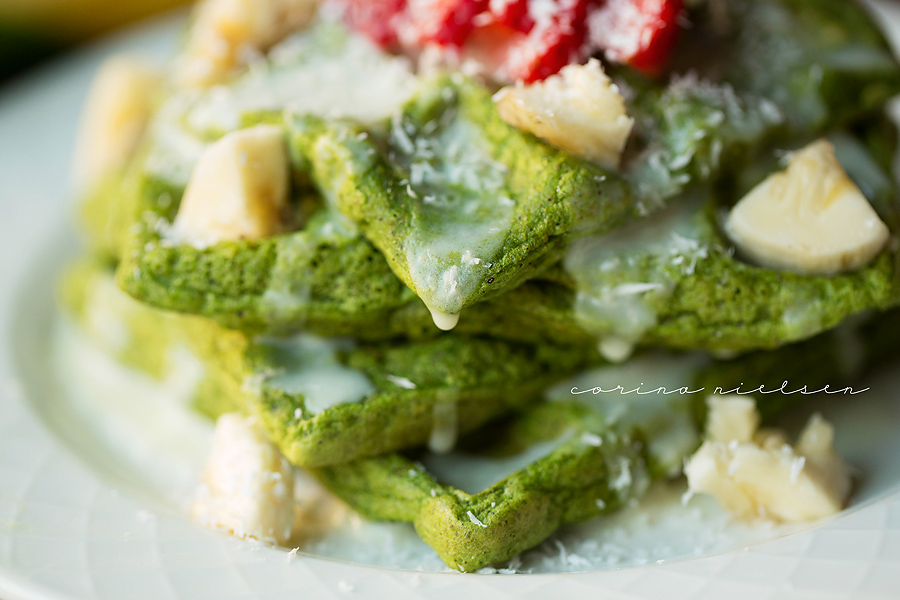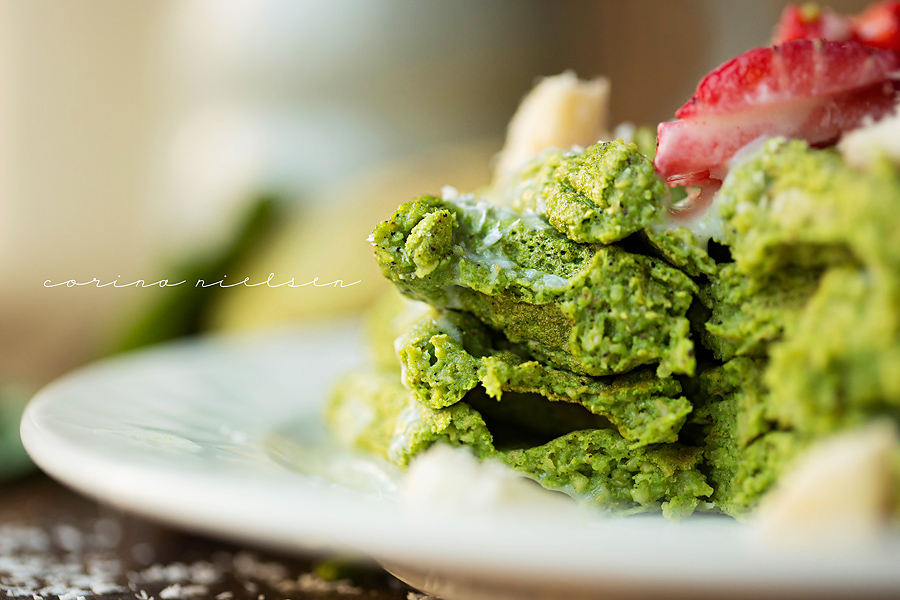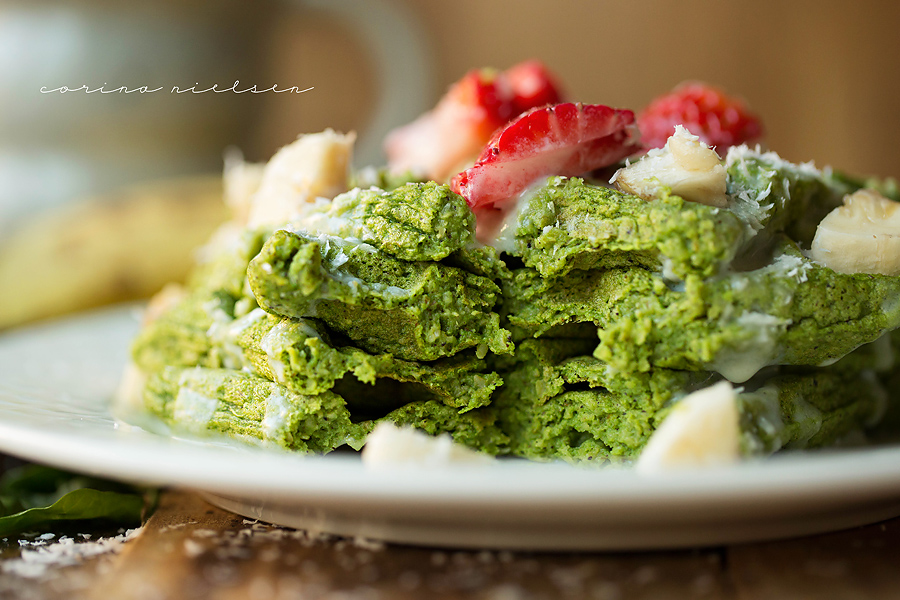 Because the spinach is such a mild tasting green, you honestly cannot taste them in here at all.  Truly.  It's just a wonderful and perfect, coconut-y, strawberry-y, banana-y stack of yummy!  Really really delicious, nutrient dense, and packed with all things good for you!
And what better way to get your kids eating more veggies than to hide them?  The color alone will draw them in and instead of using protein powder in the topping, you can definitely just use regular maple syrup on theirs.  Kids not a fan of coconut?  Easy fix fellow mommies… make them mint flavored and top with a little chocolate sauce OR simply just skip the coconut extract and add a little extra vanilla extract, then use whatever type of fruit your kid loves.  Just make sure its colorful and fun looking and your kids will automatically be interested.  They will never know that these waffles (or pancakes) are packed full of nutrients and all things good for them!
Tropical "Hulk" Waffles

Print recipe
Ingredients
1/2 cup oat flour
1 1/2 tablespoon coconut flour
1 tablespoon hemp powder
1/2 teaspoon baking powder
1/4 teaspoon baking soda
1 pinch salt
1 cup spinach
1/2 cup unsweetened almond milk
1/2 teaspoon vanilla extract
1/4 teaspoon coconut extract
1/4 cup egg whites
40 drops coconut stevia
1/3 scoop Trutein vanilla protein (** TOPPING **)
3-4 tablespoons water (** TOPPING **)
2-3 drops coconut extract (** TOPPING **)
1/2 Medium banana (** TOPPING **)
1-2 Medium strawberries (** TOPPING **)
1 tablespoon unsweetened shredded coconut (** TOPPING **)
Directions
Step 1
Place all wet ingredients PLUS spinach in blender or small food processor (almond milk, extracts, egg whites, stevia) and blend very well.
Step 2
Add all dry ingredients to blender (hemp powder, oat flour, coconut flour, baking powder, baking soda, and salt) and blend on high until well combined.
Step 3
Preheat your waffle iron and make topping by combining protein powder, water, and coconut extract. Add water slowly 1 tablespoon at a time until you reach desired consistency. I aim for a mixture slightly thicker than syrup. Set aside.
Step 4
Pour batter into waffle iron and cook waffles for 2-3 minutes.
Step 5
Pour protein mixture over waffles and top with sliced bananas, strawberries, and coconut.
Note
NUTRITIONAL INFORMATION (without banana, strawberry, or shredded coconut):  calories- 323, protein- 29, carbs- 39, fat- 7