Certain flavors simply just belong together.  Little matches made in heaven that should not be tampered or messed with.  Coconut and chocolate are one of those combinations that will never get old and always taste amazing together under any and all circumstances.
Last week, I was browsing Pinterest again (damn that site and all of the ideas & food porn) and came across these little "Almond Joy" bites and wanted to lick my screen.  Literally, I think I stared at them for a couple of minutes and drooled a little bit.  These particular ones weren't necessarily that "unhealthy" per se but I knew I could come up with a different version that had a better nutritional profile for myself and where my macros as while I'm cutting.  I haven't had a real Almond Joy bar in years, BUT these little nuggets of heaven I made hit the spot.  Bonus that they are actually very good for ya!  Need a sweet fix?  The perfect little bite can be found right here if you love coconut and chocolate.
This is what they looked like before the chocolatey goodness…
I could easily eat them just like this… by why do that when you can make them even more delicious?
Final product….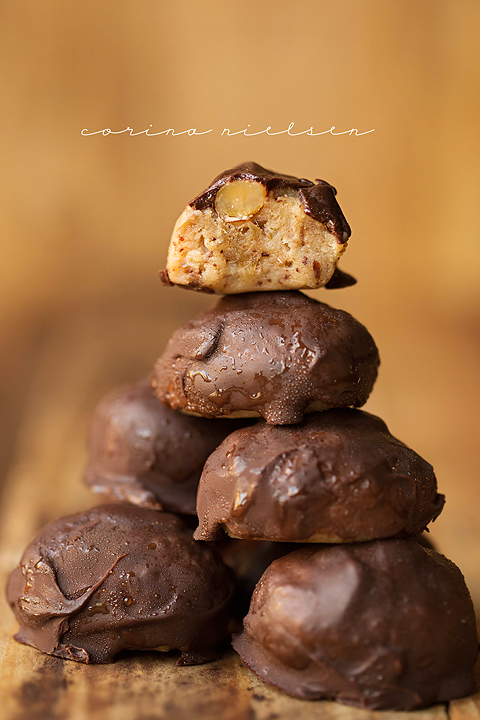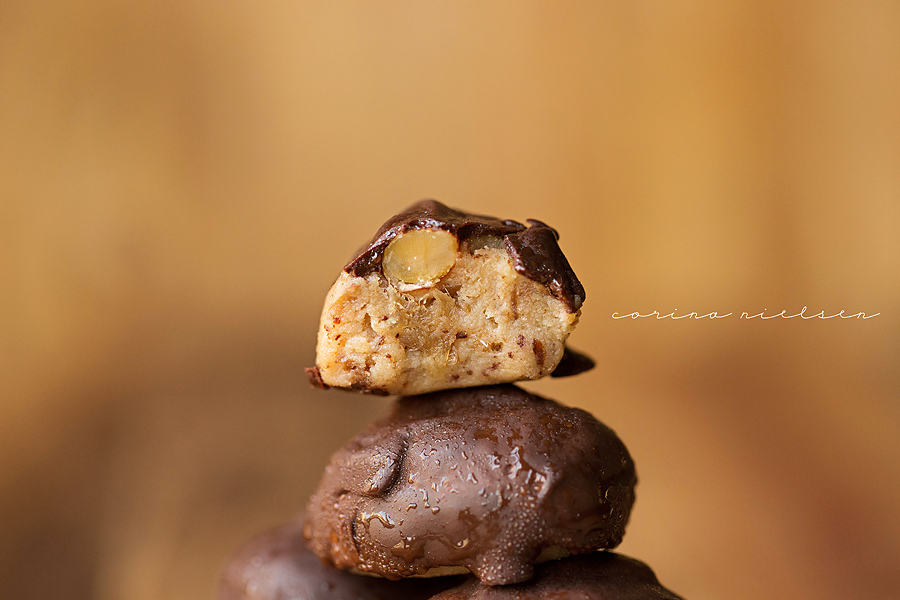 Excuse the condensation on them from the fridge… I couldn't stop nibbling on them the day I made them so I had to put them away momentarily to photograph a couple of days later!  I really do need to start blogging my recipes the same day I make and photograph them, it's always torture seeing everything again here and NOT having any left!
Almond Joy Protein Truffles

Print recipe
Ingredients
6 dates
1 scoop Trutein vanilla protein
2 tablespoons coconut flour
1/8 teaspoon coconut extract
1/4 teaspoon vanilla extract
3 tablespoons coconut milk
3 tablespoons unsweetened shredded coconut
8 roasted almonds (** TOPPPING **)
1/4 cup Enjoy Life mini chocolate chips (** TOPPPING **)
1/2 teaspoon coconut oil (** TOPPPING **)
Directions
Step 1
Combine soaked/drained dates, extracts, and coconut milk in a small food processor. Blend for 1-2 minutes.
Step 2
Add protein and coconut flour. Mix until well combined.
Step 3
Add shredded coconut and mix until just combined.
Step 4
Roll mixture into balls/mounds, place one almond on top of each, and place in the fridge while you prepare chocolate.
Step 5
Combine chocolate chips and coconut oil in a microwave safe bowl. Heat in 20 second increments and stir in between until chips are melted and chocolate is smooth.
Step 6
Spoon chocolate mixture over protein mixture and ensure it is evenly coated.
Step 7
Truffles will be ready to eat when chocolate cools and hardens. Store in fridge for up to one week.
Note
NUTRITION INFORMATION: calories- 133, protein- 5, carbs- 19, fat- 5