My brain is CONSTANTLY on the go when it comes to food.  I probably think about making food, eating food, or buying food at least 50% of the day.  I even carry a little notebook with me most of the time so that when my mind starts to race, I can easily just jot down whatever ideas I have.  I have at least 30 full recipes written out in my notebook at any given time as well as 10-15 recipes that I have already made, tested, and photographed that are just waiting to be blogged/shared.  Every now and then I will get an idea in my head and when I get down to testing it out in the kitchen, things unfortunately don't always go as planned.  Sometimes the end product isn't even salvageable the whole batch gets tossed in the trash.  That was almost the case with this idea I had come up with for Thin Mint Brittle…
As soon my shipment of Muscle Egg arrived a few weeks ago, I could not stop my brain from thinking about all the different yummies I could make.  When I opened up the Mint Brownie carton, I immediately thought about Thin Mint Girl Scout cookies.  I knew one of my first recipes would be for some type of hard cookie.  Unfortunately, that particular recipe didn't pan out quite right.  I was going for a real crunchy, brittle like texture but somewhere in the science, I was left with more of a cake like consistency.  It was delicious but not the dish I had first intended.  Initially, I was bummed because I had such high hopes, but as I kept munching on it while cleaning up my baking mess, I realized there was no way I was going to throw this entire pan of "brittle" cake out.  Even if I just kept taking nibbles here and there, eventually I would finish the pan.  I mean, look at it…. wouldn't you want to nibble?  It looks dense but its actually VERY light and delicate.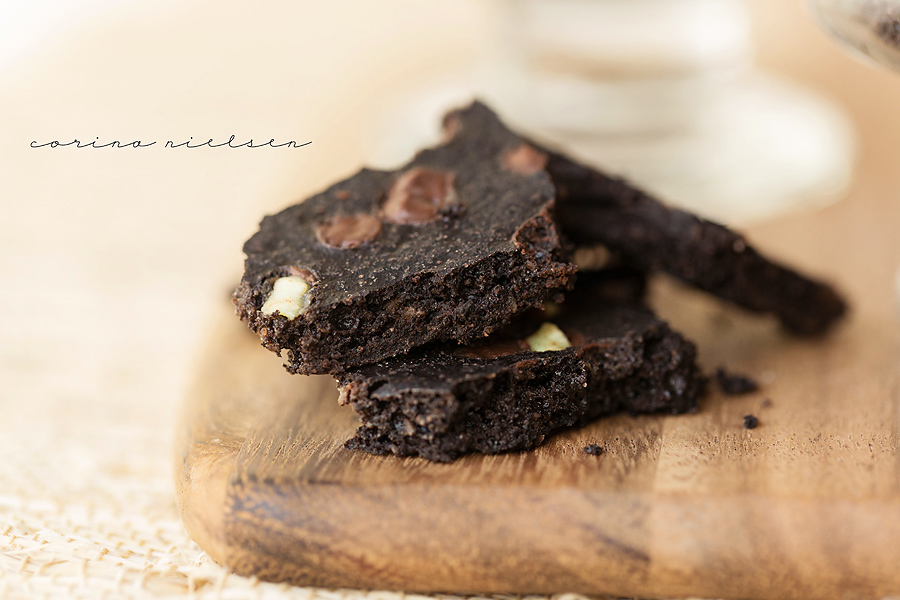 Once clean up was done, it dawned on me.  Since I already crumble all kinds of things in my oatmeal, on my waffles & pancakes, in my ice cream, smoothies, etc. why not just use this instead of trashing it?  And that's exactly what I did for a few days… breaking off a piece and adding some crumbles here and there on basically anything sweet I was eating.  Delicious.  Definitely happy I didn't toss the pan!  After those few days though, I came up with an even better idea.  Use the last 1/3 of the pan I had and make Thin Mint Parfaits.  Brilliant!  Worked out perfect for an after school snack for my daughter and I!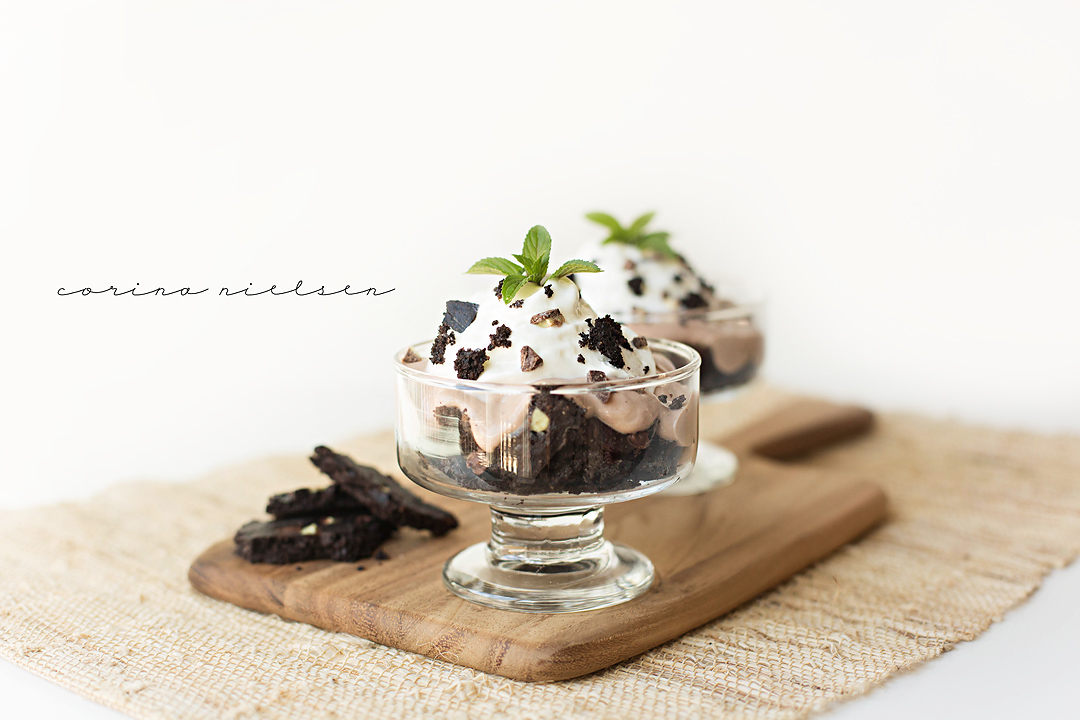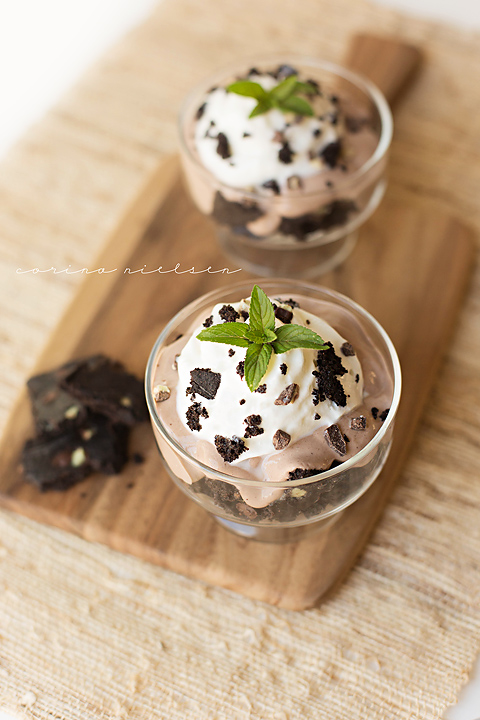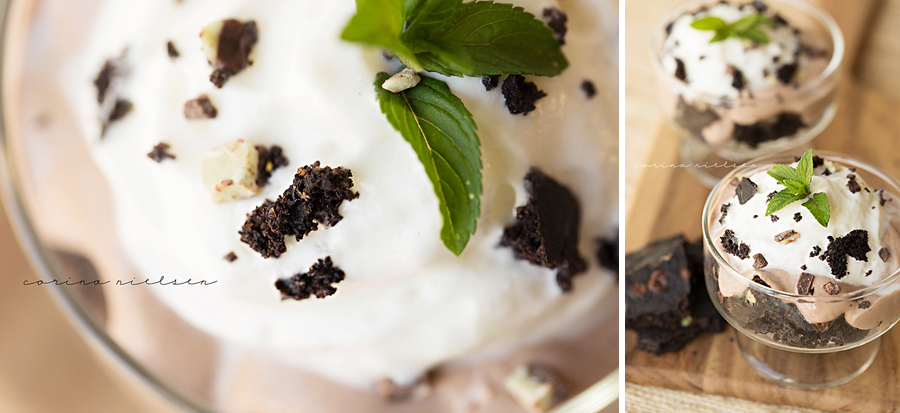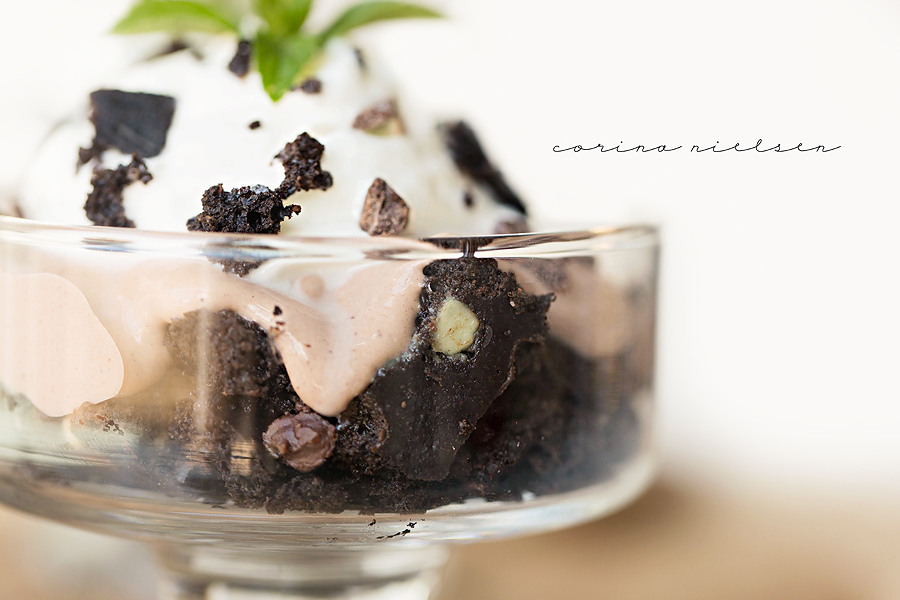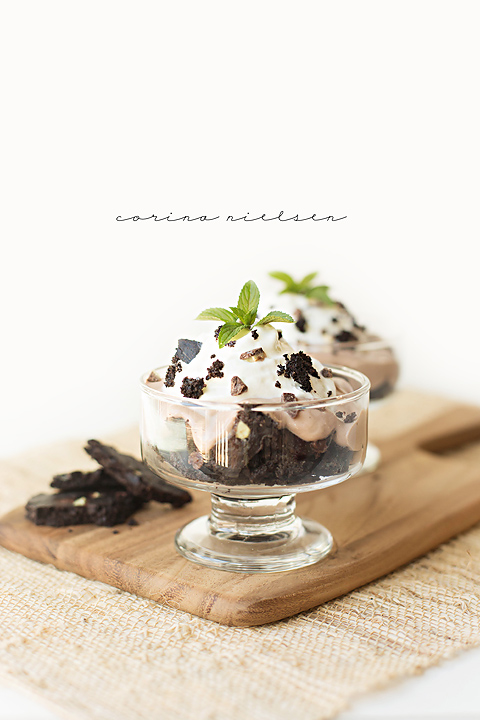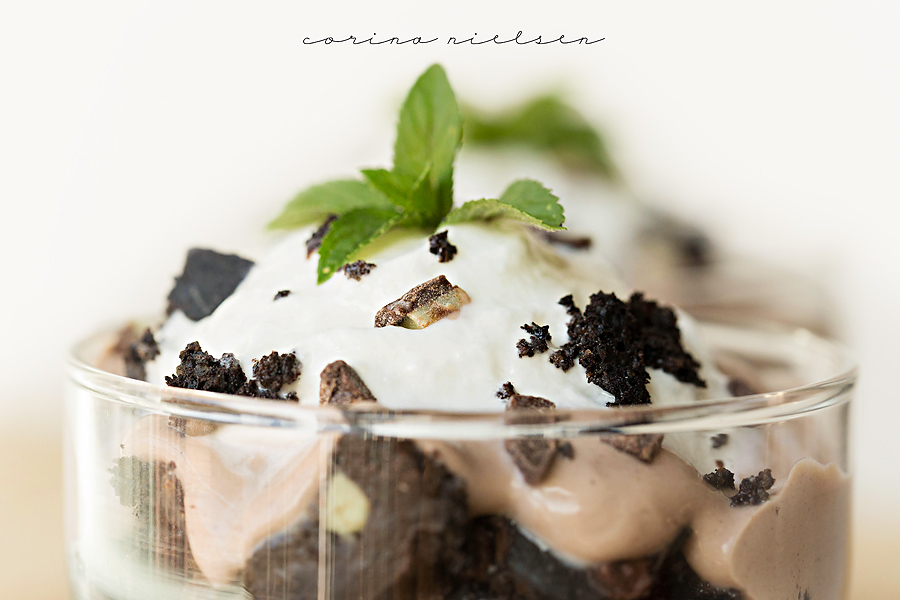 Although initially annoyed and disappointed, this was a recipe mishap that ended up working out just perfectly!  I may not have perfected my Thin Mint Brittle yet, but I did come up with a pretty great Thin Mint Cake!!!
Recipe for the cake:
Thin Mint Almond Cake & Parfaits

Print recipe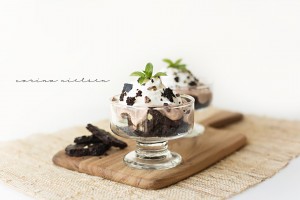 | | |
| --- | --- |
| Serves | 8-10 |
| Prep time | 5 minutes |
| Cook time | 10 minutes |
| Total time | 15 minutes |
| Meal type | Dessert |
Ingredients
1 1/4 cup almond flour
1/4 cup coconut sugar
1/2 cup cacao powder
1 teaspoon baking powder
1 pinch salt
1/4 cup unsweetened apple sauce
1 cup Mint Brownie Muscle Egg (egg whites)
2 teaspoons vanilla extract
1/8 teaspoon peppermint extract
40 drops Chocolate Sweet Leaf Stevia
1/3 cup Andes Chopped Mints
Directions
Step 1
Preheat oven to 350° and grease a 9x13 sheet pan with non stick spray. (You can use a smaller/deeper pan like an 8x8 if you want a thicker cake).
Step 2
Mix all ingredients (EXCEPT chopped mints/chocolate chips) in a large bowl until well combined and batter is smooth.
Step 3
Stir in chopped mints or chocolate chips.
Step 4
Bake for 8-12 minutes. As soon as the cake begins to pull away from the sides, its done.
Step 5
Eat cake on its own, sprinkle it on smoothies, oatmeal, ice cream, etc.
Note
NUTRITIONAL INFORMATION (8 servings total): calories- 133, protein- 5, carbs- 12, fat- 6 (PER SERVING)
And to make it into a single serving parfait, mix together:
– 1/2 cup 0% plain Greek yogurt
– 1/2 tsp cacao powder
– 8 to 10 drops of Chocolate Sweet Leaf Stevia
– 1/2 scoop Chocolate Trutein Protein
– 2 to 3 drops of peppermint extract
– 3-4 tablespoons of water or unsweetened almond milk to create a pudding texture (add water slowly in small increments)
** layer serving dish with cake, pudding mixture, top with fat free whipped cream or Cool Whip, and sprinkle additional cake pieces on top **