For the first part of my journey, I ate a LOT of pancakes.  I remember having one huge stack just about every single day for at least 4 months.  It was definitely my go to breakfast and I never got tired of them (kinda like my egg & veggie scramble these days).  At some point though, I thought I might switch things up and try a nice waffle stack instead.  I dusted off my VERY old waffle iron, put some batter on to cook, and while I thought those were delicious as well, it wasn't enough to make me fall in love with them.  That all completely changed about 7 months ago when I invested in a new waffle iron: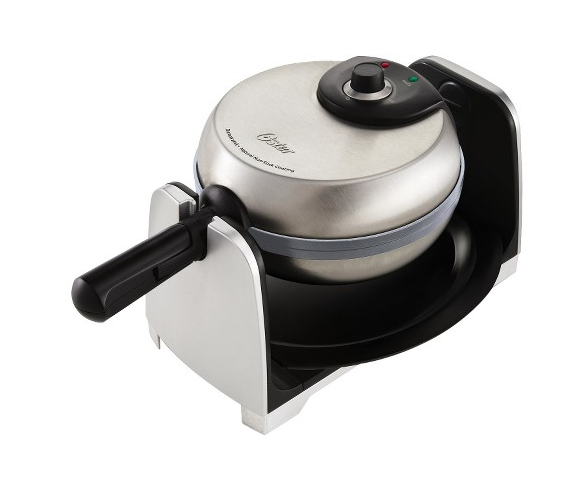 I can't even tell you how much I adore this thing.  The first time I put it to use, there was no question… my heart was officially stolen and it belonged to waffles!  I think part of the reason why I made the switch to waffles from pancakes is because these Belgian ones are THICK.  Like really thick, easily over 1″ when they are completely cooked.  Yes, they do take a bit more batter, but more batter=more food right?  No complaints there!!!  I also LOVE how crispy  I can get the edges.  Fluffy insides and toasty, golden outsides.  They are absolutely perfect every single time I make them.
So once I made up my mind that waffles were my new pancakes, it was time to bring on all of those yummy flavor combinations!  Chocolate chip, mint cookies & cream, peppermint mocha, chocolate raspberry, strawberries & cream, cranberry coconut, and perhaps one of my all time favorites… a sweet & savory waffle sandwich.  Waffles, waffles, and more waffles.  Yes, yes, and YES!
Then out of nowhere last month, MuscleEgg went ahead and did this…

What?????
Jumped on that train real quick…
Naturally when the new flavor arrived, waffles were on the menu!  At first I went with a very simple cake batter & chocolate combination, but knew I could do a little bit better… and yup, I did.  What can I say, I'm a sucker for blueberries (and ice cream)!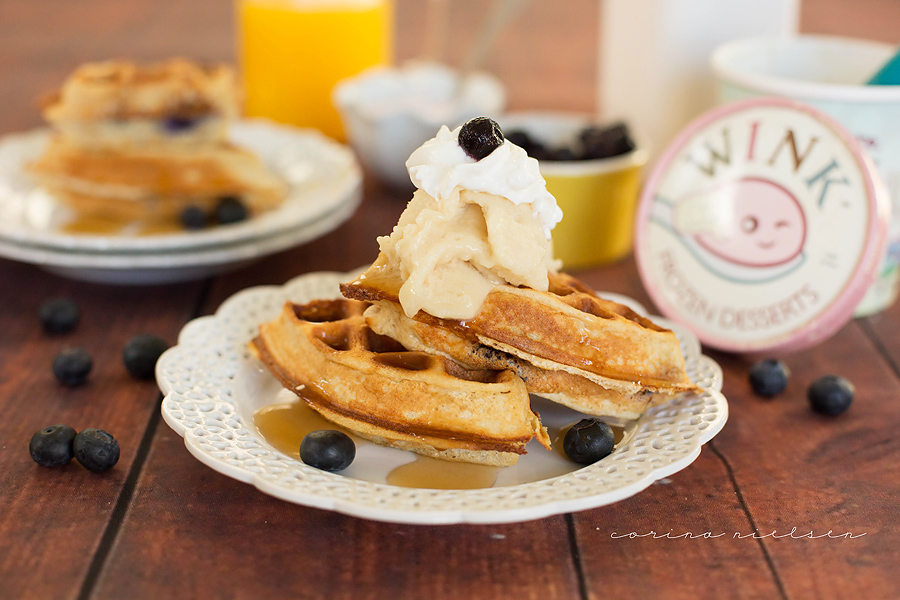 And FYI, if you haven't put ice cream on your waffles (of pancakes for that matter), you are seriously missing out!  The combination of the warm waffles and cold ice cream is outstanding!!!  I adore the Wink Frozen Desserts brand on my stacks for a few reasons.  #1 it's a volume food at only 100 calories per pint.  #2 it doesn't hurt my sensitive stomach whatsoever (at all, never, ever, never ever, not a question). and #3 because its more "icy" than it is creamy, as soon as it melts on the waffles, the texture isn't quite so overwhelming, thick, and rich like a regular ice cream would be.  Since waffles can be a bit more "heavy" anyways, the addition of the Wink just lightens it all up!  Did I mention that it's only 100 calories per pint…. and dairy free, gluten free, soy free, nut free, egg free, sugar free, and vegan also?  Yeah, along with MuscleEgg and Kodiak Cakes,  Wink is also a daily staple in my diet!
And now back to my regularly scheduled waffle post…
But wait just for a second though, let me take it back a bit and show those crispy, golden cracks and crevasses.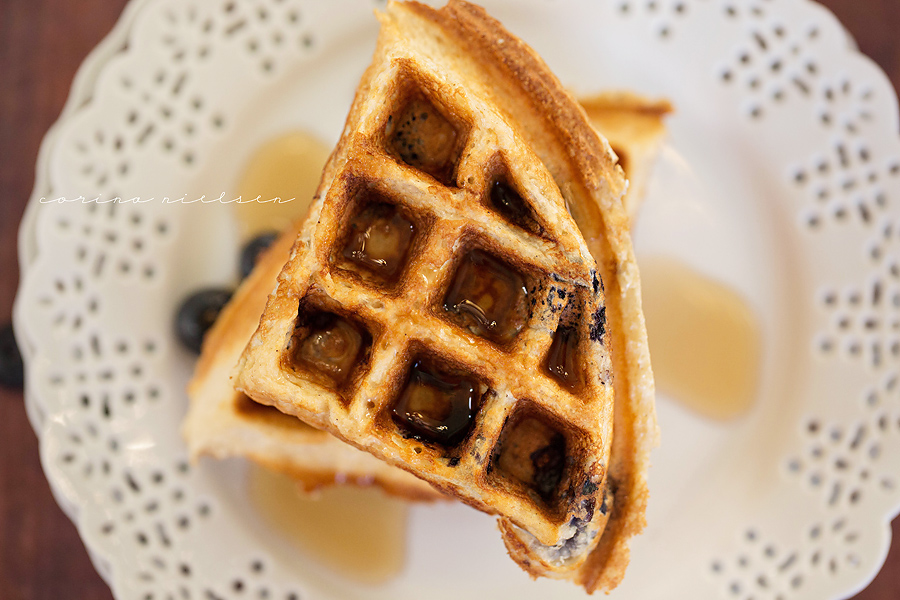 mmmmmm. crispy.
Ok, now back to the full stack in all it's glory… oh, those glorious thick waffles!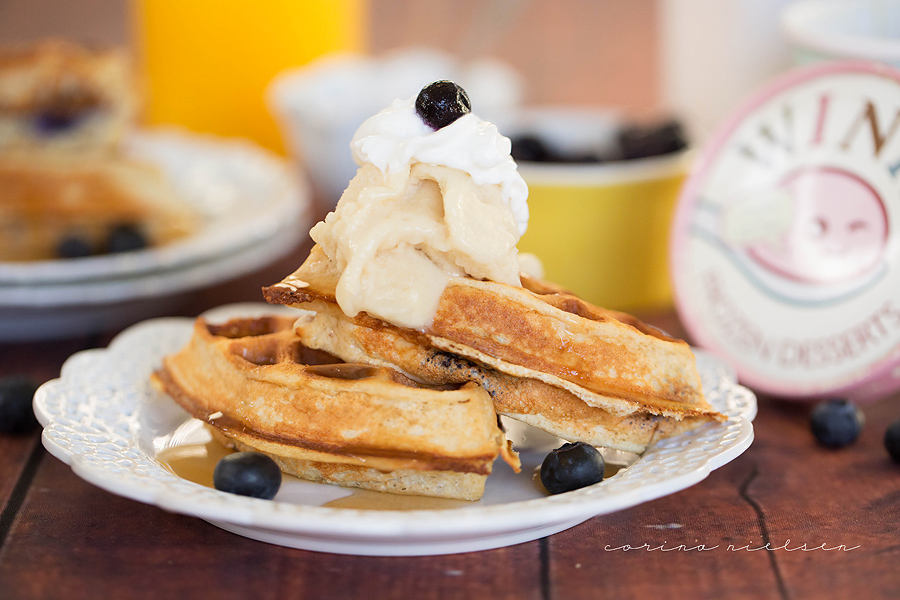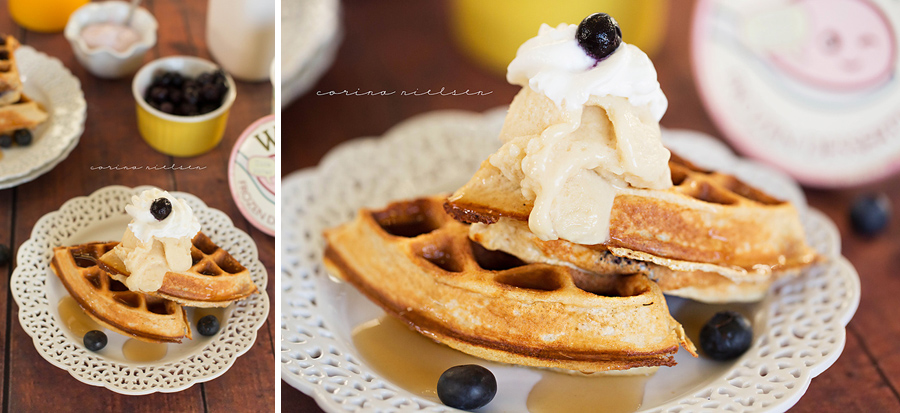 Now take a deep breath for those fluffy insides with all the gooey popped blueberries.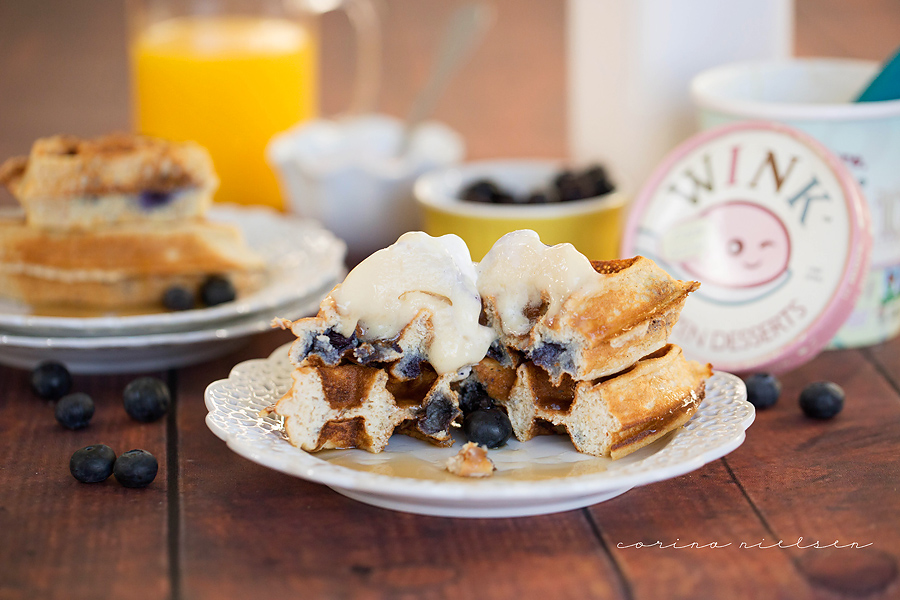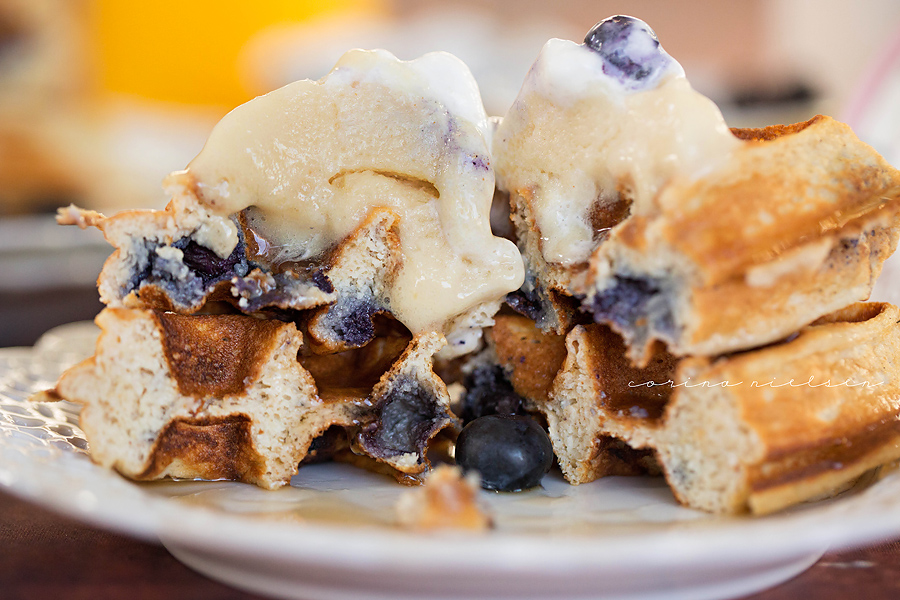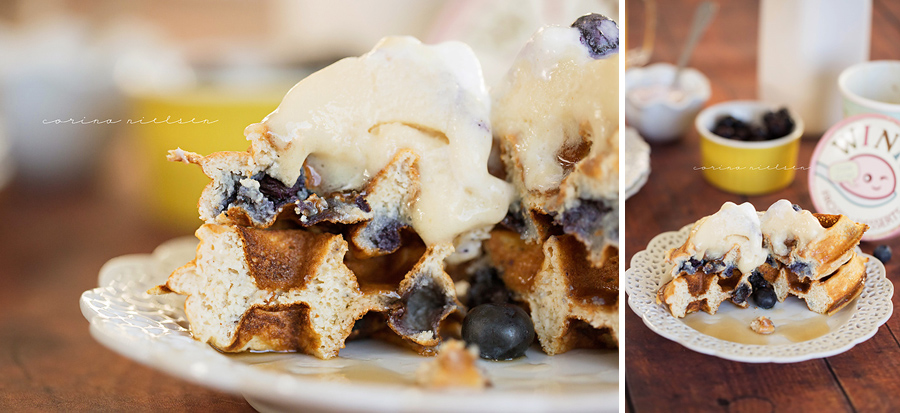 And even though the "Cake Batter" Wink provides a nice sauce for the waffles, a little extra syrup is fine by me!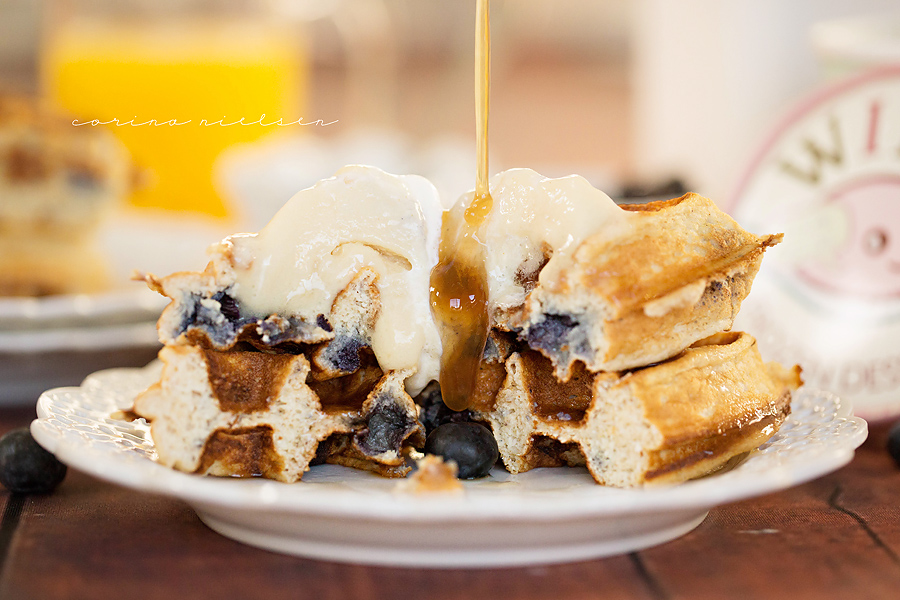 Blueberry Cake Batter Waffle Sundaes.  It's a great thing!
Blueberry Cake Batter Waffles

Print recipe
| | |
| --- | --- |
| Serves | 1-2 |
| Prep time | 5 minutes |
| Cook time | 5 minutes |
| Total time | 10 minutes |
| Meal type | Breakfast, Dessert |
Ingredients
1/2 cup Kodiak Power Cakes
1/2 scoop Vanilla protein powder
2 tablespoons coconut flour
1/2 teaspoon baking powder
1/2 cup Cake Batter MusceEgg egg whites
1/2 cup milk of choice
1/4 teaspoon vanilla extract
1/4 teaspoon butter extract
50 drops Vanilla Cream Sweet Leaf Stevia (or sweetened of choice)
1/2 cup blueberries
Optional
1-2 scoop Wink Frozen Desserts Cake Batter ice cream (coupon available in sidebar)
Directions
Step 1
Combine all ingredients (except blueberries and ice cream) in a medium sized bowl. Mix until smooth. Stir in blueberries. Let sit for 3-5 minutes.
Step 2
Preheat waffle iron and coat with non stick spray.
Step 3
Cook waffles 3-4 minutes per side until golden brown. Top with ice cream, syrup, and fat free whipped cream.
Note
NUTRITIONAL INFORMATION (makes 1 large serving/2 small servings): calories- 218, fat- 3 grams, carbs- 30 grams (8 grams fiber), protein- 22 grams (per single serving)