Apple pie is hands down one of my top 3 desserts of all time.  Ever since I started making my own pie from scratch, I've become quite an apple pie snob.  I like my apples a certain way, I like my crust a certain way, and I like the ratio of apples to crust a certain way.  Clearly, I'm pretty picky about my pie so I rarely ever order it at restaurants and almost never buy a pre made one from the store.  Unfortunately, I also don't make my own too often, maybe 3-4 times per year, always for Thanksgiving and Christmas and if my family is lucky, I may surprise them with one randomly here and there.  Even though I adore it and my recipe isn't too difficult to whip up, it does take some time to get it just the way I like it.
A few weeks ago out of nowhere though, I had a HUGE craving for apple pie.  No idea why, but I couldn't stop thinking shoving a big slice in my mouth.  However, I didn't have the time & energy or all of the ingredients I needed to make an entire homemade pie myself.  After 10 minutes of contemplating going to the store for everything I needed, then reluctantly checking my pantry to make a list, low and behold a container of Kodiak Cakes "Apple Spice: Oatmeal Unleashed" hit me square in the face (literally, I opened the cabinet and it fell out).  If that's not a sign, I don't know what is.  Some form of apple something had to be created.
I grabbed it, I opened it, I smelled it, I tasted it and immediately knew my impending emergency trip to the store was just cancelled.  I didn't have everything I needed to a pie, but I did have enough ingredients to make a batch of cookies!  Of course, since I was already in recipe development mode, it was a perfect opportunity to think outside the box AND attempt a "healthier" alternative to my fatty/sugary pie as well.
I don't toot my own horn very often (if ever) but these cookies? They are nothing short of genius… I would like to think it's my baking skills but in all honesty the combination of the Kodiak Oatmeal (SO aromatic and FULL of flavor) and the PEScience "Blondie" protein is a match made in heaven.  Then the fresh cut apples and ground cinnamon take them over the top.  Truly one of the best cookies I have ever made.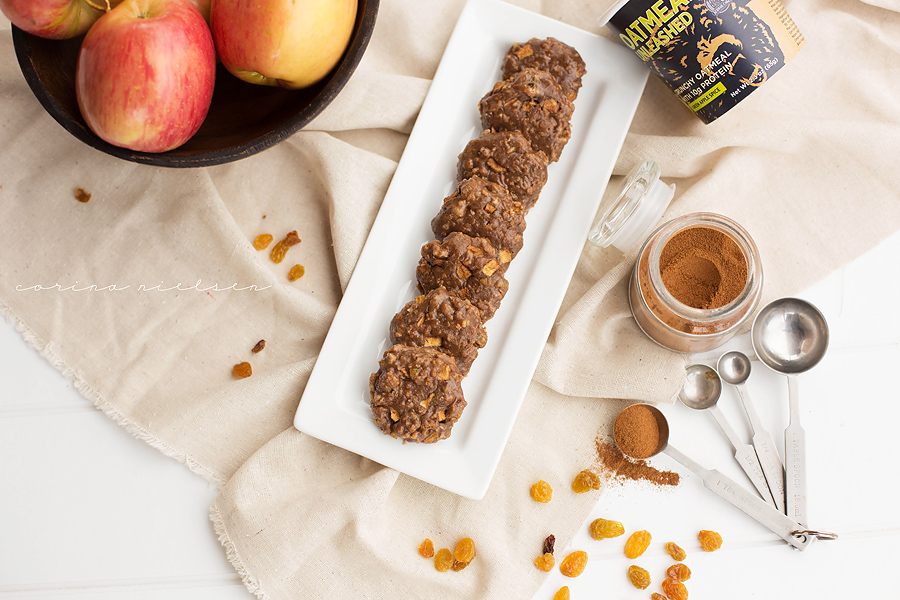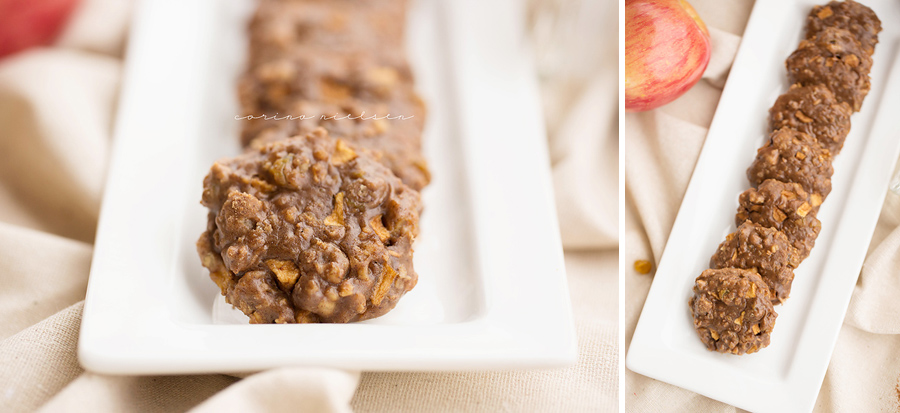 These may not have a thick flakey buttery crust or 5 cups of apples in it, but I promise you that if you close your eyes and take a bite, you will immediately be reminded of apple pie.  Whats even better is that you can probably eat an entire batch of these cookies on your own and it still won't equal the macros/calories that a slice of regular apple pie would have!  I didn't miss my apple pie once after eating a couple of these.
I mean really.  Those apple chunks though.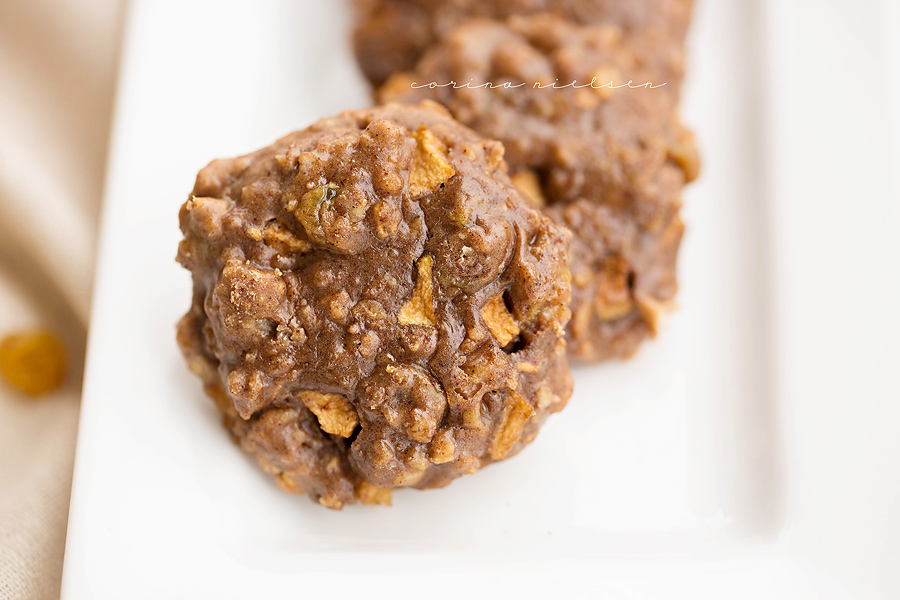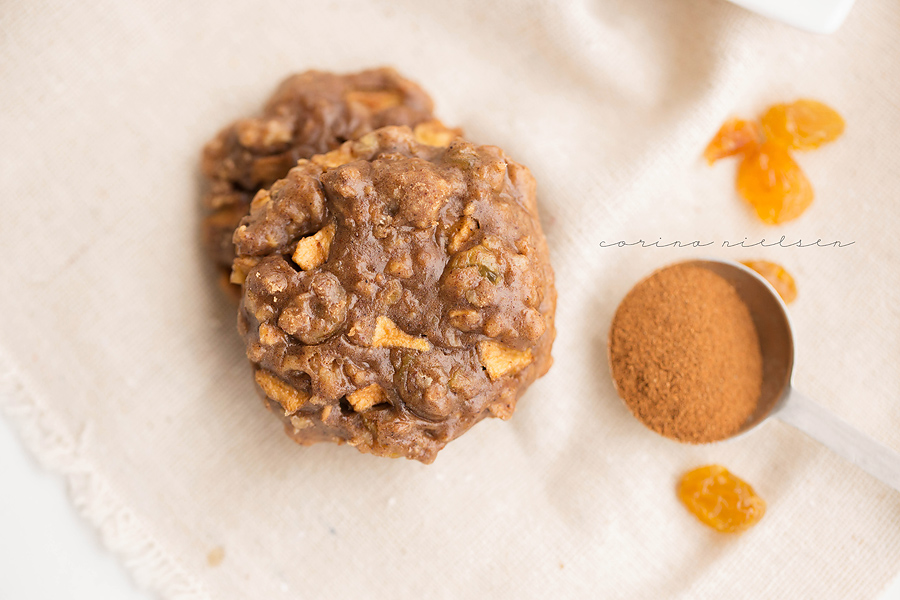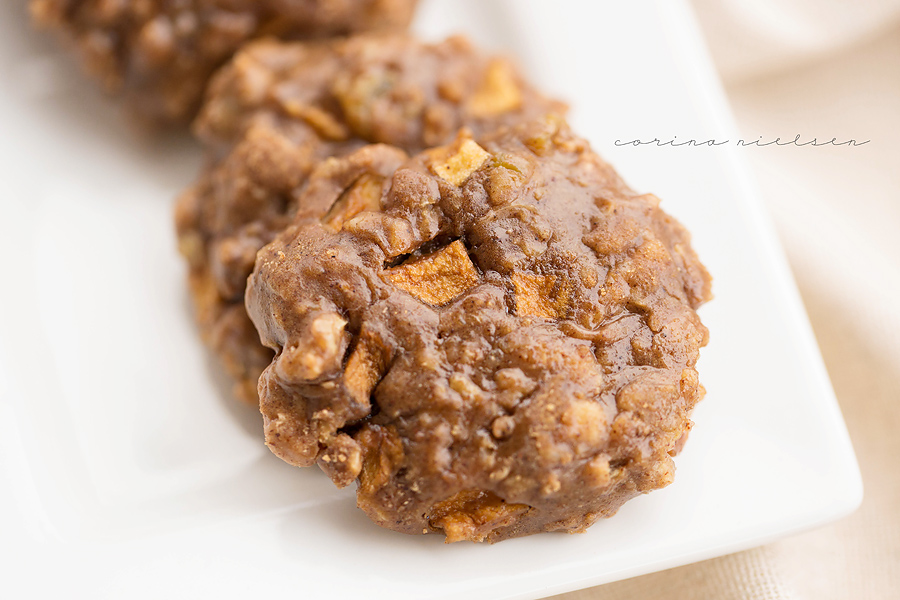 And the texture… these are soft baked, chewy, extremely squishy (JUST the way I like my cookies).  If you are looking for a crisp cookie, these are far from that.  Now that I think of it, they are actually more like a cross between a Quest protein bar and a cookie… if the two had a baby, this would be the final product!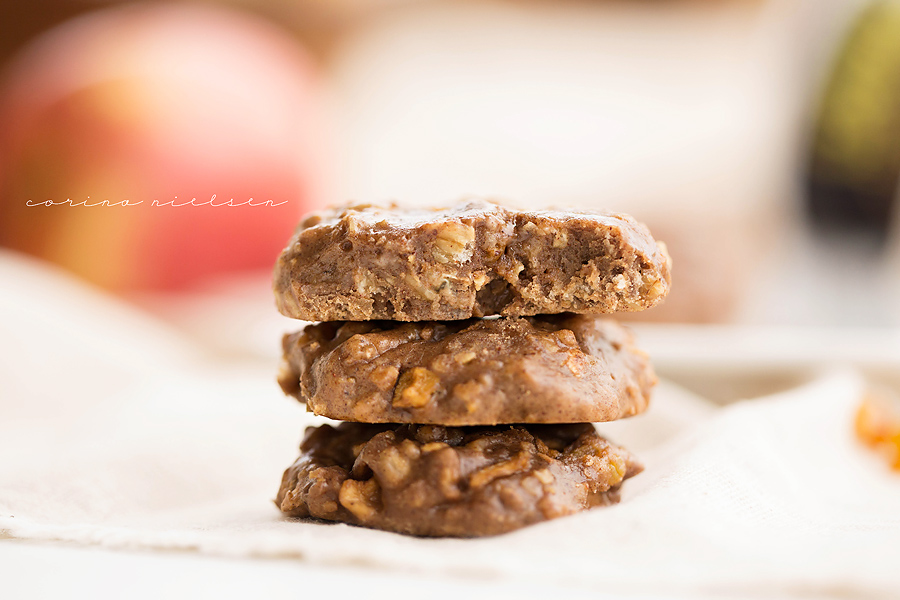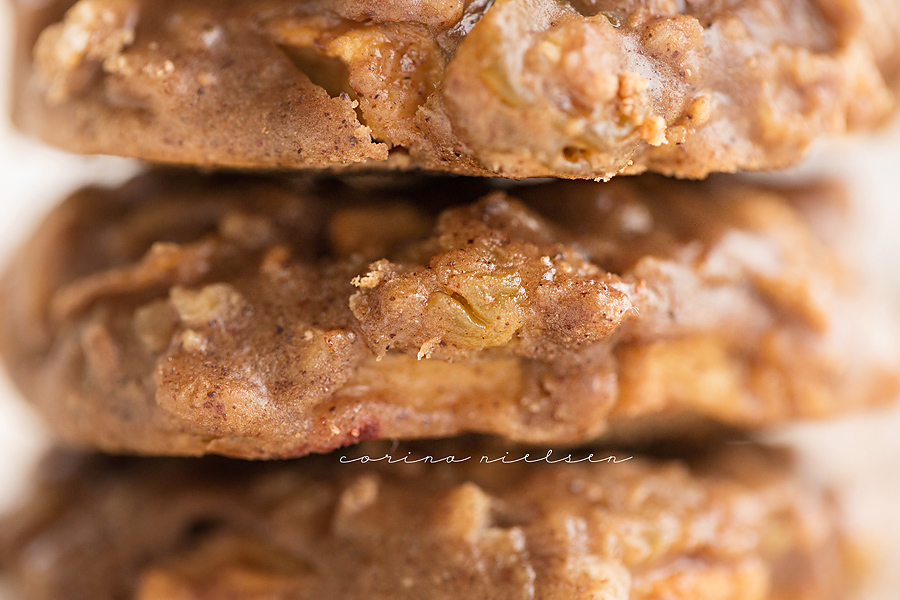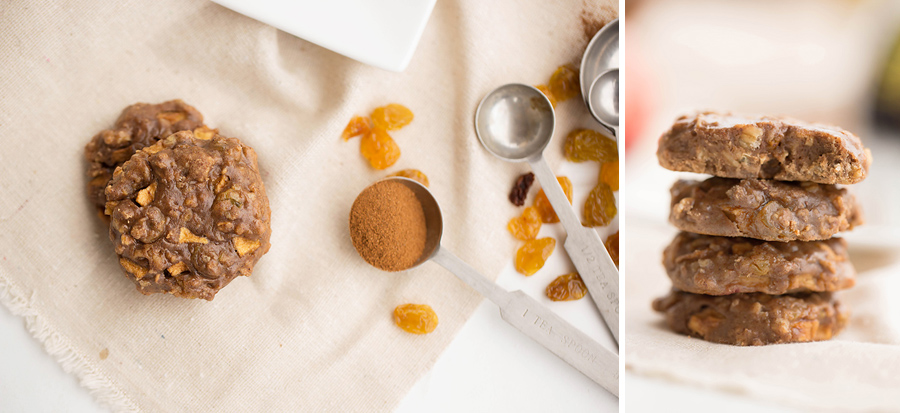 I think I may have just created a permanent, year round regular apple pie craving substitution…
Apple Spice Blondie Oatmeal Cookies

Print recipe
| | |
| --- | --- |
| Serves | 10 |
| Prep time | 5 minutes |
| Cook time | 5 minutes |
| Total time | 10 minutes |
| Meal type | Dessert |
Ingredients
1 tablespoon Sweet It Vitafiber
1/4 teaspoon vanilla extract
2 tablespoons Sunbutter (or nut butter of choice)
3 tablespoons milk of choice
1 scoop Blondie PEScience Select Protein (30% off coupon below)
1 Kodiak Cakes Green Apple Spice Oatmeal
3/4 teaspoons Cinnamon
1/2 teaspoon Apple Pie Spice
30g chopped apple (about 1/2 small apple)
Optional
2 tablespoons golden raisins
Directions
Step 1
Preheat oven to 350 degrees and line a baking sheet with a silpat or parchment paper.
Step 2
In a small bowl, combine protein powder, Kodiak Oatmeal, optional raisins, apple pie spice, and cinnamon.
Step 3
In a small pot, cook Sweet It Vitafiber and vanilla extract over low heat. When small bubbles begin to form (not to boiling), turn off heat. Stir in sun butter, almond milk, oat/protein powder/spice mixture, . Fold in in apples.
Step 4
Divide and scoop cookies onto baking sheet. Bake for 5 minutes ONLY, just until set and the cookie "shape" holds when you lift them. Let cool completely before removing from the pan.
Note
NUTRITIONAL INFORMATION (makes 10 cookies): calories- 64, fat- 2 grams, carbs- 7 grams (2 grams fiber), protein- 4 grams PER COOKIE
If you are interested in receiving 30% OFF on Blondie Select protein or any other PEScience products, use my code CORINA at checkout on www.pescience.com