I'm always baffled when I hear someone tell me that they have a hard time hitting their protein goals everyday.  It's the one macronutrient that I actually have to be conscious of throughout the day while planning meals and eating because I know I can easily go over my needs by early afternoon.  I know a lot of people will supplement with protein powders because they are quick and easy, but because I eat (and love) my regular proteins like eggs, chicken, turkey, etc., I'm usually good to go on my protein each day just eating regular food.  However, there are times when A. I'm absolutely ravenous after lifting/working out and have zero time to prepare an actual meal because I'm ready to eat my own arm off, B. I'm pressed for time because I'm a mom running around getting kids to/from school, all of their afternoon activities, doing grocery shopping and constant errands, C. it's a rare occasion when I'm actually low on protein and need to fill in my macros without too much effort, and/or D. I'm absolutely CRAVING a nice cold & flavorful smoothie.  Lately, it's been a lot of option D around here, especially since I started using my beloved MuscleEgg AND PEScience Select protein for more than just baking… lots and lots of drinks around here with those two playing so nicely together!
Here in San Diego, we barely got a Fall, let alone a Winter, and even the weather this past month of Spring, it's been unusually warm/hot.  The last thing I want to do is be stuck next to a hot stove, oven, or even the microwave when I need something to eat.  Smoothies are the perfect option because they require little effort (I mean really, you throw some stuff in your blender and viola… instant meal), they are extremely versatile, the flavor possibilities are endless, it's a great way to use up extra produce, and you can pack a TON of nutrients (and protein) in to one little delicious glass.  Sometimes I go for a straight forward green smoothie and other times my tastebuds are requiring something a bit more creative, fun, and delicious.  This "Apple Pie Crumble" smoothie not only hit the craving spot, but it's packed with 60 grams of protein AND 23 grams of fiber (which let me add is close to every women's daily requirement).
So filling.  So delicious.  So flavorful.  So perfect.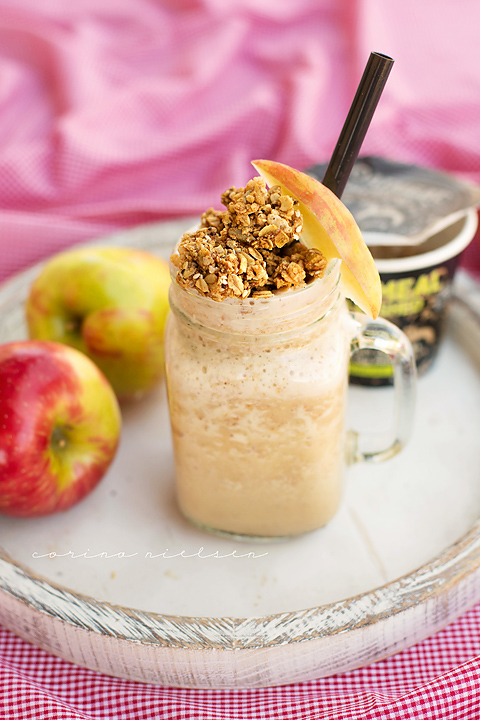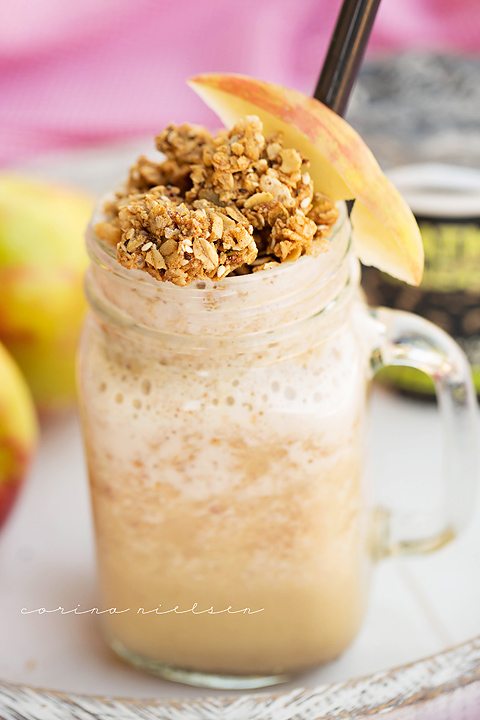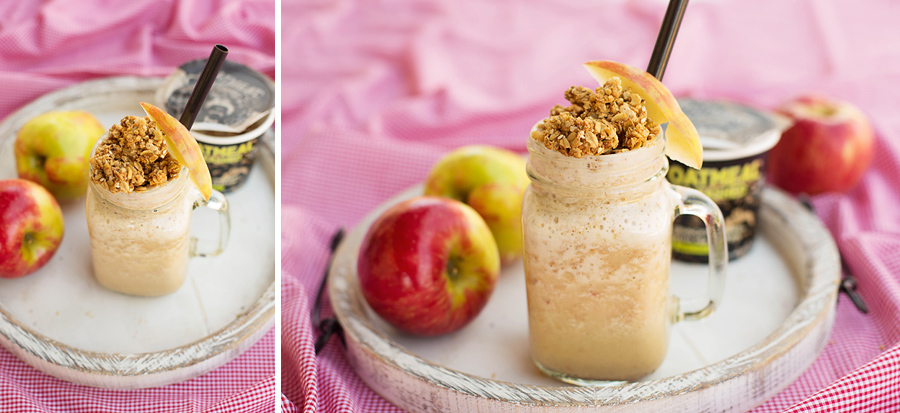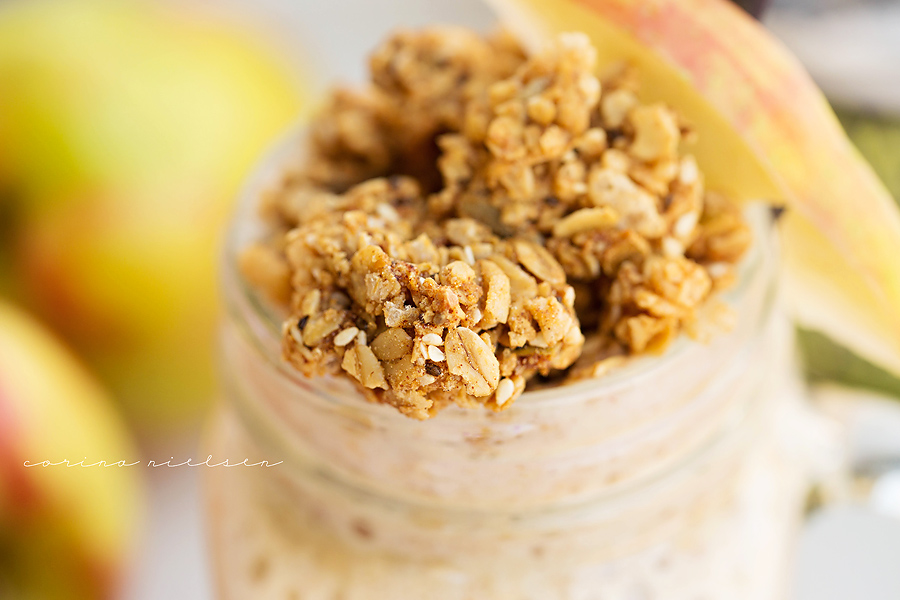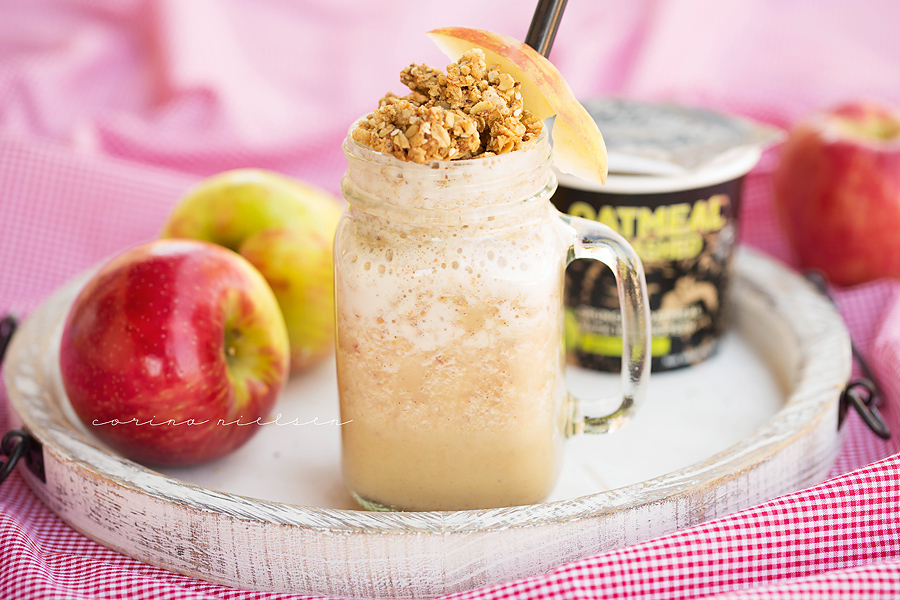 Apple Pie Crumble Smoothie

Print recipe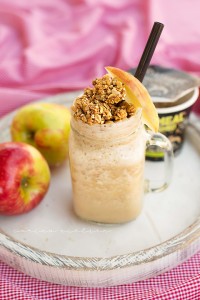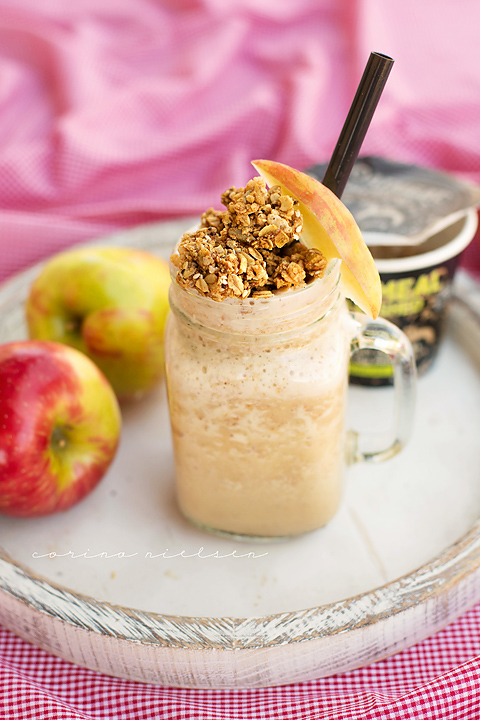 Ingredients
1 Apple Pie Quest Bar
1 cup Vanilla MuscleEgg (www.muscleegg.com)
1/2 scoop PEScience (30% off coupon below)
1 Medium apple
1/2 teaspoon cinnamon
1/2 teaspoon apple pie spice
Optional
1/2 cup ice
1 cup Kodiak Cakes "Apple Spice Oatmeal"
Directions
Step 1
Break off small pieces/chunks of Quest Bar and place on a cookie sheet lined with parchment paper. Broil on HIGH for 2-3 minutes until they are golden brown and toasted. Do NOT walk away during their process. They will go from perfect to burnt very quickly. Remove from oven and set aside.
Step 2
In a blender, combine MuscleEgg, PEScience protein power, apple pie spice, cinnamon, and apple. Blend on high until smooth. Add ice if desired, blend again until smooth. Add in 1/2 Apple Pie Quest bar and pulse 2-3 times or blend until smooth if you prefer no chunks while you drink (both options are delicious).
Step 3
Pour smoothie in glass and top with oatmeal and remaining Quest pieces if desired.
If you are interested in receiving 30% OFF on Snickerdoodle Select protein or any other PEScience products, use my code CORINA at checkout on www.pescience.com