Last week I was contacted by my friends over at Detour Bars and asked to participate in a little bake off & giveaway action.  I'm never one to turn down a challenge so I happily accepted!  Only requirements were to use both ABS Pancakes (low carb/high protein) and the new Detour "Simple" bars in new recipes and then share them with my readers.  Sounds simple enough right?  This girl could handle that!!!
Pancakes would have been the obvious choice, but I'm not an obvious kinda girl (especially when it comes to baking).  As it turned out, that day I also had a HUGE craving for some chocolate chip cookies!  I wasn't sure if ABS Pancakes would work in this form, but alas… they did!  They turned out bigger than I anticipated, but when dealing with cookies, they can NEVER be too big right?  How perfect do they look?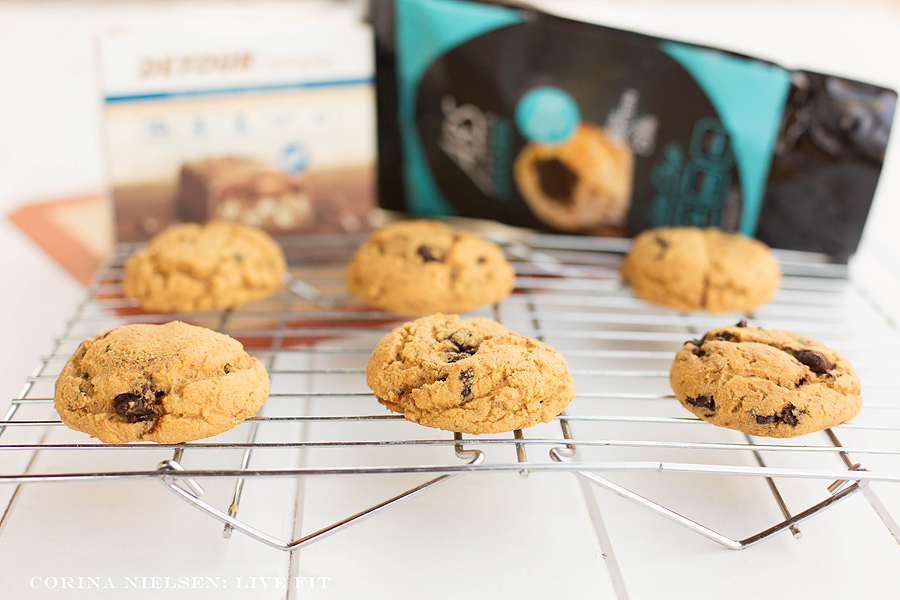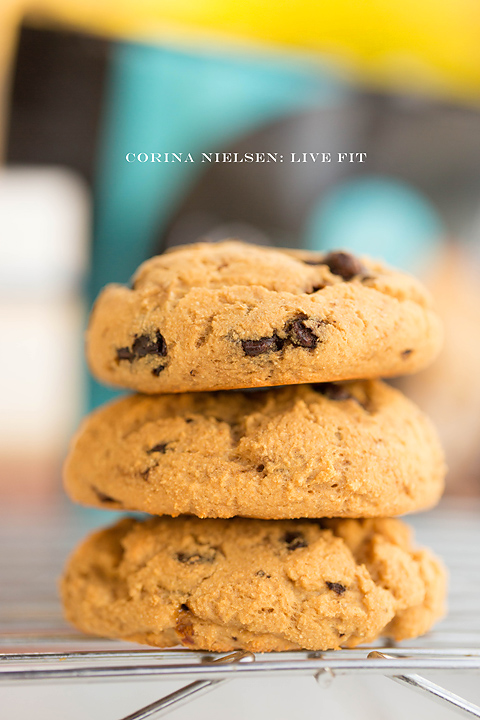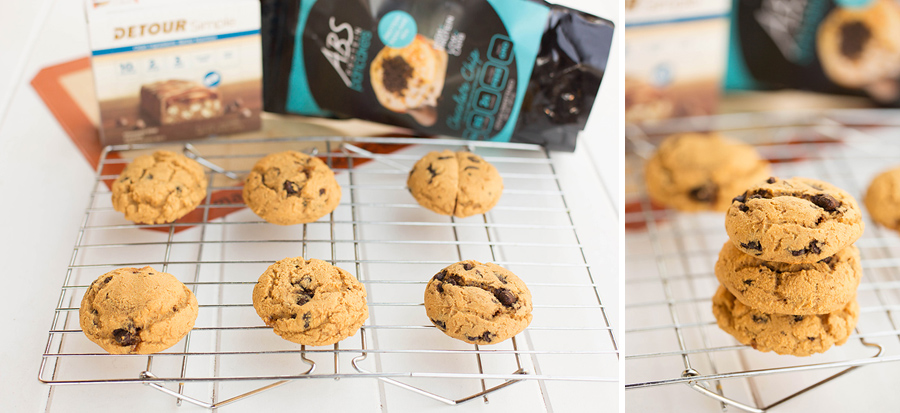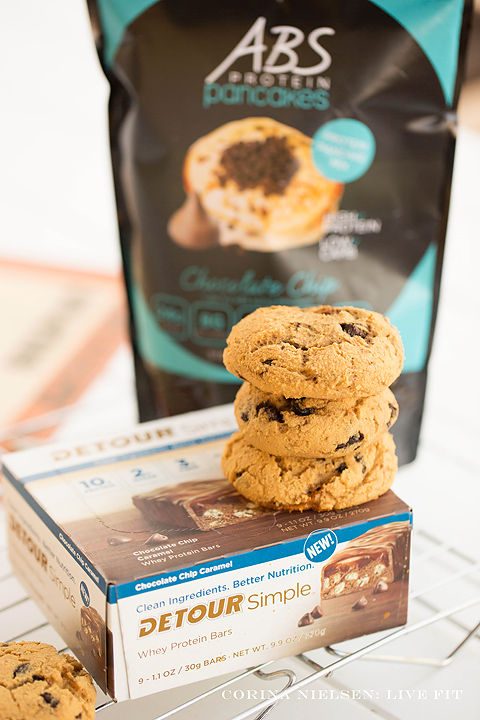 You might be thinking to yourself "Those look great, but where are the Detour Bars?  Are those the chunks I see in the cookies?"  No friends… those are ACTUAL chocolate chips that are already IN the ABS Pancake mix!  Do you see how big they are???  I was pretty shocked myself actually!
So no, no Detour Bars in the cookie batter.  Again, that would have been far too obvious.  I decided to take my chocolate chip cookie to a whole new level and STUFFED them with the a "Chocolate Chip Caramel" Detour Bar!!!!
Get ready for it…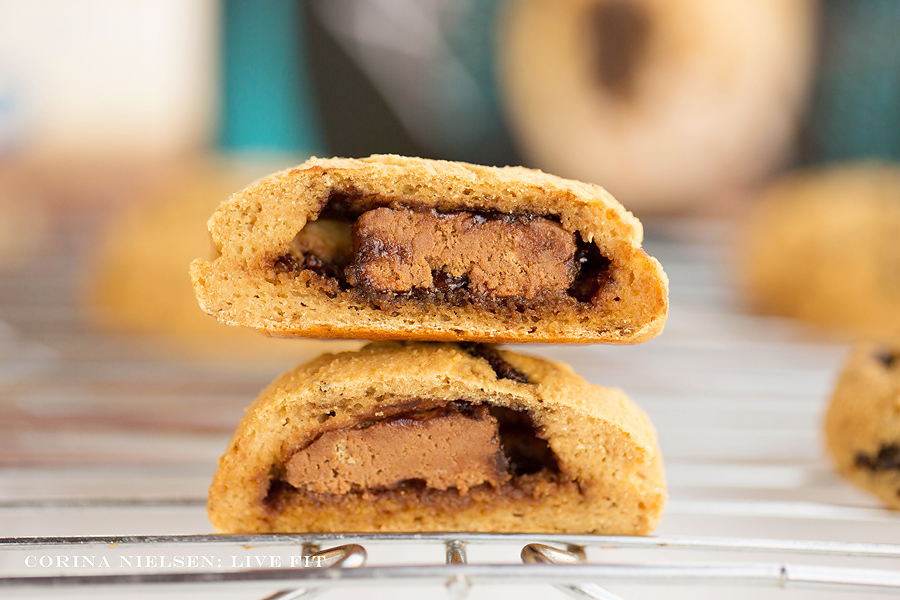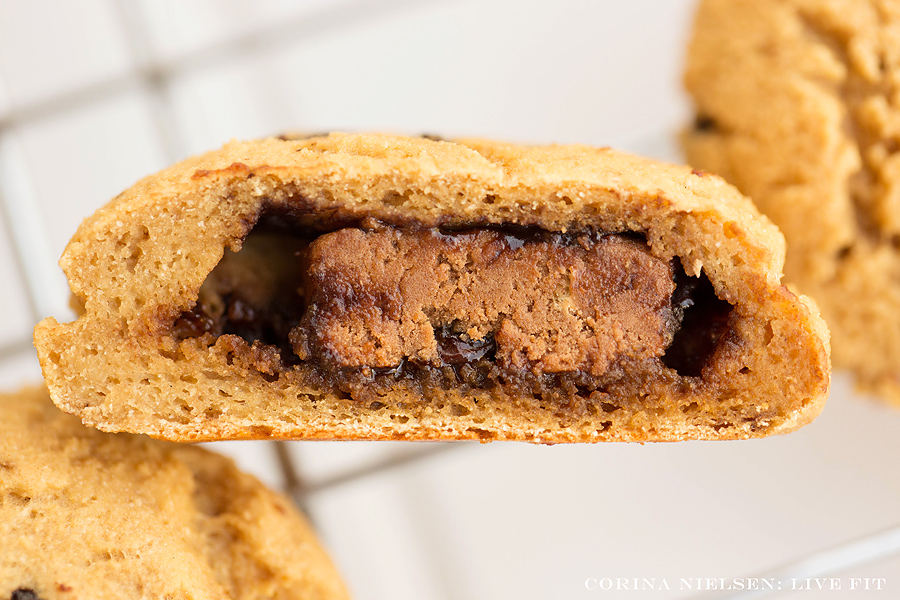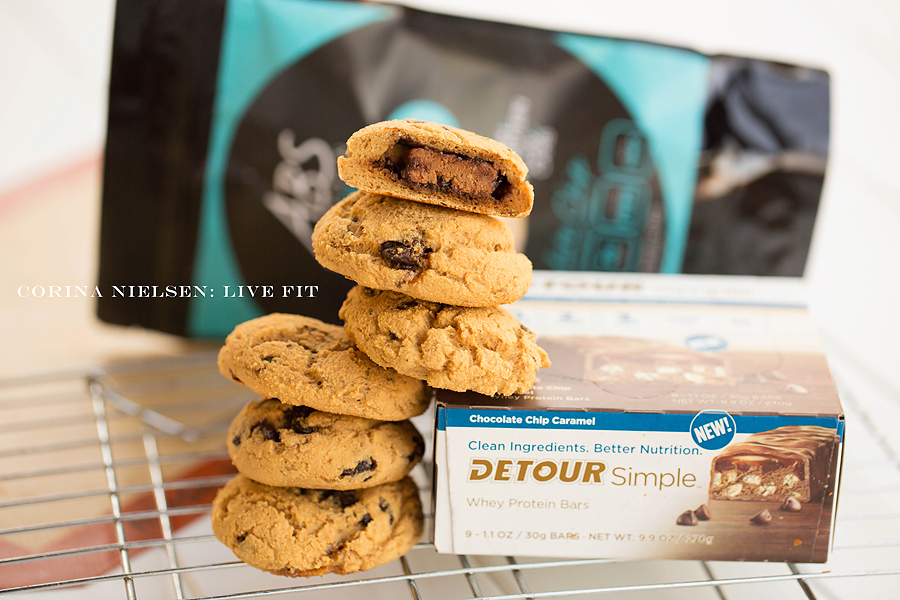 How's that for a chocolate chip cookie? Not only do these taste as good as they look, they are SO easy to make, AND the macros/nutritional profile on them are AMAZING.  Get a load of this… no really… I had to double check things when I was getting the information on them!
CALORIES: 93 (fat- 2.3 grams, carbs- 8 grams/fiber- 3.2 grams, protein- 11 grams) per cookie!!!!!
I don't think I have ever made or had a chocolate chip cookie with those kinds of stats, let alone a STUFFED one!  I think this may work it's way into my regular dessert rotation.  I know I will ALWAYS have room in my macros for at least 1-3 of them!
OK, so now the details on the giveaway!!!!  Pretty easy and straight forward, but you will need to do this through Instagram:
 Follow me, @ABS_ProteinPancakes and @DetourBar on Instagram
Re-post 

this recipe

 and tag myself, DetourBar and ABS_ProteinPancakes
Tag 3 Friends who LOVE pancakes, cookies, chocolate, and/or all three for a bonus entry in your post
CONTEST RUNS FROM JUNE 9, 2015 TO JUNE 11, 2015!!!!
Winner will be selected and announced on June 12, 2015!
So make sure to handle all of that for your chance to win your very own prize package with DETOUR BARS & ABS PANCAKES!
But first, grab this recipe!  It's a keeper!!!!
Chocolate Chip Caramel Stuffed Cookies

Print recipe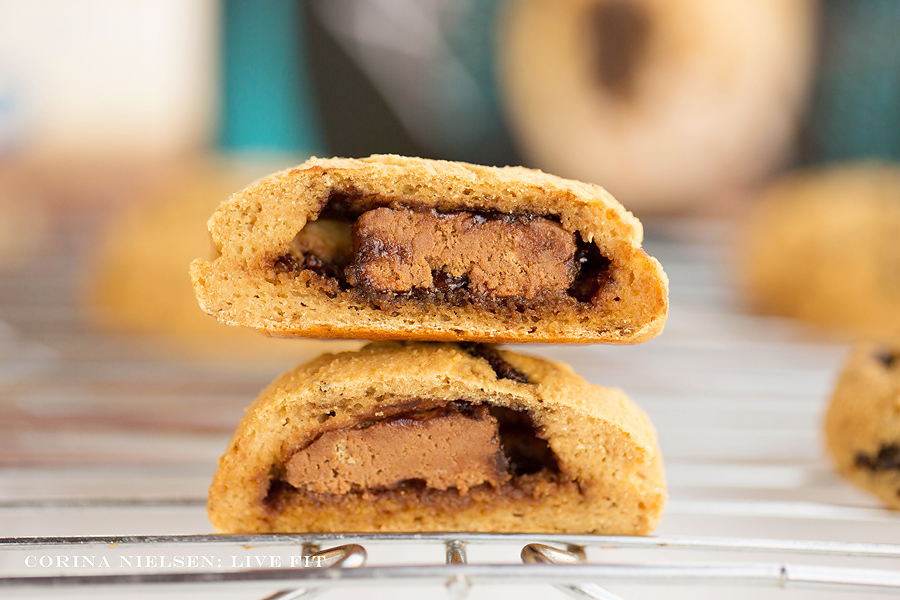 | | |
| --- | --- |
| Serves | 6 |
| Prep time | 5 minutes |
| Cook time | 15 minutes |
| Total time | 20 minutes |
Ingredients
2 scoops Chocolate Chip ABS Pancake Mix
1/3 cup Vanilla MuscleEgg egg whites
1/3 cup milk of choice
1/2 teaspoon baking soda
1/2 tablespoon coconut flour
1 Chocolate Chip Caramel Detour Bar (chopped into 6 equal pieces)
Directions
Step 1
Preheat oven to 350 degrees and line a baking sheet with a silpat or parchment paper.
Step 2
Combine ABS Pancake mix, coconut flour, egg whites, milk, and baking soda in a medium sized bowl. Mix until all ingredients are well distributed. Dough will be slightly wet but thick.
Step 3
You will now need to divide batter and form cookies. I used a kitchen scale to get them all relatively the same size. Take roughly 1 heaped tablespoon (about 24 grams each) of dough and roll into a ball. Flatten slightly and place one of the 6 pieces of chopped Detour Bar in the center. Take another heaped tablespoon (about 24 grams) and place that on top of the Detour Bar. Carefully press down the top layer to cover, roll into a large ball, then flatten it slightly to form the cookie. Place on the lined cookie sheet and repeat with remaining dough. You should have 6 cookies total.
Step 4
Bake for 15-17 minutes until the bottom of the cookies are slightly golden brown and set.
Note
NUTRITIONAL INFORMATION (makes 6 cookies): calories- 93, fat- 2.3, carbs- 8 grams/3.2 fiber, protein- 11.3 grams