'A high protein, low carb breakfast (or dessert) thats easy to make and good for you!  Easily change up the filling with whatever is in season or what you happen to have on hand. These are also great for meal & prep!'
I'm going to let you in on a little secret… these 'Strawberry Crepes' are a spin off of my popular 'Apple Cinnamon Roll Up's' but requires less ingredients, easier to make, and every bit as scrumptious.  I remember craving my apple roll ups one day, but didn't have apples or Greek yogurt.  I wanted them so bad I was ready to grab my keys and head to the market (I know we have all had those cravings).  Instead of forcing myself to throw on a bra to go out in public, I thought I would go ahead and see what else I could come up with.  I exited my closet, left the bra on the floor and headed to the kitchen to see what I did have on hand.
I may not have had apples or Greek yogurt on hand, but there are certain ingredients I ALWAYS have stocked especially when it comes to breakfast (my favorite meal of the day).  PEScience protein powder, coconut flour, cashew milk, MuscleEgg egg whites, berries, raw nuts, Walden Farm's syrup, and whipped cream.  Always.  These items are priorities for me because I use all of them every single day in some form or another.  Since the base of my 'Apple Cinnamon Roll Up's' is so versatile and all I was really only missing was the filling, I just tweaked the original recipe every so slightly and was eating a BIG, delicious breakfast in under 10 minutes.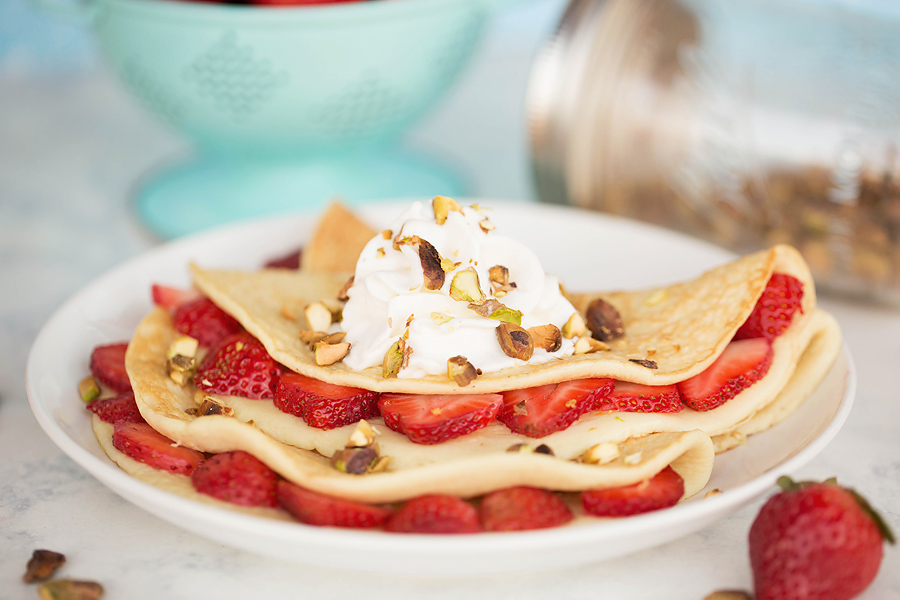 These are pretty thick for a "crepe", but you can easily add more milk to thin down the batter even further if you like.  I actually prefer the thickness because it gets me fuller quicker, more satisfying and hearty!!!  Unlike the 'Apple Cinnamon Roll Up's', these also have a much more rounded flavor.  Instead of bite after bite, chew after chew of sweetness, the strawberries in these provide that little bit of tart and tang. When you combine that with the sweet crepes, sweet whipped cream, and crunchy/salty bite of the pistachios it's a great combination of flavors and textures!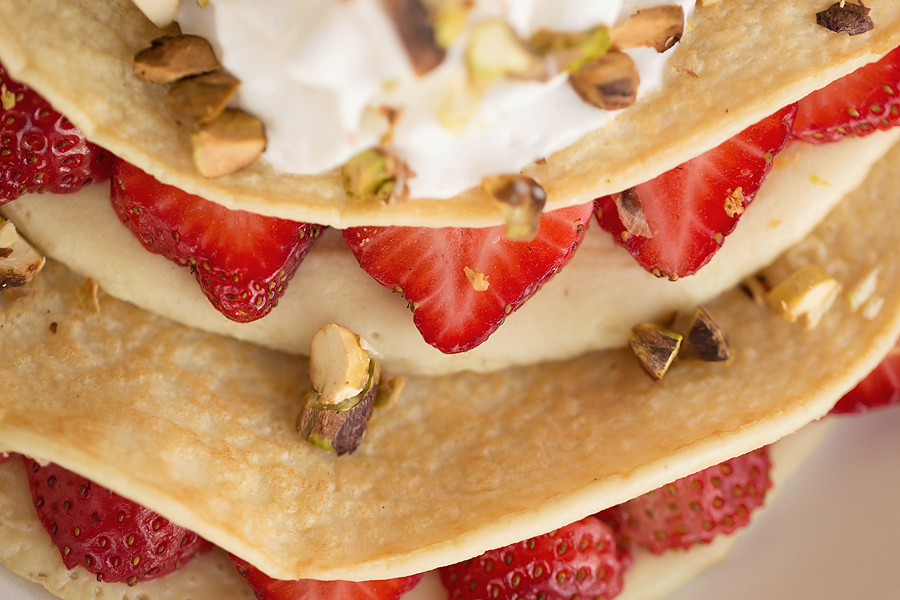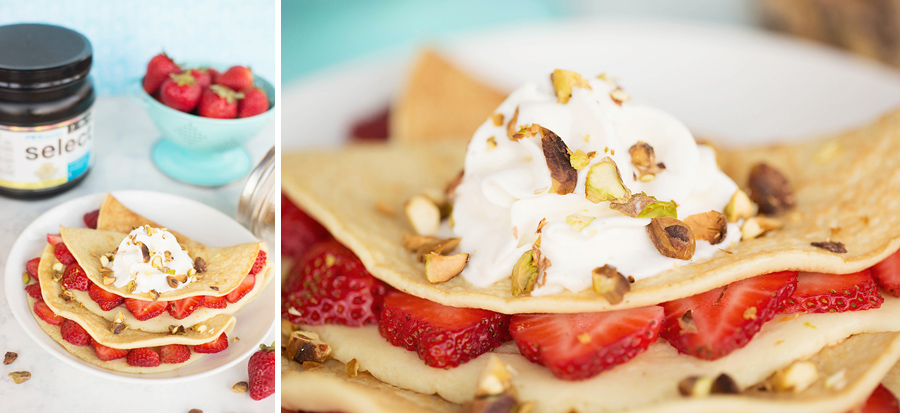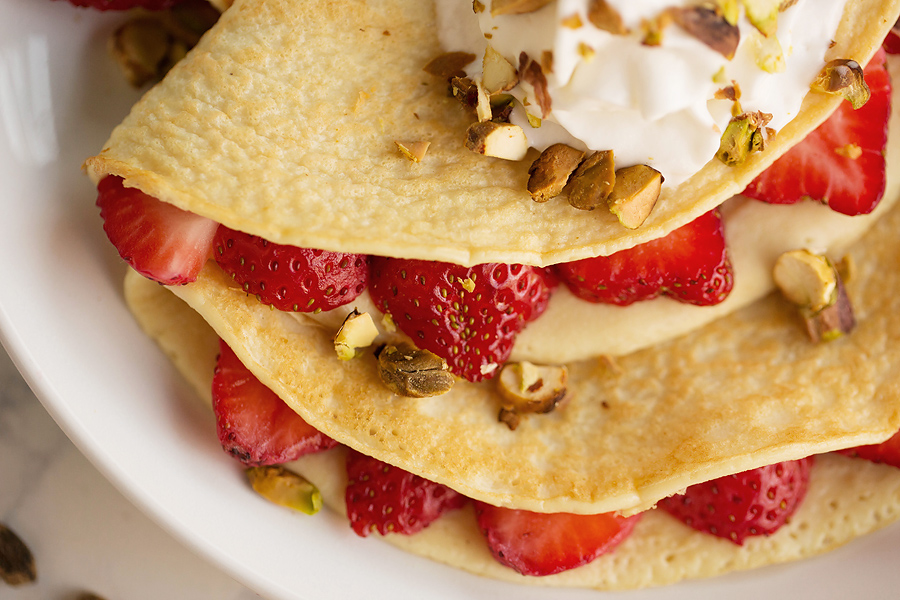 All I needed to add at this point in my breakfast was a nice little drizzle of Walden Farm's syrup!  Fun, refreshing, and SO filling!  After eating a batch of these or the 'Apple Cinnamon Roll Up's', I'm good to go for at least a couple of hours.  Another thing I love about both of these recipes is they can be prepared at the beginning of the week if needed and eaten on the go (warm or cold)!  If you've followed me on Instagram, Periscope, or seen my food prep posts here on the blog you have to be familiar with the 'Apple Cinnamon Roll Up's' because they are a GO TO meal for travel.  They have been prepped, packed in my FitMark bag, and eaten in Lake Tahoe, Los Angeles, Hawaii, Texas, as well as on local jet skiing trips!  I'm happy to report that this strawberry version will now be a part of my prep rotation!!!
Low Carb Strawberry Crepes

Print recipe
| | |
| --- | --- |
| Serves | 1 |
| Prep time | 5 minutes |
| Cook time | 5 minutes |
| Total time | 10 minutes |
| Meal type | Breakfast |
Ingredients
1 cup Strawberry MuscleEgg
1/4 cup milk of choice
3/4 teaspoons vanilla extract
1 tablespoon coconut flour
1/2 scoop Gourmet Vanilla PEScience protein powder (30% OFF coupon below)
1/4 cup strawberries
fat free whipped cream
2 tablespoons pistachios
Optional
Directions
Step 1
Add all ingredients to a high speed blender and mix on high for 20-30 seconds until light and fluffy. Let sit for 2-3 minutes, remix for 5-10 seconds. Preheat an omelet pan (for 3 small crepes) or 9" skillet (for 1 large crepe).
Step 2
Coat pan with non stick spray. Add batter to pan, COVER, and cook on low-medium heat for 2-3 minutes until golden brown on the bottom and tops are fairly set and no liquid remains. Flip and cook on remaining side for 20-30 seconds.
Step 3
Add sliced strawberries, fat free whipped cream, nuts, and syrup if desired.
Note
NUTRITIONAL INFORMATION: calories- 238, fat- 2 grams, carbs- 14 grams/fiber- 3 grams, protein- 38 grams
30 % OFF GOURMET VANILLA SELECT PROTEIN & ALL OTHER PESCIENCE PRODUCTS USING COUPON CODE 'CORINA' AT CHECKOUT