I know, I know.  Soup in the dead of Summer might not sound the best idea, but this is a HUGE family favorite in my house.  It's not often that both of my kids, my husband, and I absolutely LOVE something so equally, but this is a meal we all look forward to.  A mommy has to capitalize on those moments!!!  Anytime someone mentions having Chicken Tortilla Soup or we see it on a menu at a restaurant, we all chime in and say "Oh my God, that sounds so good!"  Then I'm guarantee to make it within the next 2-3 days.  When I first started making this soup, I had at least 2-3 more steps added to the whole process, but I finally figured out an easier way to make it!  There be quite a few ingredients listed, but don't be scared… it's actually quite easy to make and the BEST chicken tortilla soup we have ever had!
Yes, it tastes just as good as it looks… even better actually!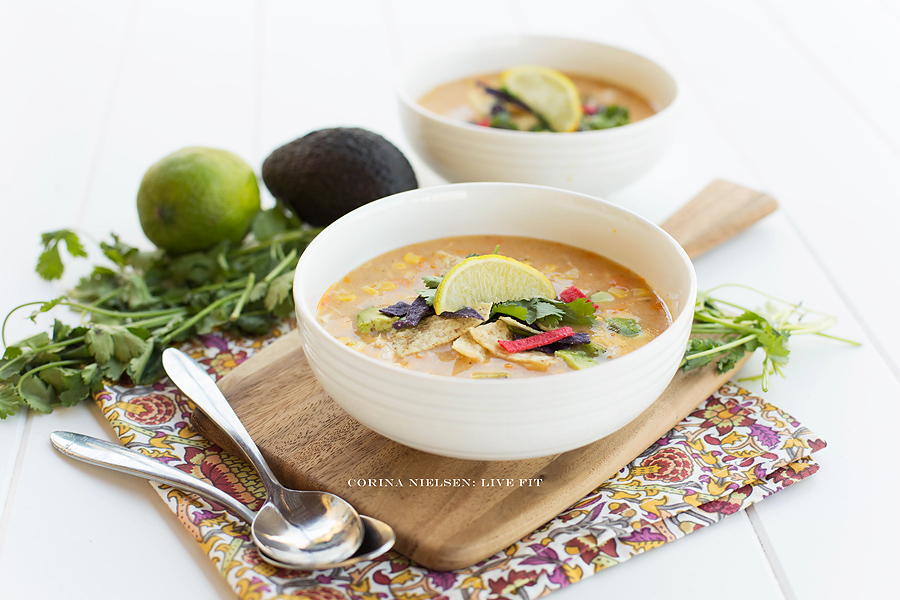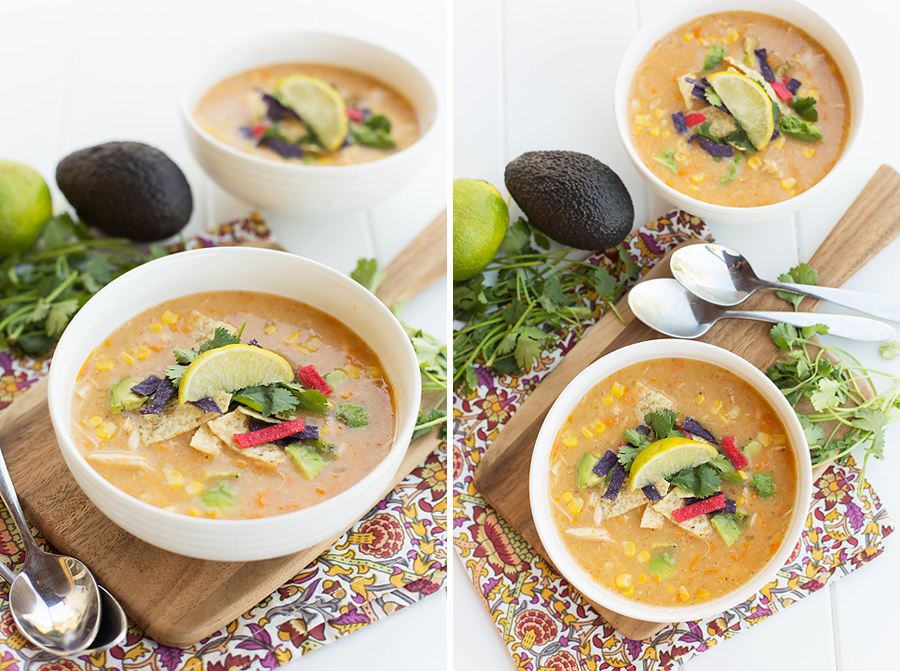 I keep my toppings fairly simple: tortilla strips (because they are pretty), avocado, cilantro, and fresh lime juice.  That extra lime is a MUST so don't forget it!  Despite being served hot, this is a super refreshing soup thats nice and light!  I guarantee you won't feel sluggish, warm, and cozy after eating this particular soup.  Now that I think of it, this Chicken Tortilla Soup is a perfect summer dish 🙂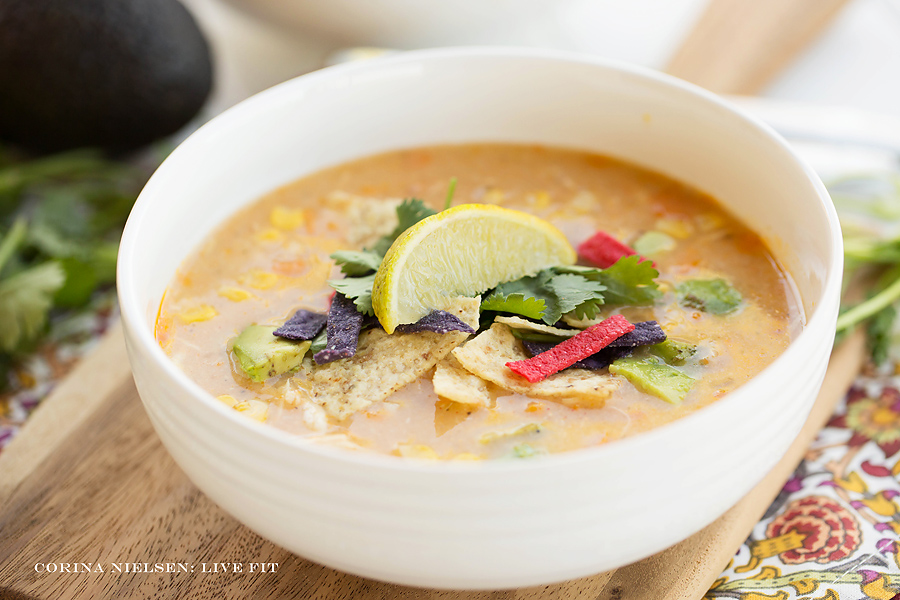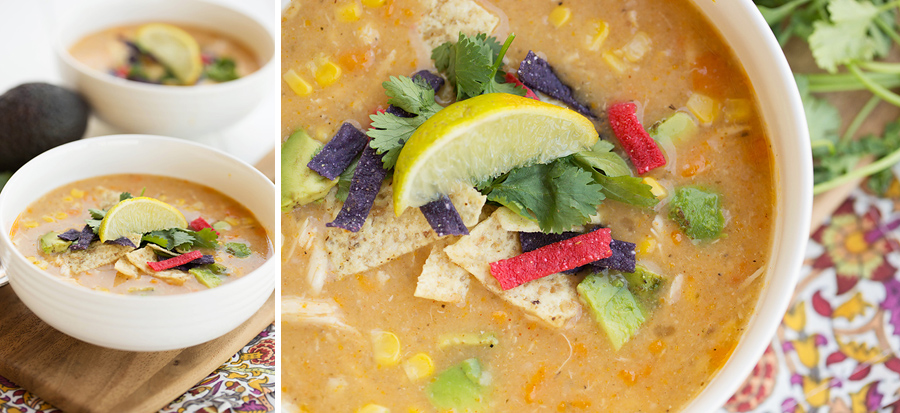 Look at how rich and creamy it looks!  Yet, I used no cream or real thickener aside from some crushed tortilla chips!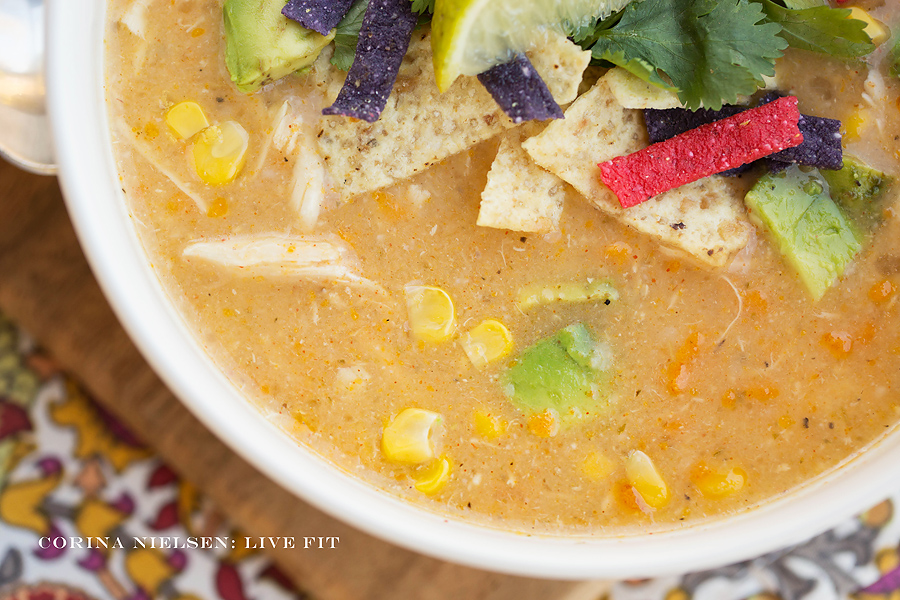 Not only is this the best soup I have made to date, it's also extremely healthy and 'diet friendly'.  Lots of protein, you can control the fat you use (more/less avocado), and a small serving of tortilla chips will do the trick for taste and texture!  The soup itself is very low in calories for a pretty nice sized serving.  This is WINNING all around!!!
Chicken Tortilla Soup

Print recipe
| | |
| --- | --- |
| Serves | 6-7 |
| Prep time | 5 minutes |
| Cook time | 1 hours, 30 minutes |
| Total time | 1 hours, 35 minutes |
Ingredients
1 Large whole chicken (6-7 pounds)
8 cups water
2 Medium chopped carrots
2 Medium chopped celery
1 Medium chopped onion
2 tablespoons chopped garlic
1 tablespoon paprika
1 tablespoon garlic powder
2 teaspoons onion powder
2 1/2 teaspoons salt
1 teaspoon pepper
1 teaspoon oregano
1oz tortilla chips
1/3 cup fresh lime juice
2 teaspoons lime zest
7oz corn
15oz no salt added diced tomatoes
Optional
15oz black beans (drain & rinsed)
Directions
Step 1
In a large stock pot, add water, chicken, vegetables, and all seasonings. Bring contents to a boil, reduce heat, and simmer for 1 to 1/2 hours until chicken is tender and falling off of the bone.
Step 2
Turn off heat and carefully remove chicken from pot. Place chicken in a large bowl and begin to pull meat off of the bone. Set chicken meat aside and discard bones.
Step 3
Add lime zest, lime juice, and tortilla chips to stock/vegetable mixture. Using an emersion blender, carefully mix until very smooth. Readjust seasoning to taste. Stir in diced tomatoes, corn, and black beans.
Step 4
Return chicken meat to pot, stir, and simmer under low heat for 15-20 minutes. Garnish with fresh cilantro, avocado, more lime juice, and tortilla chips.
Note
NUTRITIONAL INFORMATION: calories- 220, fat- 5 grams, carbs- 11 grams/3 grams fiber, protein 25 grams for soup only (no toppings)