Sometimes I don't mind getting a bunch of dishes, gadgets, pots, and pans dirty to whip up a batch of something in the kitchen.  I usually go in waves with my baking though.  1-2 weeks I'm on fire and crank out lots of goodies.  Other times I'm lucky to have the time to throw a bowl of cereal together.  Between summer school for one of my kids, traveling, feeling like a revolving door with family visiting, and making sure I'm getting my workouts in… I literally have no desire to be in the kitchen more than I have to.  Don't get me wrong, I LOVE baking & cooking, but this girl is TIRED this summer!!!  I feel absolutely worn out by mid afternoon once I get everyone in my life taken care of and lifting out of the way.
It's times like these where I need a super FAST, easy, and completely dummy proof dessert to heal a sweet tooth (or two)!  I think I now have a go to summer idea just to serve this purpose and it revolves around only THREE ingredients…
Halo Top ice cream, grilled peaches, and Kodiak Cakes 'Granola' Unleashed!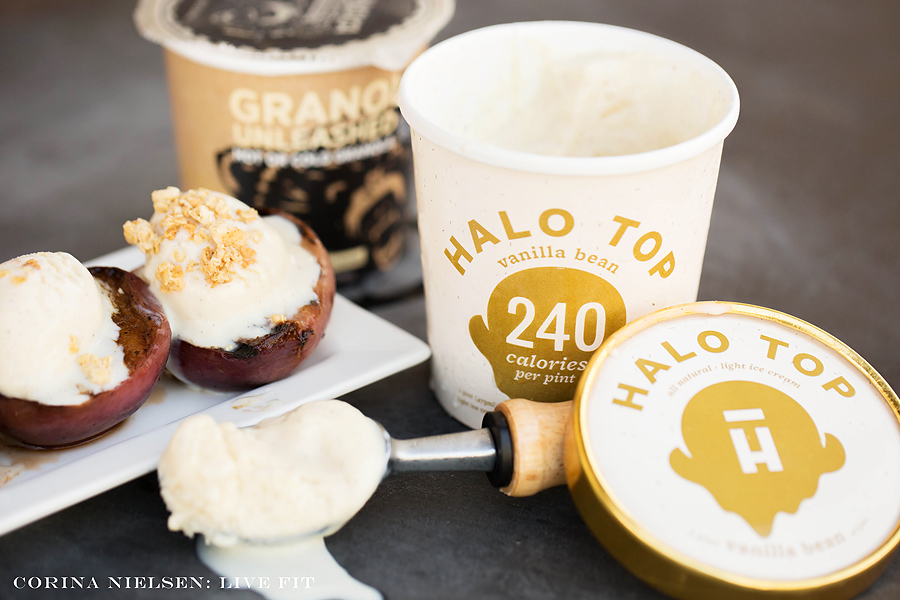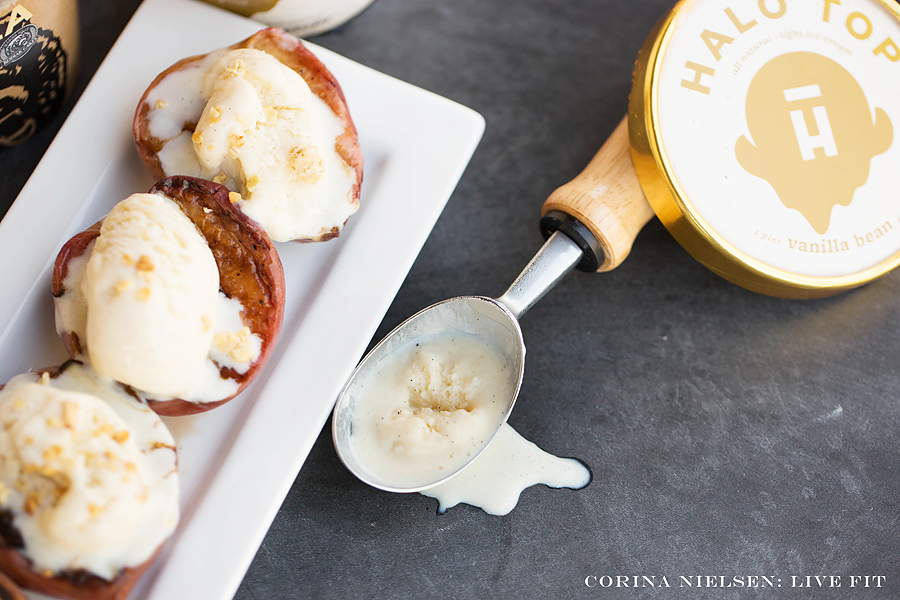 Halo Top is seriously one of my FAVORITE ice creams ever.  Even though I have to drive clear across town to buy it, I keep it stocked in the house at ALL times!  It's creamy just like regular ice cream BUT with a far better nutritional profile.  Only 240 calories per pint!  I usually end up adding 1-2 small scoops of Halo Top to 1/2 pint of my Wink ice cream (only 100 calories per pint).  Between these two ice creams, I can have a fairly large serving and then add in my fat free whipped cream and crumbles of my favorite toppings (fresh fruit, Walden Farms chocolate sauce, crushed up cookies, etc.)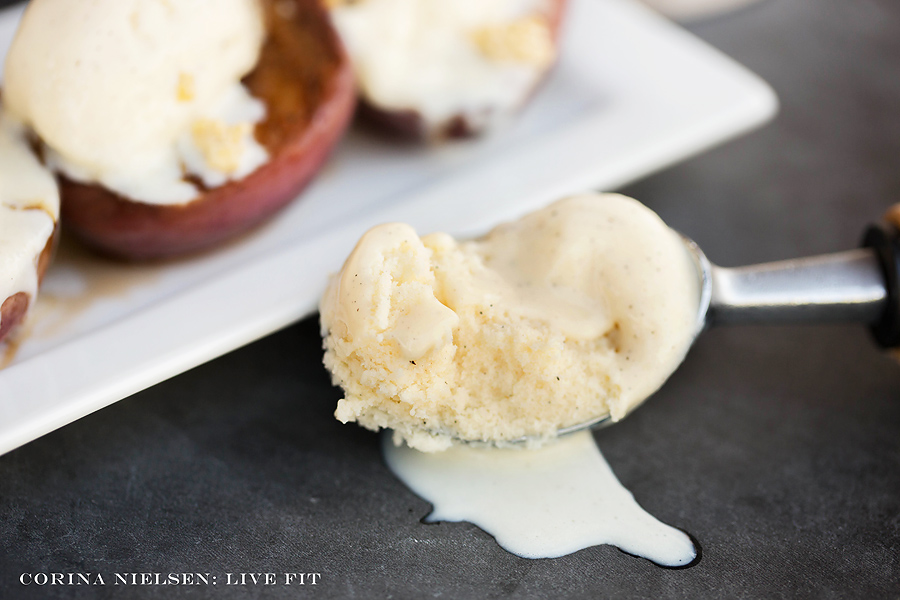 Back to this easy and delicious dessert though…
If you haven't grilled your fruit, you are missing out!!!  I don't do it often, but each and every time I do, I wonder WHY I don't do it more.  Pineapple is a favorite for me, but because the peaches are SO amazing this season, peaches it was for this dessert!  Look at those grill marks!!!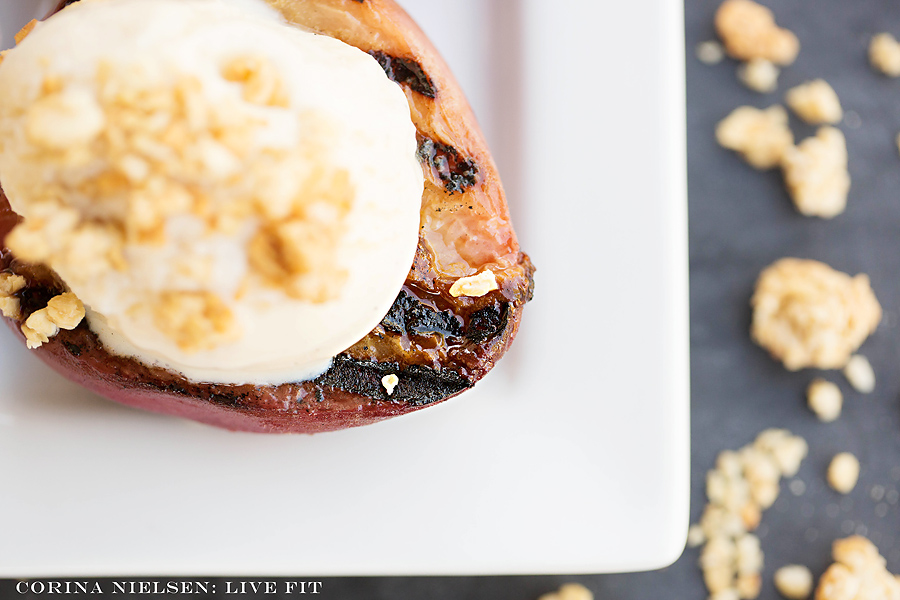 I think the finished product is quite beautiful as well!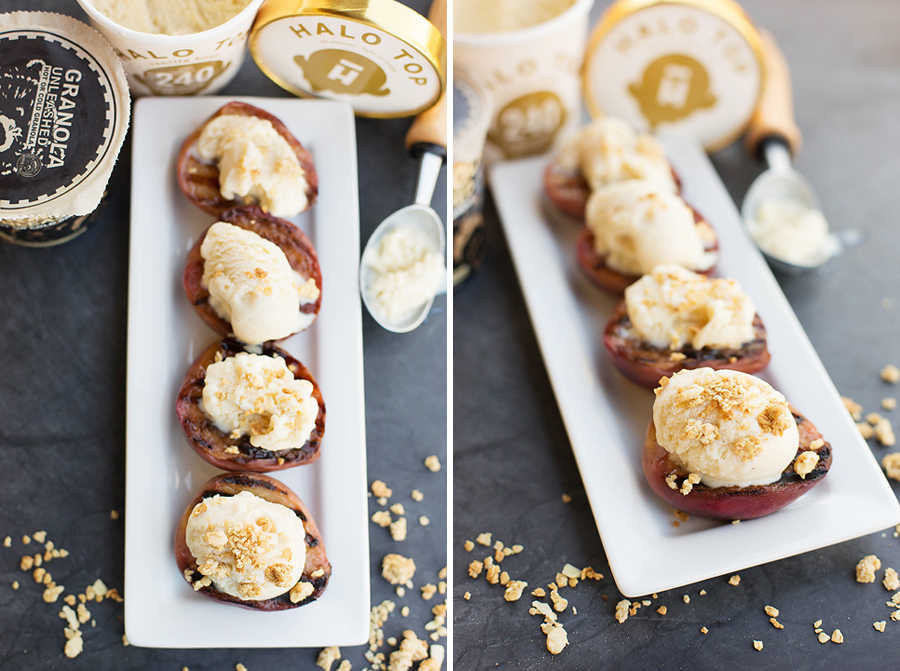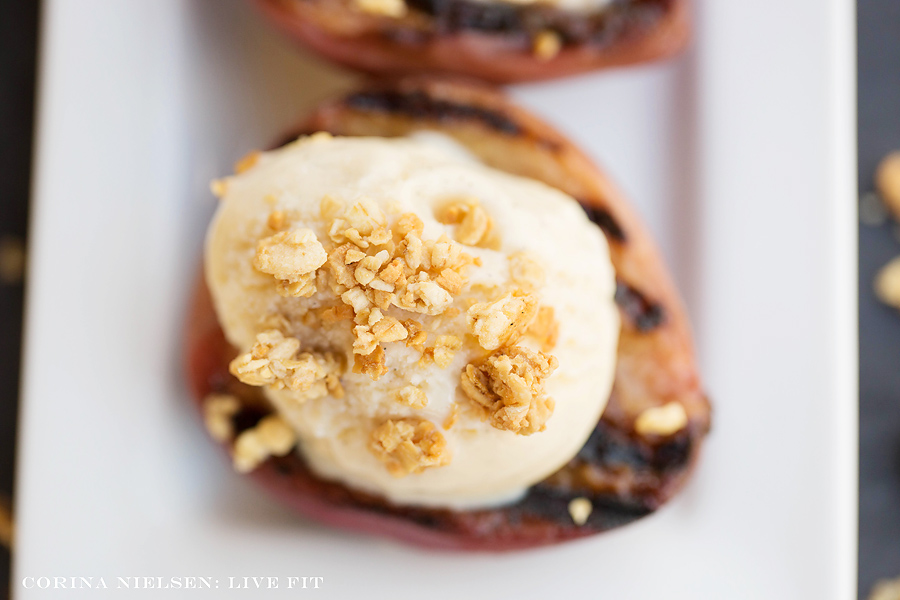 "Recipe" is totally idiot & fool proof.  It would be VERY difficult to mess this up.
Get your grill or grill pan SMOKIN' hot then spray with coconut oil.
Use very ripe peaches that are soft to the touch.  Cut them in half (reaching the pit all the way around) and  twist until the halves separate.
Place flesh side down onto grill/grill pan for 3-5 minutes until you have nice char marks then turn peaches over and grill on opposite side for 2-3 minutes.
That's it, that's all!!!  Dessert served in 5 minutes!  These are perfect for quick family desserts or even for entertaining!  These are great as shown, BUT thinking back to when I made these… the only thing I would probably add is a nice big dollop of caramel sauce AND whipped cream!  MMMM.  Yup, next time those additions are a must!