Yeah, that title is a mouthful, but I just had to share ALL of the amazing flavors going on here!!!  Have ya heard???  Detour just released another brand spankin' new 'Smart' bar flavor… and I think it might just be my favorite so far!  Let me introduce you to…
 ** Coconut Almond **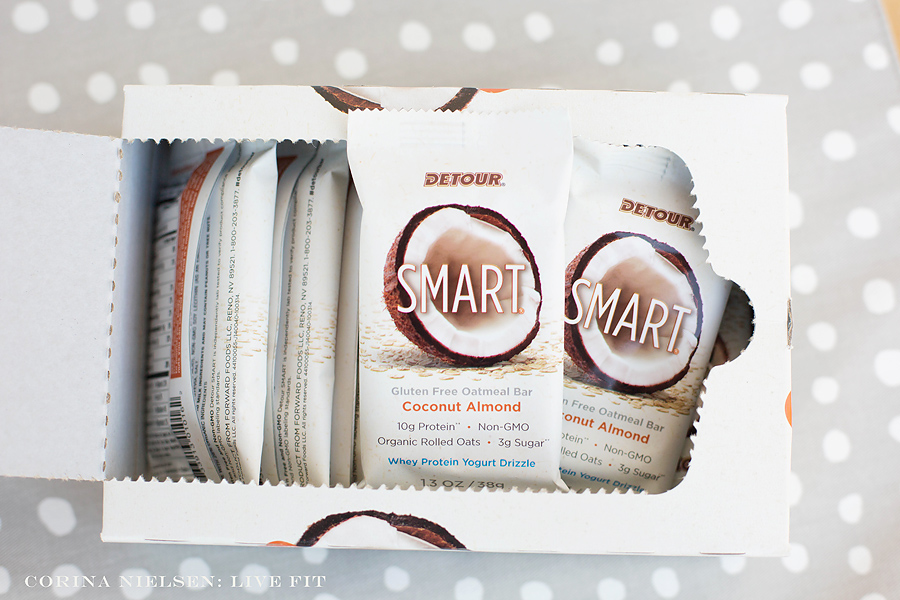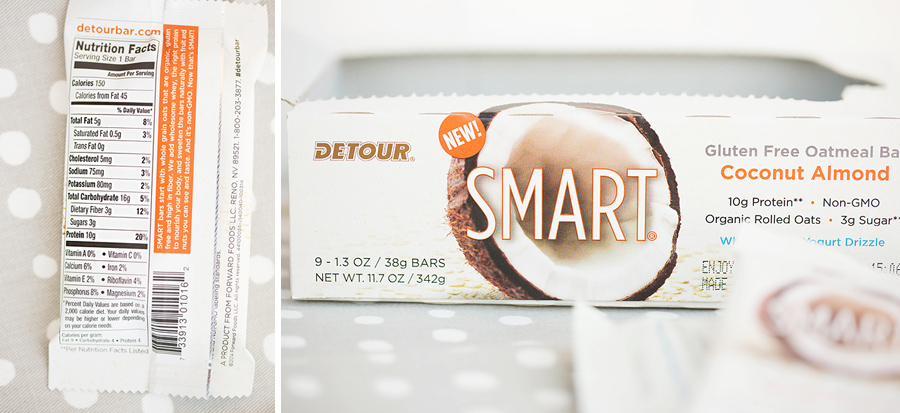 Whole Grain Oatmeal mixed with Coconut and Almond Chunks and finished with a Whey Protein Yogurt Drizzle!
Gluten free
Non-GMO
10g protein
Only 3g of sugar
Good source of fiber
Sweetened with Stevia
Made with organic oats
What I love about the 'Smart' Bars is that the flavors are strong, yet still kinda subtle (I know, oxymoron).  You take a bite out of any of the bars and aren't completely overwhelmed, but you know exactly what it's supposed to be (if that makes any sense).  This 'Coconut Almond' one offers just the right amount of "coconut" to get you in a mood for all things TROPICAL!  It's delicious!
And as far as texture goes… truth be told, I actually think it's even BETTER than the original flavors!  SO SO soft, moist, CHEWY, and I love the little almond flecks!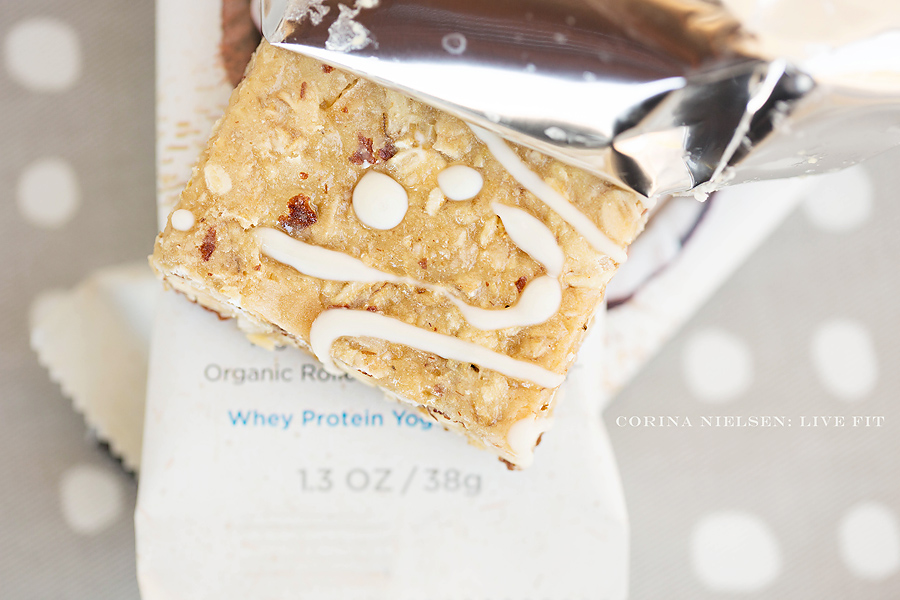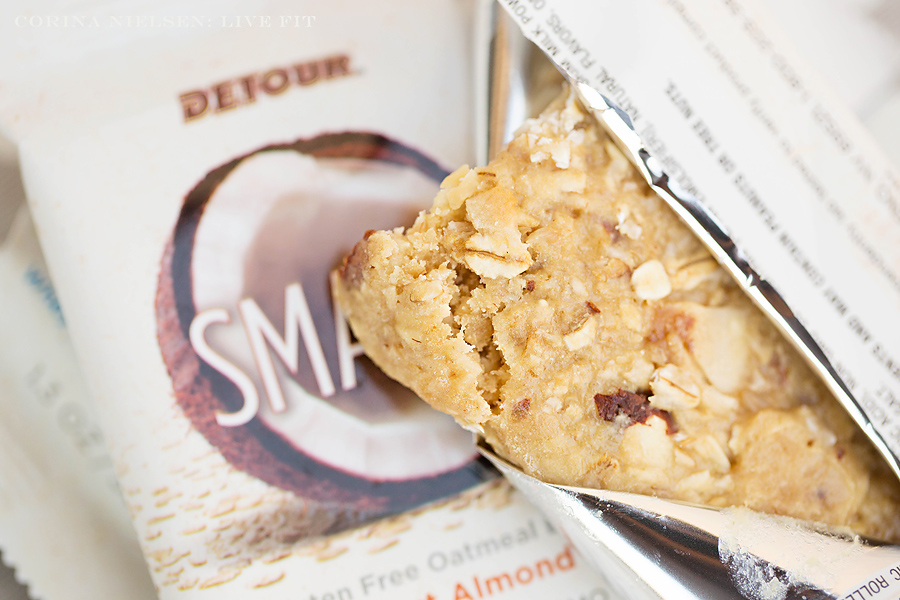 Of course anytime I sample a new product, first I must taste test it, then I must taste test it again to make sure my mind wasn't playing tricks on me, then I need to take additional nibbles here and there to get a fix, and finally… I must create something special with said product!
For my first Detour 'Smart' bar recipe, I decided to go with a BIG smoothie.  I knew it couldn't be a plain old boring (yet delicious) one that I would drink from my special smooth cup though.  I needed to kick things up a notch and figured the only way I could get ALL of the toppings and flavors I had running through my mind was to serve it in a big bowl!  This would provide optimal use of space and proper distribution of toppings in each of my bites!!!
Smoothie bowls are great for getting a bunch of fun toppings in and you don't have to worry about anything getting stuck in your straw.  Genius!
Without any further delay, I bring to you my 'Coconut Almond Frappuccino' Smoothie Bowl!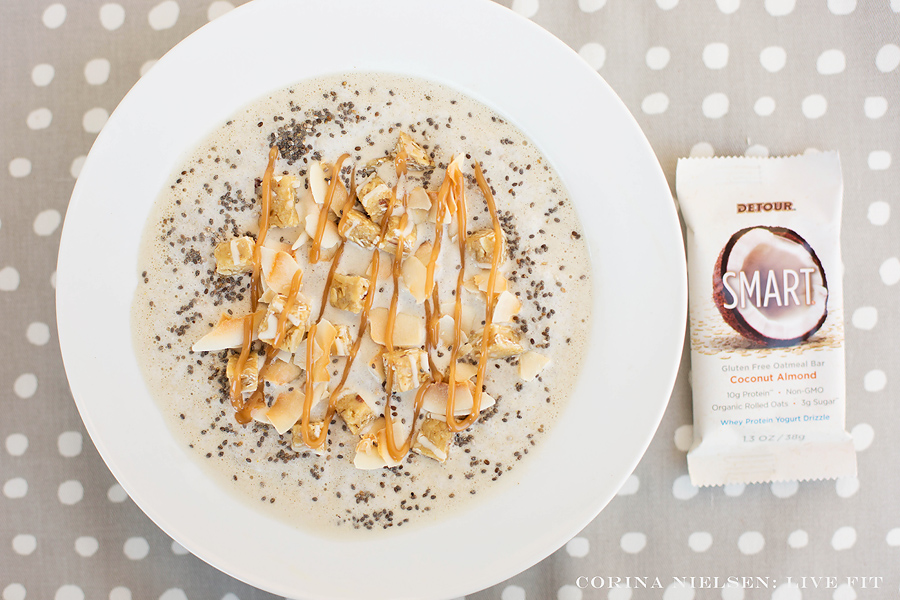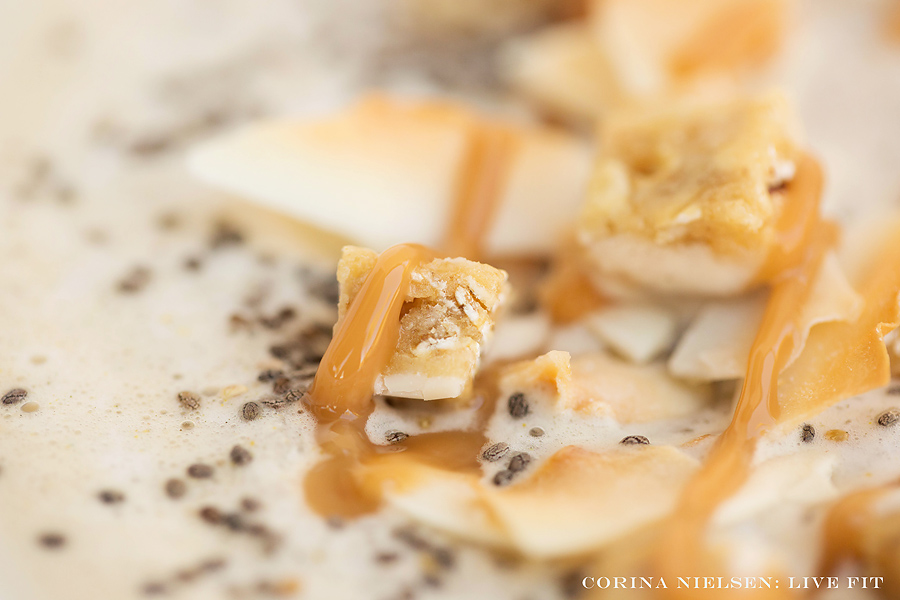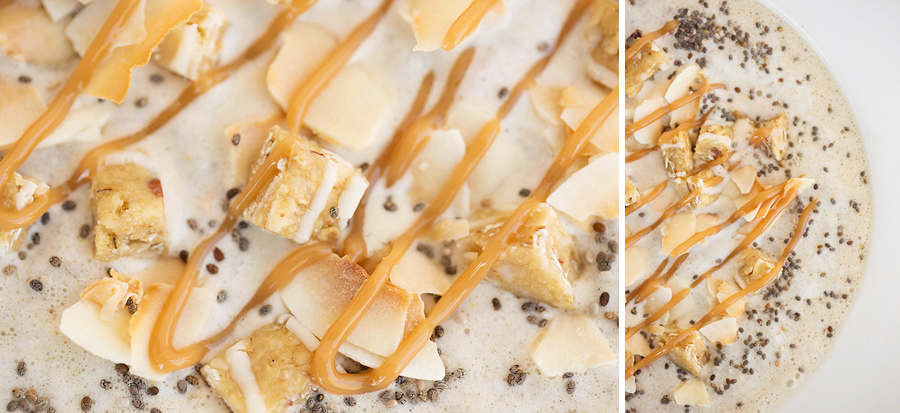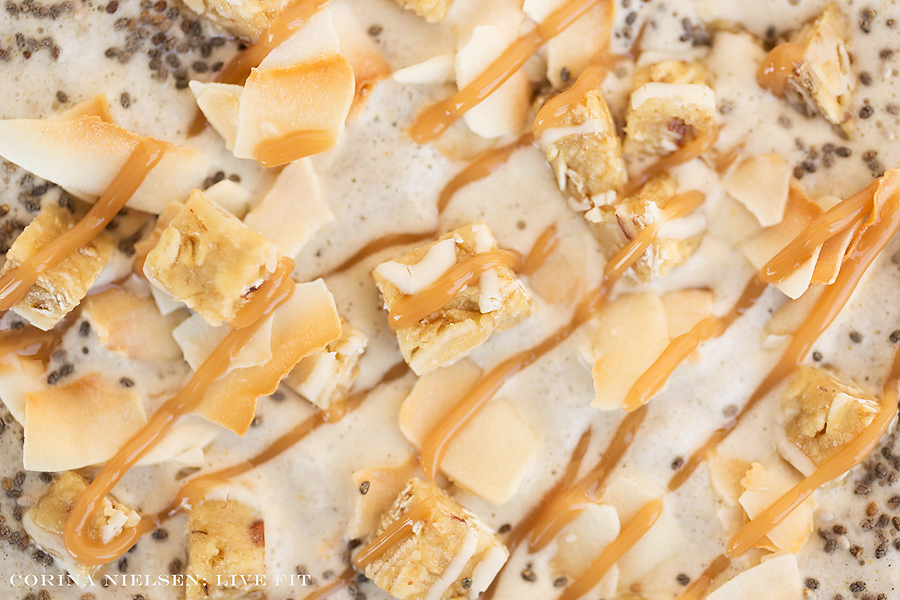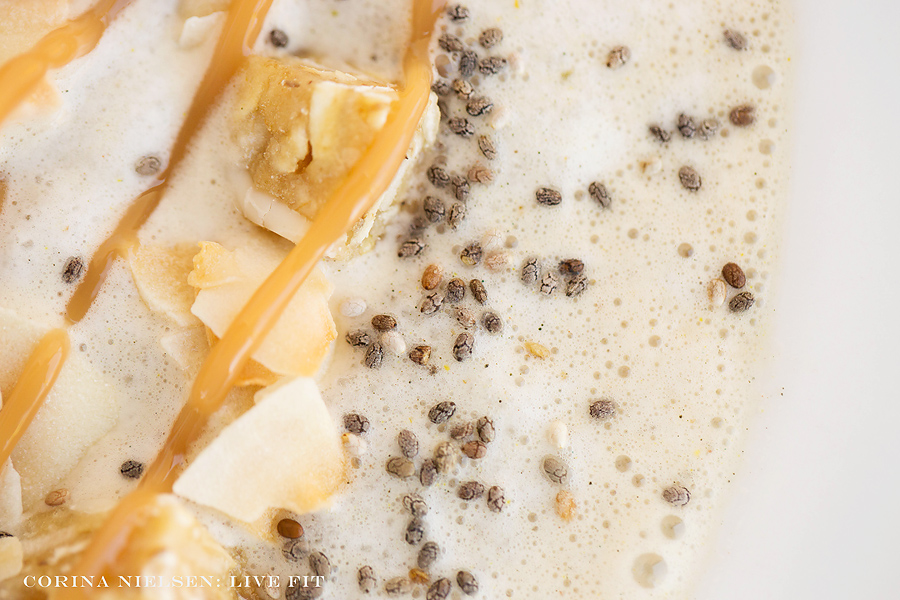 That's what I call TOPPINGS!!!  Regular smoothies are great (and I drink a 'green' one everyday), but smoothie bowls are ten times better simple because of the toppings!!!  The first half of your bites/spoonfuls you get the crunch and then the last half… oh the last half…. my favorite… all those toppings have now soaked into your actual smoothie!  Everything is so soft and the favors have all combined.  So good!
This would make a great breakfast or and an even BETTER afternoon snack!  Either way, when you have coffee involved in your meal… it's never too bad right?
Coconut Almond Mocha Frappuccino Smoothie Bowl

Print recipe
Ingredients
3/4 cups unsweetened coconut milk
1/4 cup cold brewed coffee
3-4 drops almond extract
1/4 teaspoon coconut extract
1 scoop PEScience 'chocolate' protein powder (30% off coupon below)
1/2 teaspoon xanthum gum ((optional))
1 cup ice
1 Detour Coconut Almond 'Simple (** TOPPING **)
1/2 tablespoon chia seeds (** TOPPING **)
1 tablespoon sugar free caramel sauce (** TOPPING **)
2 tablespoons toasted coconut flakes (** TOPPING **)
Directions
Step 1
Combine milk, coffee, extracts, protein power, xanthum gum (add if you prefer a very thick consistency), and ice in a high speed blender and mix on high until smooth.
Step 2
Pour into a large bowl, sprinkle with chia seeds, then top with chopped Detour 'Simple' Bar, toasted coconut, and caramel sauce.
Note
NUTRITIONAL INFORMATION: calories- 346, fat- 11 grams, carbs- 30 grams/fiber- 6 grams, protein- 36 grams
If you are interested in receiving 30% OFF Chocolate Select Protein or on any & all PEScience products, use my code CORINA at checkout at www.PEScience.com.