Looking for a breakfast or brunch recipe that's EASY and will KNOCK your guests socks off?  Look no further friends!  These sweet little "egg muffins" will be one of the first items in your buffet line up to go.  So simple, so elegant, and so delicious.
I actually made these entirely by accident last month (I LOVE when that happens).  I was in recipe development mode one saturday morning and some family from out of town had just arrived.  While mid recipe writing, the troop walked in and before I knew it, I was scrambling to wrap up everything I was doing in the kitchen.  My initial intention that morning was to create a big beautiful quiche with a savory herb crust.  However, before I had a chance to really get down to business, I quickly threw everything I had together in one bowl, popped it in the oven, and honestly didn't expect much.
I was left with one of the best savory "muffins" I have made to date!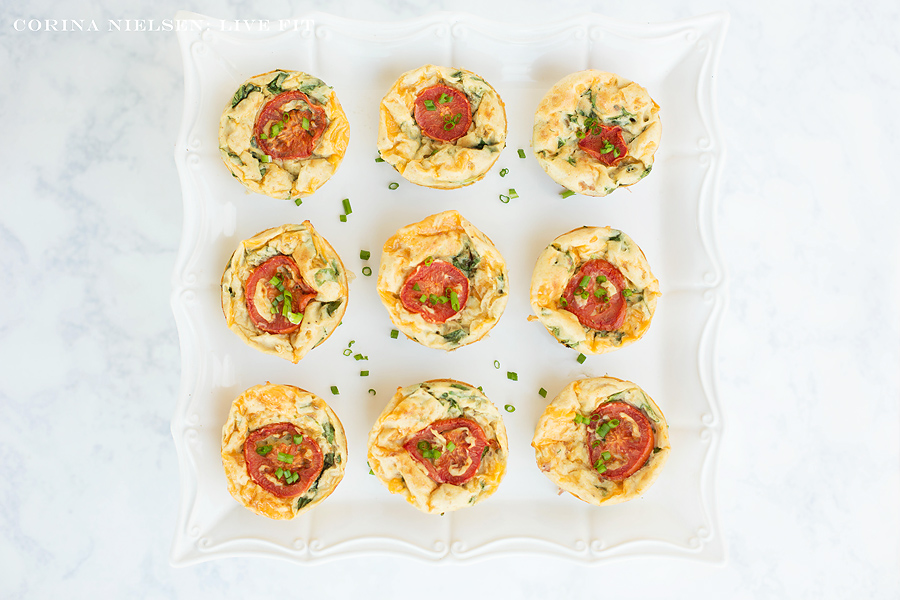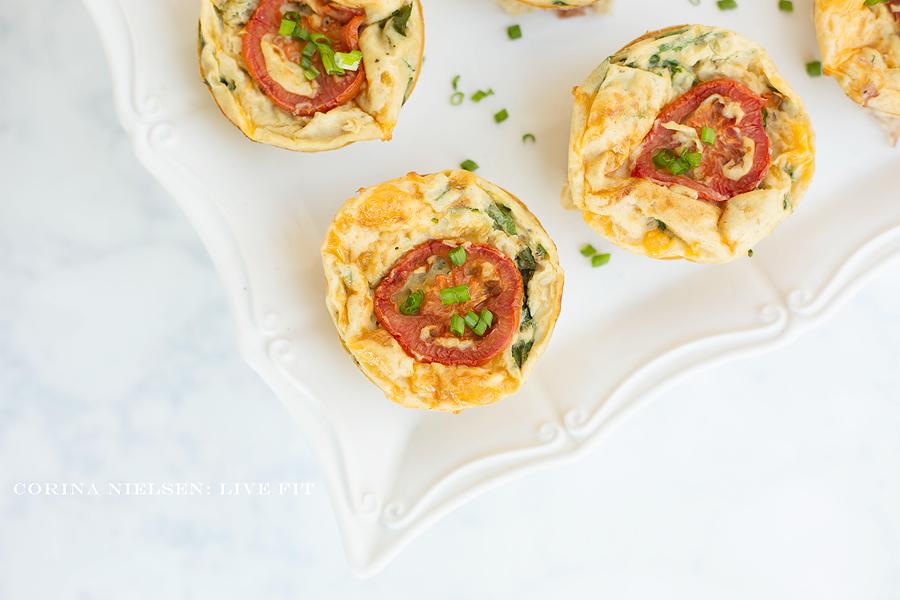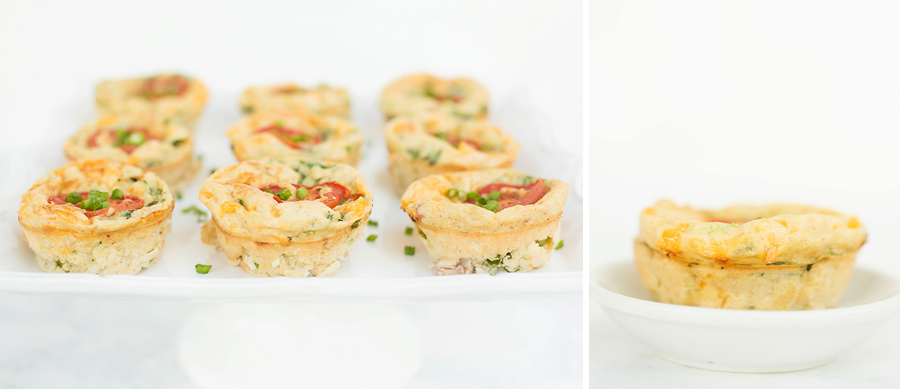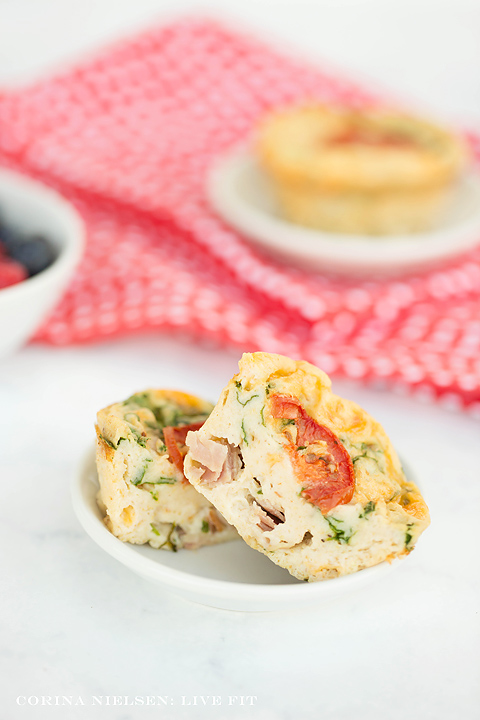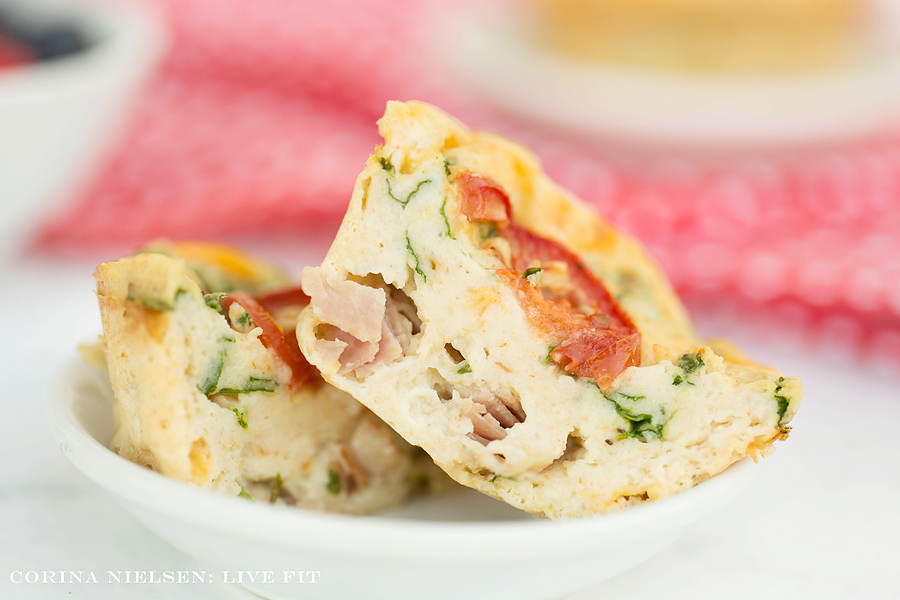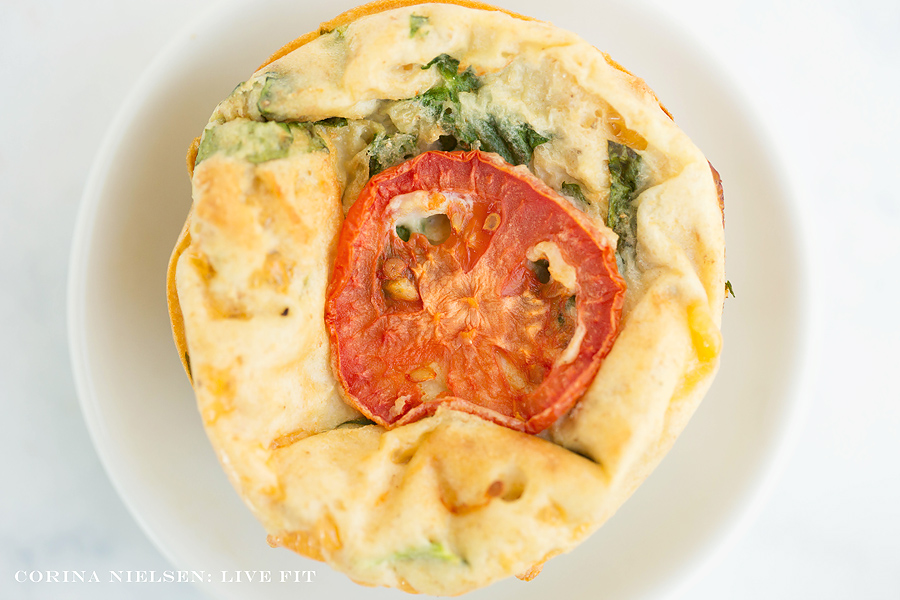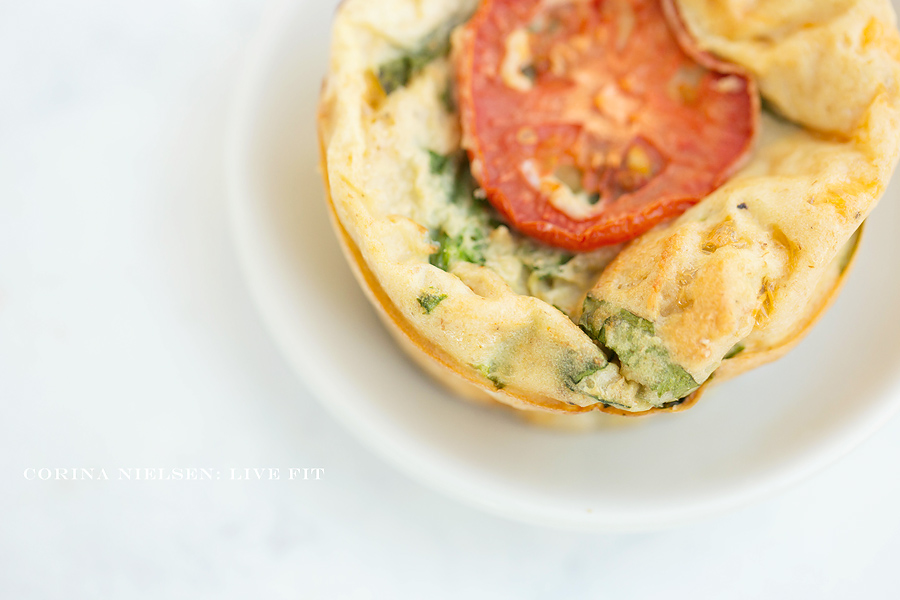 Aren't they adorable?
These guys also come with some bonuses when compared to your standard quiche…
far better nutritional profile/calorie content
much easier to make
baking them as muffins allows for easier serving
ideal for serving fresh our of the oven, at room temperature, cold, or even during food prep for the week
did I mention each "muffin" is only 59 calories (fat- 1 gram, carbs- 6 grams, protein- 7 grams)???
This was one happy accidental recipe.  I'm looking forward to trying different variations of these in the very near future!!!
Mini Crustless Quiches

Print recipe
Ingredients
1/2 teaspoon garlic powder
1/2 teaspoon salt
1/4 teaspoon pepper
2 Large whole egg
1 1/2 cup Organic MuscleEgg plain egg whites (www.muscleegg.com)
1/2 cup Kodiak Power Cakes
1 cup baby spinach (roughly chopped)
2oz ham (roughly chopped)
1 heaped tablespoon chives (finely chopped)
1/3 cup fat free mozzarella cheese (shredded)
1 Large roma tomato (finely sliced)
Directions
Step 1
Preheat oven to 350 degrees and coat a muffin pan (12) with non stick spray.
Step 2
Combine Kodiak mix, seasonings, egg, and egg whites in a large bowl. Mix until well combined and smooth.
Step 3
Divide ham, spinach, chives, and cheese evenly in muffin pan. Divide and pour egg/Kodiak mixture over veggies, ham, and cheese filling each tin within 1/4" from the top. Add sliced tomato to the tops of each 'muffin'. Bake 25 minutes until top is slightly golden brown.
Note
NUTRITIONAL INFORMATION (makes 12 servings): calories- 59, fat- 1 gram, carbs- 5 grams/1 gram fiber, protein- 7 grams per serving