You know how some people crave cookies or ice cream or pie?  I crave BROWNIES!  They are easily my favorite dessert of all time and you will NEVER catch me turning down a brownie, ever.  I like them chocolatey, rich, warm, fudgey, and perfectly gooey.  AND I will always dive into those center pieces… I'm not sure how anyone (including my husband) could like those harder, crispier edges.  Bleh.  That's the only time I might have to turn down a brownie… if its a corner piece!
I remember when I went to make these particular brownies, I was thinking out loud and said "I seriously wish brownies could be made without ANY edges! Why do we even need them?".  My husband said nothing, got off the couch, grabbed a step stool, climbed up to one of the top shelves of a cabinet, rummaged way back, and brought down a box.  I remember seeing the box years ago, perhaps as a gift, but obviously we never opened it.
Low and behold.  It was "The Perfect Brownie" pan!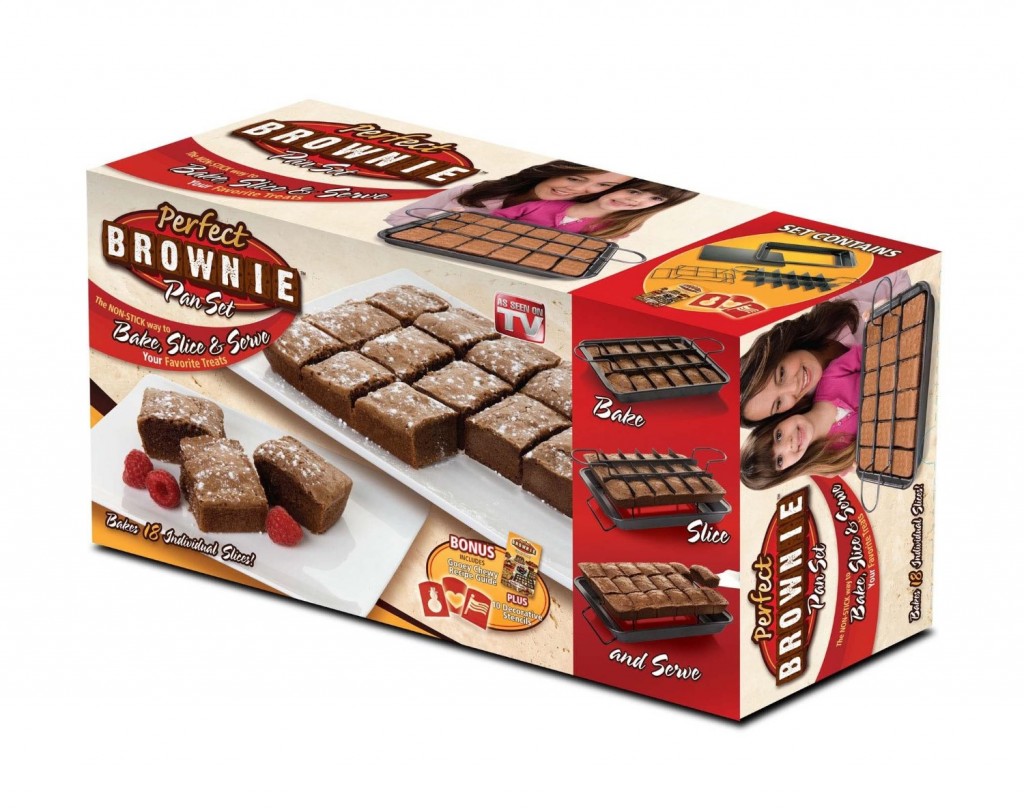 All those times I had seen this dumb thing on TV and I never really knew how amazing it was.  Clearly, I never REALLY listened to the infomercials because for some strange reason, I thought this contraption ONLY gave edges.  No idea why that was in mind head, but that's exactly why I never bothered to open the box.  I mean again, who wants all brownie edges???  I mean, besides my husband and what does he know about good brownies?  Clearly, nothing.
When I had the argument with my husband about the matter, he was adamant the pan did the opposite of what I thought.  He said it basically gives all 'center' pieces.  I thought he was an idiot so I set out to prove him wrong.  I grabbed my favorite 'boxed' brownie mixes, Kodiak "Big Bear", and got to it.  Even if my husband was right (and I knew he wouldn't be), I could cut off ALL those harder edges and have bites here and there of the softer center pieces I love so much!  I mean really though.  A brownie is a brownie after all and a bite of a center is better than no brownie at all.
Quickly made the batter with some slight changes to the directions on the box, skeptically poured it into the pan, popped it in the oven, set the timer, and waited patiently to rub it in my husbands face… I couldn't wait to win this argument!  Timer went off, you could smell brownie all over the house (never a bad thing), and I pulled them out of the oven.  I hate waiting for things to cool by the way.  Such a waste of time.  Unfortunately, I had to wait a few minutes because the little divider thing was somewhat stuck when I tried to pop it off.  Gah, longest wait ever.
After what seemed like an eternity (all of 15 minutes), I pulled off the divider and thought DAMN, my husband was RIGHT!!!!  Each pieces was perfectly soft on ALL sides!  Where has this pan been all my life???  Oh yeah, in my cabinet collecting dust LOL!  My husband just had a smug smile on his face, that dumb "I told you so" kinda glare.  Yuck.  "Ok ok, sorry honey.  You were right."
Of course with these already perfect brownies, I still had a vision in my head of sprucing them up even further!  I had visions of caramel, pretzels, and white chocolate running through my head.  So I added my extra yummies and ended up with perhaps one of the BEST brownies I have ever made.
These are SOOOO SO good!  I took a box of amazing brownies to the next level just like that (pats self on back)…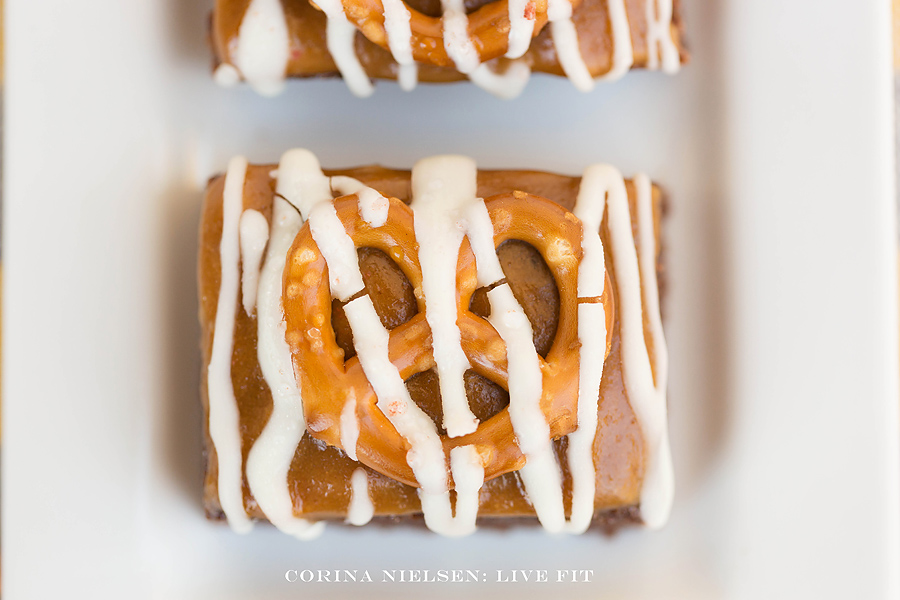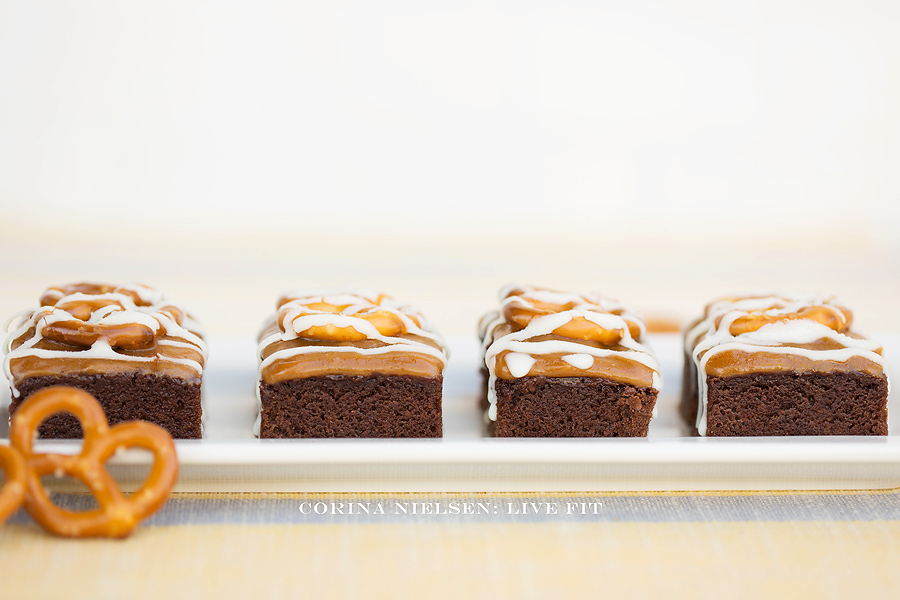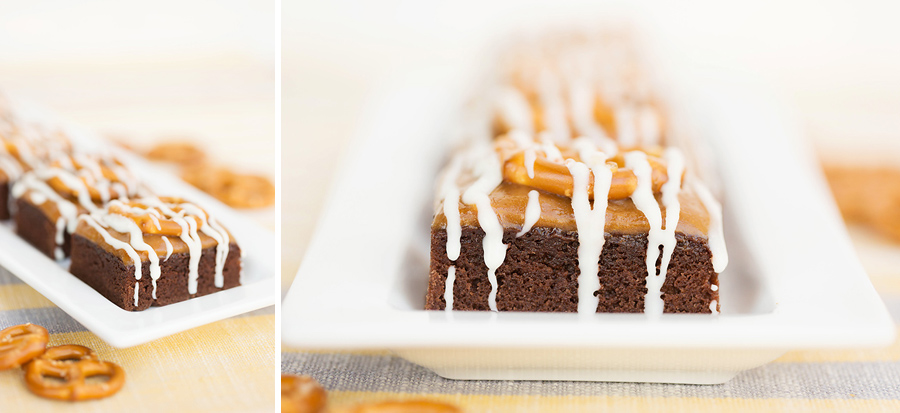 Wait a second though.  Do we see that chocolatey fudge goodness between the brownie and caramel layer???
Sorry, I needed a moment of silence….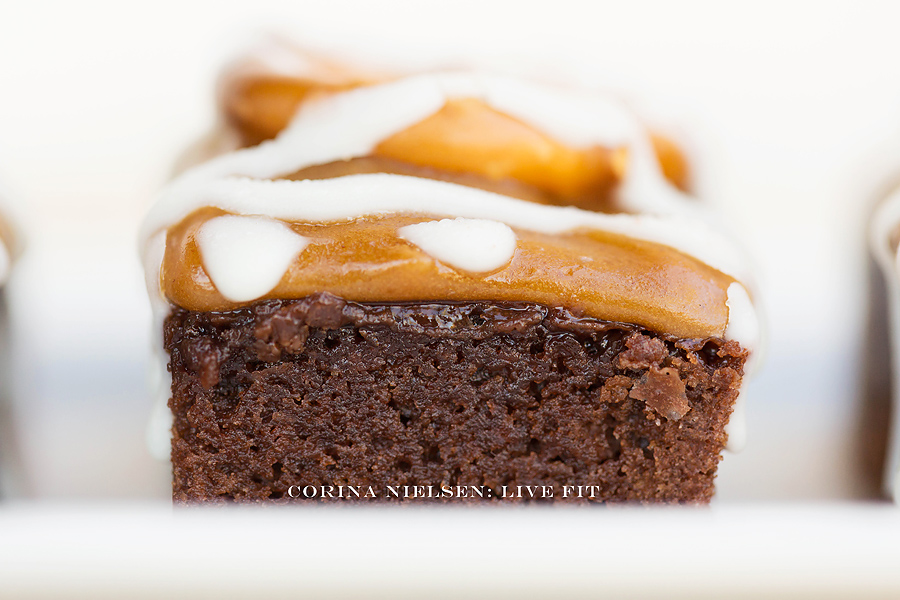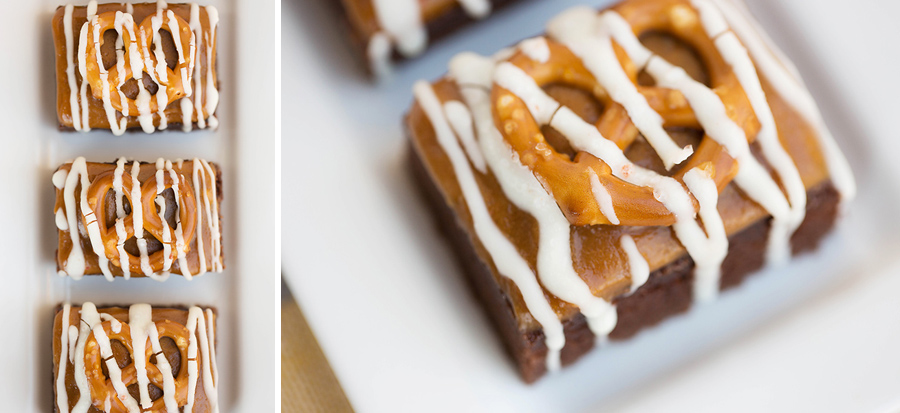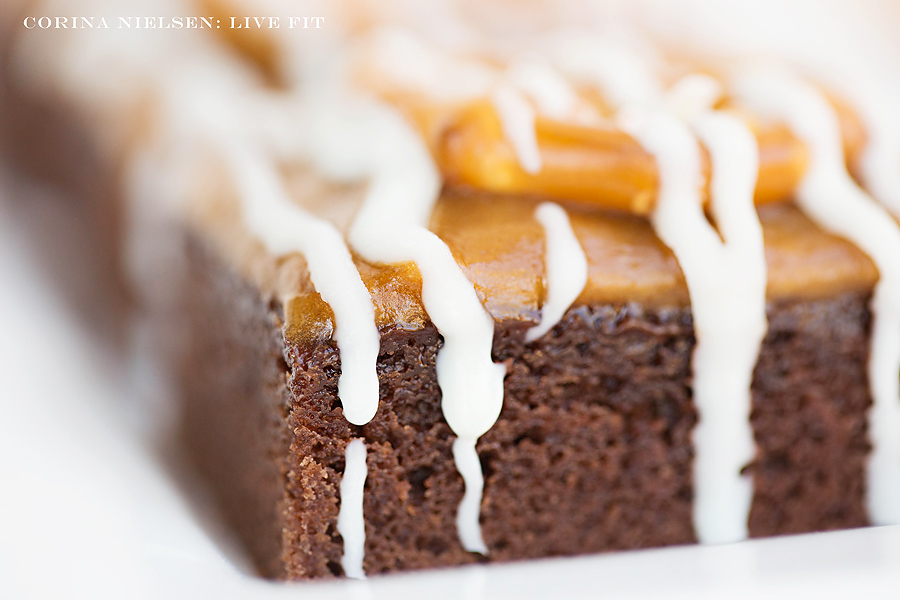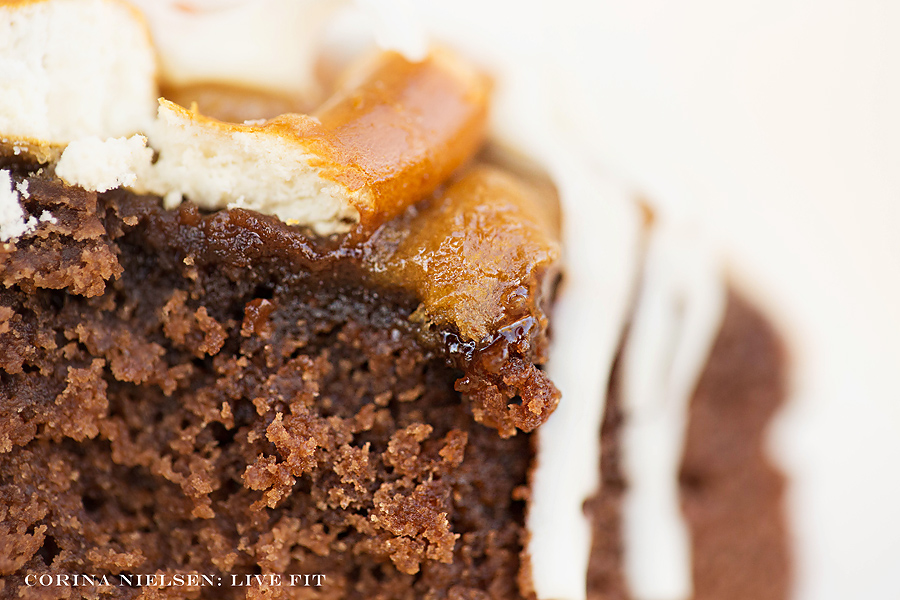 I can't tell you how glorious these are.  Everything you want a brownie to be and so much more!  Rich flavors, an extra sweet bite from the white chocolate, the crunch of the pretzel, and then a little salty kiss to round it all out.  Hands down, one of the best spruced up 'boxed' brownies ever!!!  The fact that I had to say my husband was right during their creation was well worth it… and thats saying A LOT!!!
Salted Caramel White Chocolate Brownies

Print recipe
| | |
| --- | --- |
| Serves | 18 |
| Prep time | 5 minutes |
| Cook time | 30 minutes |
| Total time | 35 minutes |
| Meal type | Dessert |
Ingredients
1 Kodiak 'Big Bear' brownie mix
1/4 cup Chocolate Caramel MuscleEgg egg whites
1 Large whole egg
1/3 cup unsweetened applesauce
1/3 cup melted coconut oil or canola oil
6 heaped tablespoons Walden Farms Caramel Dip (** TOPPING **)
4 tablespoons White Chocolate NutsNMore nut butter (** TOPPING **)
18 Small pretzels (** TOPPING **)
3 tablespoons white chocolate chips (** TOPPING **)
1/2 teaspoon coconut oil (** TOPPING **)
1/2 teaspoon coarse pink himalayan salt (** TOPPING **)
Directions
Step 1
Preheat oven to 350 degrees and coat a 13x9 pan with non stick spray.
Step 2
Combine all brownie ingredients in a large bowl (brownie mix, applesauce, egg, egg whites, and oil). Mix until smooth. Pour batter into prepare pan and bake 20-25 minutes until edges have become to pull away from the sides of the pan and center looks set. Remove from oven and let cool.
Step 3
In a small bowl, combine Walden Farm's caramel dip and nut butter. Mix until smooth. Pour mixture on top of brownies. Add pretzels. In a separate small bowl, melt white chocolate chips and coconut oil in microwave in 10-15 second increments until smooth. Drizzle over pretzel and topping. Place in the fridge for at least 20 minutes to 1 hour to allow topping to set and harden.
Note
NUTRITIONAL INFORMATION (makes 18 brownies): calories- 178, fat- 6 grams, carbs- 25 grams, protein- 5 grams PER SERVING