Here I am again, coming at you with yet another 'chick pea' recipe!  I can't tell you happy I am that I mentally got over the idea of using "beans" in my baking!  All these years and I never knew how amazing and versatile they are.  One would think that the texture would just end up being mushy, but truly the texture can rival that of any dense & fudgey cookie out there!  Something I love even more about using chick peas/garbanzo beans is how EASY each cookie dough batch is to make.  You literally throw everything you want in your cookies into a food processor and let it go for a few minutes.  Then you stir in your "extras" like chocolate chips, divide, scoop, and bake.  Could not be any easier!
If you follow me on Instagram or have caught some of my live Periscopes (@corinanielsen), I talk a LOT about my favorite BuffBake nut butter flavor… SNICKERDOODLE!  Hands down, I could eat this nut butter… daily… by the jar.  SO damn good.  However, recently I have been stepping out of my BuffBake Snickerdoodle box and incorporating the other flavors that I truly do love so much as well.  They may come next in line to Snickerdoodle, BUT it's a very tight race!  Coffee Bean almond butter and White Chocolate peanut butter are first up on that list!  When it came down to deciding what flavors I would make first for these cookies, I was going for something a little bit more on the sweet side.  Coffee of course can be sweet, but I see it was more of a savory type flavor… chocolate chip mocha though does sound pretty DAMN GOOD though (yup, making that next haha)!
Anyways, I decided to go with the 'White Chocolate' BuffBake and a classic pairing to that in baked goods is cranberries of course!  With Fall right around the corner, I thought this would be perfect combination to test out on my grain free cookies!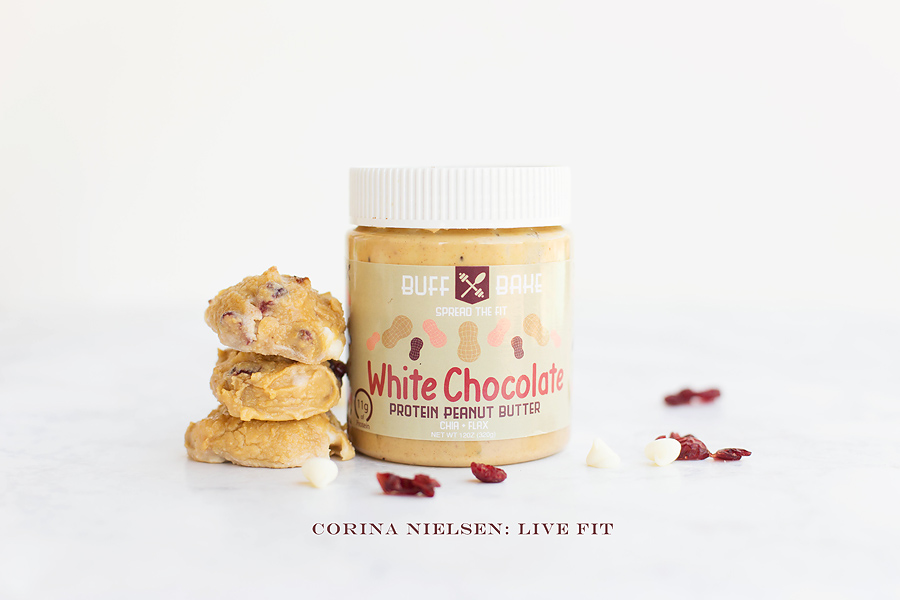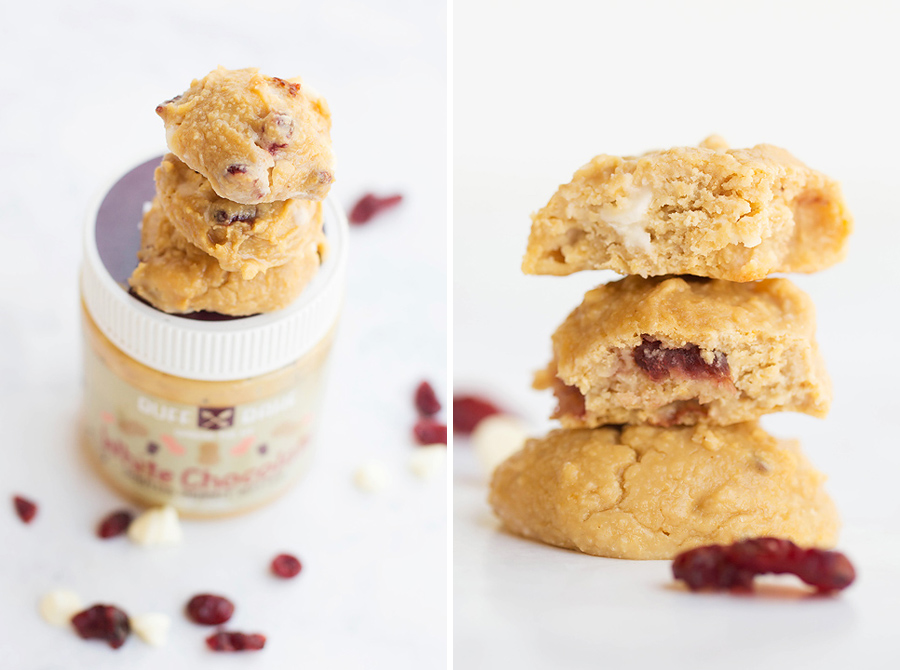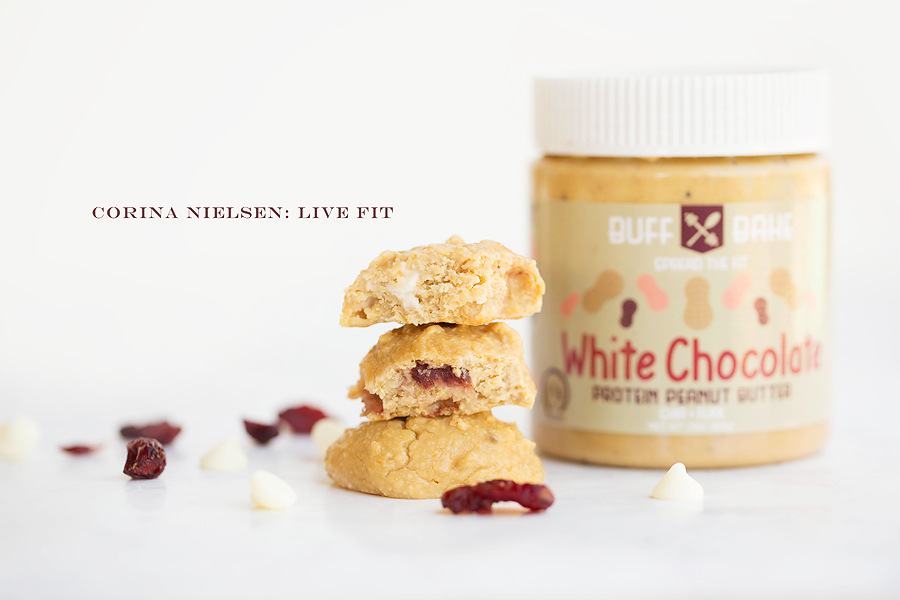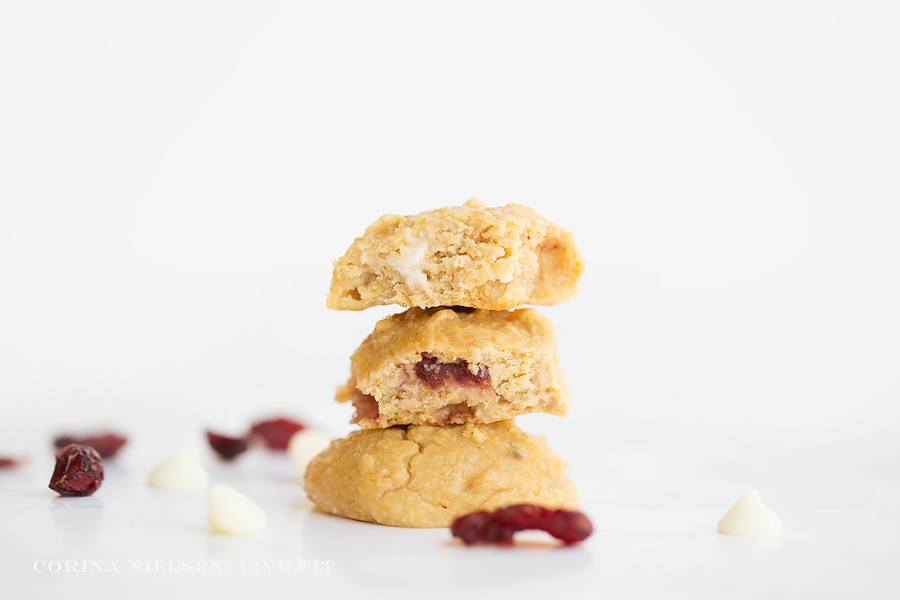 Yup, these were right on the money!  Texture was perfectly chewy.  Combo of white chocolate peanut butter, and cranberries was spot on. And the mini bursts of flavor in every single bite stayed on the tip of your tongue from beginning to end!  Next up on the chick pea agenda… those chocolate chip mocha cookies.  Yes, I was very serious and the more I think about it, the more I KNOW I have to make them!
Grain free White Chocolate Cranberry Cookies

Print recipe
| | |
| --- | --- |
| Serves | 24 |
| Prep time | 5 minutes |
| Cook time | 9 minutes |
| Total time | 14 minutes |
| Meal type | Dessert |
Ingredients
15oz no salt added garbanzo beans (rinsed and drained)
3 heaped teaspoons 'White Chocolate' BuffBake peanut butter (www.buffbake.com (coupon below))
1/4 cup vanilla MuscleEgg egg whites (www.muscleegg.com)
1 scoop PEScience 'Cookies & Cream' Protein (www.pescience.com (coupon below))
2 tablespoons Sweet Leaf Stevia (or sweetener of choice)
1 tablespoon coconut flour
1/2 teaspoon baking powder
2 tablespoons milk of choice
1 teaspoon vanilla extract
2 heaped tablespoons white chocolate chips (roughly chopped)
2 heaped tablespoons reduced sugar dried cranberries (roughly chopped)
Directions
Step 1
Preheat oven to 350 degrees and line a baking sheet with parchment paper or silpat.
Step 2
Add all ingredients EXCEPT white chocolate chips and cranberries to a large food processor. Blend on high for 45 seconds to 1 minute until very smooth. Let sit for 5-7 minutes.
Step 3
Remove blade and stir in white chocolate chips and dried cranberries. Divide and scoop batter onto cookie sheet. These will not rise much so whatever shape you place them in is roughly how they will looks when baked.
Step 4
Bake for 7-9 minutes.
Note
NUTRITIONAL INFORMATION (makes 24 cookies): calories- 41, fat- 1 gram, carbs- 4/fiber- 2 grams, protein- 3 grams PER COOKIE
10% OFF BuffBake using coupon code 'corinabuffbake' at checkout www.buffbake.com