Roughly 5-6 weeks ago I began experiencing some lower back pain.  Initially, the pain was bearable and it wasn't disrupting any of my daily activity.  I figured I must have tweaked something or perhaps pulled a muscle during one of my lifts.  'Standard' protocol calls for ice, ibuprofen, and rest. I took a minor step back from DUP to be safe, did what I could, but tried my hardest not to push things too much.  When you are around so many people with herniated bulging disks and constant back problems, you can't help but be slightly more cautious than usual.
After the second week in the same condition, I noticed the pain getting worse .  At the time, mornings were never too bad, but by the afternoon I found myself laying on the couch with a constant pain in my lower back.  Every now and then, the pain would radiate into my right hip, upper glutes, and down my leg, sometimes all the way through my calf.  Around the same time, I began to notice that my equilibrium felt a little bit "off".  Whether I was sitting or standing, the room seemed to spin a little bit.  Nothing major at the time, but enough for me to notice.  I had just gotten through a long caffeine and supplement "detox" and had barely introduced those back into my routine/diet.  I figured that the odd dizziness was coming as a result of too much, too soon with caffeine.  I just felt 'off'.  I also thought perhaps I wasn't eating enough so made sure in the following days to increase my food.  Laying off caffeine again for a couple of days, eating more, and taking it even easier with training didn't seem to make the symptoms any better.  I began to grow more and more worried that I had a did in fact have serious back injury and at that time, my biggest fear was "Oh my God.  When will I ever be able to lift again?"  It seemed like every day the pain grew more and more intense.
After a few days of nearly constant pain, I decided to go into Urgent Care to get checked out.  At the very least, I could get some pain medication.  I was seen, treated for a possible pinched nerve, sciatica, and/or muscle strain (she honestly had no idea), and sent home with a prescription for percocet and anti inflammatory meds.  That week, I took my meds, did VERY light isolated lifting (biceps, triceps, some shoulder work, etc.), and tried to at least walk for 20-30 minutes each day.  5 days passed and the pain continued to grow, as did my concern.  I had a new burning sensation that ran across the top of my hips/buttocks that was nearly constant, especially when I was sitting down.  I booked an appointment with my primary care physician in hopes she would request an MRI.  I was absolutely positive I had herniated disks and felt like I at least needed to know for sure.
After being examined, she agreed with me, but sent me home with more pain meds, prednisone, a referral for physical therapy, and said if PT and meds did not work to contact her for a referral to a back specialist who would then probably request the MRI.  I was told that regardless of whether or not I have herniated disks, pinched nerves, or anything along those lines that the 'treatment' would be the same.  I wasn't completely satisfied, but reluctantly went along with her "treatment" plan.  HMO's at their finest.  Let's throw medicine at you and hope it works.
By this time, I was in constant agonizing pain.  Sitting, standing, laying down… no position offered any relief for more than 5-10 minutes at a time.  It was now 24 hour pain.  The newly prescribed morphine was doing very little to help manage the either.  It took some of the 'edge' off, but the ache in my lower back, shooting pain into my hip/leg, burning feeling, and light headed/dizzy feeling were getting to the point where I could barely think or see straight.  I fought back the tears when my daughter was around and hid most of them from my husband.  I remember forcing myself to go on short 5-10 minute walks outside with my dog simply because I needed to cry.  I needed to be outside to breath, deal with the possibility of an injured back, and be left alone in my pain.  I was angry that I wasn't able to train/lift, I was frustrated because my body wasn't able to do anything I needed it to, I was sad that I began missing out on once simple everyday 'activities' like my daughters volleyball practices, and I felt horrible that my husband was working 40+ hours a week and then coming home to cook, clean, do school drop off/pick up, run errands and take care of me.
September 25, 2015
This is the day that my life would be forever changed…
After spending most of the morning on the couch laying down, I had gotten up to grab myself something to eat.  I prepared my salad as usual, added my dressing, and while I was tossing it all together I felt like I had to go to the bathroom.  I was SO hungry and thought, "OK I just need a bite, then I'll go!"  By the time I even realized it had happened, it happened.  Other moms know the feeling after having children and you are either jumping, have big sneeze, or are laughing very hard… sometimes we just get a little "leaky" if you know what I mean. However, I certainly wasn't jumping and my salad wasn't making me laugh uncontrollably.  To be sure, I went to the bathroom and sure enough I needed to change my undergarments.  That's all I'm going to say about that issue.  This is something one may expect when they are elderly, but not something a very active & otherwise healthy 37 year old would even think about dealing with.  It's embarrassing enough for me to share and you get the point.  Moving on…
It was at that very moment, I lost it. Luckily I was alone, but I cried so hard that everything in my body hurt.  Pain was heightened by at least 500%.  I was more scared than ever, embarrassed, and I felt completely alone.  I knew something was very very wrong and even if it was herniated disks or spinal issues, I needed to know for sure.  I sent a message to my doctor about my new urinary "symptom" and was told to go to the emergency room immediately.  I packed a bag (because I knew I would be there for a minimum of 5 hours) and as soon as my husband came home, I asked him to drop me off at the ER while he took my daughter to volleyball.  There was no need for all of us to wait and in all honesty, I didn't want them to be there.
I needed time to process.  I needed time to gather my thoughts.  Again, I knew something was wrong with me.  However, even at this time one of my top 3 concerns was "Great, when will I ever be able to workout again?"  My ONLY hope for this ER visit was to have an MRI done. I knew 100% with all my heart and soul that I was not walking out of that hospital without that scan.  Something in me told me regardless of what it said or didn't say, I needed an MRI.  I can't express the overwhelming gut feeling I had that something was very WRONG with my body.  It's almost as if I knew without a doubt, everything in my world would be changed.
Here I am post MRI scan waiting for a doc!  Still scared, but smiling through the pain!!!  That's how I roll.. sometimes!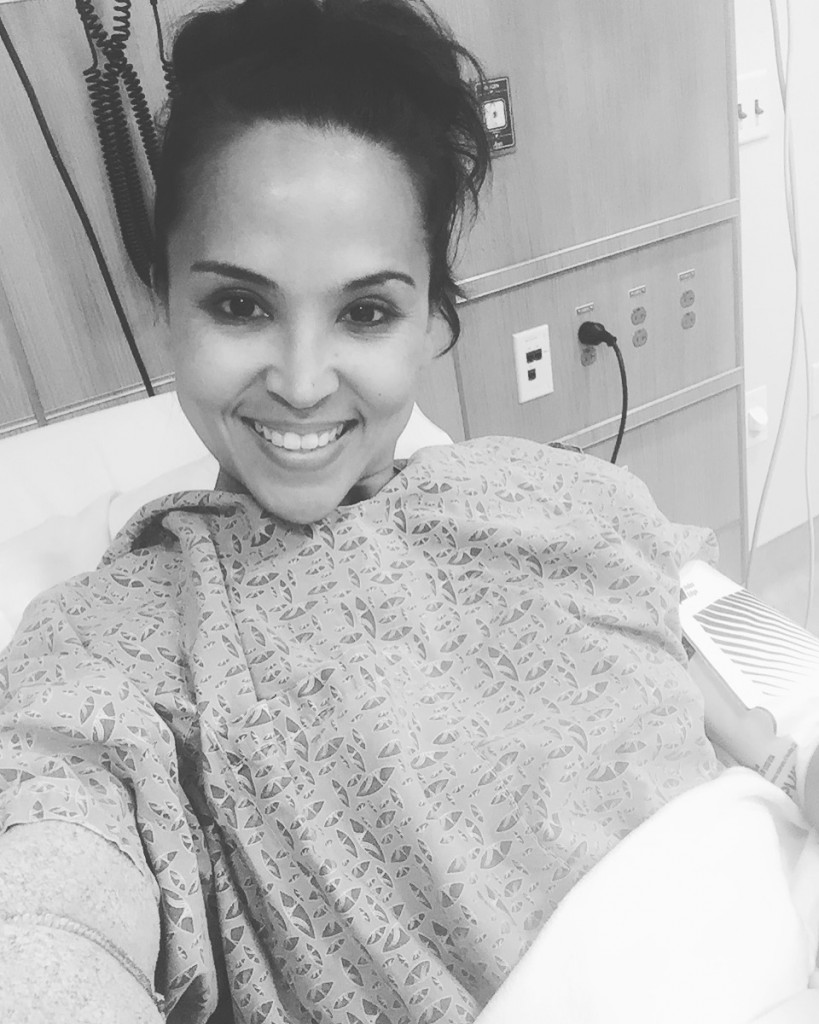 Thankfully I didn't have to fight too hard to have the scan done.  The first doc that saw me in triage took one look at me and immediately ordered the MRI.  I could barely walk, I had tears running down my face, he did a couple of minor stability tests to check my legs, and that was that.  After a total of 6 hours, another doctor finally came in to see me to discuss the findings.
In addition to some minor arthritis around L4 L5 and hydronephrosis in my left kidney, we also found this…
A cyst located posterior to S2.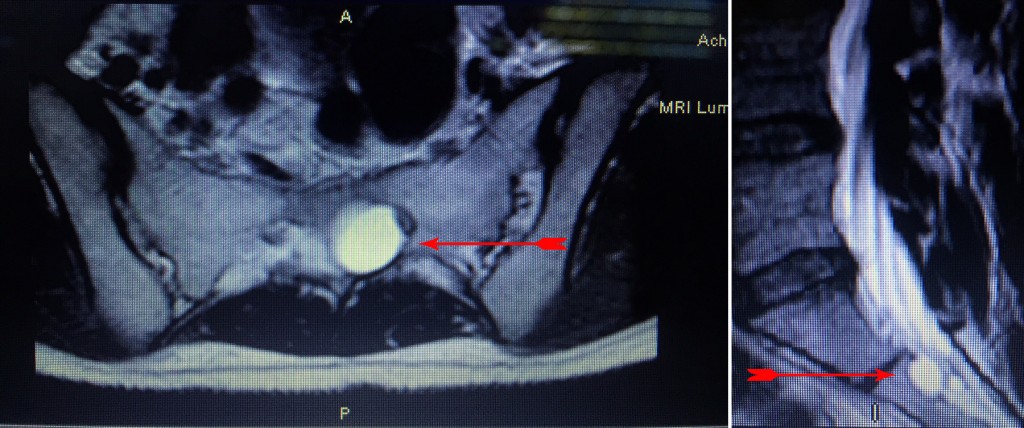 At the time, I wasn't sure how to feel about having a cyst on my spine.  I mean, just hearing you have a "cyst" can't be a good thing.  I guess I was a little numb and hadn't began to process everything that just happened.  The ER doc was useless in terms of knowing anything about this condition.  I left the hospital with tranquilizers and told to follow up with my primary care doctor.
My husband and daughter picked me up, we went home, I ate something, put our daughter to bed, and felt absolutely confused.  If I didn't herniate anything, why was I in so much pain and what would explain all of the other symptoms I had.  I didn't know what to think or how to feel, but something kept telling me I needed to know more about that mass that was found. Can this be fixed?  Did it need to be fixed?  What's the treatment protocol for this?  Will I be in pain for the rest of my life?  Am I going to die?  I certainly had no idea of the long journey ahead of me.  That night as my research began, I realized nothing would ever be the same.  My simple, boring, amazing life would forever be changed.
What is a Tarlov Cyst?
Obviously the first thing you do when you want to know what something is?  Google.  As soon as I put in "Tarlov Cyst" into the search box, the first link is to NORD (national organization for rare disorders) as well as the ORDR (office of rare diseases).  My anxiety grew from an already 100 to 1000 real quick from the words rare "disorder" and "disease".  I couldn't help but cry and I still barely knew anything about anything at that point.
"Tarlov cysts are fluid-filled sacs that most often affect nerve roots in the sacrum, the group of bones at the base of the spine. These cysts can compress nerve roots, causing lower back pain, sciatica (shock-like or burning pain in the lower back, buttocks, and down one leg to below the knee), urinary incontinence, headaches, sexual dysfunction, constipation, and some loss of feeling or control of movement in the leg and/or foot. Pressure on the nerves next to the cysts can also cause pain and deterioration of the surrounding bone."- ORDR
Basically, I have fluid building/built up at nerve/s located at the bottom of my spine (sacrum).  Due to the swelling and location of the cysts, it compresses and impacts the surrounding nerves.  This area contains the nerves for your legs, feet, ankles, toes, hip/hip bones, buttocks, rectum, sex organs, and genitalia.  In the majority of TC cases, problems/issues are usually asymptomatic.  Individuals can have smaller cysts and are not affected greatly.  95% of those who show Tarlov Cysts wouldn't even know it.  Perhaps they may only feel some slight pressure on their tailbone every now and then, mild lower back issues, headaches, sciatica, etc. that would easily be overlooked and chalked up to a great number of other minor issues that don't effect your life.  Unfortunately, I now have SYMPTOMATIC Tarlov Cyst/s which seemed to be progressively getting worse.
Google helped explain what the disease was, but didn't offer too much else.  If you do a search for yourself, you will see there is SO little information about this disease.  At this point I knew it was a very rare condition and very few people will ever be truly affected by the symptoms.  Unfortunately, that's not the camp I was in because looking at the list on the Tarlov Cyst Foundation site, I had quite a few symptoms and most were already so bad they were was disrupting my ENTIRE life.
Pain in lower back (particularly below the waist) and in buttocks, legs, and feet
Pain in the chest, upper back, neck, arms and hands (**this was a new symptom that started this week**)
Weakness and/or cramping in legs and feet / arms and hands
Paresthesias (abnormal sensations) in legs and feet or arms and hands, dependent on cyst locations
Pain sitting or standing for even short periods of time
Pain when sneezing or coughing
Inability to empty the bladder or in extreme cases to urinate at all (**explains the swelling shown in the MRI in my left kidney**)
Bowel or bladder changes, including incontinence
Swelling over the sacral (or cervical, thoracic, or lumbar) area of the spine
Soreness, a feeling of pressure and tenderness over the sacrum and coccyx (tailbone), extending across the hip and into the thigh with cysts in the sacrum. Same feelings in upper sections of the spine dependent on cyst locations
Headaches (due to the changes in the CSF pressure) and sometimes accompanied by blurred vision, double vision, pressure behind the eyes and optic nerve pressure causing papilledema (optic nerve swelling)
Other sensory system symptoms: Tinnitus/Ear noises (ringing, buzzing, snapping,popping, cricket sounds,etc.)
Dizziness and feeling of loss of balance or equilibrium, especially with change of position (** pain in various areas of my body and THIS are the WORST for me **)
The feeling of sitting on a rock
Pulling and burning sensation in coccyx (tailbone) area, especially when bending
Vaginal, rectal, pelvic and/or abdominal pain
Restless leg Syndrome
PGAD (Persistent Genital Arousal Disorder)
Sexual dysfunction and painful intercourse
As you can see, Tarlov Cyst symptoms can mirror MANY other conditions so it's EXTREMELY difficult to diagnose without the help of MRI imaging.  Even with the MRI, most doctors know next to nothing about it.  If anyone had these issues (minus the bladder symptoms), ANY doctor would immediately think strained muscle, pinched nerve, stress, over training, not eating enough, and a whole other long list of minor healthy concerns.  As much as I want to blame doctors for not knowing, it's not fair to and I can't.  This was a very short chapter in their medical school books and such a small amount of people who have real symptomatic problems.  It's just not something a doctor sees let alone treats in their lifetime OR they overlook the symptoms patients come in with.
Next, I went to YouTube… one of the first things to come up in the search? This video about a young girl's journey with Tarlov Cyst.  This was the one video that put me over the edge.  I went from a regular cry to being hysterical in a matter of 30 seconds. You can click the video to view on YouTube.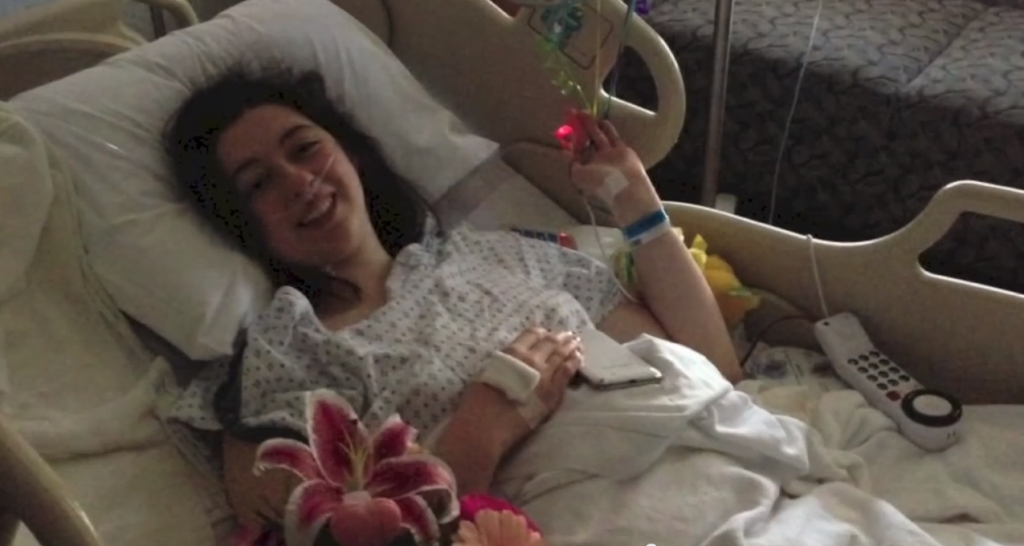 I'm NOWHERE close to where she was before surgery AND most other TC's sufferers wot get here either.  However, just seeing this as I began my research sent me totally over the edge!  I'm SO happy to see she was able to regain some of her life back!!!
OK, so now that I have a somewhat better idea of what me and my family might be up against, now what?  Where do I go?  Who do I talk to?  Will my symptoms progress this far?  What's my prognosis?  Will this ever get better?  Will I eventually lose my ability to walk?  How much greater will the pain get?
When you are confronted with something like this, you cannot stop your mind from racing in every single direction possible.  A thousand questions run through your head and unfortunately, very few (if any) have been answered at this point.  Luckily, I found these two amazing groups on Facebook that have been a wealth of knowledge over the past week.  At times it's also been very disheartening to hear their stories, struggles, pain, and journey they have been on.  Definitely scary, but at the same time I do find comfort in being able to ask questions from actual TC patients.


So now what?
Problem #1: Because this is such a rare disease, there are VERY few doctors in the world who treat it, let alone know about it.  There are less than 20,000 registered cases of this in the world and less than a handful of neurosurgeons who truly specialize in it.  To be honest, there are really only TWO to be considered using the surgery method with the highest success rate: Dr Feigenbaum in Dallas and Dr Schrot in Sacramento.  There are neurosurgeons who perform surgery on TC patients, but the success rate is less than desirable.  They usually only drain the cyst/s,perhaps add a special glue to help prevent future leakage.  However in many cases, the spinal fluid only ends up leaking back in.  You end up in the same condition and/or worse.  Not the best odds.  Dr. Feigenbaun and Dr. Schrot both drain the cyst AND place a special mesh type material where the spinal fluid is leaking into the nerve (not just a fibrin glue).  Success rate is very very high.  Great!  Thats the route I want to go.  Sounds good huh?  Brings me to my next problem…
Problem #2: I have Kaiser insurance.  Great for those who are otherwise healthy, not ideal for anyone with a serious condition.  Not only that, the likeliness of being given a referral/permission to see a non Kaiser doctor (let alone a neurosurgeon), is next to none.  This is a whole other separate issue that I'm sure I will be discussing further at another time.  We are in for an uphill battle and if/when push comes to shove, all of my treatment will most likely need to be paid out of pocket.  We may have no choice.  I cannot live in my present condition for years on end fighting with our insurance company.  Cost of surgery/treatment with these doctors ill be anywhere from $45,000 to $60,000.  I can't even think about where that's going to come from.  Thats a bridge we will need to cross at a later time.
Problem #3: The effects this disease will have on my husband and family.  Regardless of how much I hide the pain from my kids and even my husband, its already prevented me from doing so many things.  I went from brining my daughter to/from school everyday, doing intense weight training for 1.5-2 hours each day, running errands, cleaning, cooking, walking my dog, driving everywhere, and being extremely active from the time I woke up to the time I went to barely being able to function because my pain was so excruciating.  My entire world seems to be surrounded by either pain management, scheduling phone consults and doctors appointments, worrying, and/or research.  I've spent nearly every single waking hour laying down in pain.  At some point, even the most chipper, happy, positive person will have their breaking point.  I can't tell you the amount of times Ive been in tears the past 3 weeks.  Can't be counted on 10 peoples hands and toes.
Since I can't sit or stand for more than 5-10 minutes at a time without feeling the painful repercussions, I'm extremely limited in EVERYTHING I do.  Simple things such as picking something up I dropped, reaching up in a cabinet to get something, preparing meals, driving anywhere, bending over to throw my hair into a bun, and even taking short 10 minute walks outside are a huge challenge for me.  It either hurts too bad OR I'm so dizzy and lightheaded, I fear I will fall.  At this point, I've already lost my footing/stability so need to be holding something when I'm walking.
Also, for the past 2-3 weeks, my husband has already had to pick up ALL of the slack regarding the kids, the house, caring for me, and on top of working.  Of course he does it all without a single complaint and tells me every single day he wishes it were him having to go through it all.  Personally, I prefer it this way because I know my heart and soul would NOT be able to stand seeing him endure all of this.  It's completely debilitating.  Physically, emotionally, and psychologically.  Symptomatic Tarlov Cysts are one of those 'silent' chronic pain diseases you simply would not wish on anyone.
Problem #4: Coming to terms with the fact that I will NEVER be able to lift or train the same as I have these past 4 years.  Best case scenario is having a successful surgery, being able to walk or use a machine for "cardio" so I can hold onto something, and doing only isolated lifting movements… most likely under 10 pounds.  To some, this may not seem like a huge deal.  For those who are SO passionate about fitness, training, lifting, being active, and chasing goals, can you imagine how devastating something like this is?  Sure, I can try and push myself to do things and work through the pain (I tried that the first 1-2 weeks before I knew what was wrong) and while adrenalin was pumping and I felt awesome (even doing lighter weights), my body wanted to curl up and die that night and/or the following day.  Those days were probably the most brutal for me in terms of pain.  Words won't ever be able to express the sadness I feel.  Knowing I will never be able to squat or deadlift again… heartbreaking.  At this point, I would settle for the ability to walk for 30 minutes without any symptoms.
Prognosis
There is no telling how long I've actually had this condition, but up until these past couple of months there were no real symptoms.  Now that I have a very active "flare up" though, I fear it will only progress.  At what rate, how severe, what other organs/issues will be effected… we honestly have no idea.  Regardless, we do know this condition will never go away.  It is something I will live with for the rest of my life, even after surgery.
Best case scenario is finding a way to have surgery with one of the TWO doctors in the world who specialize in this disease and then hope its 'successful'.  Hearing stories from those who have had had treatment with these docs does give me some hope.  After a 2 year recovery period (because our nerves are extremely slow to heal), they say some can get to about a 90% "normal" life.  Most are still on pain meds and go through minor flare ups that are manageable.  I'll take it.  Anything is better than what I've been dealing with the past 2-3 weeks now.
The Plan
In terms of the immediate future, we have already been in contact with both neurosurgeons who specialize in Tarlov Cyst Disease.  My MRI has already been sent off to Dr. Schrot.  After he reviews it, we will set up a phone consult to discuss the findings and hopefully get a better understanding of everything.  We have also scheduled an in office visit with Dr. Feigenbaum in Dallas for November 5.  BOTH of these doctors are out of my insurance network which again means we are paying 100% out of pocket for any and all services, visits, treatments, etc.  At this point, I haven't decided to speak with any other 'out of network' neurosurgeons because there really is nobody else who truly specializes in this.  I am obviously extremely apprehensive of seeking treatment elsewhere… this isn't something like removing a cyst on your arm or something.  This is your SPINE.
As for my own insurance network… I will most likely be fighting a losing battle.  We do have an appointment with a Kaiser neurosurgeon on October 14.  We are NOT going into this appointment optimistically simply because of the horror stories we have heard from Tarlov Cyst patients and what they have had to endure with Kaiser.  They have basically spent YEARS being bounced around from doctor to doctor being treated for symptoms (urology, pain management, ortho, etc.) but NOT the Tarlov Cyst disease itself.  I should know more in a couple of weeks though.  Crossing my fingers that at the very least, they do not dismiss the finding (again, MANY horror stories about doctors saying Tarlov Cysts do not cause any problems).  Sounds strange, but trust me… sadly happens very very often.
In terms of work for me, fortunately I had already been transitioning away from newborn photography to focus on food styling/photography this past year.  As of this week, I will officially not be doing anymore regular newborn/family sessions.  It's far too difficult for me to bend down, hunch over, and move around like I would need to.  I will miss my babies, but it's just going to be impossible.
All graphic design/business branding work will also need to stop.  Because I have so much pain sitting (thats actually the worse pain for me) and I never know how bad things will get each day, it's not fair for me to keep clients waiting until I'm ready to work again.  Giving myself 5 minutes here and 10 minutes there to "work" will simply not work.  Branding is now officially a closed chapter in my life.  I loved it and helped hundreds of photography businesses launch new looks!  I'm very proud of that business I created, managed, and maintained for over 7 years!
Fortunately, this blog has brought so many amazing opportunities to me already and it's been a great source of income for my family for the past year.  In addition to the blog publishing network I'm partnered with, I am extremely lucky to already work for a handful of amazing companies for recipe development.
All of the recipes I can write laying down and then create/make/style/shoot food in batches.  As long as I plan ahead and am diligent about keeping a 'schedule' as best as the pain/symptoms will allow, I will be A-OK!  Even through all of this crap the past few weeks, I have made ALL of my deadlines with the companies I am currently contracted with.  I guess that's a silver lining in all of this gloom… my body may not be happy, BUT this girl can still whip up recipes and EAT!!!  Nothing wrong with my tummy 🙂
Other than dealing with doctors and work, I plan to try and keep things as "normal" as I can with the kids & family.  It will be lots of pain and symptom management, patience with myself, and trying to hold my shit together in front of them as best as I can. This is one roller coaster ride I never wanted to be on, but one I am now stuck on.  I know I will have my bad days and better days.  In all honesty, there is nothing I can do at this point, but continue to power through.  Good news is I'm still alive and I will continue to be thankful for each and every single blessing in my life.
This disease will test everything I have in me, but I will be DAMNED if it breaks me…
Next up… "Life With Tarlov Cyst Disease"