I'm not sure how these happened, but at 13 calories per cookie (fat- 0, carbs- 0, protein- 3 grams)…. I don't even care!
I remember one night I was totally out of macros for the day except for protein.  It was a rare occasion since I can easily get all of my protein in everyday by the early afternoon. I was definitely craving something sweet and although a mug cake would have been delicious, I wouldn't be able to add ANY toppings.  Mug cakes are really only amazing when you can add a bunch of other stuff to them like peanut butter, chocolate chips, whipped cream, and/or cereal (for crunch).  No point if I can't have all of the other fun stuff with it!  I probably could have just drank my calories with a protein shake or MuscleEgg, but that's as fun as eating.
I actually REALLY wanted some cookies to be honest with you!  I remembered making THESE 'Strawberry Meringues' earlier this year and while those will satisfy your sweet tooth and are delicious, I really wanted something a bit sturdier, not quite so 'airy'.  Since I couldn't afford to add many carbs (or fat) to any regular cookie recipe, I wondered what would happen if I used my meringue recipe BUT added protein powder… that might give the added texture AND protein?!
Turns out… it worked exactly like I thought!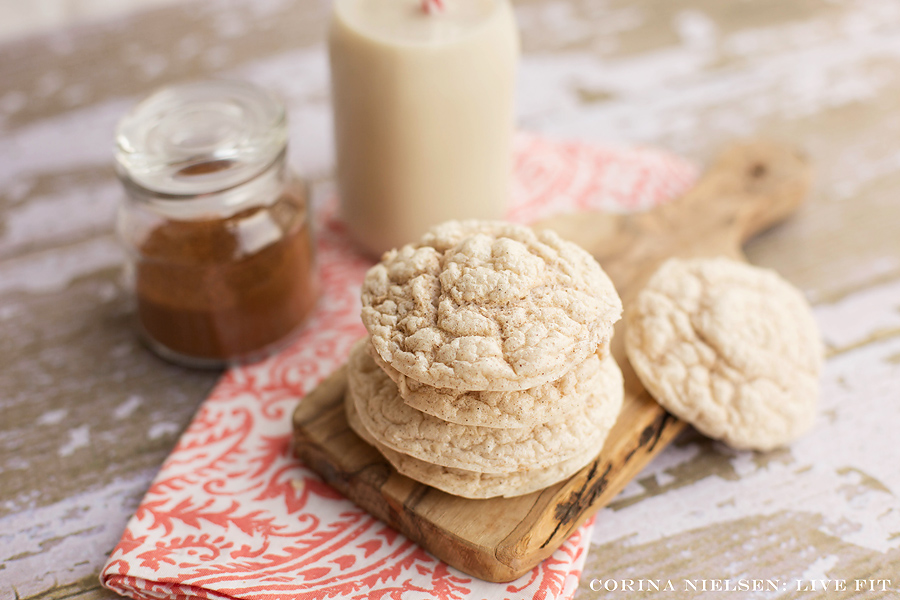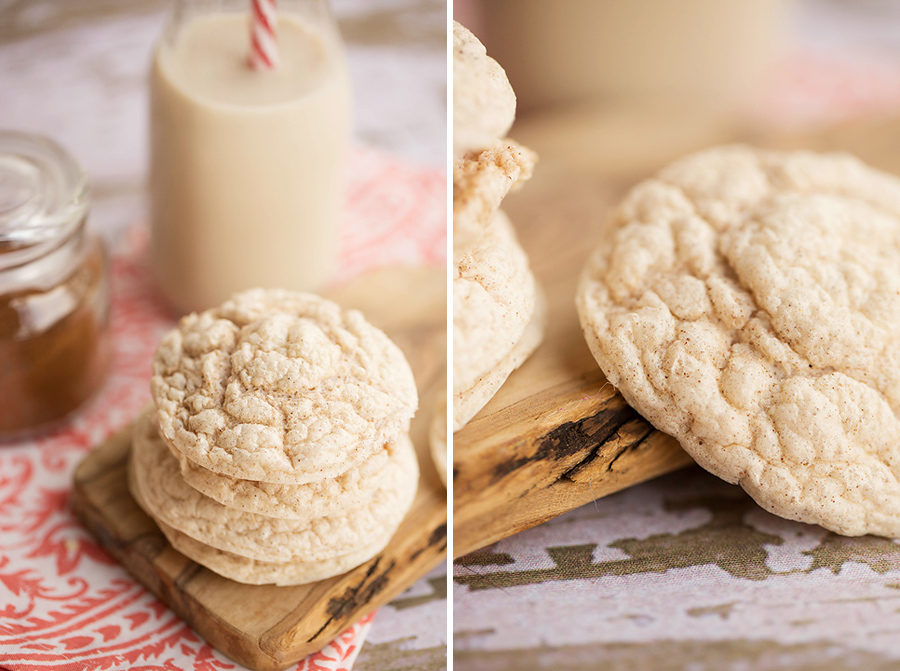 Soft and squishy like a good cookie should be, but light and airy like a meringue!  The protein powder not only adds extra flavor (mmmmm, snickerdoodle), but also allows the cookies to hold their shape and firm the egg whites up a bit.  Typical meringues usually bake at a very low temperature for a long period of time and then need to dry out… thats what gives them that crisp, crumbly texture.  These bake up just like cookies so you are eating in no time!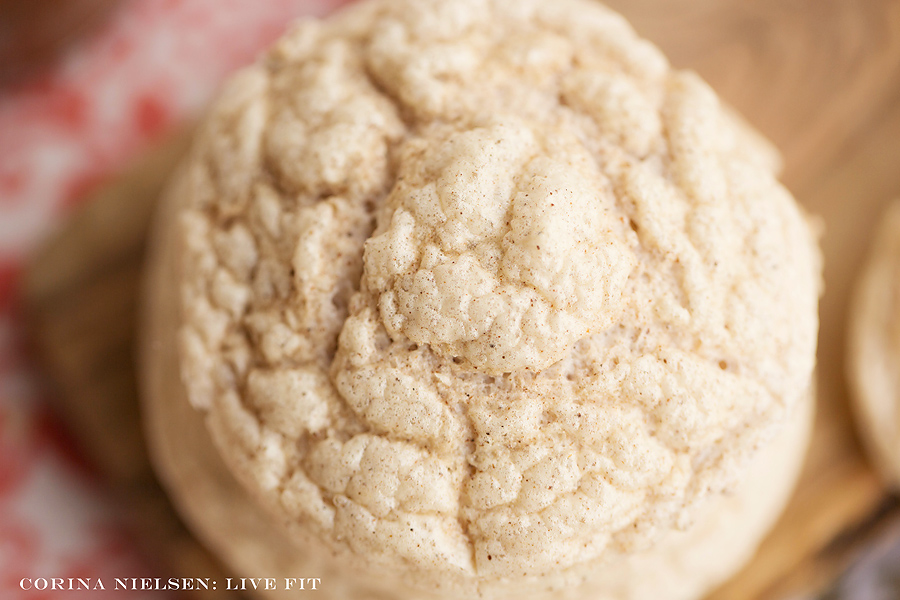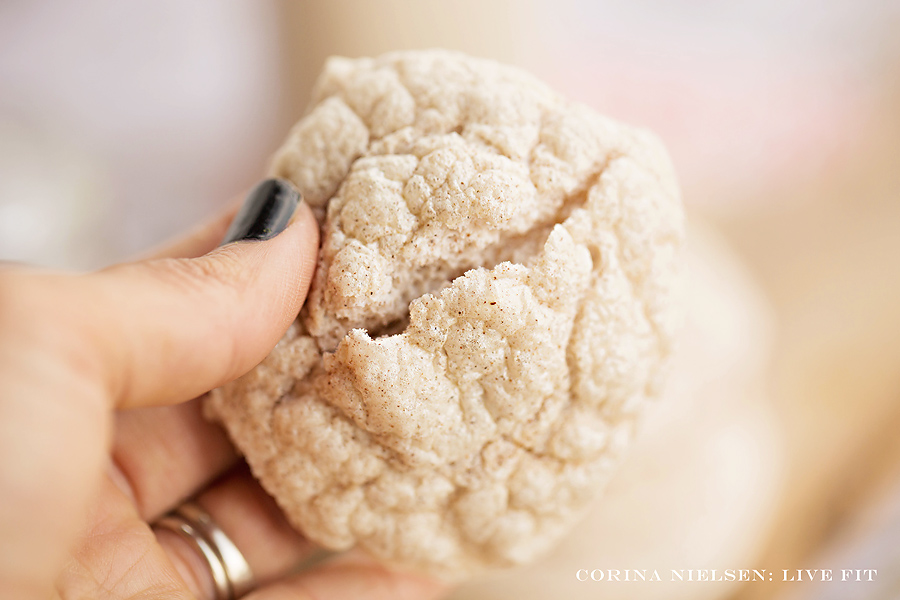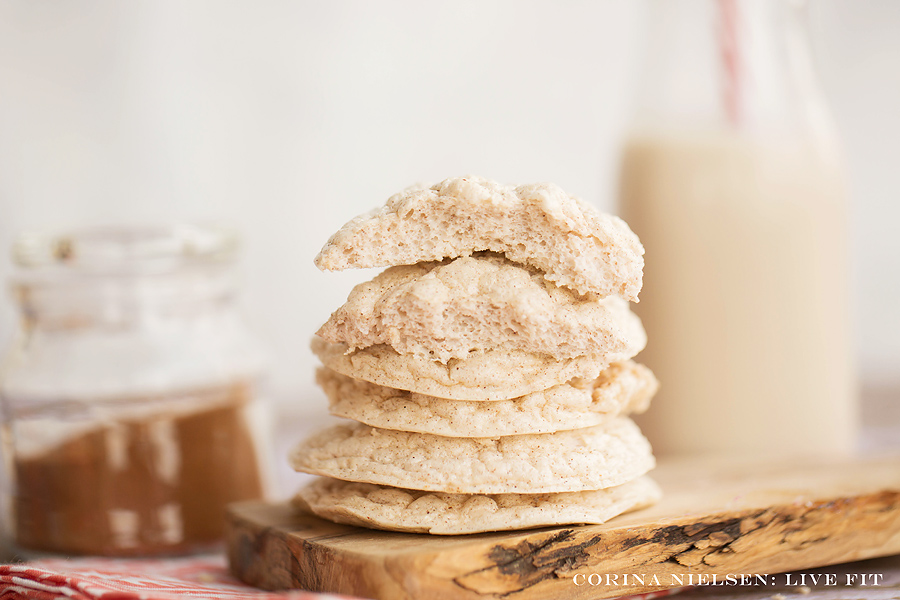 Snickerdoodle Protein Meringues

Print recipe
| | |
| --- | --- |
| Serves | 12 |
| Prep time | 5 minutes |
| Cook time | 10 minutes |
| Total time | 15 minutes |
Ingredients
1 cup Vanilla MuscleEgg egg whites (www.muscleegg.com)
1/2 teaspoon vanilla extract
3/4 teaspoons cream of tartar
1 teaspoon cinnamon
2 tablespoons PEScience 'Snickerdoodle' Select protein (30% off coupon below)
Directions
Step 1
Preheat oven to 325 and line a pan with a silpat or parchment paper.
Step 2
In a small bowl, mix protein powder and cinnamon. Set aside.
Step 3
In a large bowl of a stand mixer, begin beating egg whites and vanilla extract on high for 2-3 minutes. Sprinkle cream of tartar on egg whites. With mixer still on high, slowly add protein/cinnamon mixture. Beat until fluffy.
Step 4
Add mixture to a large zip lock or piping bag. Cut tip off one corner and pipe small mounds onto baking sheet.
Step 5
Bake for 10 minutes. Remove from oven if you prefer soft meringues. If you prefer a crispier type meringue, turn oven OFF and leave in the oven for an additional 5-10 minutes until golden brown.
Note
NUTRITIONAL INFORMATION (makes 12 meringues): calories- 21, fat- >0 grams, carbs- >0, protein- 3 grams PER SERVING
30% OFF 'Snickerdoodle' PEScience Protein & Products using coupon code 'corina' at checkout www.PEScience.com