Nothing says Fall quite like apples!  Of course apples can and should be enjoyed throughout the entire year, but right as the weather changes and temps begin to slowly drop, baking & cooking with apples is an absolute must.  I have no idea why, but something about apples, cinnamon, and all those warm spices just makes me want to get into the kitchen and whip up something warm & comforting!
Over the Summer months, I created an exclusive 'Strawberry Protein Bread Pudding' recipe for MuscleEgg and I've basically been thinking about it ever since.  Now I've done lots of varieties of bread puddings in my day, but up until now they were always the real deal… heavy cream, butter, and lots of sugar.  Although extremely delicious, that type of bread pudding is difficult to enjoy on a daily bases (even for a flexible dieter).  The nutritional profile and macros on it would basically wipe out my carbs and fat for an entire day.
That's NOT volume eating!
I haven't stopped thinking about the healthy strawberry version I made a few months ago, but berries aren't looking too good this time of year (even here in San Diego).  So with Fall temperatures finally arriving and warm autumn flavors everywhere you look, I decided to whip up an apple pie flavored bread pudding instead!  Might I say it's even better than the strawberry version???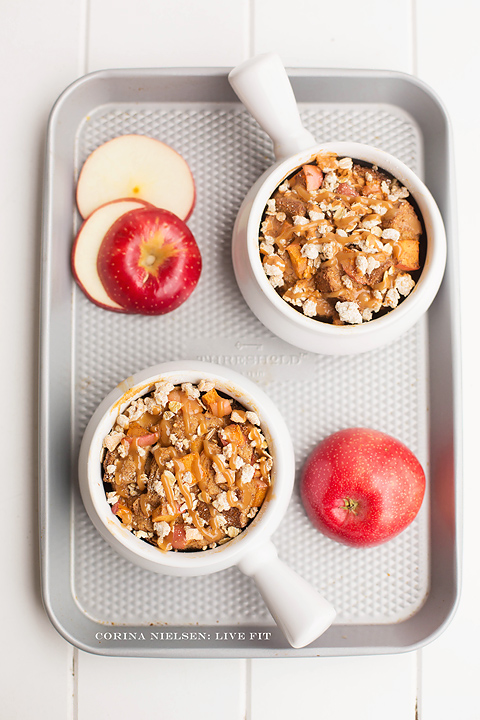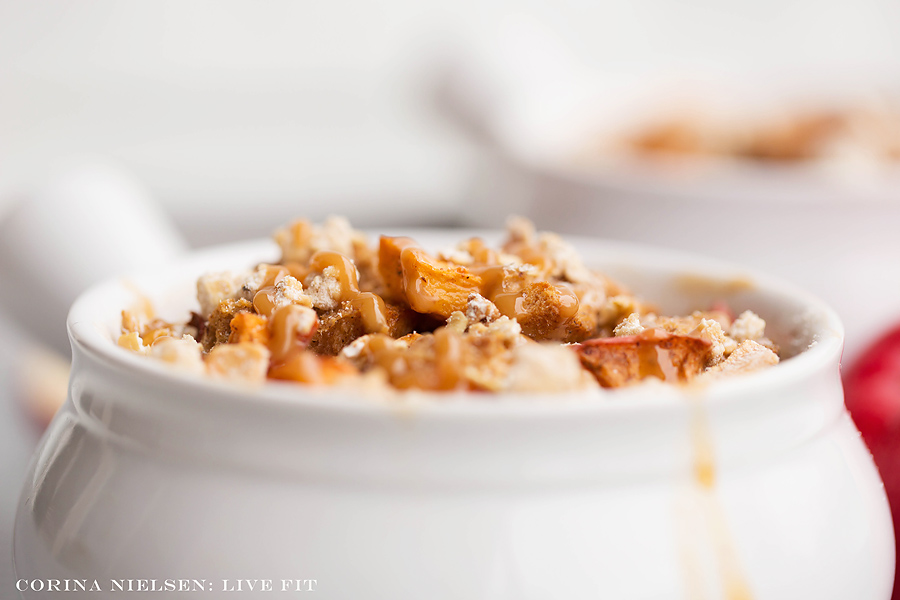 Again, the strawberry version was delicious, but the added 'crumble' topping on this one put the entire experience over the top!   The topping was simple and perfect.  I added my favorite Kodiak Cakes Oatmeal (green apple spice) and a little ZERO calorie/ZERO carb/ZERO sugar/ZERO fat/ GLUTEN free Walden Farms Caramel Syrup.  This added the perfect amount of texture and extra sweetness!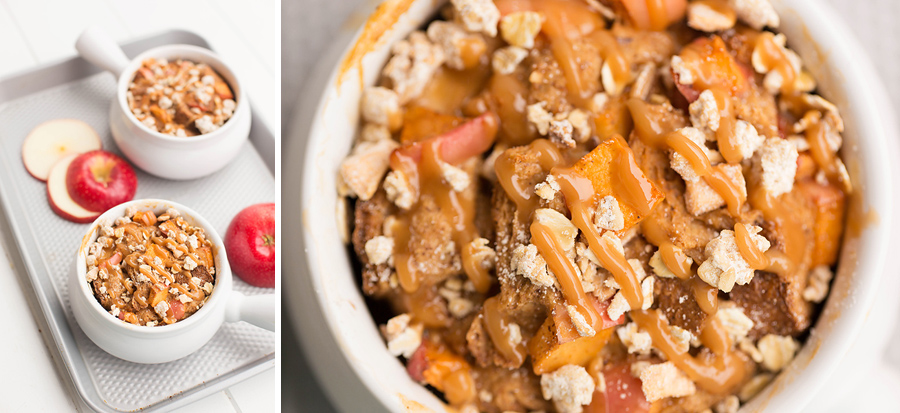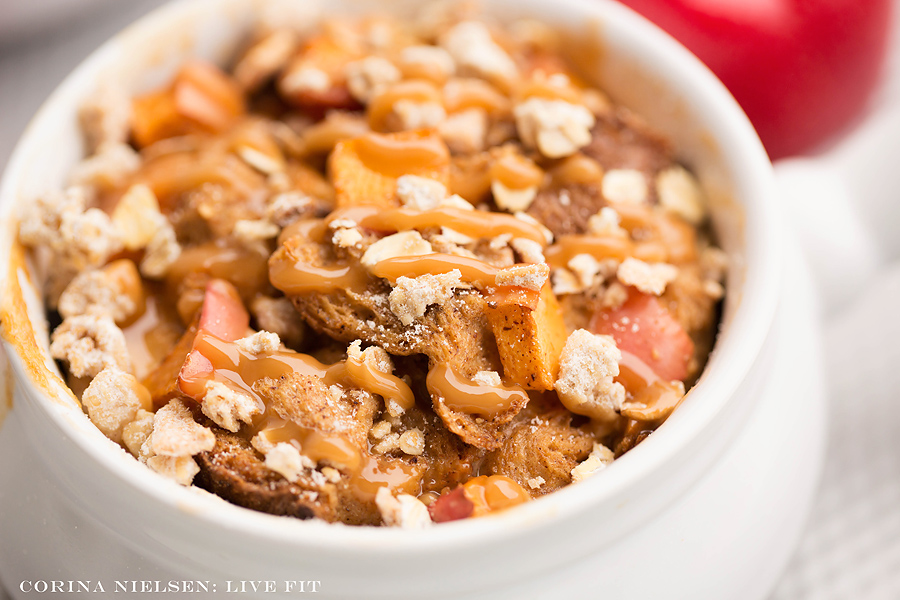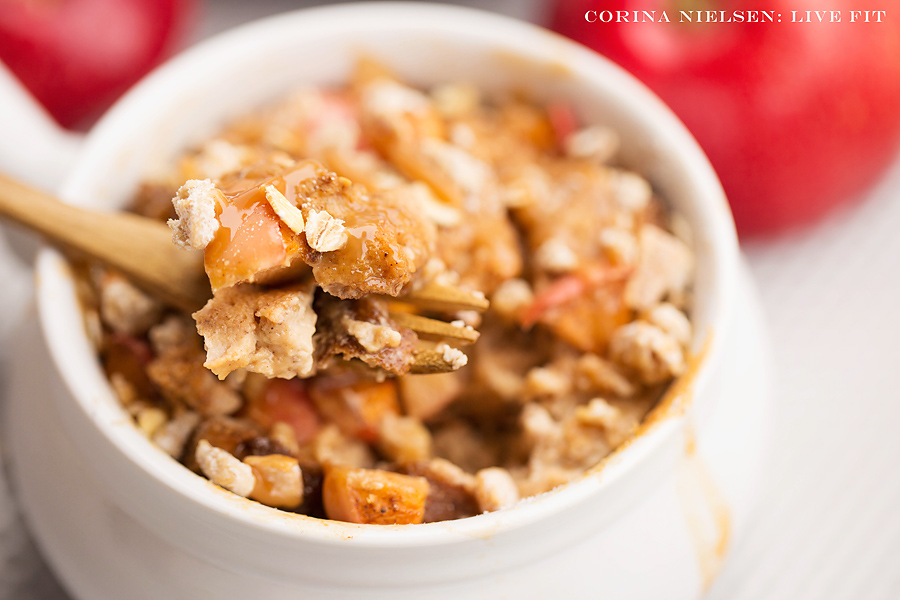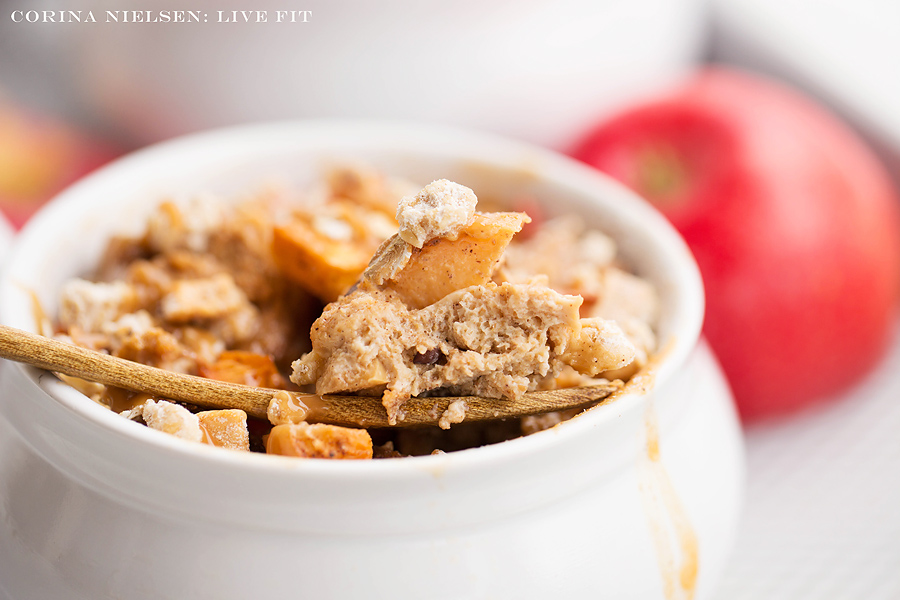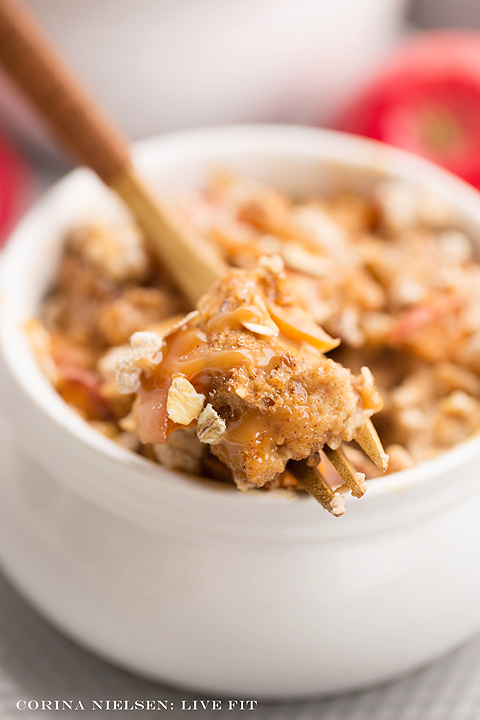 I can't even…
Now I need to think of even more flavors for this HEALTHY bread pudding!  So many possibilities, so easy to change out flavors, toppings, and fruit depending on the season and whats available to you locally.  Now I better get going on some neat Winter ideas because this bread pudding recipe is a winner!!!
Nutritional profile on a regular serving of bread pudding: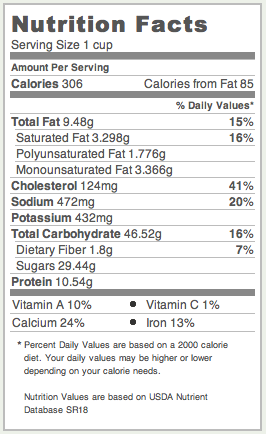 Nutritional profile on my serving of bread pudding:

Comparable in calories BUT look at the difference in the amount of FIBER, SUGAR, and PROTEIN.  My version will fill you up quicker and keep you satiated longer.  You will get a sweet tooth fix, but this one is on a much 'healthier' scale.  It's a win win situation any way you look at it!
And if you are feeling a little frisky and want to give yourself something even more special, drizzle a little of this Apple Pie almond butter… it's kinda scary how good it is.  If I wasn't careful, I could easily eat the whole jar in one sitting.  No joke.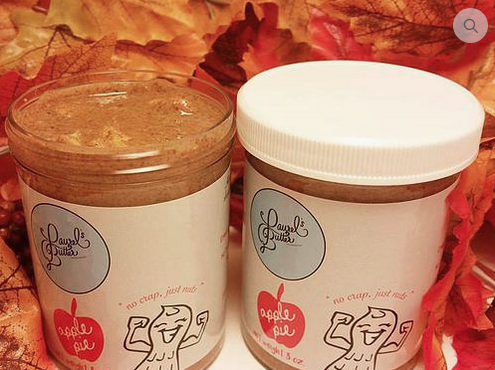 Caramel Apple Crisp Protein Bread Pudding

Print recipe
| | |
| --- | --- |
| Serves | 2 |
| Prep time | 10 minutes |
| Cook time | 25 minutes |
| Total time | 35 minutes |
| Meal type | Breakfast, Dessert |
Ingredients
1/2 cup milk of choice
1 Large whole egg
1/2 cup Vanilla MuscleEgg egg whites
1/2 teaspoon vanilla extract
3/4 scoops PEScience 'Snickerdoodle' Select Protein (30% OFF coupon below)
1 tablespoon Walden's Caramel Dip
1/2 teaspoon cinnamon
1/2 teaspoon apple pie spice
6 pieces bread (I used Nature's Own 45 calorie bread)
1 Medium chopped apple
1/2 tablespoon coconut sugar or brown sugar
1/2 cup Kodiak Green Apple Spice Oatmeal
Optional
2 tablespoons Laurel's 'Apple Pie' Almond Butter
Directions
Step 1
Preheat oven to 350 degrees and coat 2 small baking dishes or ramekins with non stick spray.
Step 2
In a large shallow bowl/dish, combine milk, egg, egg whites, protein powder, cinnamon, apple pie spice, vanilla extract, and Walden's caramel dip. Whisk until combined.
Step 3
Cut bread evenly into small pieces (roughly 3/4"). Add bread and chopped apple to egg mixture. Let soak for 3-5 minutes. **NOTE: for softer apples, you can first lightly sauté them for 5-7 minutes in a small pan. **
Step 4
Divide mixture into greased dishes, sprinkle with oatmeal and coconut sugar, and bake for 25-30 minutes until tops are golden brown. Drizzle with nut butter and caramel sauce if desired.
Note
NUTRITIONAL INFORMATION (makes 2 servings): calories- 306, fat- 6 grams, carbs- 45/fiber- 11 grams, protein- 27 grams PER SERVING (without nut butter or caramel drizzle)
30% OFF 'Snickerdoodle' PEScience Protein & Products using coupon code 'corina' at checkout