Brownies, cheesecake, and chopped cookie dough bar pieces?  Yes, please, thanks.  I will take two for now.  Oh wait, these are healthy????  In that case, gimme four of those cookie dough cheesecake brownies please!!!
Yup, you heard that right!  These are whole grain Kodiak brownies, high protein cheesecake (AKA 'pro cheesecake'), and I could have stuck with plain chocolate chips (which are always delicious of course), BUT I added this instead…

chopped up bits of Detour 'Simple' Salted Caramel Cookie Dough Bar!
I mean why not right?  It's like using plain chocolate chips, but they're kinda on steroids.  You get the chocolatey goodness of course, but also get the added nutritional benefits of the whey protein, lower sugar, extra fiber, vitamins, AND chewy caramel bits!  Sure chocolate chips would work perfectly fine, but this just elevates the entire experience a bit 🙂  You don't need a lot of the chopped Detour bars, a few small chunks go a long way so sprinkling a few on top will do!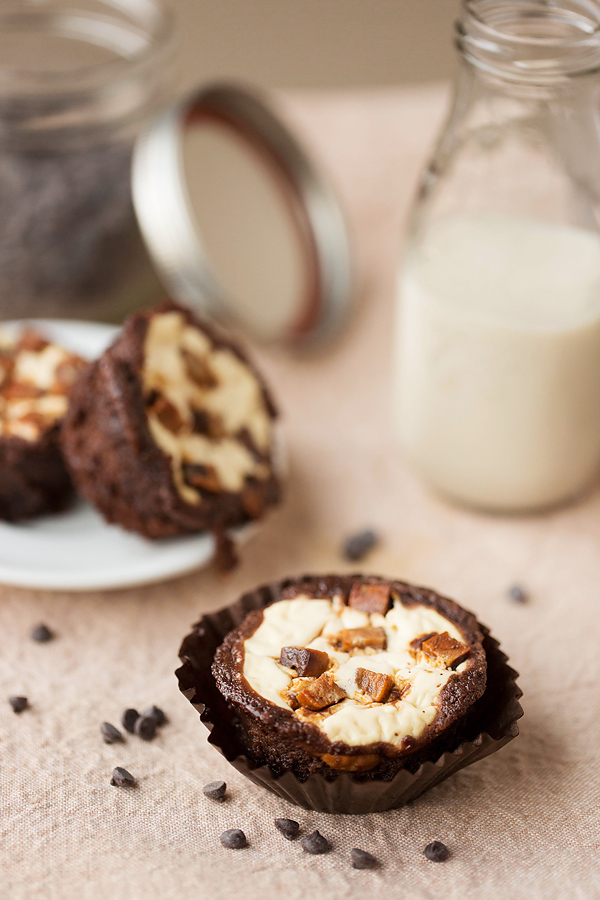 I absolutely LOVE the different textures all in one neat little bite.  A small base layer of rich & decadent chocolate brownies surrounding sweet & creamy cheesecake, and then of course I have to make sure each bite gets one of those cookie dough bar pieces.  It truly is heaven in a neat little cupcake form!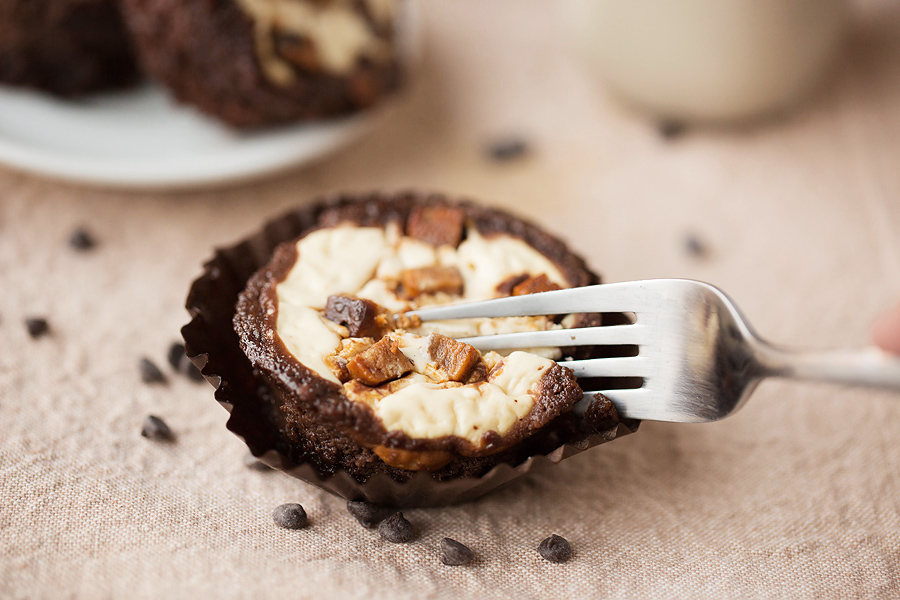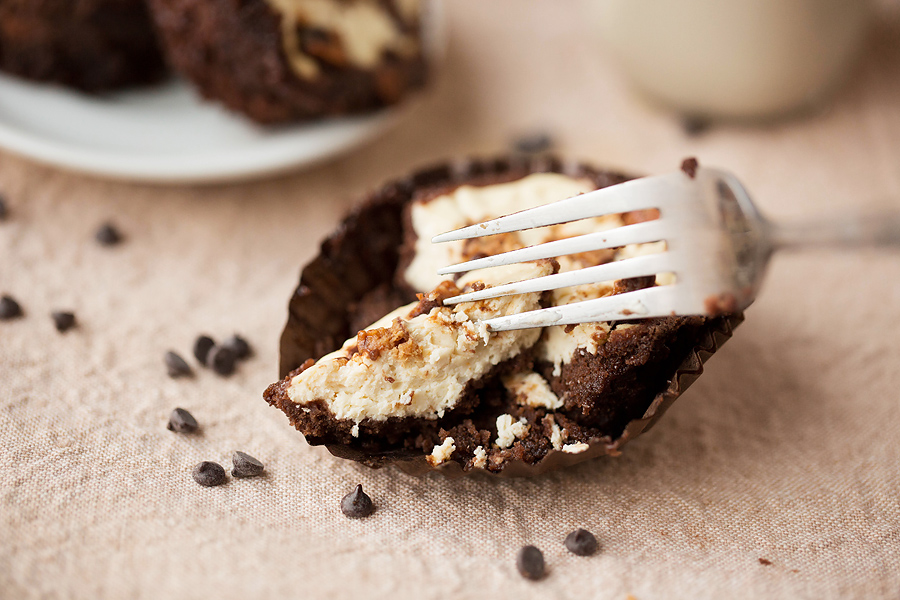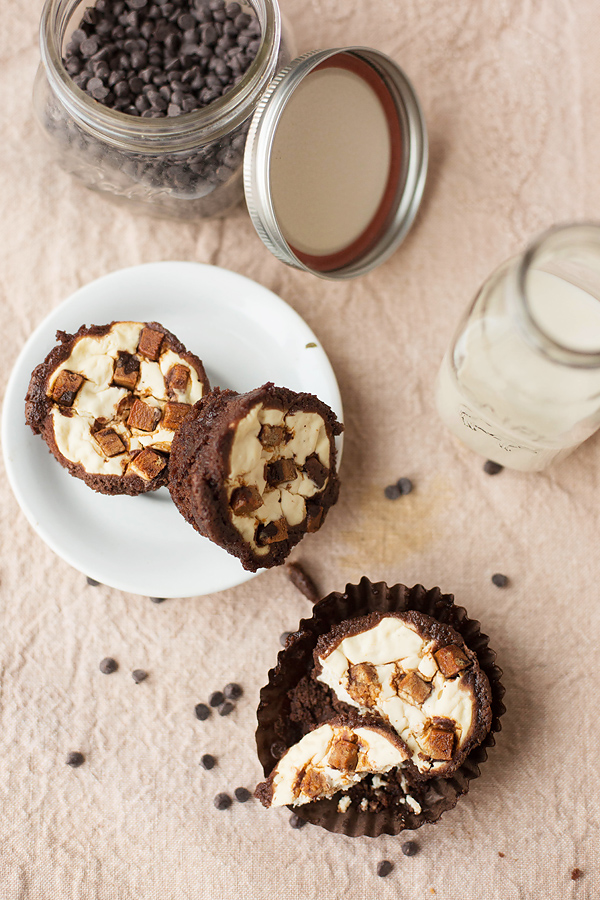 Cookie Dough Cheesecake Brownies

Print recipe
| | |
| --- | --- |
| Serves | 18 |
| Prep time | 10 minutes |
| Cook time | 25 minutes |
| Total time | 35 minutes |
Ingredients
1 Kodiak Cakes 'Big Bear' Brownie Mix
1/4 cup Chocolate Caramel MuscleEgg egg whites (or use plain egg whites)
1 whole egg
2/3 cups vegetable, canola, or coconut oil
1/4 cup water
10oz fat free cream cheese
8oz 0% plain Greek yogurt
1 whole egg
3 tablespoons Vanilla MuscleEgg egg whites (or use plain egg whites and add more sweetener)
1 teaspoon vanilla extract
1/3 cup Sweet Leaf Stevia (or sweetener of choice)
1/4 cup milk of choice
1 scoop Gourmet Vanilla PEScience protein powder (30% off coupon below)
3 tablespoons Walden Farm's caramel sauce
1 roughly chopped 'Salted Caramel Cookie Dough' 'Simple' Detour bar (or replace 1/4 cup chocolate chips)
Directions
Step 1
Preheat oven to 325 degrees and coat a muffin pan/s with non stick spray or line with cupcake holders (makes approximately 18 regular sized cupcakes/muffins).
Step 2
In a large bowl, combine brownie mix, Chocolate Caramel MuscleEgg, whole egg, oil, and water. Mix until smooth. Divide and pour into muffin prepared pan/s.
Step 3
In the bowl of a stand mixer, combine softened cream cheese, Greek yogurt, MuscleEgg, whole egg, vanilla extract, caramel sauce, stevia, and protein powder. Mix on high for 2-3 minutes until smooth. Pour over brownie mixture and top with chopped Detour bar or chocolate chips.
Step 4
Bake for 25-30 minutes until edges have started to come away from edges slightly, but the center of the cheesecakes are not fully set. Do NOT over bake.
Note
NUTRITIONAL INFORMATION (makes 18 servings): calories- 195, fat- 7 grams, carbs- 26 grams, protein- 7 grams PER SERVING (using Detour bar)
30 % OFF Gourmet Vanilla Select Protein & ALL other PEScience products using coupon code 'corina' at checkout