I'm very very excited to share this idea and recipe with you today!  I had been thinking of this one for months, but never actually got around to actually making them.  I guess that's what happens when you have 500 recipe/food ideas running around in your head at any given time?  I get so overwhelmed with things I want to try, that nothing actually ever gets done!  Anyways, this idea was even better than I imagined AND I'm now inspired to come up with even more flavor options!  Possibilities are endless…
Stuffed (and BAKED) Donut Holes!!!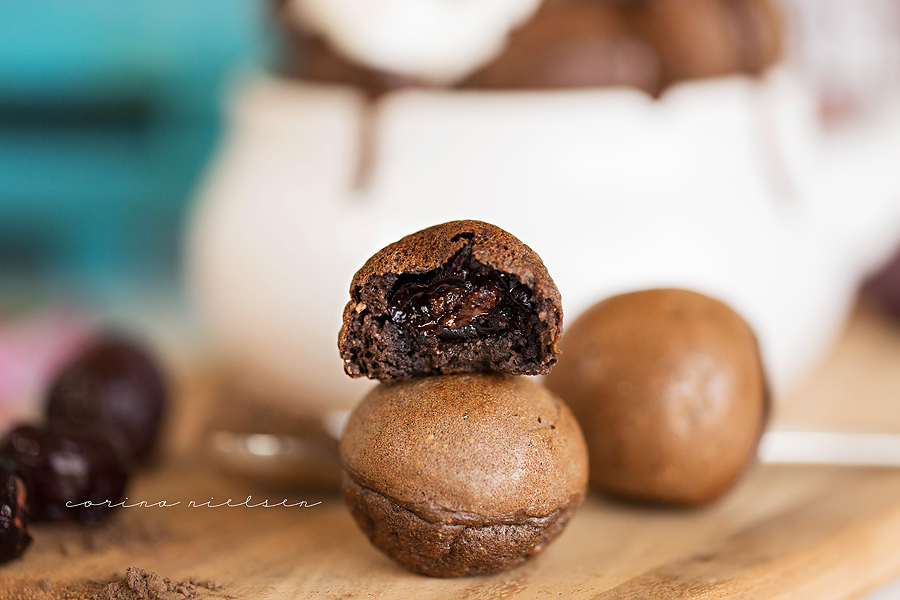 In this case, my chocolate protein donut holes(AKA "pronuts") are stuffed with a combination of sweet dark cherries and SquareBars newest flavor "Cocoa Cherry"!  When I first came up with the idea, I had no idea what I was going to use as a filling for the donuts.  All I knew was chocolate was going to be involved… somehow, somewhere, and in some form.  However, when SquareBars released their new product, my wondering was over.  Frozen cherries have the pit already removed, are nice and pliable when thawed, and I could easily squeeze a piece of the bar in.  It's like a match made in heaven if you ask me.
Lookie…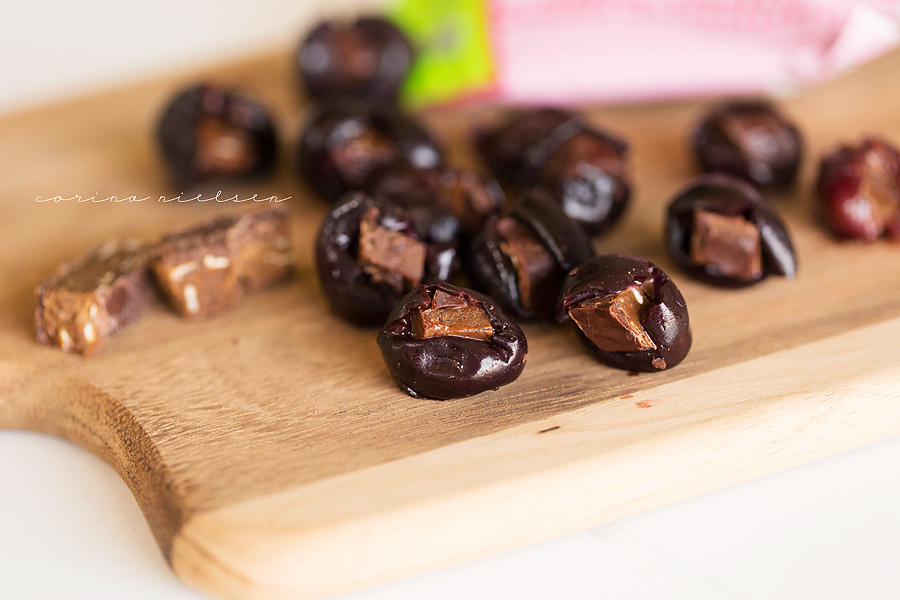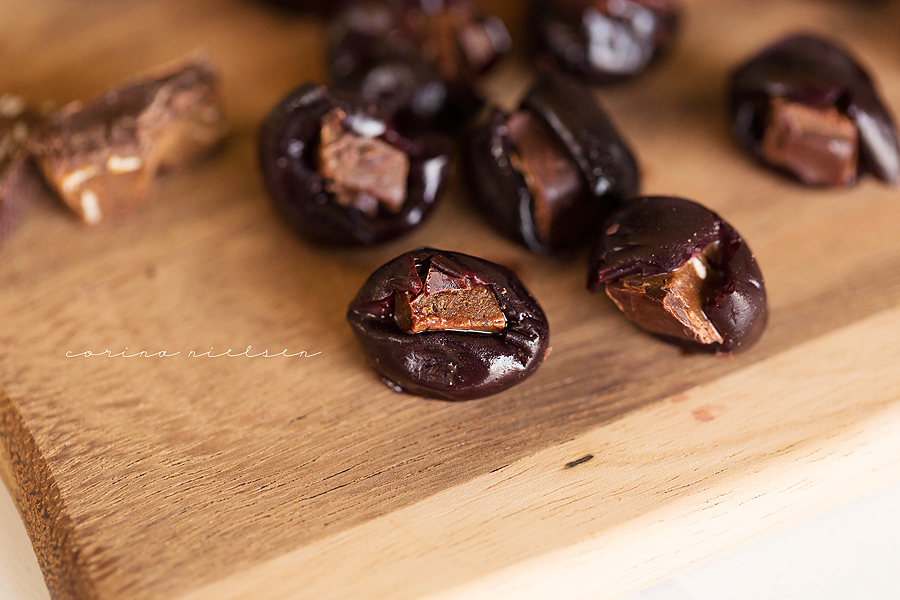 Next thing I had to tackle was how I was going to cook them.  I had seen quite a few people jumping on the "ebelskiver" train, but that just seemed far too complicated to me.  I would have to track down where to buy a new pan, spend time watching over said pan while the donut holes cooked, use more energy manually flipping the donuts, etc.  It could be done, but I knew there was a better alternative.  I dug deep into my kitchen gadget arsenal and low & behold… my daughters Cake Pop maker was the answer to all of my problems!  This little $20 "Bella Cake Pop & Donut Hole Maker" we bought at Target would work perfect!
Even at the age of 7, I remember my daughter being able to whip up her own little batches of cake pops and donut holes.  She would use some pancake batter or a boxed cake mix, pour a little into the maker, close the lid, wait for the beep/timer, and then pop each bite out with a fork.  Very little mess is a huge bonus for mom too!  Surely, if she could do it, I could too… only I would use my own pancake/waffle recipe AND try doing a filled variety.
Worked like a CHARM!  I thawed my cherries, made my batter, chopped my Cocoa Cherry SquareBar, stuffed each cherry, preheated the cake pop/donut hole maker, poured about 1 tablespoon of batter in, plopped a stuffed cherry in each center, covered with more batter, closed the lid, waited for the beep, opened it back up, and popped each donut hole out!
So so so good & EASY!!!!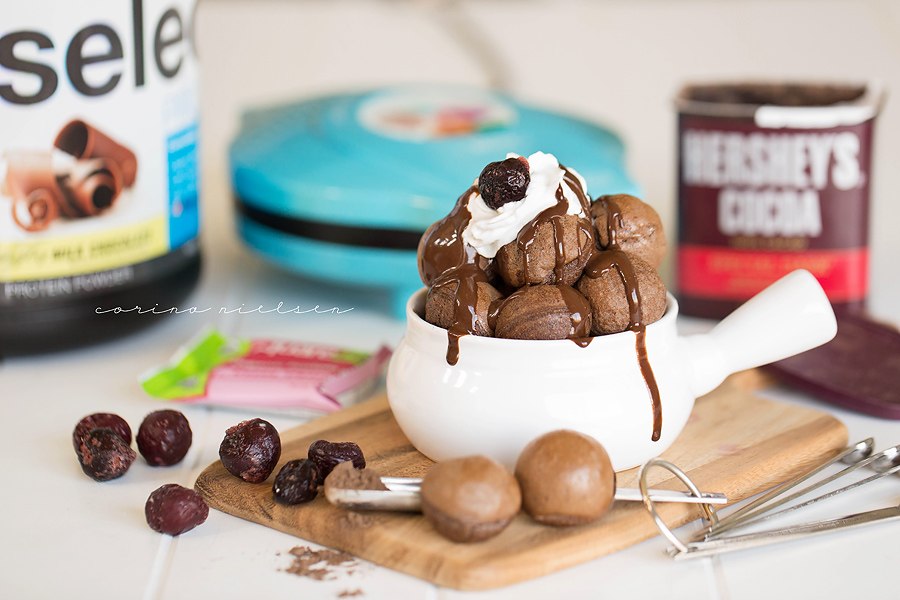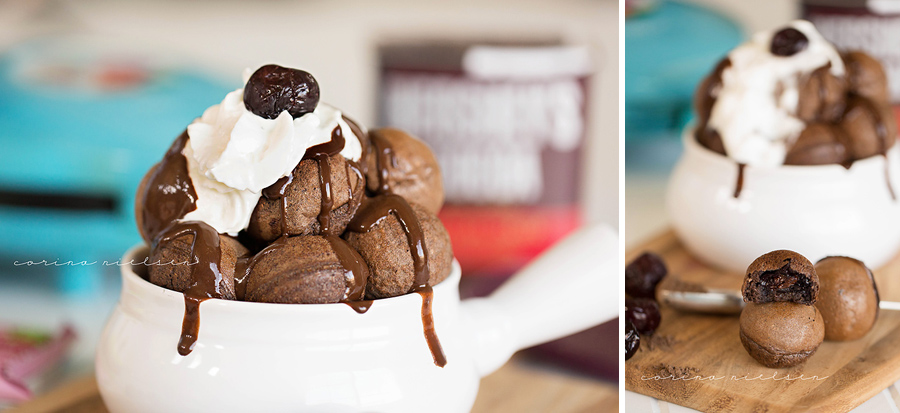 Dangerous, but good… donut holes (or anything bite sized for that matter) are hard to turn down.  One turns into three which turns into ten.  Luckily for me, I have NO problems with this "healthy" version of donut holes!  Instead of adding all of the extra sugar with a regular glazed coating or actual chocolate, I kept it super simple and just drizzled/dipped my donut holes in some Walden Farms chocolate syrup (I buy mine at Sprout's).
Whipped cream is optional, but not really… whipped cream on everything around here!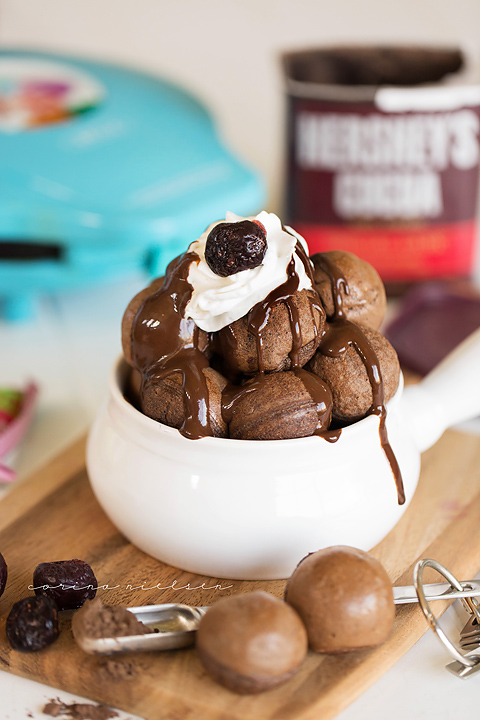 Black Forest Donut Holes

Print recipe
| | |
| --- | --- |
| Serves | 26 |
| Prep time | 7 minutes |
| Cook time | 10 minutes |
| Total time | 17 minutes |
| Meal type | Breakfast, Dessert |
Ingredients
1/3 cup Kodiak Power Cakes (www.kodiakcakes.com/Target/some Costco stores)
2 tablespoons coconut flour
1 scoop Milk Chocolate PEScience Select Protein (www.PEScience.com (30% off coupon below))
1/2 tablespoon dark cacao powder
1/2 teaspoon baking powder
1 pinch salt
1/4 cup Chocolate MuscleEgg egg whites (www.muscleegg.com)
1/2 teaspoon vanilla extract
1/4 teaspoon cherry extract
3/4 cups milk of choice
1/2 "Cocoa Cherry" Square Bar (www.squarebar.com/many health food stores)
26 frozen & thawed dark cherries
2-3 tablespoons Walden Farm's Chocolate Sauce
Directions
Step 1
Combine all ingredients in a large bowl EXCEPT Square Bars and cherries. Mix until smooth. Let sit for 5 minutes while preparing filling.
Step 2
Chop Square Bar into small pieces that will be able to fit inside the cherries (less than 1/4" in size). Carefully work cut Square Bar's into the center of each cherry.
Step 3
Preheat the Bella "Cake Pop" maker as shown in my post OR preheat oven to 350 degrees if you are using a regular donut hole pan. Coat with non stick spray.
Step 4
Spoon 1 tablespoon of batter into pan, add filled Square Bar filled cherry, then add an additional 1 tablespoon of batter to cover cherry. You will need to move quickly if you are using the cake pop maker to ensure cooking times are as even as possible. Repeat until batter/cherries are gone. If you are using the regular pan, bake for 10-12 minutes.
Step 5
Eat as is OR top/dip donut with chocolate sauce.
Note
NUTRITIONAL INFORMATION (makes 26 holes): calories- 22, fat- less than 1 gram, carbs- 3 grams/1 gram fiber, protein- 2 grams (PER DONUT HOLE)
If you are interested in receiving 30% OFF on Milk Chocolate Select protein or any other PEScience products, use my code CORINA at checkout on www.pescience.com.