'On a keto diet and missing your beloved breads and rolls for dinner?  These sun dried tomato and bacon biscuits will have you covered!'

When transitioning to a ketogeinc diet a few months ago, one of the biggest hurdles I faced was NOT being able to readily grab a couple of slices of bread, a warm fluffy roll, decadent slice of cornbread, or eat any beloved biscuits.  Some people crave sugar and can't seem to kick their sweet tooths.  Me?  I craved my glorious, starchy, wonderfully bready carbs!  Its even more difficult when you are the only one in the household who eats LCHF (low carb/high fat).  There is a constant stream of all the carb filled foods entering and leaving our kitchen & pantry!
Fortunately for me, it's easy to stay 100% keto when your health, mental clarity, energy, and various medical conditions truly depend on what your putting in your body.  Even though my family has generously offered to change their diets to show their support of my new way of eating, I'd never force that on them.  They already eat healthy and very well balanced, no need to push them into a fairly restrictive "diet" solely on my account.  I may love keto, but not everyone in the world has to love keto if you catch my drift!
That being said though, I definitely needed to find some keto friendly substitutes to replace those beloved carby filled breads, biscuits, and rolls my family enjoys sometimes for dinner!  Some don't believe in keto-fying traditional recipes and food, but I'm definitely NOT in that camp.  Keto is already fairly restrictive enough (at least in the beginning), why not continue to enjoy ALL of your favorite foods IF they can be made fully "ketogenic friendly"?  There are very very few foods that I haven't been able to replicate in a keto way (higher fat, lower carbs).  Breads and biscuits included!
Back in November on my first real attempt at keto baking, I decided to make these "Sun Dried Tomato" biscuits and were such a HUGE hit with the entire family, they quickly became a staple for ALL of us!!!  Don't they look so perfectly biscuit-y???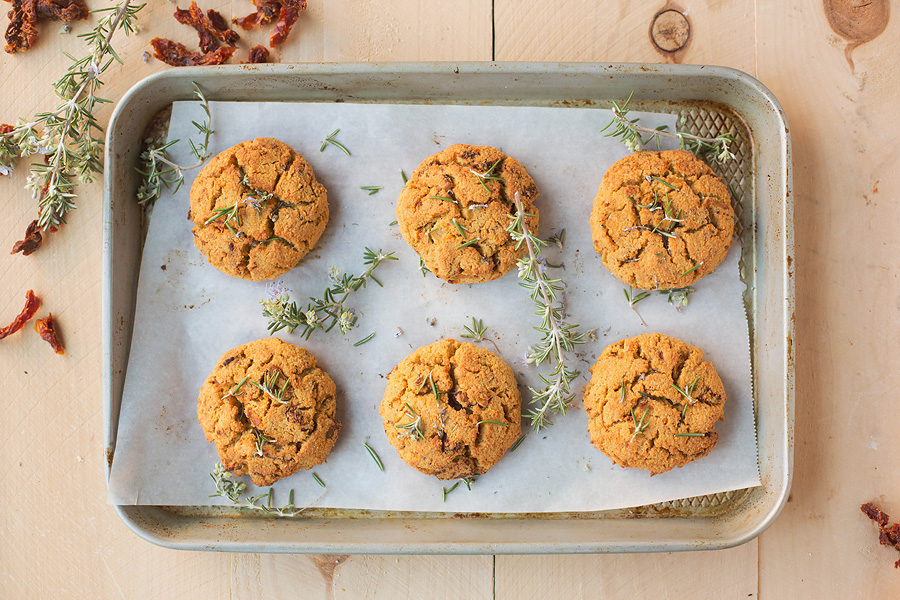 One amazing thing about keto is how RICH and FLAVORFUL foods truly are, these are NO exception.  If you think about it, when you buy low fat foods at the store, they typically add in extra sugar/carbs somewhere to make things taste BETTER.  When you keep that fat content IN foods, there is no need for the "extra" stuff!  More depth in flavors and definitely more richness!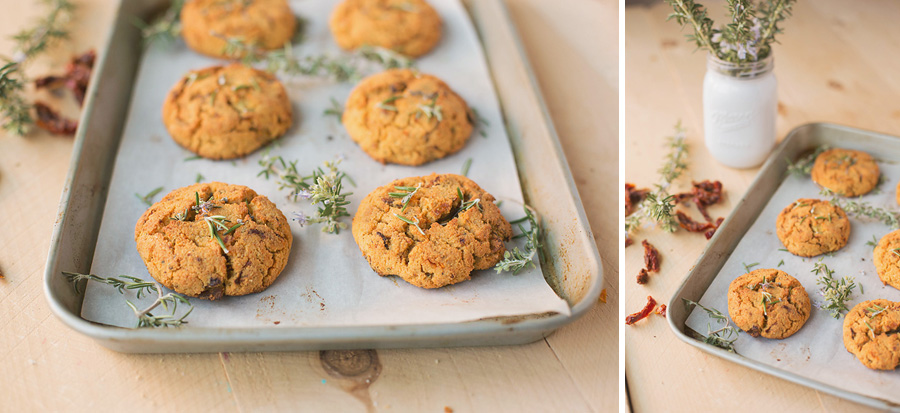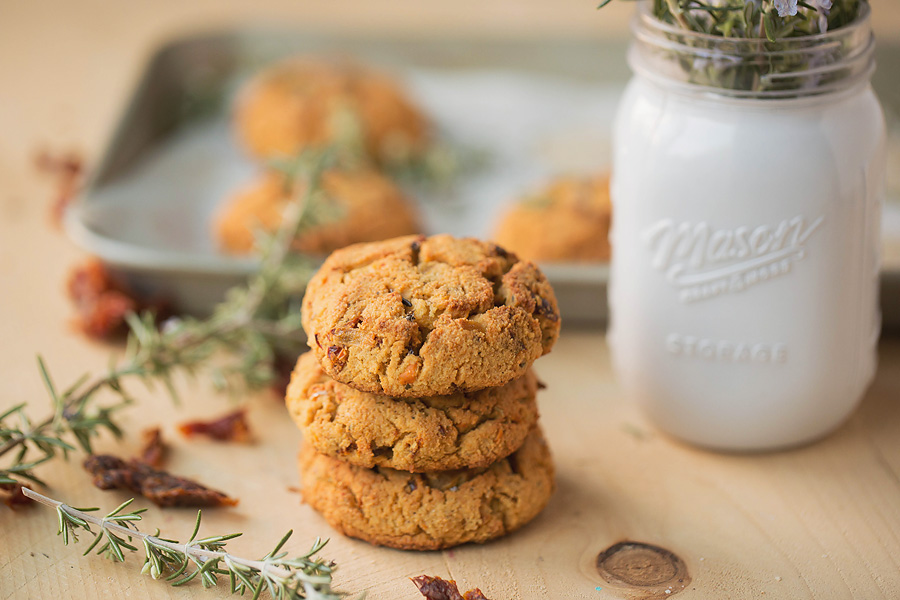 These keto sundried tomato biscuits have the BEST texture.  Outside is firm and holds its shape, but the insides are tender and perfectly crumbly.  Because sun dried tomatoes are SO packed full of concentrated flavor anyways, you don't need a ton of them in the recipe (eating up any of those precious carb macros than necessary).  Their flavor spreads out nicely from the first to the last bite.  And of course when you throw on some fresh herbs and butter or homemade ghee on them, they instantly go from a solid 10 to a 100 on the yummy scale!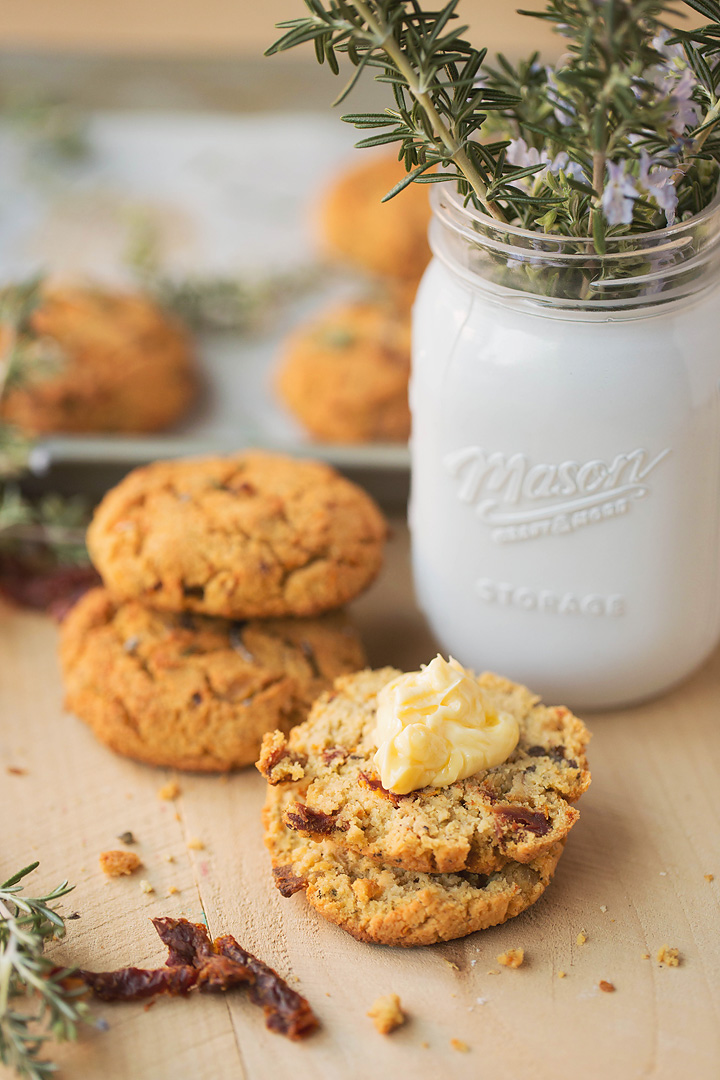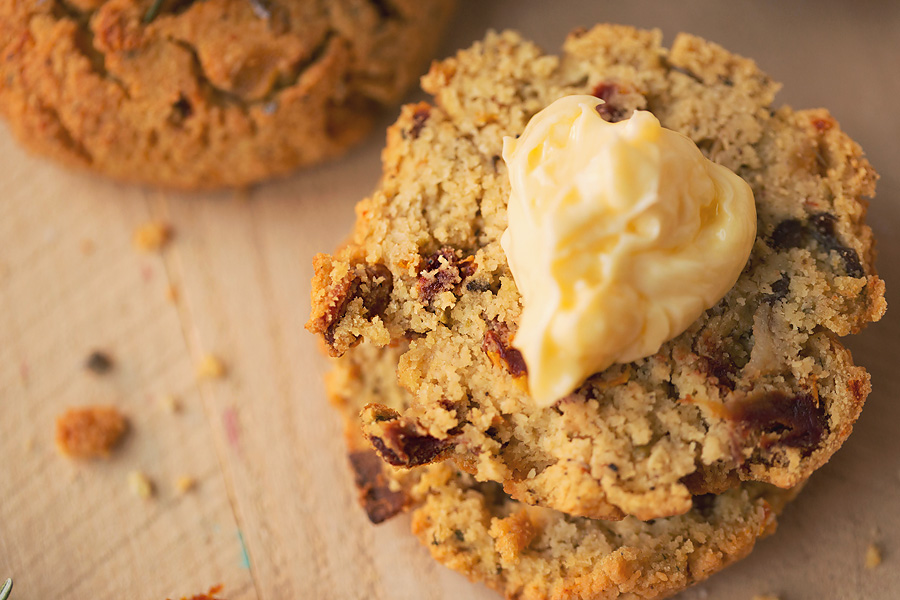 Yup, these definitely went above and beyond the call of duty when it came to satisfying my carby biscuit addiction!  Another bonus with these is they hold up great as a weekly prep item and can also be frozen/thawed.  If you decide to make a batch of these, do not hesitate for a second to DOUBLE the dough.  You can put them all on one baking sheet and just portion whatever you immediately need for the fridge.  The others can be popped right in the freezer and then toasted up in the oven.
And LCHF keto friends… you MUST MUST MUST also add that ghee or butter on top AFTER its toasted up.  Not steering you wrong here, these are 10/10 🙂
Keto Sun Dried Tomato And Bacon Biscuits

Print recipe
| | |
| --- | --- |
| Serves | 6 |
| Prep time | 10 minutes |
| Cook time | 15 minutes |
| Total time | 25 minutes |
Ingredients
2 thick slices bacon
1/4 cup onion
1 cup almond flour
2 tablespoons coconut flour
1 teaspoon baking powder
2 teaspoons rosemary (finely chopped)
1/2 cup almond or mozzarella cheese (shredded)
1 Large whole egg
3 tablespoons sun dried tomatoes (in oil)
Directions
Step 1
Preheat a skillet under medium fire and add bacon and onions to the pan. Cook until bacon is crispy and onions have caramelized. Let cool.
Step 2
Preheat oven to 375 degrees and line a baking sheet with parchment paper.
Step 3
In a large bowl, combine all biscuit ingredients and mix until batter is well incorporated. Scoop and drop dough onto prepared pan. Bake for 12-15 minutes until tops are slightly golden brown.
Note
NUTRITIONAL INFORMATION (makes 6 biscuits): calories- 189, fat- 11 grams, carbs- 8 grams/fiber- 4 grams, protein- 8 grams PER BISCUIT
Nutrition Facts
Serving Size 1 biscuit
Servings Per Container 6
---
Amount Per Serving
Calories 197
Calories from Fat 135
% Daily Value*
---
*Percent Daily Values are based on a 2,000 calorie diet. Your daily values may be higher or lower depending on your calorie needs.