Hands down… the BEST, most flavorful, delicious, and moist banana bread I have ever made!  It's a classic in our house and a recipe that gets made quite often.
I'm an absolute sucker when it comes to banana bread.  I rarely see it available for purchase anywhere and when I do find it, I'm usually pretty disappointed.  It's normally too dry (or too oily), not enough banana flavor, inadequate or far too many nuts, too much or too little cinnamon, or just plain BORING!  I think the only time I have ever bought banana bread that was perfectly delicious was in Hawaii.  I remember driving to Hana with my family, seeing a shack on the side of the road that sold drinks/snacks, and asking my husband to pull over.  First thing I saw on the counter was banana bread and just based on how it looked, I knew it would be great!  I was right.  Other than that occasion though, I've been less that thrilled with every other banana bread I've come across… except one other.
Excuse the tooting my own horn here, but I *think* I'm so critical of other banana breads because I'm comparing them all to my own personal homemade version.  Yes, its true.  I love MY banana bread and I'm not ashamed to admit it!!!  Not only does it have the perfect marriage of flavors and textures, but I've also managed to make it a bit healthier than most recipes out there!  I'm pretty particular when it comes to what I like and how I like it, so being able to control each and every ingredient ranks pretty high on my eating priority list.  What I absolutely LOVE about cooking and baking is the ability to personalize each and everything I make.  After many baked banana bread trials, I was able to come up with my perfect balance of this classic!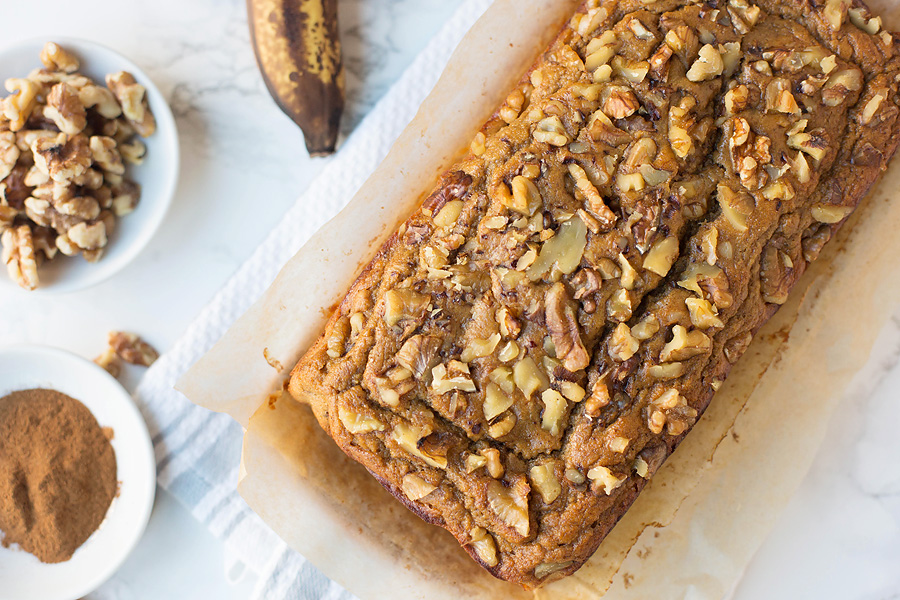 I'm going to let you in on a little secret about this particular banana bread loaf…
I ate the ENTIRE thing all on my own!
Pinky swear.
And it was A-Mazing.  I'd do it again in a heartbeat.  The mix of cinnamon, vanilla, banana, and walnuts is just magical.  One bite (or slice) of this banana bread is certainly not enough to satisfy you.  It's definitely a double slice kind of serving.  Or in my case, just eat the whole loaf.  I won't tell anyone.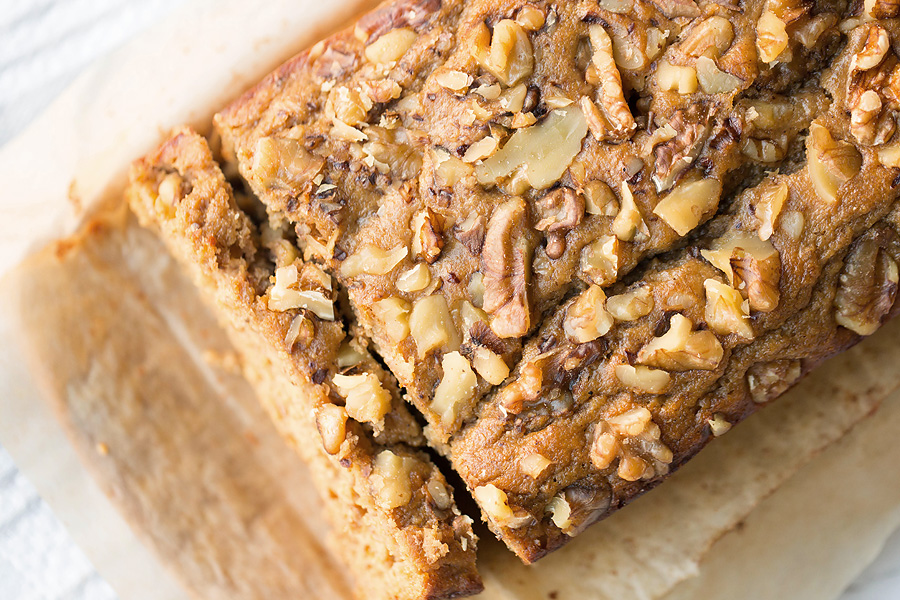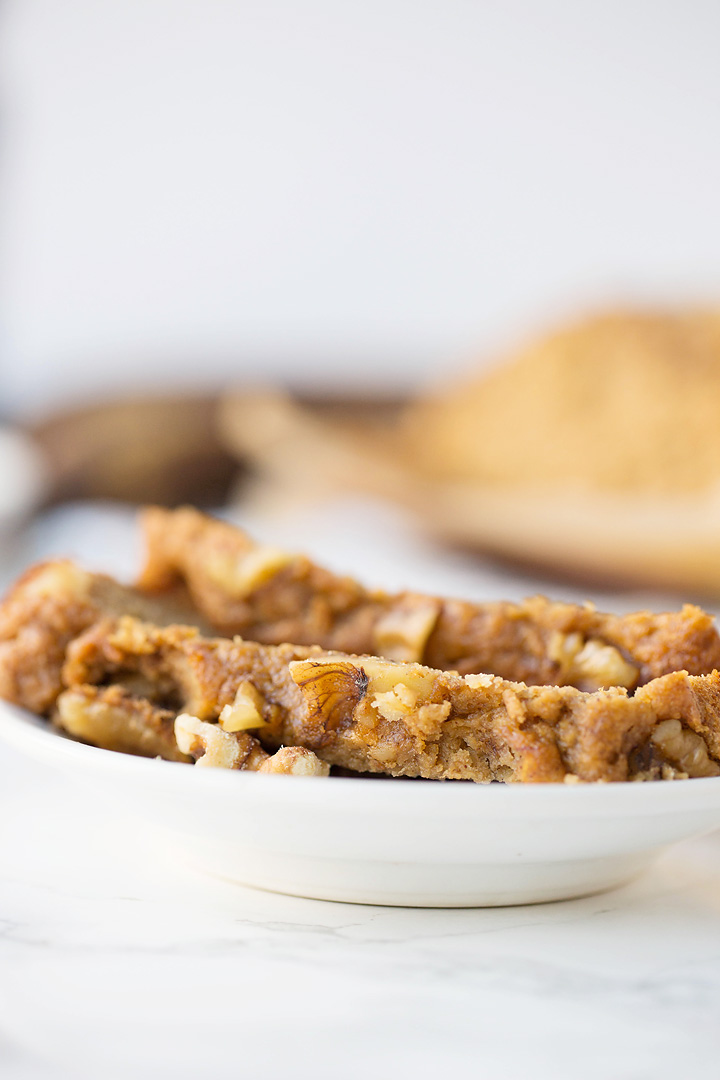 Although I did my best to create a healthier version of banana bread, I knew the macros/calories still weren't balanced enough for my taste.  That's the problem with desserts though, carbs and fat are normally quite high, but protein is always so low.  To remedy that and provide a better overall nutritional profile, I decided to add a little protein "drizzle".  Simple, quick, delicious.
** FYI, use this trick often to boost the nutritional profile of whatever you are eating! I do protein drizzles on ice cream, my waffles/pancakes, any baked goods, or yogurt. It doesn't take much and not only will you have the added protein, but you will also add in some nice flavor and sweetness!  **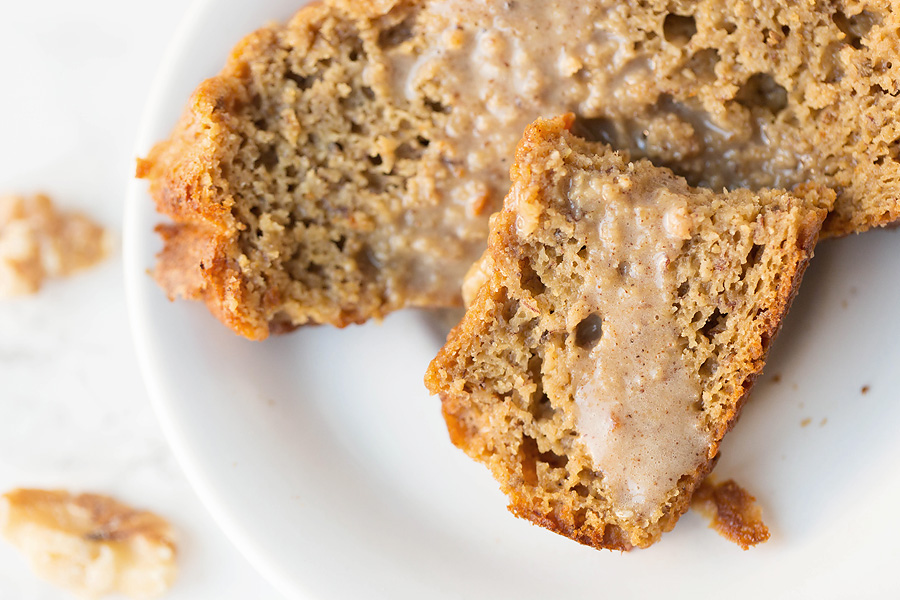 My Favorite Banana Bread by Corina Nielsen

Print recipe
| | |
| --- | --- |
| Serves | 10 |
| Prep time | 5 minutes |
| Cook time | 40 minutes |
| Total time | 45 minutes |
| Meal type | Bread, Breakfast, Dessert |
Ingredients
2 Large very ripe bananas (mashed)
1/4 cup coconut oil or avocado oil
1/4 cup unsweetened applesauce
1 teaspoon vanilla extract
2 Large whole egg
1/3 cup buttermilk
1 1/2 cup almond flour
2 tablespoons coconut flour
1 teaspoon baking powder
1/2 teaspoon baking soda
1/2 teaspoon cinnamon
1/4 teaspoon salt
1/4 cup coconut sugar
1/4 cup walnuts
Directions
Step 1
Preheat oven to 350 degrees and coat a 4x8 loaf pan with non stick spray.
Step 2
Add oil, applesauce, vanilla, egg, egg whites, buttermilk, and mashed bananas (wet ingredients) to a large bowl. Whisk until well combined. In the bowl of a stand mixer, combine Kodiak, coconut flour, baking powder, baking soda, cinnamon, salt, and coconut sugar (dry ingredients). Stir until combined.
Step 3
Slowly add wet ingredients to dry ingredients and mix until smooth. Pour into loaf pan and sprinkle walnuts on top. Bake for 40-45 minutes until top is golden brown and edges have began to come away from the edges.
Note
NUTRITIONAL INFORMATION (makes 10 slices): calories- 171, fat- 10 grams, carbs- 18 grams/fiber-3 grams, protein- 5 grams PER SLICE