Protein packed peanut butter and jelly French Toast that's not only absolutely delicious, but HEALTHY and full of nutrients to fuel your entire morning!!!
If I'm not eating protein waffles for breakfast, I'm definitely eating a version of protein French Toast!  So easy, so quick, so delicious, and I LOVE how versatile it can be.  Some days I may feel like having something fruity and light, other days I may want something more salty and savory with layers of bacon perhaps, and sometimes I just need something so "stick to your ribs" good!  This Peanut Butter & Jelly French toast is definitely substantial, filling, and absolutely mouth watering!!!
Once you get the base recipe and method down, the skies are the limit with your protein French Toast.  Egg whites, a splash of milk, possibly a flavor extract or two, and your favorite protein powder go into a shallow bowl/dish, soak your bread for a few minutes, cook until golden brown, and layer with your favorite toppings.  This is a dish that you would have to really work hard at messing up!  I've done countless versions, but my PB&J is one of those classics that I always come back to.
Look how beautiful and perfectly sloppy this is…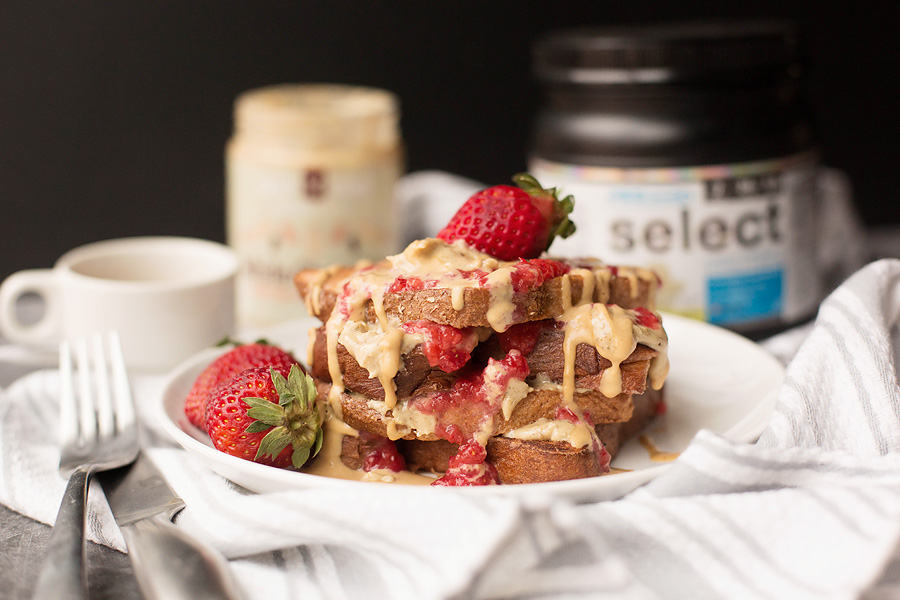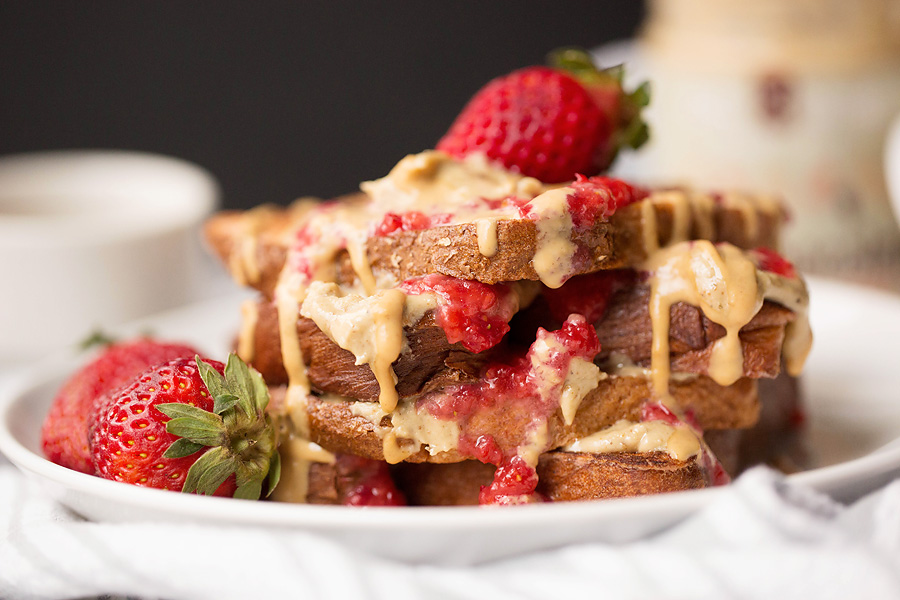 It's rather glorious if you ask me.  Love at first bite.  Second Bite. And through to the last bite.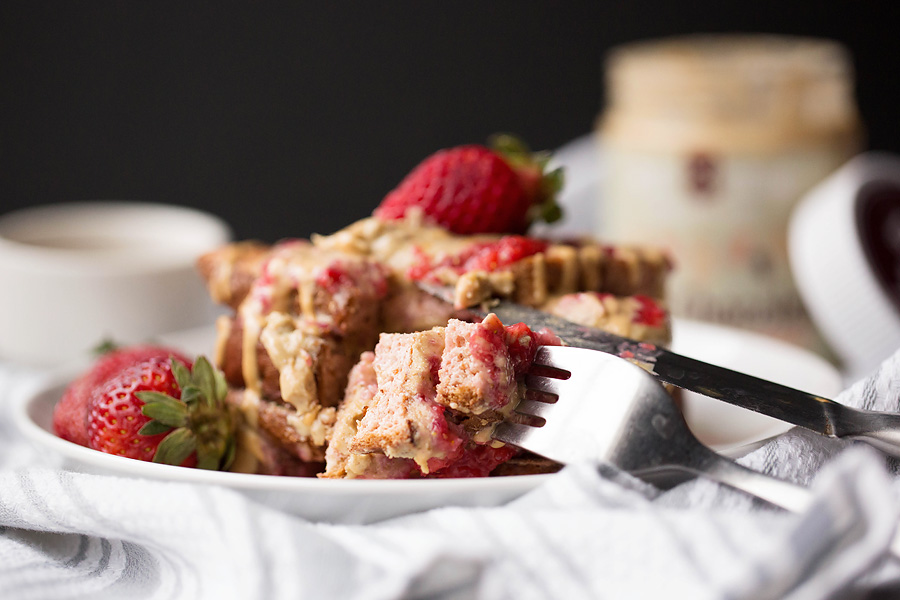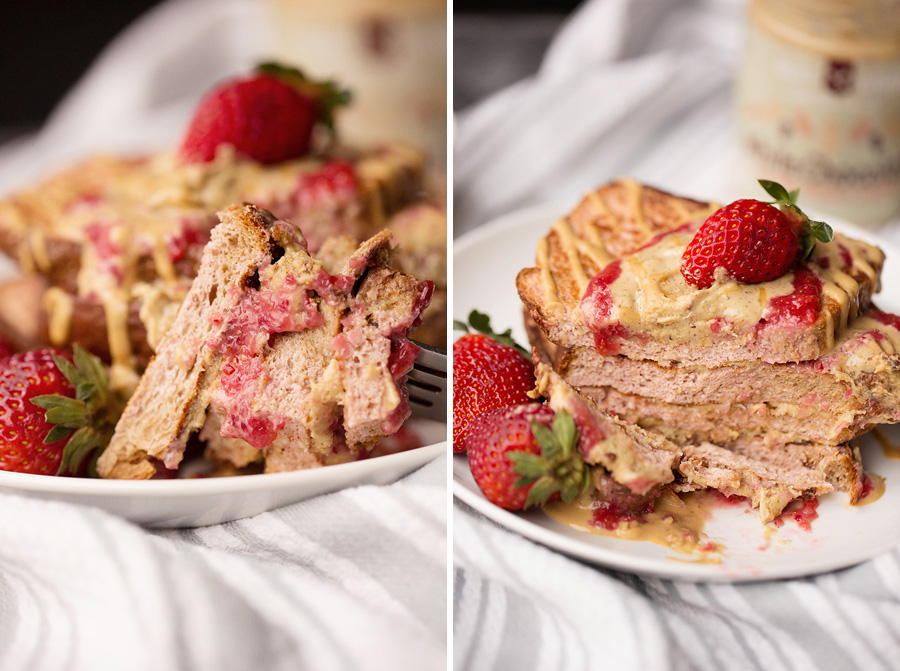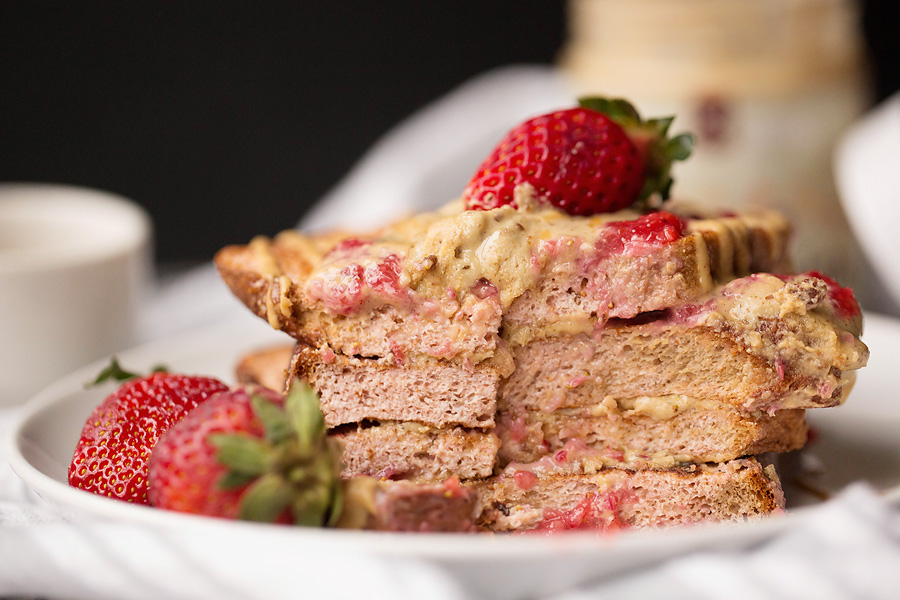 Even though I'm used to having this for breakfast, it's a great dish to make pre or post workout as well.  Because it's so versatile, you can control ALL of the ingredients depending on your own dietary needs.  If you need more fat content, you can add more nut butter or cook the bread in coconut oil or butter.  If you need a bit more protein, add more protein powder OR make a savory version with a runny egg on top.  If you need more carbs, simply add in more fruit or toppings (a handful of cereal is usually my first choice) OR throw on a scoop of your favorite ice cream.  There is something magical when the cold, creamy ice cream melts into the freshly grilled crispy bread… Lord Have Mercy.  So. Magical.
Remember… base recipe is all you need to get going.  Once you make protein French Toast once, you will be hooked!!!
PB & J French Toast by Corina Nielsen

Print recipe
| | |
| --- | --- |
| Serves | 1 |
| Prep time | 5 minutes |
| Cook time | 5 minutes |
| Total time | 10 minutes |
| Meal type | Breakfast, Dessert |
Ingredients
1/3 cup Strawberry MuscleEgg (or plain egg whites)
1 scoop Gourmet Vanilla PEScience Protein powder (30% OFF coupon below)
1/2 teaspoon vanilla extract
3 tablespoons milk of choice
2 pieces bread of choice
1/2 cup strawberries
3 tablespoons PB2 (powdered peanut butter)
3-4 tablespoons water
2 tablespoons White Chocolate BuffBake Peanut Butter
Directions
Step 1
In a shallow bowl, add egg whites, milk, vanilla, and protein powder. Mix until well combined and smooth. Soak bread for 3-5 minutes.
Step 2
Preheat a griddle pan and coat with non stick spray. Add soaked bread to pan and cook on each side for 3-5 minutes until golden brown.
Step 3
In a small bowl, combine PB2 and enough water to form a sauce/syrup like consistency. Mash strawberries or blend in a small food processor, add sweetener if desired. Layer bread with nut butter and fruit.
Step 4
Layer French toast with strawberries and PB2 mixture. Add syrup if desired.
Note
NUTRITIONAL INFORMATION: calories- 445, fat- 13 grams, carbs- 42 grams/fiber- 11 grams, protein- 53 grams
30% OFF Gourmet Vanilla Select Protein and all other PEScience products using coupon code 'CORINA' at checkout