'Unhappy with your kids current bento box?  If you're in the market for a new lunch box for your kids, look no further!  This Effiliv bento lunch box is a GREAT option!'
Perhaps you noticed the new bento box we started using in last week's breakfast and lunch prep?  Snazzy isn't it?  I promised I would share the product, my thoughts, and what I like & don't like so far so… here ya go!  Let me just preface this by saying there was absolutely nothing "wrong" with the bento box we had been using.  It was inexpensive (under $10), provided a variety of compartments, adjustable, and is a great size for both adults and adults.  The only 'issue' we had with it was because my daughters lunch sack is more long than it is tall, the only way we could get it to fit was to turn it sideways.  Some of her lunches weren't a problem, but often times things would slip out of their compartments making things a little less fresh!  Everything was solved with this new box though!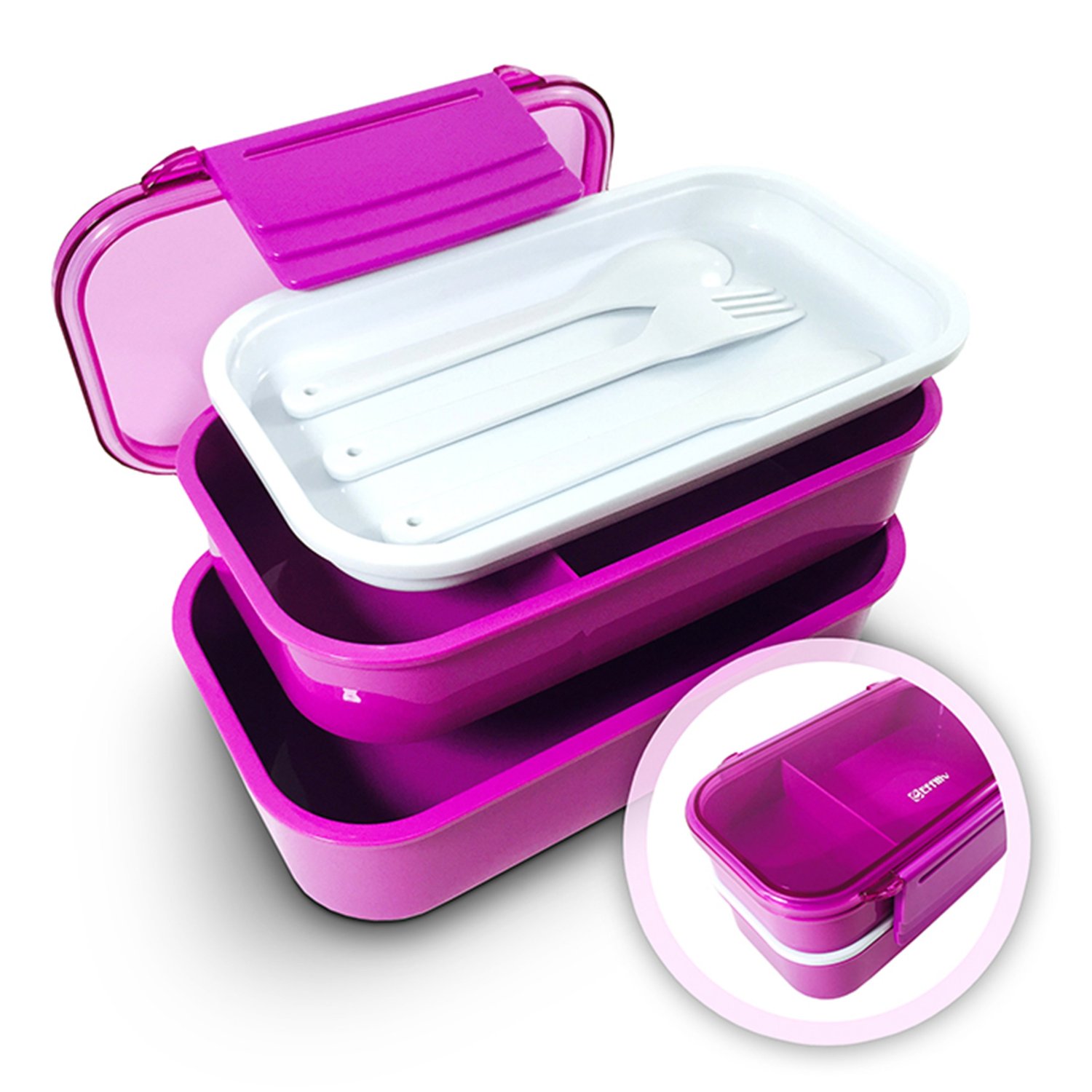 Looks big and fancy huh?  When I first began my search for a new bento box, the main thing I was looking for was size so we could avoid having to turn it sideways to fit.  It also needed to be big enough to use for Makena (age 10), have at least a few divided compartments (we are a family of nibblers), be sturdy/well made, BPA free, easy to clean, AND inexpensive.  This one fit ALL of our specifications and after almost 2 weeks now of using this Effiliv bento box, we are in LOVE.  It's absolutely PERFECT for us!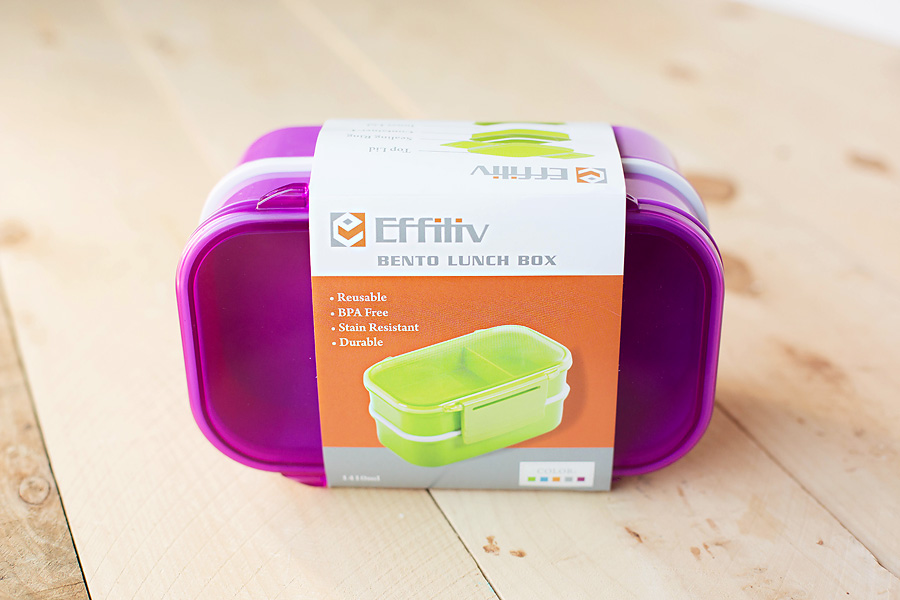 Seriously such a cute bento box!  It has three "levels": bottom is the largest for the main meal portion, a middle section which serves as the lid for the bottom (and holds the reusable plastic silverware), and then the top which is divided into two areas.  I think I would have preferred an additional divided compartment (maybe have three VS two on the top level), but I've somewhat remedied that issue with using silicon cupcake liners to provide more spots to put snacks.  Since Makena is just like her mother when it comes to nibbling, the more compartments the better!  Easy fix though with this bento box.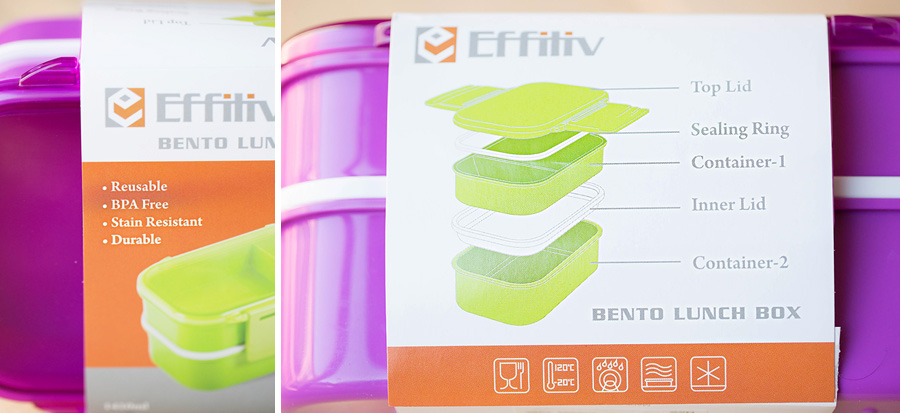 Quick snap lid is another small concern I have.  While the reviews on Amazon were overwhelmingly positive, a few people have mentioned their lids broke after a few uses.  Based on the 5+ days we have used the Effiliv, I think the handles/locks are sturdy enough to last just as long as my daughter isn't too careless and rough when opening/closing the box up.  Locks up and opens perfectly though!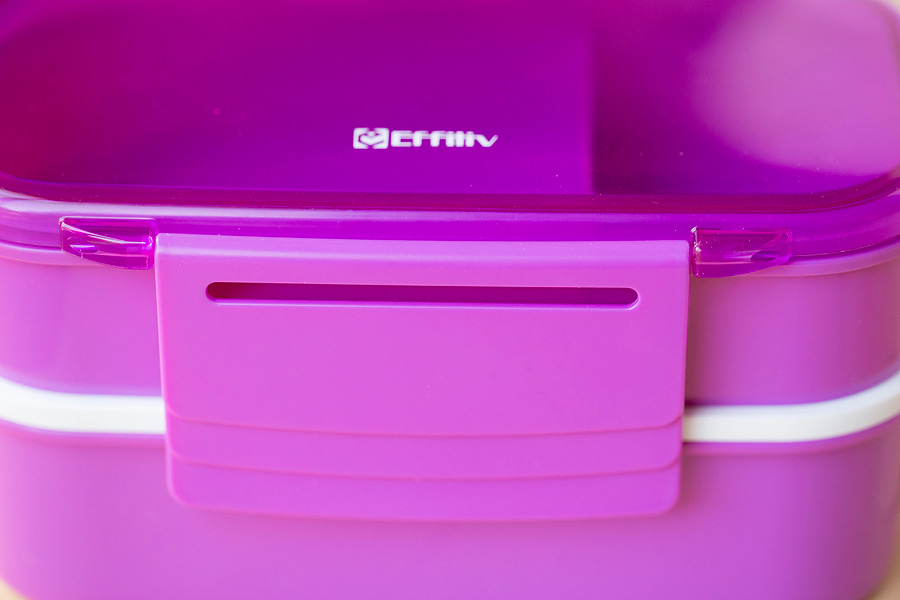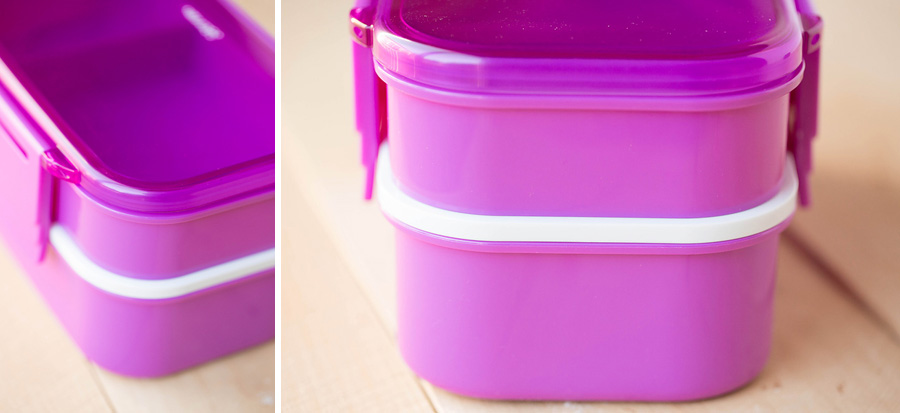 This is the top 'level' which has the two divided areas.  Again, we sometimes  use the cupcake liners to separate more food options, but you could easily get away with the two areas for fruits, veggies, chips, cookies, cheese slices, crackers, pita chips, and any other snacks your kids love.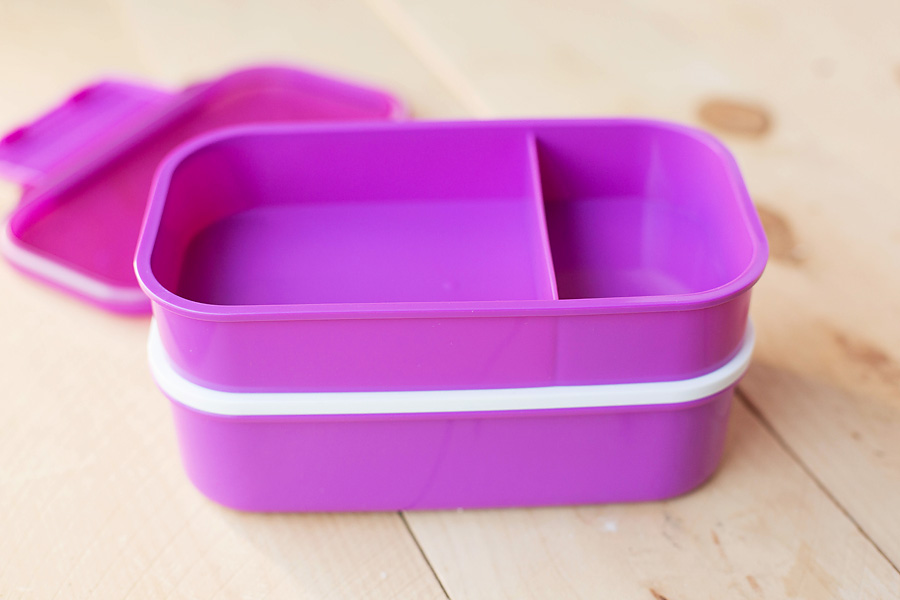 Middle 'level' is a shallow tray to house the plastic utensils or you could probably use it to store thinly sliced foods as well.  After only using this box for 3 days, can you believe Makena managed to LOSE the knife???  She let her friend borrow it who then ended up throwing it in the trash (she thinks).  Gggrrrr.  Part of me wants to buy a set of utensils just so all three are available… YES, little things like this bother me LOL.  If its a set, I need to keep the set together.  Yup, my OCD is showing 🙂
Bottom level is the main food compartment.  It's a great size for older kids and/or adults who only pack lunch for one meal.  Deep enough for a thick sandwich, small salad, leftovers, slice of pizza, stir fry, and any other dish you could think of.  Nice and roomy!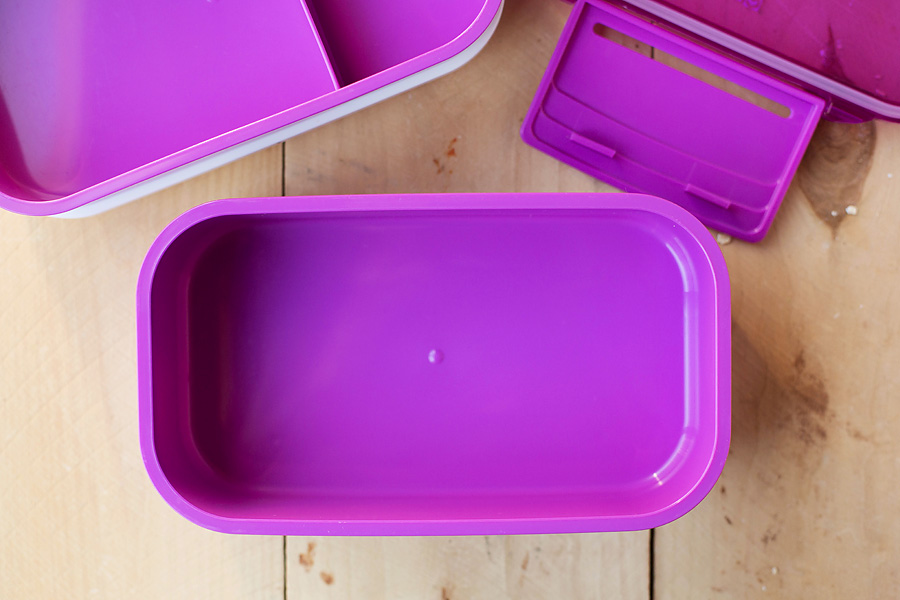 And just for reference because I found the measurements given on Amazon a little off… excuse the broken tape measure!  Considering we have at least 5 different ones under our roof, just my luck to grab this one.  I hope you can still get a good idea of the dimensions!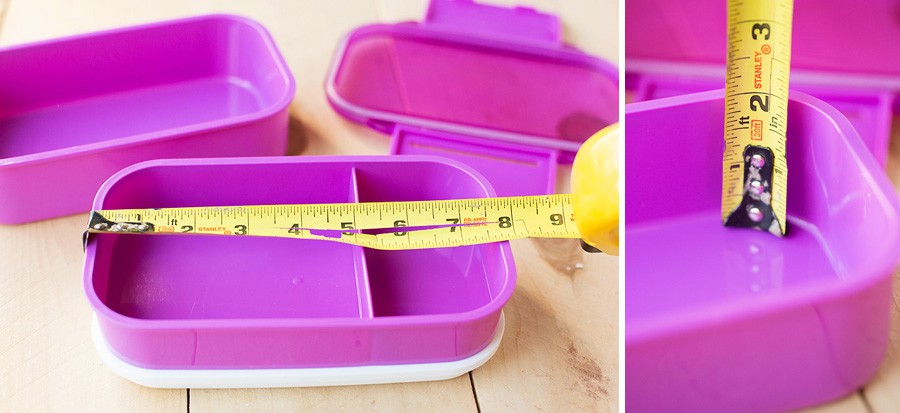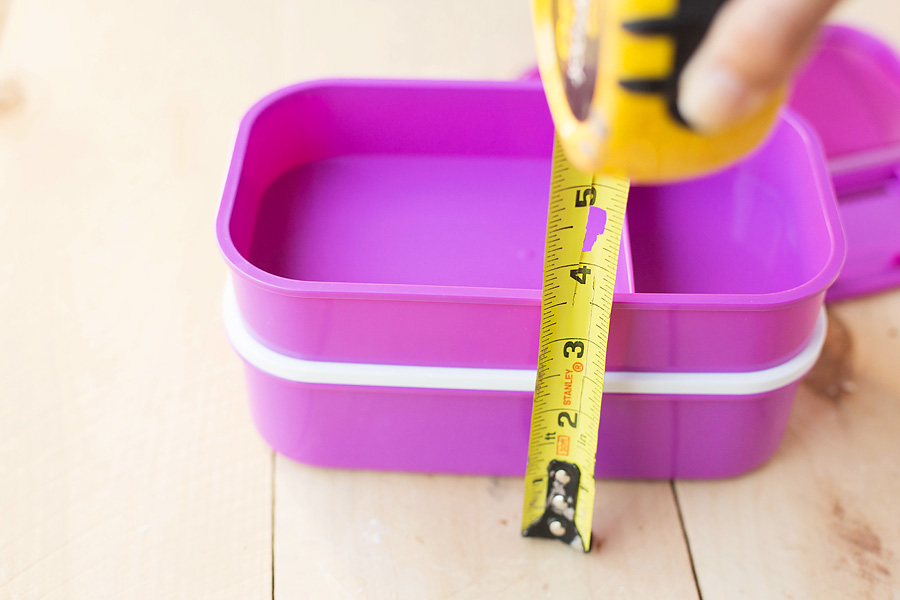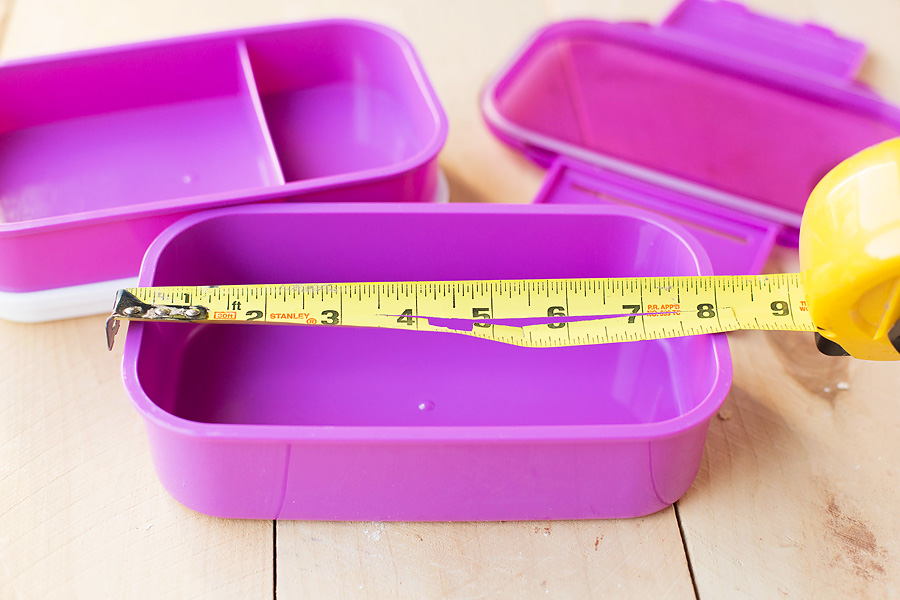 The Effiliv is approximately 8″ wide, 5″ deep, and 4″ tall.  The top divided level is 5″ for the larger compartment and 3″ wide for the smaller one.  And both the food levels are 2″ in height.  Look how perfectly it fits into Makena's Pottery Barn lunch box!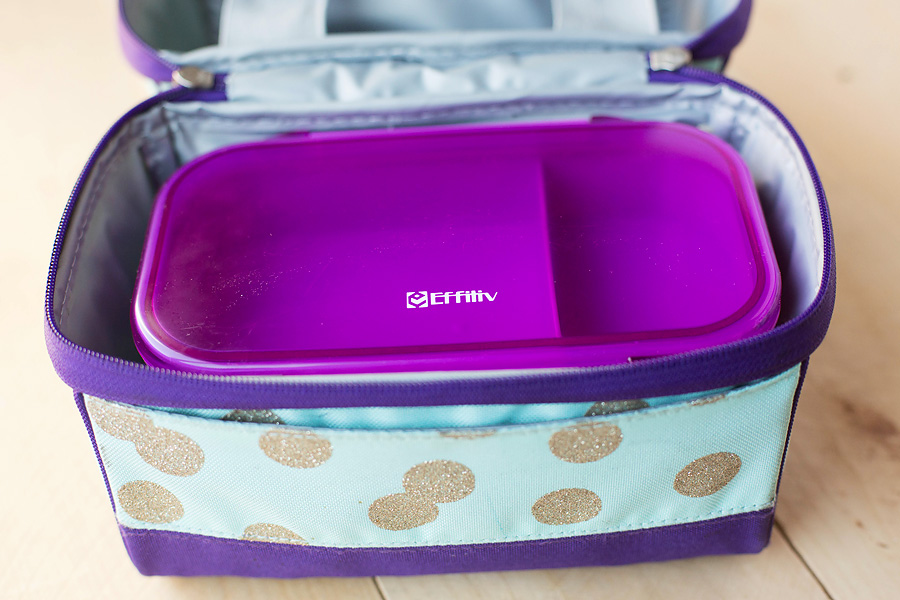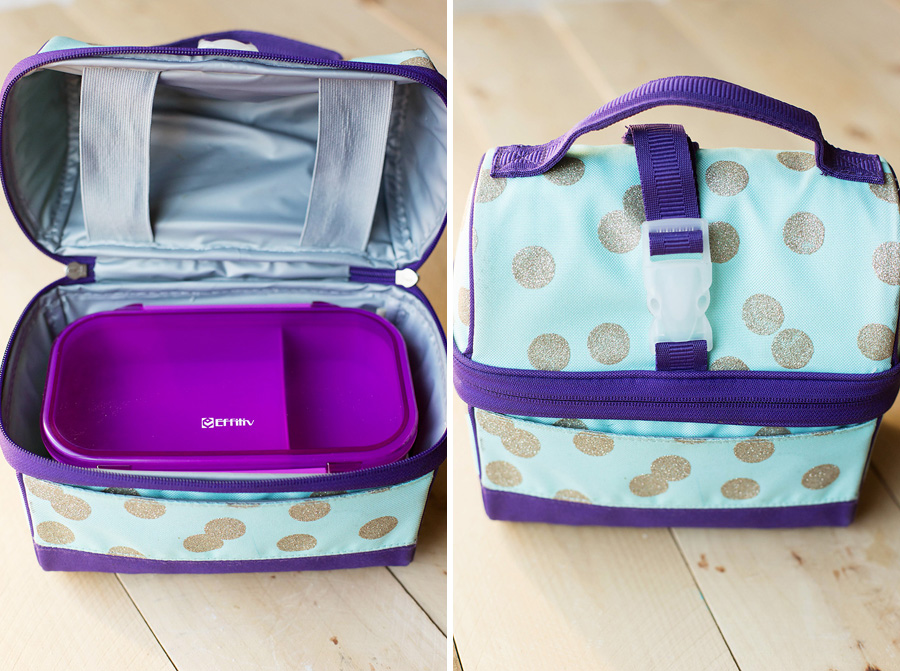 So so so much better than the previous bento boxes we were using.  Having the ability to keep the box upright is key!  No spillage, no leakage, and no food changing compartments during transport.  The Effliliv has worked out amazingly well for us the past two weeks or so.  Very very pleased with this purchase!  Now I'm just crossing my fingers that it holds up.  But in all honesty though, for $11 on Amazon Prime… you can't really go wrong at all!
Grab YOUR Effiliv HERE and ENJOY 🙂