For someone who hates beans, I seem to use them a lot in my baking… and now in my cooking!  I've mentioned my hate for beans many many times, but I think it's officially time to announce that I basically only hate eating beans on their own I suppose.  When I'm adding a ton of ingredients to them, pulverizing them, AND they are not left in their natural "bean state", beans are pretty darn versatile, delicious, and good for you!
I stepped way out of my comfort zone with these burgers though.  However if you happen to follow me on Instagram, you already know that there are very few hamburgers that I didn't like.  Seriously, they are my favorite food group of all time (yes, it's a food group in my diet)!  I will NEVER turn down a juicy burger, especially if it has onion rings on it!  Ever.  I had been itching to try something new with my burgers though and figured now was as good a time as any to whip up my own little version of a black bean burger.  Granted, this is way out of my comfort zone but perhaps if I add a bunch of my favorite spices and veggies, how bad could it be?
I still wasn't 100% sure I would dig them, but was shocked at how good they were!  Stepping out of my little burger box certainly paid off!!!  Who knew???  They are PACKED with flavor, thick, hearty, and so filling.  I could even eat the patties alone just like this…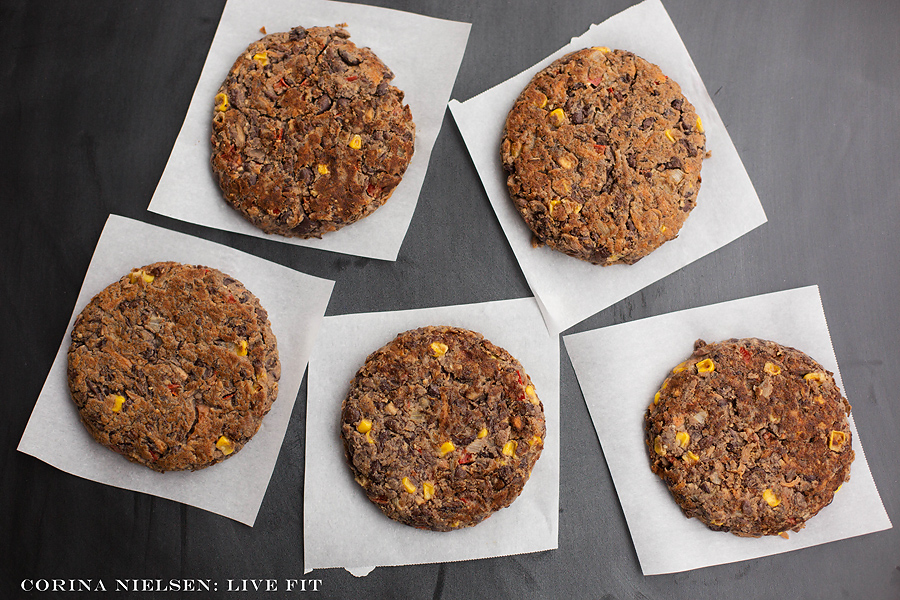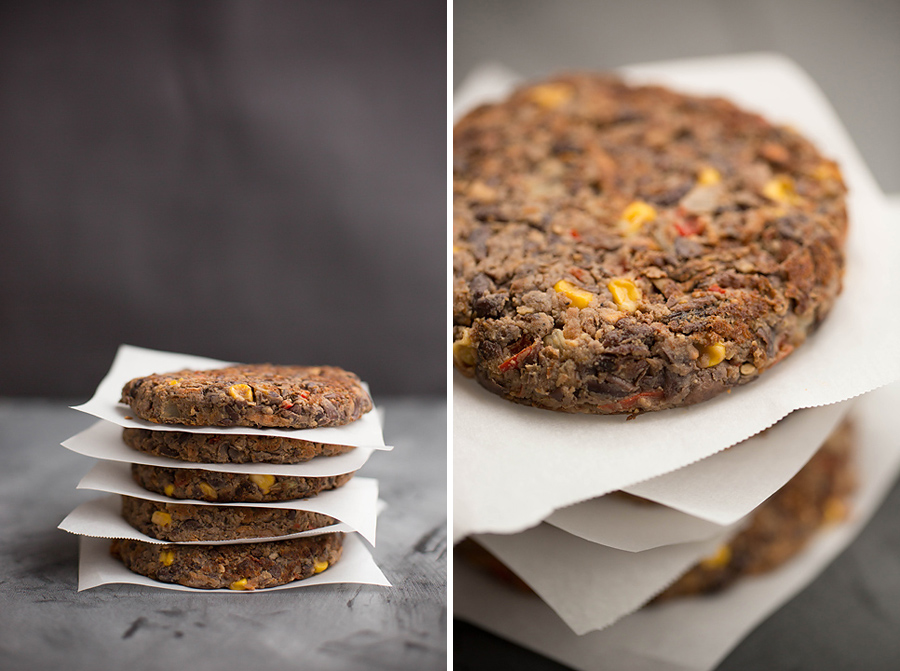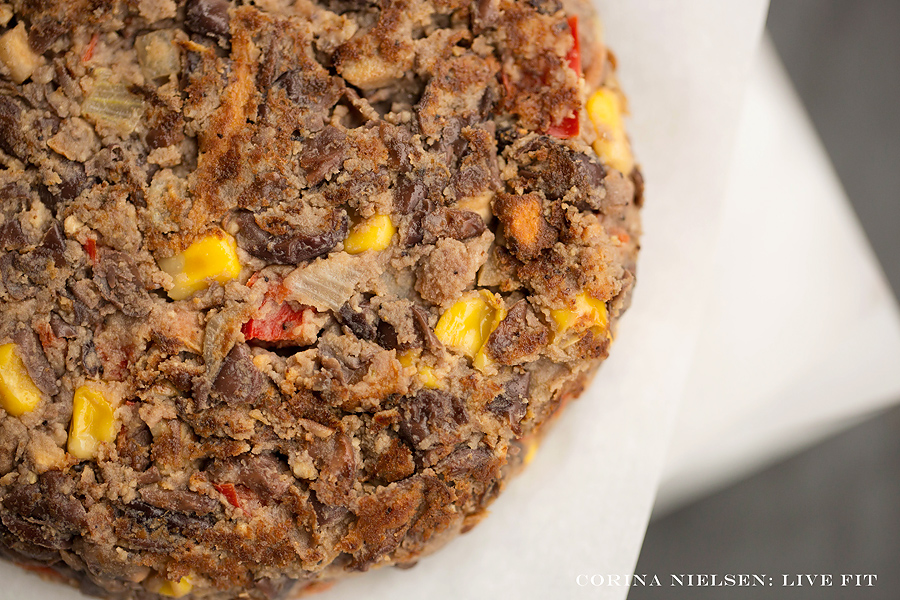 However… my goal was a burger, so a burger it has to be!  I put my veggie pattie on a Thin Slim Foods bun, added some lettuce, sliced pepper jack cheese, a layer of roasted bell pepper, and then some caramelized onions!  How's that for flavor overload?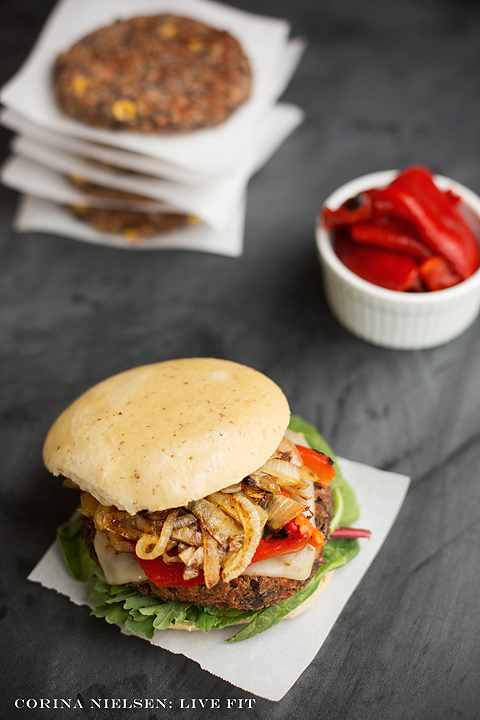 Isn't it beautiful?  I mean, I find all burgers beautiful, but this one is extra special.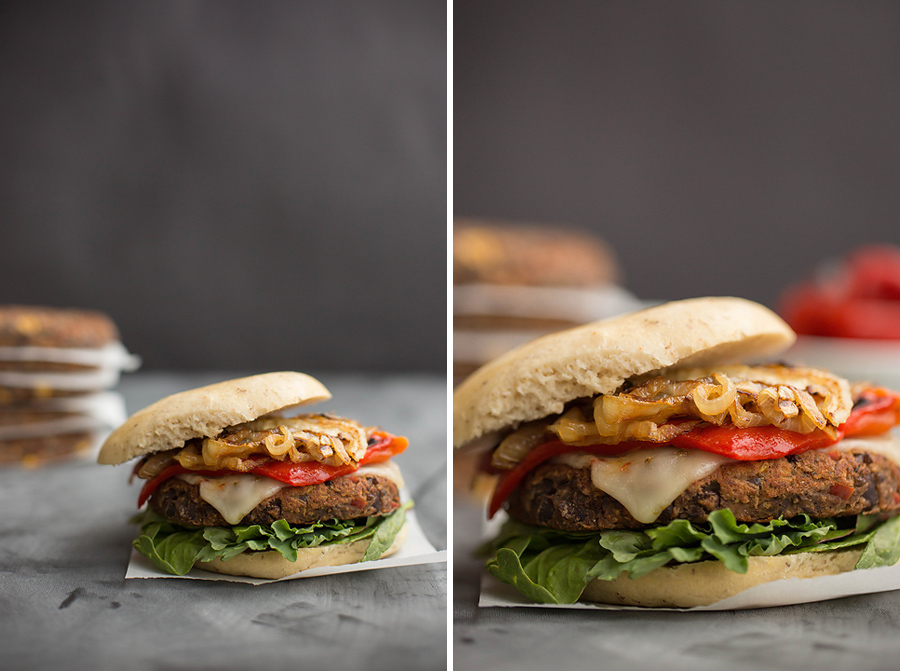 Inside shot…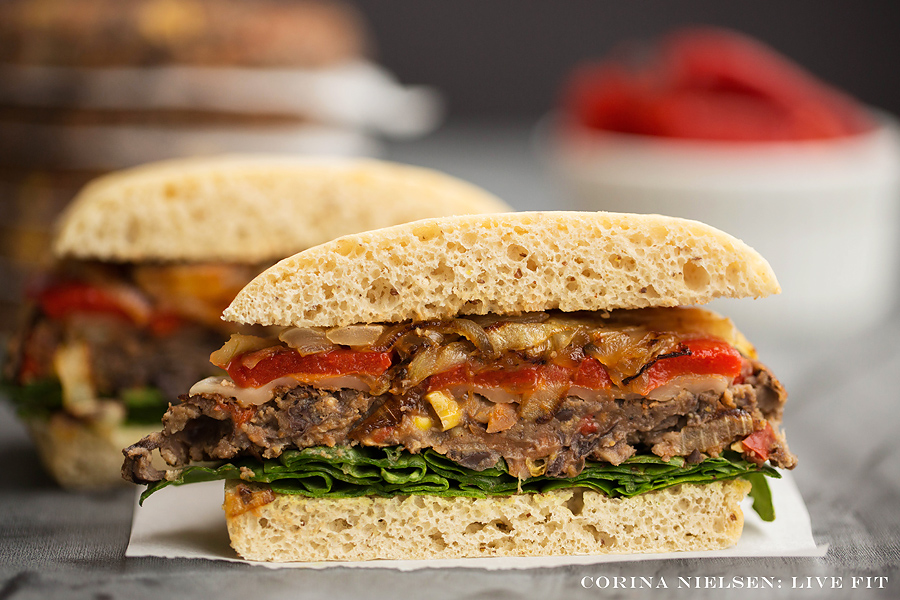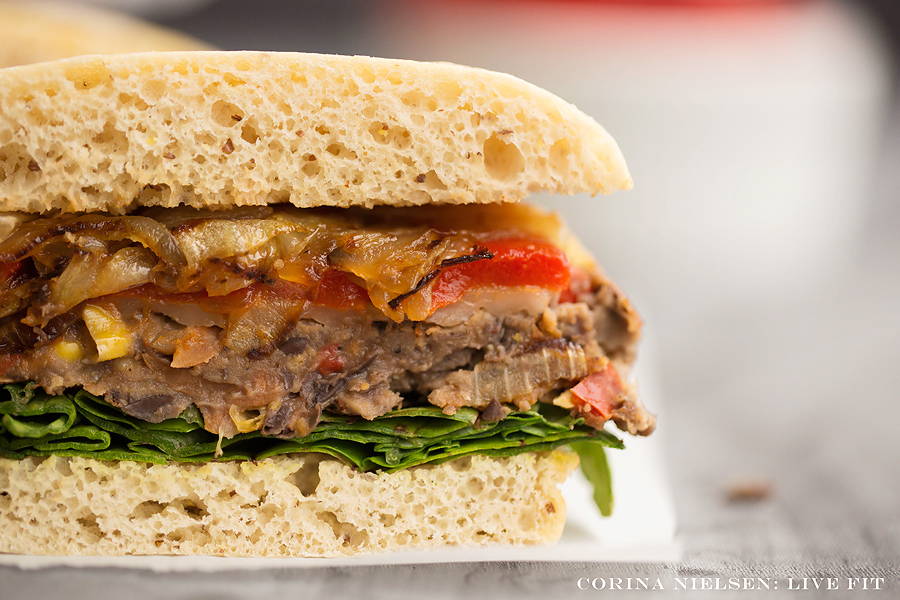 And those caramelized onions though… they aren't onion rings, but just as mouthwatering!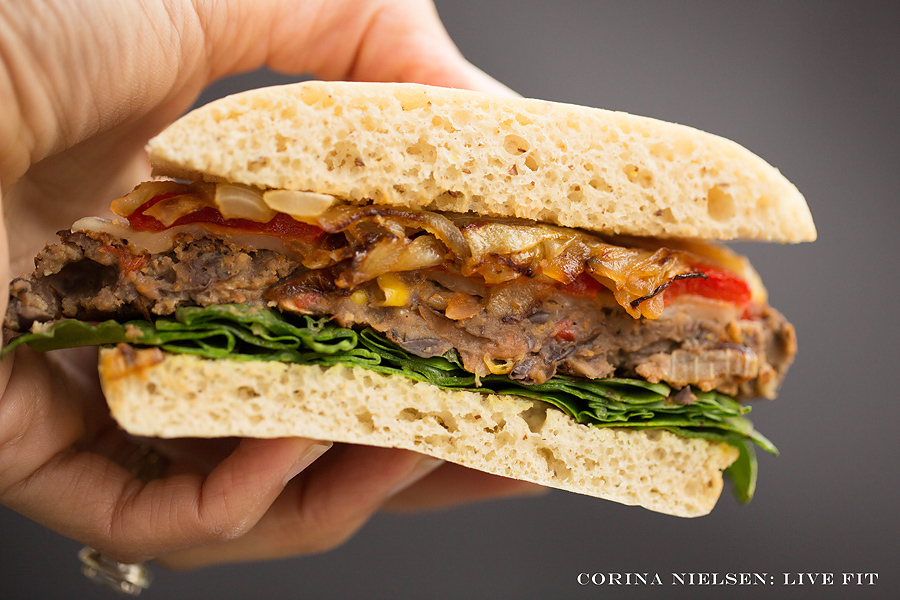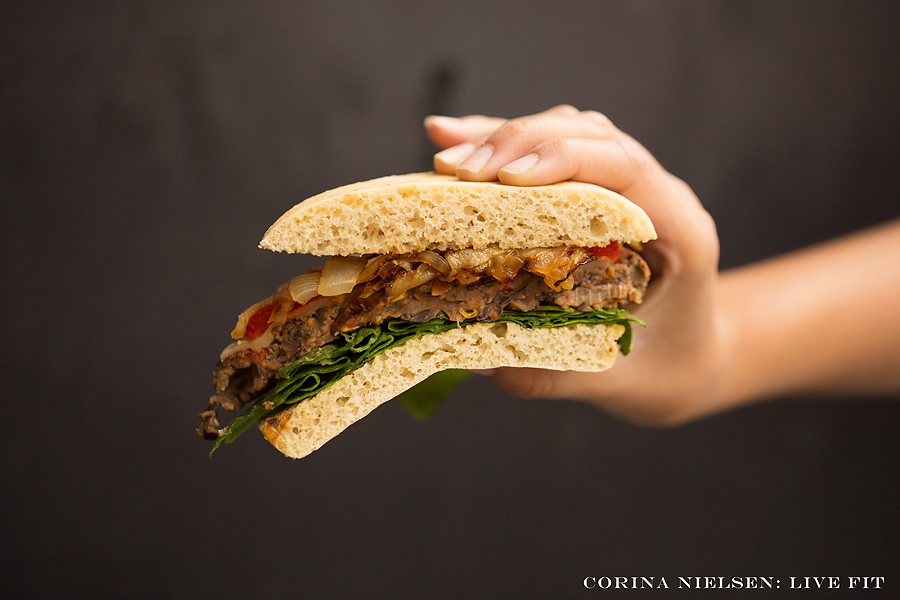 What I love even more about these patties is they are great for food/meal prep.  I made the batch on a Sunday, layered them with parchment paper, put them in a tupperware container, and had my lunch meal for the entire week.  Some days I did a burger just like this and other days I ate the patty with some BBQ sauce with a sweet potato and some veggies!  Filled happy tummy each and every time.  Now I can't wait to try other variations and flavors!!!!  More black bean veggie patties are on the horizon!
Southwest Black Bean Veggie Burgers

Print recipe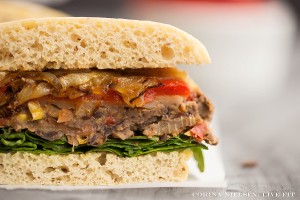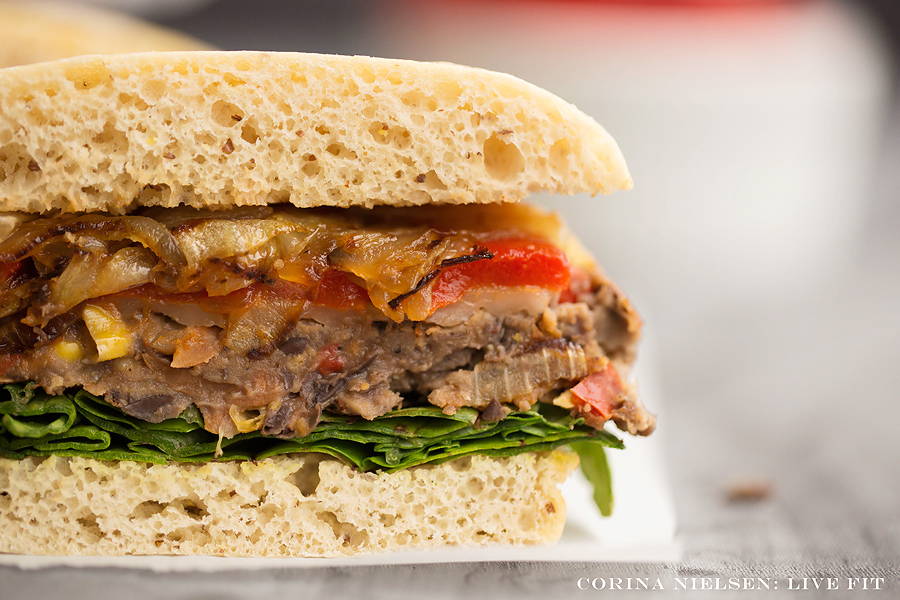 | | |
| --- | --- |
| Serves | 6 |
| Prep time | 5 minutes |
| Cook time | 10 minutes |
| Total time | 15 minutes |
| Meal type | Lunch, Main Dish |
Ingredients
30oz no salt add black beans (2- 15 oz cans)
1 Small onion (finely chopped)
2 Small carrots (shredded)
2 tablespoons fresh garlic (chopped)
3oz mushrooms (roughly chopped)
1 heaped tablespoon garlic (finely chopped)
1 Small red bell pepper (finely chopped)
1/4 cup corn
1 Large whole egg (lightly beaten)
1 tablespoon worcestershire sauce
2 teaspoons salt
3/4 teaspoons pepper
1/2 teaspoon garlic powder
1 1/2 tablespoon Trader Joe's Coffee & Garlic Seasoning (or all purpose seasoning of choice)
1/4 cup almond flour
3/8 cups Kodiak Power Cakes (or quick cooking oats)
Directions
Step 1
In a small sauté pan set to medium heat and coated with non stick spray/coconut oil, cook all veggies for 5-6 minutes just until slightly softened, remove from heat, and let cool. **You can skip this step if you rather use raw veggies in your burger.** Combine spices, almond flour, and Kodiak Cakes mix in a small bowl. Lightly beat egg and worestershire sauce in a separate small bowl.
Step 2
Drain and rinse black beans, pat dry, and place in a food processor. Pulse until beans begin to break down slightly, but not until smooth. I prefer a little texture on these so larger pieces are fine.
Step 3
Add black beans to a large bowl. Mix in lightly beaten egg/worcestershire sauce mixture and spice/flour mixture. Once combined, add all veggies. Stir until all ingredients are well incorporated. Divide and form patties.
Step 4
Heat a large skillet pan and coat with non stick spray/coconut oil. Cook each burger 5-6 minutes on each side.
Note
NUTRITIONAL INFORMATION (makes 6 patties): calories- 223, fat- 4 grams, carbs- 35/10 grams fiber= 25 net carbs, protein- 13 grams PER PATTIE