'Living a low carb lifestyle and miss your favorite sushi rolls?  Satisfy the craving with this quick and tasty veggie sushi roll option with a sweet chili sauce!'
If you're a friend, family member, or you've followed me along my journey for any length of time you'd know that I absolutely HATE all things seafood.  If it comes from the ocean, I ain't eating it.  Even as a kid I couldn't even be close to fish before my gag reflex would fire up and dry heaving would commence.  And don't get me wrong friends.  Its not that I don't want to eat seafood… because I do, I truly truly do.   It's SO good for you and has a ton of health benefits of course!  I've definitely attempted different varieties of fish using every preparation you could think of.  Sautéed, grilled, fried, seared, in a salad, in casserole form, in a taco, in fish cake form… believe me, I've really given it true effort over the years!  I've tried them all and just cannot get passed the texture, taste, and overall fish phobia.   The closest I've gotten to eating seafood recently has been swordfish and while I can at least get it in my mouth without throwing up all over myself, I'm still not quite at the point where I'm actually "enjoying" it.
My son on the other hand LOVES all things from the sea.  I'm pretty sure he's probably eaten every sea creature you can think of.  Octopus, shark, salmon, catfish, trout, shrimp, lobster, tuna, scallops, and even eel.  God, he's disgusting… but bless him for loving seafood (truly jealous of anyone that eats it regularly AND enjoys it)!  His favorite way to eat seafood is actually RAW… gah, bleh, uh, oh, yuck!  If given the option between a burger and sushi?  Yup, seafood every single time! So you can see how taking my son out for sushi would may pose a problem over the years… even more so now that I'm keeping a strict ketogenic diet!  Sushi= fish and rice.  Both are no no's for me.
The last time I took him out for "sushi" (while doing keto), I figured I could do my regular avocado/cucumber rolls but without the rice.  It was a nice idea in theory, but didn't amount to much.  The order arrived and while it was certainly adorable (kinda like a portion you'd make for a doll or teddy bear party), it wasn't anything that would make a dent in my stomach.  I wish I had taken a sole picture of the rolls on their own, we couldn't stop laughing at my baby portion of food!  I did snap this one to show the sauce I brought to the restaurant (I'm HIGHLY sensitive to soy so always need to bring my own) and you can see my pre dinner nibbles back there.  If you look at the wasabi, that should be a good indication of how TINY these rolls really were…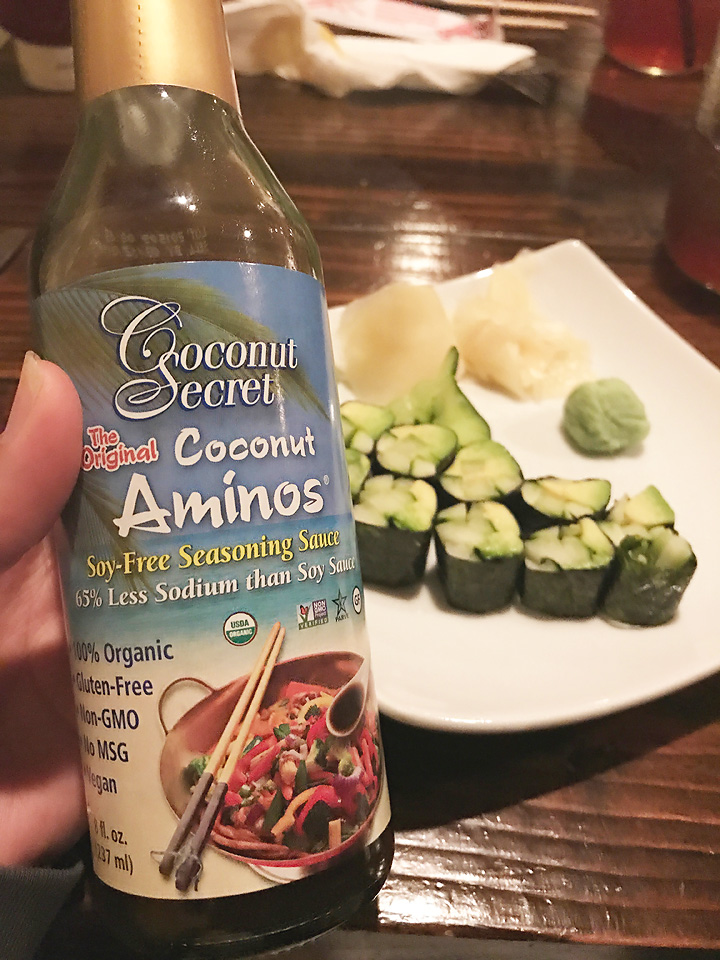 Can you see my sad little sushi rolls there?  They were barely 1/2″ big!!!  I'm expected to eat those and my stomach would think its a meal?  Oh no.  No no no no no.  Just no.  At 5′ tall and 100 pounds, I can eat EVERYONE in my house under the table without even blinking, including my husband.  True story.  This girl can, will, AND likes to eat!
After this recent sushi adventure, my brain was sparked (regardless of the size of rolls I was given).  I had never attempted to make my own "sushi" at home , but was up for the challenge to at least make a decent size portion AND make it keto friendly!  I already happened to have everything I needed minus the seaweed, so instead of waiting to grab some from the store I substituted with kale!!!  What a great way to make these even more nutrient dense!  LOVE how big the leaves were… at least 3-4″ wide!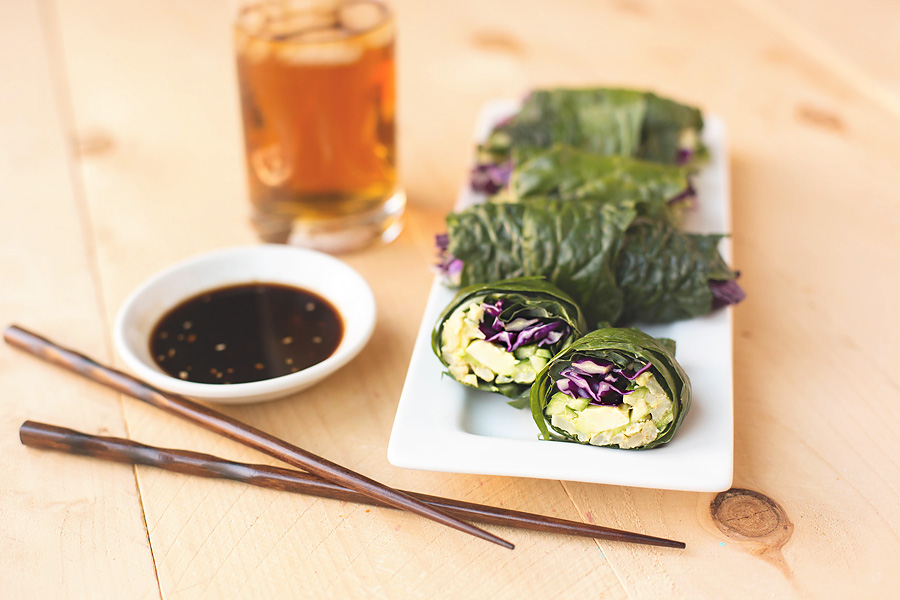 Aren't they pretty too???  Love the addition of the purple cabbage and I would have added carrots as well, but was out!  And you're probably thinking "Well if you are doing keto, what did you use for your rice"?  Riced CAULIFLOWER of course!!!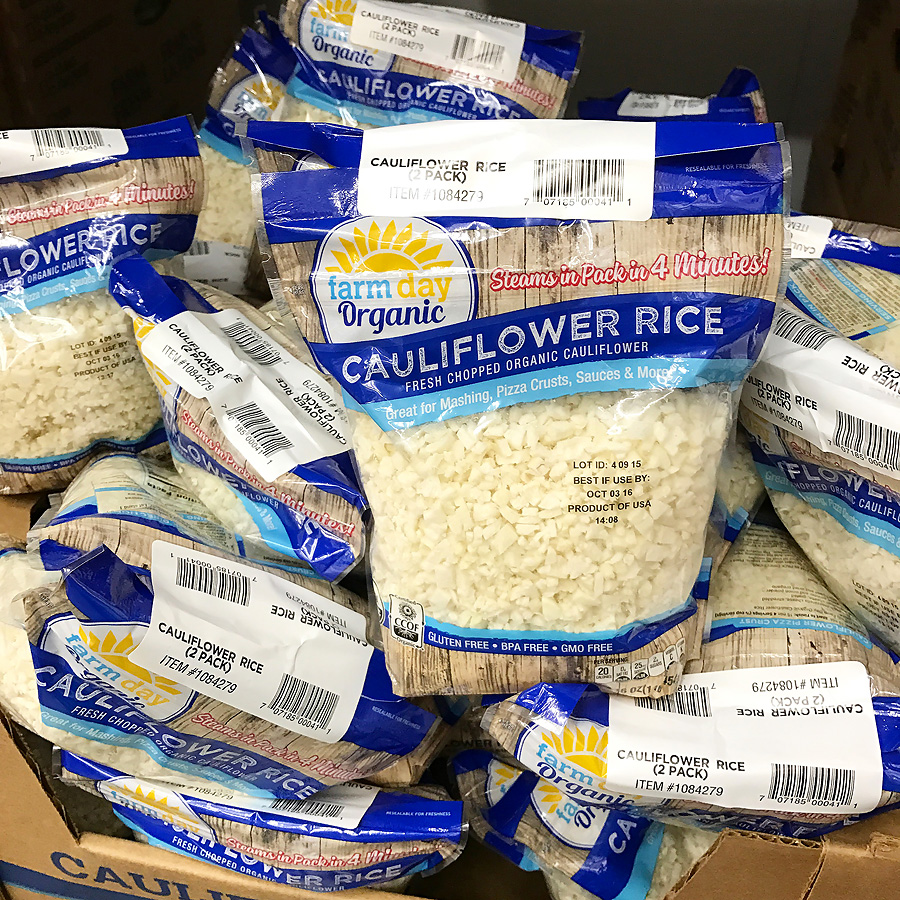 This stuff is a keto girls BESTEST friend in the whole entire world!  So versatile, mild in flavor depending on your cooking method, and can replace rice & grains in any dishes/meals.  I keep a steady stock pile of bags every single week.  And now that its so readily available in a TON of stores, I never have to run out.  Costco, Trader Joes, Target, regular grocery stores… they all have their own varieties!  Genius 🙂
For these rolls I actually tried two different cooking methods for my "rice": steamed and dry sauteed in a cast iron skillet.  Both were good, but the steamed option was just a bit too mushy and had a very strong cauliflower taste to them.  The one I cooked in the pan had a little "bite" to it, NO extra liquid/moisture, and neutral taste!  In retrospect, these could have used double the amount of riced cauliflower I used, but still delicious, filling, AND filled with all things I love (and can) eat!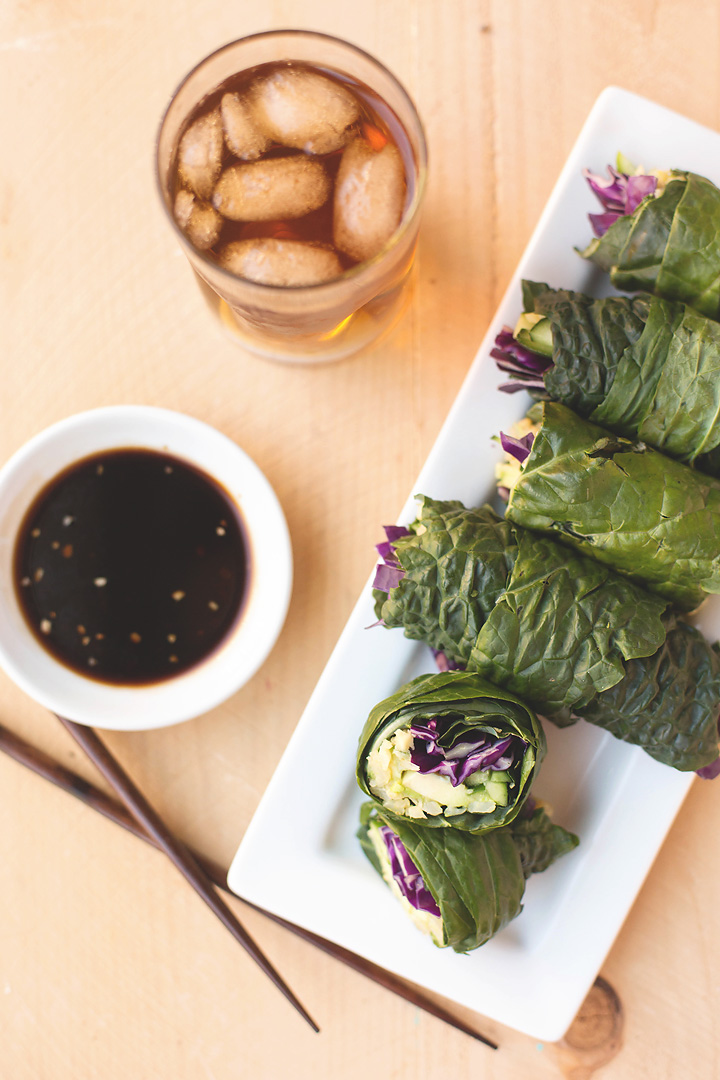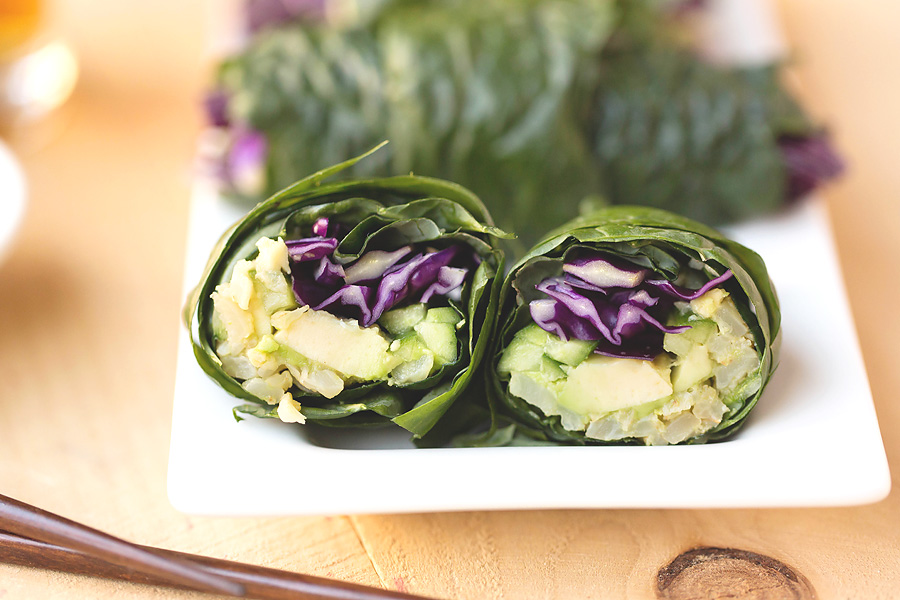 I may go out on a limb and say these were the BEST "sushi" rolls I've ever had… they were good on their own, but the sauce?!  Oh the sauce… I think I could have slurped it all up in one gulp!  Now if I ever take my son out for sushi, I will know to get a triple order of rice-less cucumber avocado rolls AND bring a serving (or two) of this sauce… so so so good!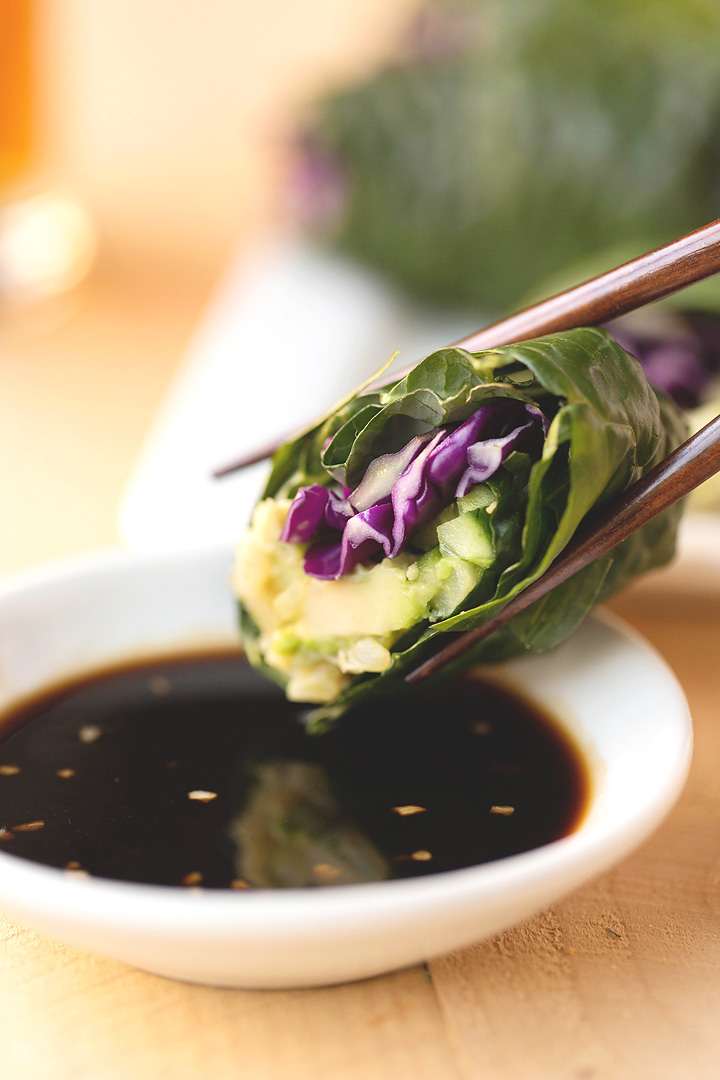 These may not be your traditional sushi rolls, but a wonderful option for those doing keto or low carb, vegan or vegetarian, or for anyone that wants a fun way to get in those micronutrients!  Also, these are great for food prep at the beginning of the week.  If you have the ingredients all ready to go (kale washed/trimmed, veggies sliced, and even have a batch of cauliflower cooked & cooled), you could have a delicious lunch or snack ready to go in 5 minutes!  And don't forget about that sauce… make a big batch of it and you'll have it ready for sushi AND any Asian themed meals you have 🙂
Low Carb Vegetable Sushi Rolls

Print recipe
Ingredients
6 Large collard green or kale leaves
1 cup riced cauliflower
2 teaspoons rice wine vinegar
1/2 cup red cabbage (shredded)
1 Large whole avocado (roughly chopped)
1 Small cucumber (sliced thin)
2 tablespoons coconut or Bragg's liquid aminos (** SAUCE **)
1/2 tablespoon water (** SAUCE **)
1/2 teaspoon sweet chili sauce (** SAUCE **)
1/2 teaspoon finely chopped garlic (** SAUCE **)
1 pinch red pepper flakes (** SAUCE **)
4-8 drops stevia (** SAUCE **)
Directions
Step 1
Heat a cast iron skillet under a medium fire. Add riced cauliflower and dry saute for 5-7 minutes until softened. Remove from heat and let cool completely. Stir in rice wine vinegar.
Step 2
In the meantime, make sauce by combining ingredients in a small bowl. Only add stevia to taste, start with 3-4 drops. Set aside.
Step 3
Place a piece of kale onto a sushi mat (or cutting board). Add riced cauliflower at one end. Add cucumber and veggies. Roll.
Nutrition Facts
Serving Size 1 roll
Servings Per Container 5
---
Amount Per Serving
Calories 52
Calories from Fat 27
% Daily Value*
---
*Percent Daily Values are based on a 2,000 calorie diet. Your daily values may be higher or lower depending on your calorie needs.