This post is sponsored by QALO and SheKnows Media.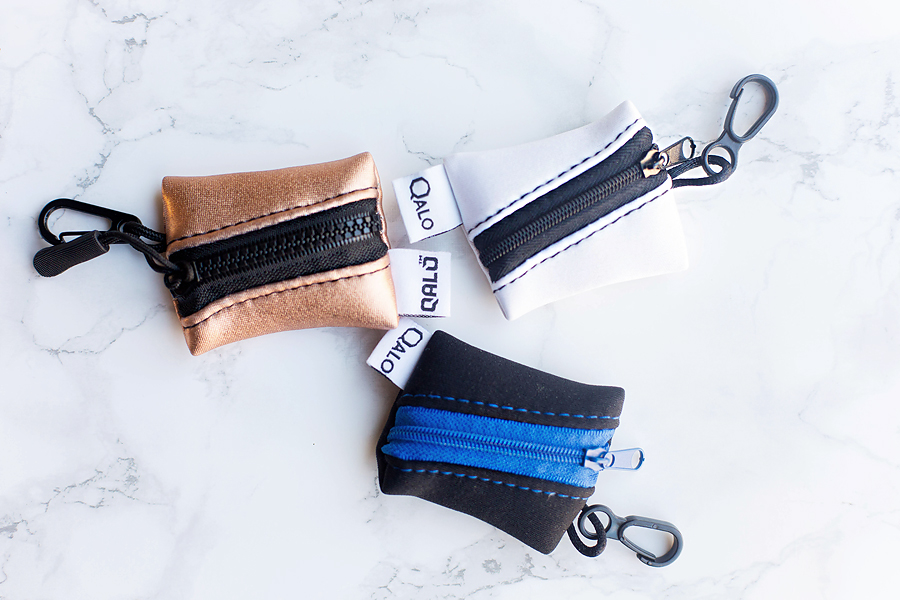 After over 10 years of marriage, I've officially decided to swap my GORGEOUS wedding ring out for something a bit more practical.  It's not that anything was at all wrong with the rings I've worn now for over a decade, but I'm just at a point in my life where wearing the big, shiny, glitzy bling isn't necessary, nor does it make sense for my lifestyle that's jam packed with medical issues, doctors appointments, X-rays, MRIs, and the need to stay comfortable at all times.  I toyed with the idea last year when my health began to decline, but still hadn't committed until my husband gave up his own traditional wedding band.
A couple of months ago when my husband asked me about swapping out his traditional wedding band with a silicone ring from QALO, I wasn't quite sure I was absolutely keen on the idea.  The sappy girl in me was saying, "It's been a symbol of our marriage that he's worn for over 10 years now and he wants to take it off?"
Oh the nerve right?!
Well, not so fast.
The safe & practical girl in me won that inner battle by a landslide.  During one of his most recent SWAT missions, not only could he have easily broken his finger or hand or both, but he could have potentially lost his life as well.  As my husband was chasing a suspect and climbing a fence, his wedding band got caught on a loose wire, which stopped him in his tracks.  He was stuck for a few extra seconds while dealing with his ring!  In the end, the suspect was still caught, but the story could have played out much much different for my husband if his finger/hand didn't free properly.
When you look at things from this perspective, the choice was easy!
Prior to and since this event we had heard many horror stories of other officers breaking or injuring their fingers while on duty simply because of the activity they encounter every single day, especially on specialty departments like SWAT and K-9.  The near thought of anything like that happening to my husband again immediately changed my view on his desire to switch from a metal ring to silicone ring.  Truth be told, I'm kind of bummed that we didn't think of this sooner!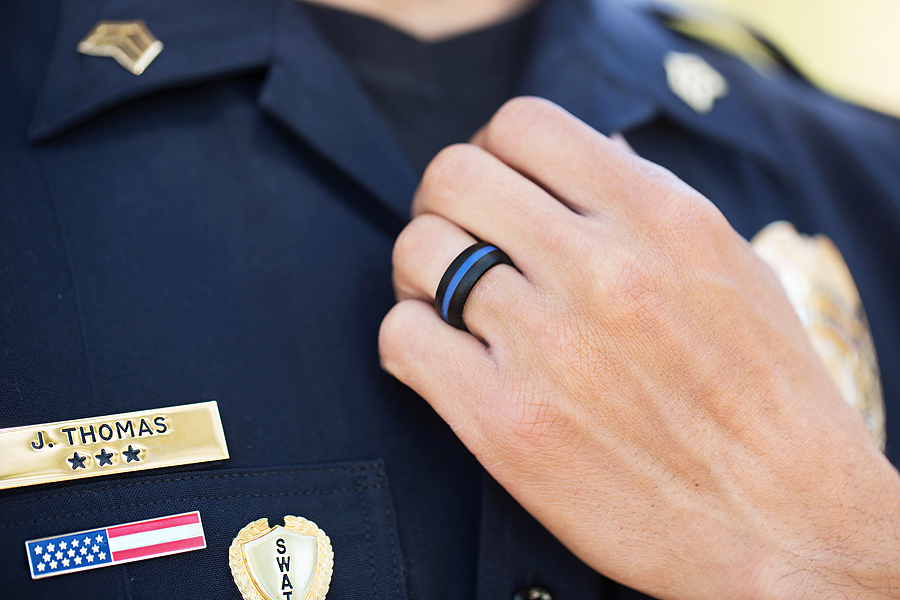 The only jewelry my husband has EVER worn in his life was his wedding ring and even that took a couple of months for him to get used to.  When we first got married and were looking at rings, his only request was that we purchase the most DULL, non shiny, non glitzy, most basic band we could find.  He didn't want anything that brought too much attention to him or his hands.  The new 'Thin Blue Line' QALO fits his personality, preferences, and lifestyle SO much more… career, weight lifting, exercising, regular home improvement projects involving saws and power tools, outdoor activities, and daily volleyball with our daughter.  Yes, the comfortable and SAFE silicon band makes so much more sense!  We love the new ring so much!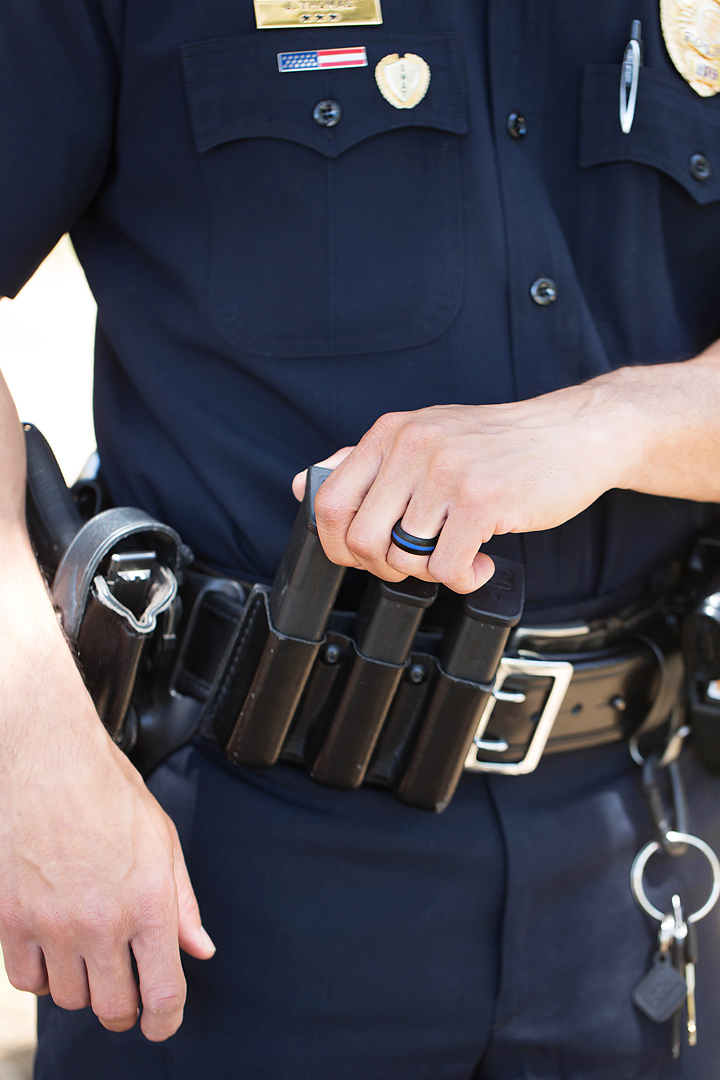 So after his ring swap, I began to think of my own lifestyle and "activities".  Sure, my days look vastly different than my husband's, but still unique with some limitations.  It's no secret that over the course of the last couple of years, I've had more than my fair share of medical issues.  There have been weeks that I've been at the hospital or doctors appointments 2-3 times in one week.  SO many regular scans and imaging work are done and it never fails: "Do you have any metal or jewelry on?"  Yup.  Wedding rings.  Like my husband, I have never cared for wearing jewelry so my rings are the only form of metal I have on my body 99.9% of the time.  I would usually end up having to take them off and store them in a locker before a diagnostic scan, something I'm never comfortable doing of course.  My husband's cheap metal wedding band is one thing, my engagement ring though?  Yeah, it wasn't exactly cheap and definitely not replaceable!!!
In addition to the X-rays, MRI's, and other scans I routinely have done I also suffer from joint pain and swelling, especially in my hands.  Some days my wedding rings fit perfectly and other days my fingers are swollen and throbbing.  It's nearly impossible to remove the rings during these times and it usually ends with me in more pain than just the swelling just from trying to pry them off.  Other days Raynaud's kicks in and my fingers are so cold and skinny.  I lose so much circulation in my fingers that my rings can actually fall off.  My body and I seem to be a mixed bag of tricks and I never know what the day (or hour) will bring!
After thinking about my own issues and falling in love with my husbands new QALO, I decided I would give the rings a try as well.  When I went online to buy a plain, silicone band I was thrilled to see how many women's choices I actually had!

So many colors, so many styles… how is a girl ever to choose???  Fortunately the rings start at UNDER $20 and there are LOTS of options to choose from!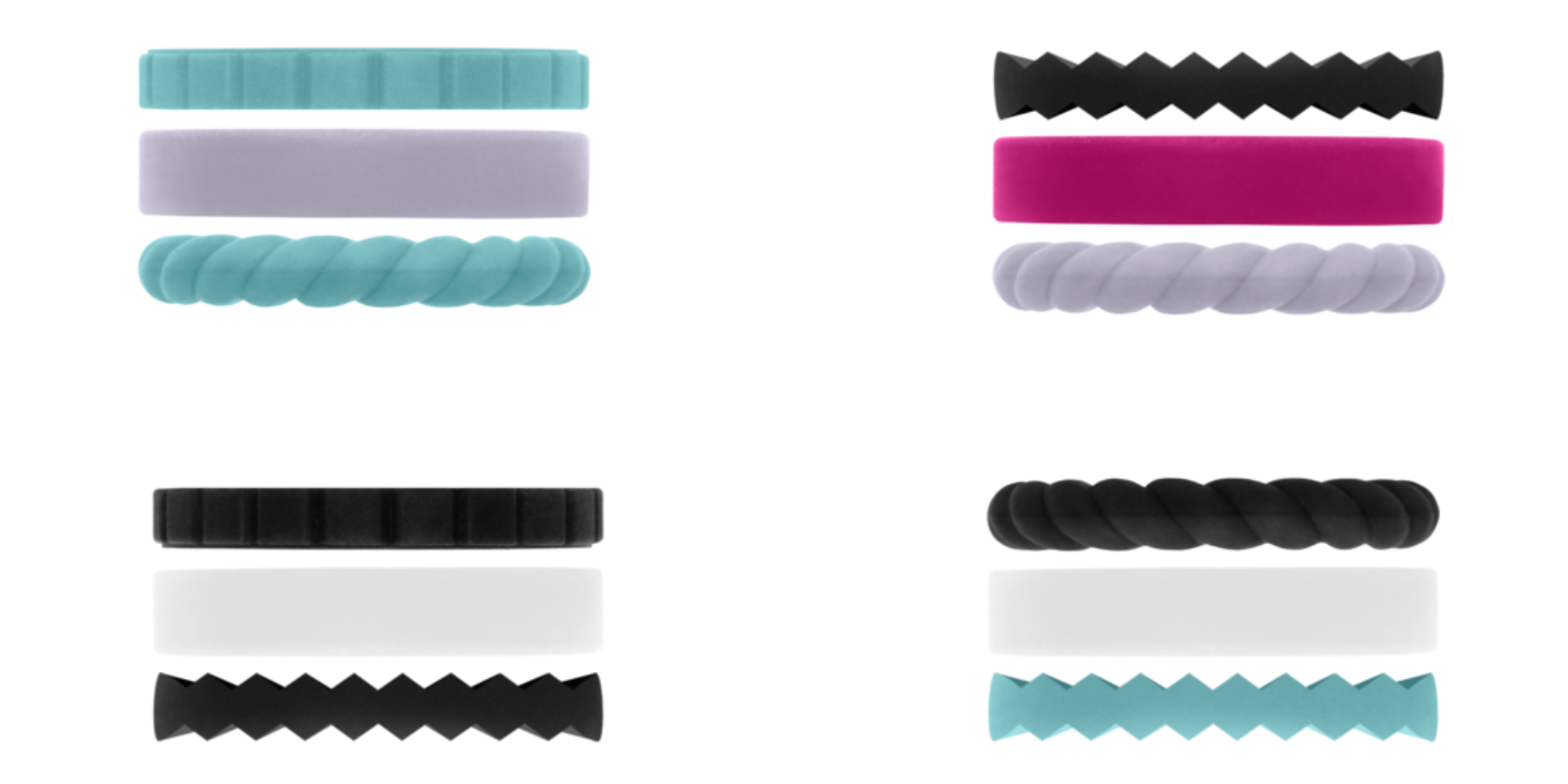 As soon as I saw the STACKABLES, my mind was made up AND I decided to take things a bit further.  Not only would I have a new wedding ring, but I also wanted to get a stack to honor my kids as well!  Picking out the style and colors was easy…
Simple white wedding band for my left hand: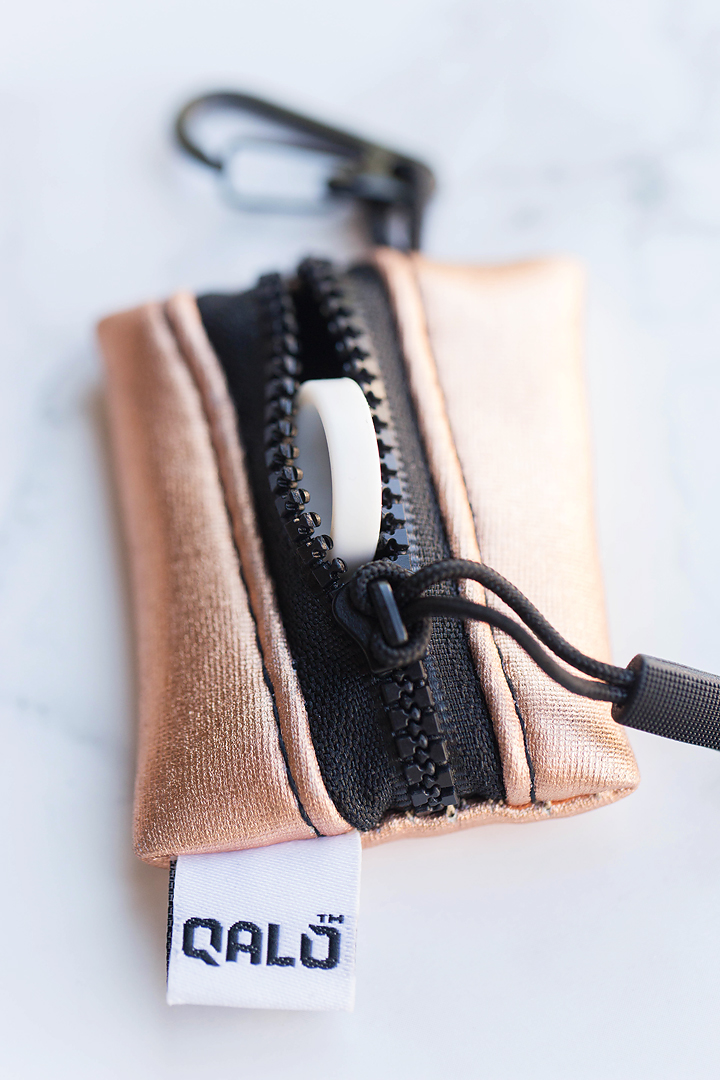 And then a stackable set for my right hand for our kids:
I had NO trouble figuring out what colors and styles I would pick for the kids rings.  My son's favorite color is black and like my husband, doesn't like too much 'going on'.  Because the wedding band was solid white though, I picked the next closest simple style, which was a simple jet-black 'step' ring.  Then for my daughter, I was going to pick a chevron aquamarine ring and a pink topaz 'twist' ring, but my heart soared the moment I saw this one…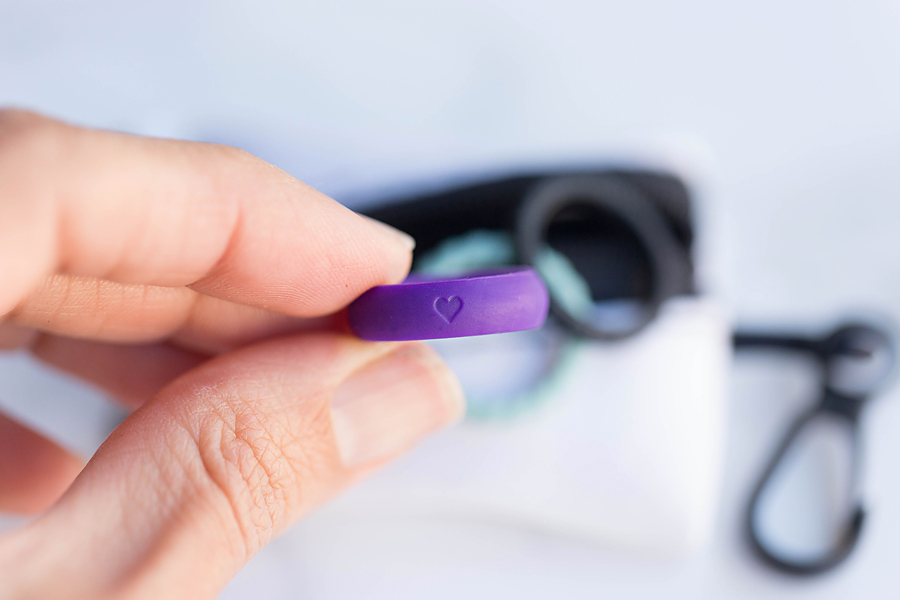 It's technically supposed to show support for lupus, but as it turns out the color purple also represents another autoimmune condition: rheumatoid arthritis… something my daughter was just diagnosed with only a couple of months ago!  So, yup, easy choices: purple & aquamarine for my daughter, black for my son, and white for my wedding band.  Although I must say, because QALO offers such a huge variety of color and style options, I could see how it may be more difficult for some people to decide.  Luckily not me though 🙂
So. In. Love.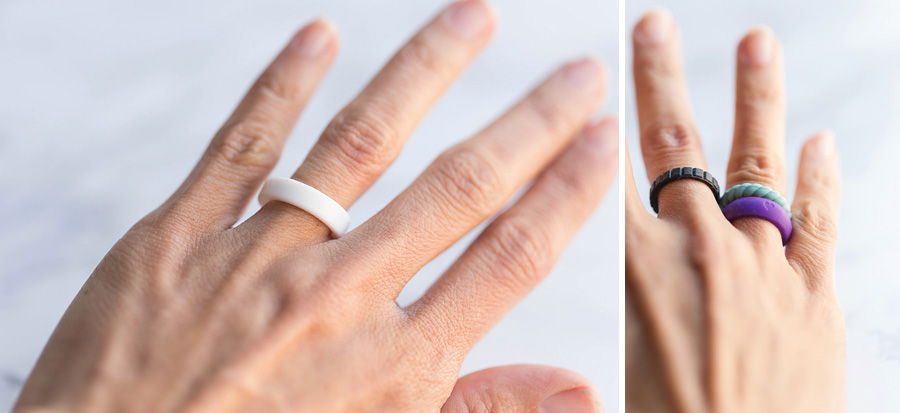 Despite whatever doctors appointment I have, radiology imaging, medical testing, a day when my joints swell, or even just a day when I'm running errands in my favorite yoga pants I know my jewelry will NEVER be an issue or cause any type of discomfort.  Better yet, if I'm having a really really good pain & symptom day and my body cooperates with me I may even be able to venture into the garage for a little workout!  No need to take off my rings or protect my fingers from the weights or exercises!Even though the QALO rings were most likely designed for the active lifestyle, clearly they are versatile enough for ANYONE and EVERYONE!  They are safe, comfortable, durable, and there's a huge variety to choose from.   Why oh why did it take me so long to find QALO?!!!!Who's ready for a QALO of their very own???  Leave me a comment on this post telling me how a QALO ring suits YOUR own unique lifestyle!  The company has generously offered up a prize pack and the winner could be YOU!Check out them out friends!!!
Entry Instructions:
No duplicate comments.
You may receive (2) total entries by selecting from the following entry methods:
1. Leave a comment in response to the sweepstakes prompt on this post
2. Tweet (public message) about this promotion; including exactly the following unique term in your tweet message: "#Sweeps" and "#SweepstakesEntry"; and leave the URL to that tweet in a comment on this post
3. Blog about this promotion, including a disclosure that you are receiving a sweepstakes entry in exchange for writing the blog post, and leave the URL to that post in a comment on this post
This giveaway is open to US Residents age 18 or older (or nineteen (19) years of age or older in Alabama and Nebraska). Winners will be selected via random draw, and will be notified by e-mail. The notification email will come directly from SheKnows via sweeps@sheknows.com. You will have 2 business days to respond; otherwise a new winner will be selected.
The Official Rules are available here.
This sweepstakes runs from 4/10/17- 6/30/17
Be sure to visit the brand page on sheknowsmedia.com where you can read other bloggers' posts!