Everything you love about pasta carbonara, but without the extra carbs!  Enjoy this lightened up version of an Italian classic any night of the week.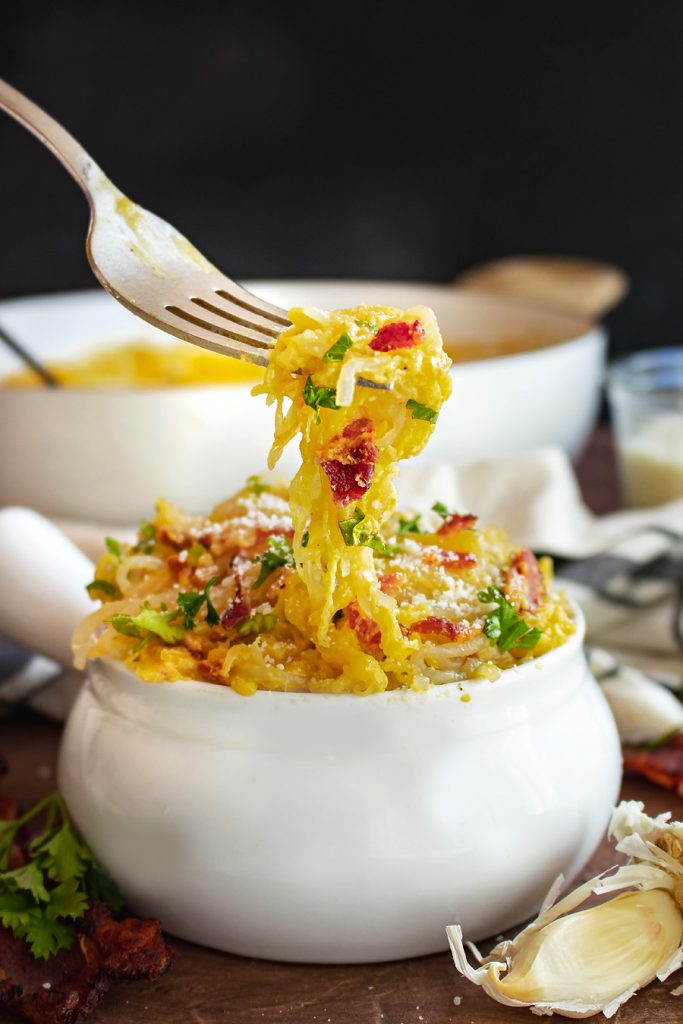 Have you been missing your favorite pasta dish on a paleo or low carb diet?  No need to ever miss out when there are SO many noodle options available on the market these days.  Today I am not only going to share my recipe for this amazing carbonara dish, but I will also share my favorite low carb pasta substitutes!  Let's get started!
One food that people usually miss most when they change their diets is pasta.  We grew up eating it, everyone loves it, and for most of us it was a staple in our weekly meal plans.  Unfortunately it is loaded with carbs and gluten/wheat which are no-no's in the keto/paleo way of eating.  Food companies are slowly catching on to the influx of low carbers and voices are being heard!  Within the next few years we will see more pasta options.  For now, here are some ones to get you going.
Favorite Pasta Substitutes:
PROMOTES HEALTHY WEIGHT LOSS — Konjac-based pasta promotes healthy weight loss with only 9 calories per serving.  They are available in a variety of shapes.  Each is completely free of sugar, gluten, starch, wheat, lactose, soy, salt, cholesterol, fat, and preservatives.

KONJAC-BASED PASTA — This is made with a unique ingredient known as the Konjac plant, a native to Southeast Asia and contains Glucomannan.  This is a healthy and all-natural, water-soluble fiber that aids in digestion and weight loss.

GREAT TASTING PASTA ALTERNATIVE — The Konjac fibers found in this pasta alternative have the superb ability to absorb liquids.  

COMPLETELY ODOR FREE — Other Konjac noodles are known to have a poignant smell as a result of the methods used to preserve them, however this one does not.

PERFECT FOR SPECIAL DIETS — Above all, they are safe and healthy option for vegetarians, vegans, and those who are diabetic and gluten free.
Sea Tangle Kelp Noodles are a delightfully simple and raw ingredient that is ready to eat with no cooking required; simply rinse the noodles and they're good to go for salads, stir-fries, or hot broths! These nutritious stands are also fat-free, gluten-free, extremely low in carbs and calories, and a rich source of iodine, too.
If you're looking for a healthier meal, look no further than kelp noodles. Traditionally found in Korean cuisine, kelp noodles are made from a type of brown seaweed.  They feature a variety of nutrients that make it a healthy option for meals. In addition they are rich in iron, vitamin K, and calcium along with a sizeable amount of dietary fiber.  Furthermore they are all nutrients needed for a healthy diet.
4g of carbs, 20 calories, No Sugar and Gluten Free!

Kosher and BPA Free Cans

Palmini is a low carb pasta substitute made 100% out of a natural plant known as Hearts of Palm. When this plant is cut and cooked in the proper way, it's resemblance to regular noodles is remarkable. Not only does it look like pasta, but it can also taste like pasta if you add the proper sauce!

Great low carb pasta option for Keto and Paleo diets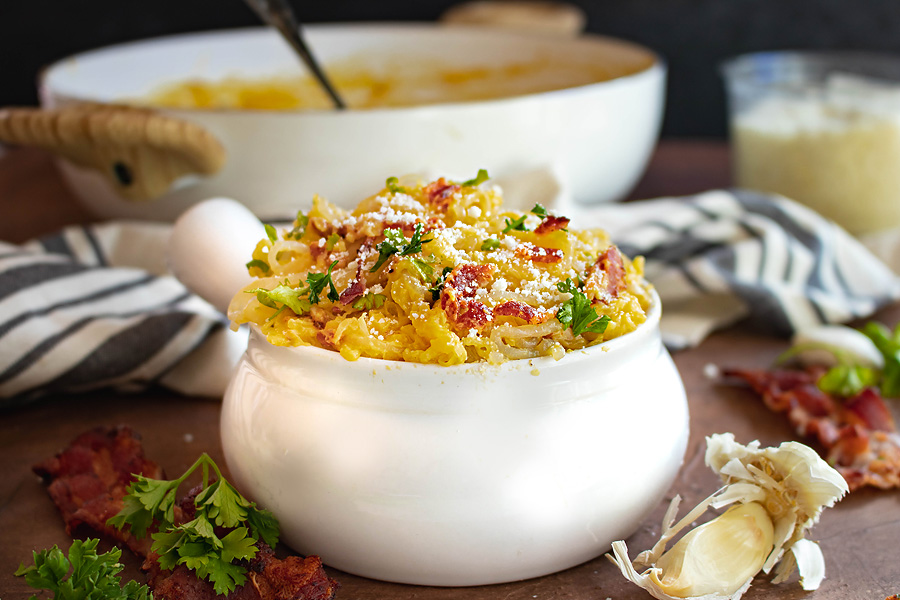 Veggies
zucchini
spaghetti squash
cucumber
sweet potato
egg plant
turnips
parsnips
carrots
Virtually any vegetable can be spiralized and turned into noodles.  Therefor the skies are the limit.  However truth be told, my favorite way to enjoy pasta these days is mixing options.  For instance this carbonara dish uses a mix of spaghetti squash AND "Skinny Pasta".  This provides more texture to the dish and volume.  Above all this will make you feel even more full!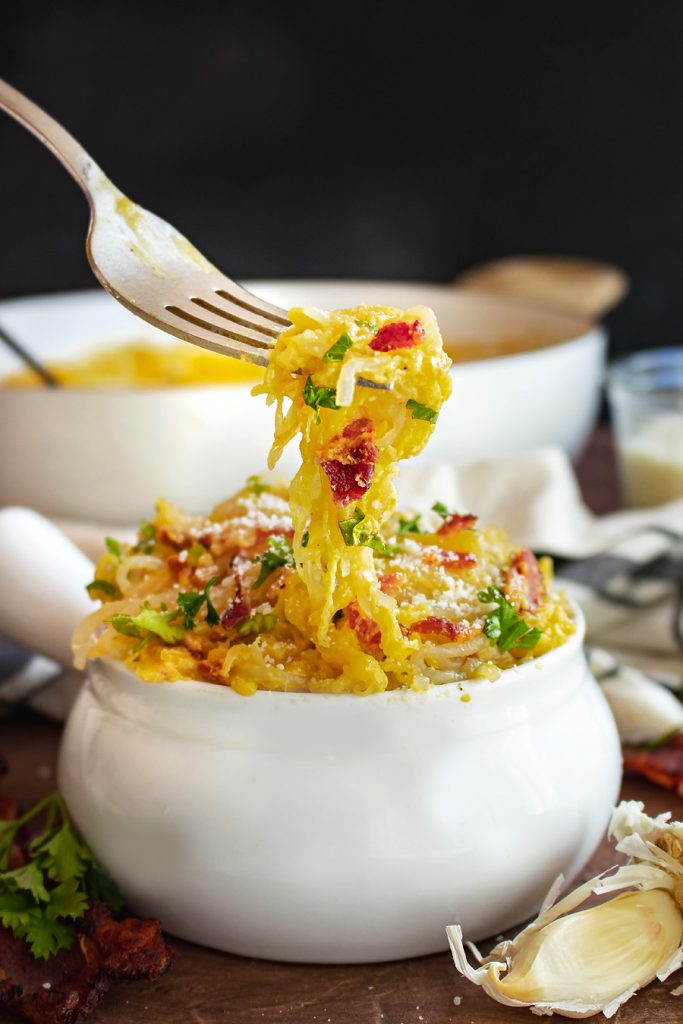 The best part about this carbonara though is the flavor.  Regardless of your noodle option, you will love how creamy it is (without even requiring a ton of heavy cream).  Each bite will be have a subtle bacon flavor and combined with the crunch of the bacon pieces.  This is so comforting, so filling, and above all so so good.  Use this as a side dish to any protein or as a main course if you add some roasted chicken.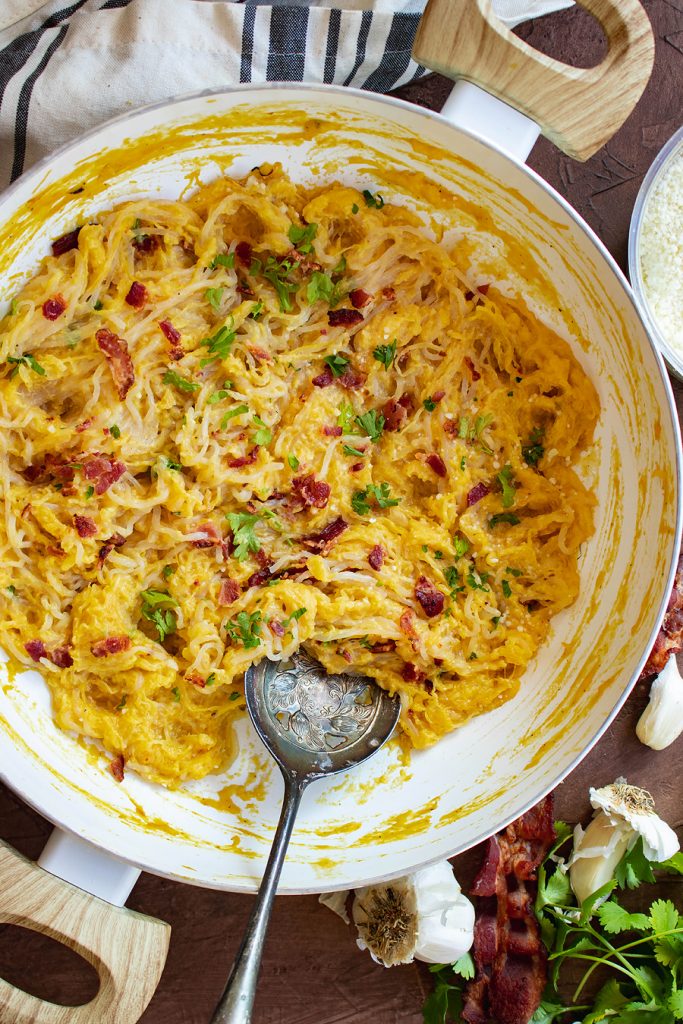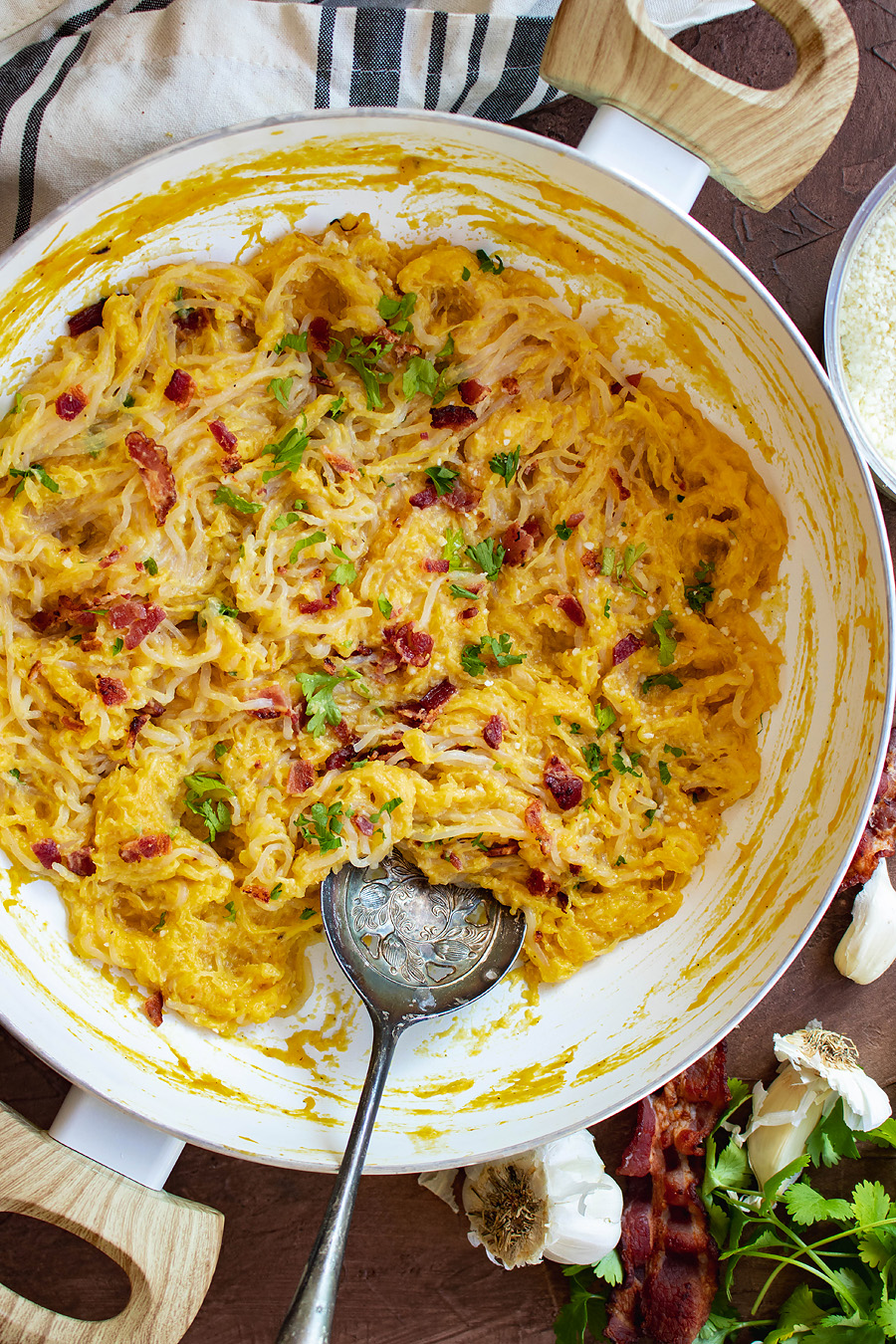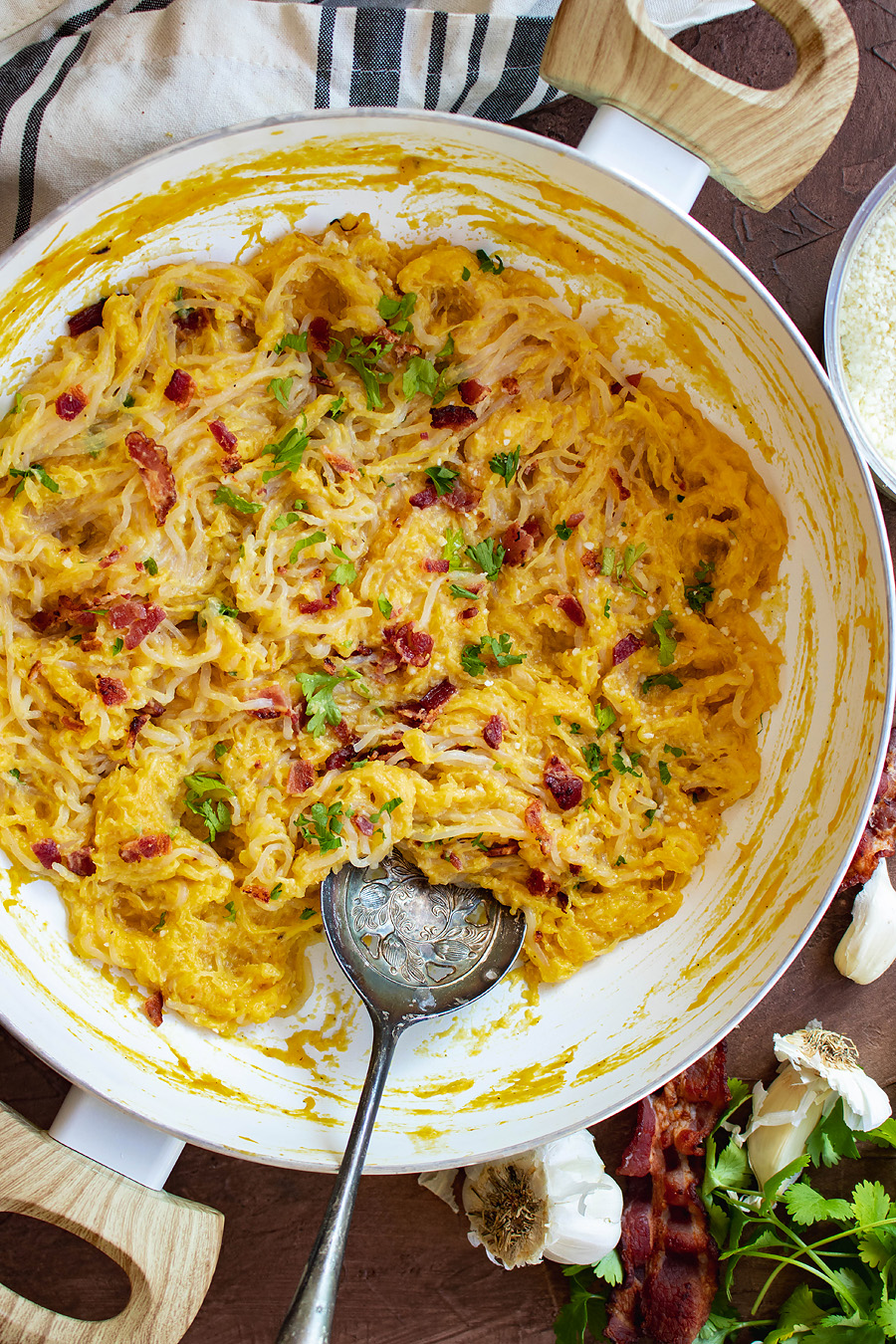 Print Recipe
Creamy Low Carb Carbonara
Ingredients
4 slices bacon

2 packages "Skinny" Pasta or 1 large cooked spaghetti squash (see note below)

4 cloves garlic (finely minced)

2 large egg yolks

1 large egg white

1/4 cup heavy cream or coconut cream if dairy free

3/4 tsp each sea salt

¼ teaspoon black pepper

Pinch red pepper flakes (optional)

1/4 cup grated parmesan cheese

Chopped fresh parsley (for garnish)
Instructions
1
Add bacon to a large skillet set over medium heat. Cook for 2-3 minutes until crispy. Remove bacon pieces. Reduce heat and add garlic to bacon grease.
2
Whisk in heavy cream, parmesan cheese, egg yolks, and egg whites in a medium bowl.
3
When squash is done roasting add "noodles" to the pan. Stir in cream and egg mixture. Cook spaghetti carbonara under medium heat until sauce has thickened. Stir in crumbled bacon.
4
Remove from heat and garnish with fresh parsley, a drizzle of olive oil, and extra parmesan cheese if desired.
Notes
To Use Roasted Spaghetti Squash: Preheat oven to 400° F and line a baking sheet with parchment paper or coat a baking dish with non stick spray/olive oil. Carefully slice squash in half lengthwise with a sharp knife. Remove seeds. Drizzle 1-2 tablespoons of oil onto squash and sprinkle with 1/2 teaspoon of salt and 1/4 teaspoon of black pepper. Place each piece onto baking sheet flesh side down. Roast in the oven for 25-30 minutes until squash is tender and edges are golden brown. Remove from oven and use a fork to scoop out the squash noodles.