Enjoy this classic pesto sauce any night of the week.  It only takes 5 minutes to make and is versatile enough to use on chicken, steak, or fish.  You will fall in love with these bright flavors.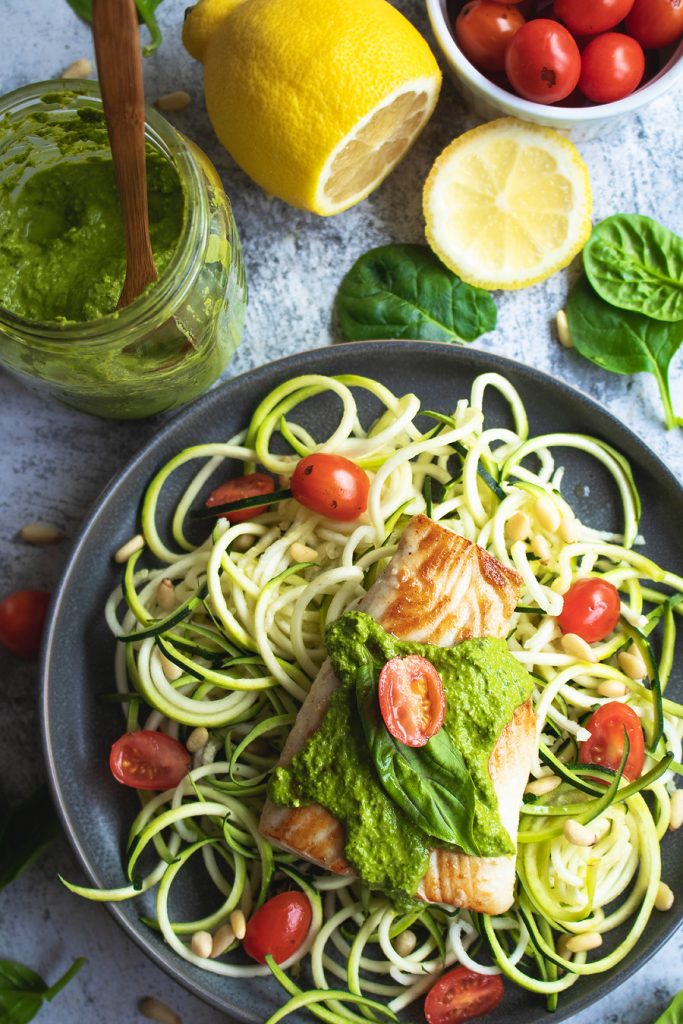 Sauces and dressings are so easy to make, yet people still reach for pre-made bottles and packaged seasoning mixes.  Those store bought items will NEVER taste like the real thing.  Not only that, the ingredients are also usually pretty questionable.
Homemade pesto sauce is probably one of the easiest and tasty sauces you can make.  It literally only takes a handful of FRESH ingredients and dinner can be on the table in less than 15 minutes.  This sauce also pairs well with a variety of proteins and is versatile enough to work in a variety of dishes.  My family are suckers for homemade pesto and I find I'm making this sauce at least 2-3 times a month.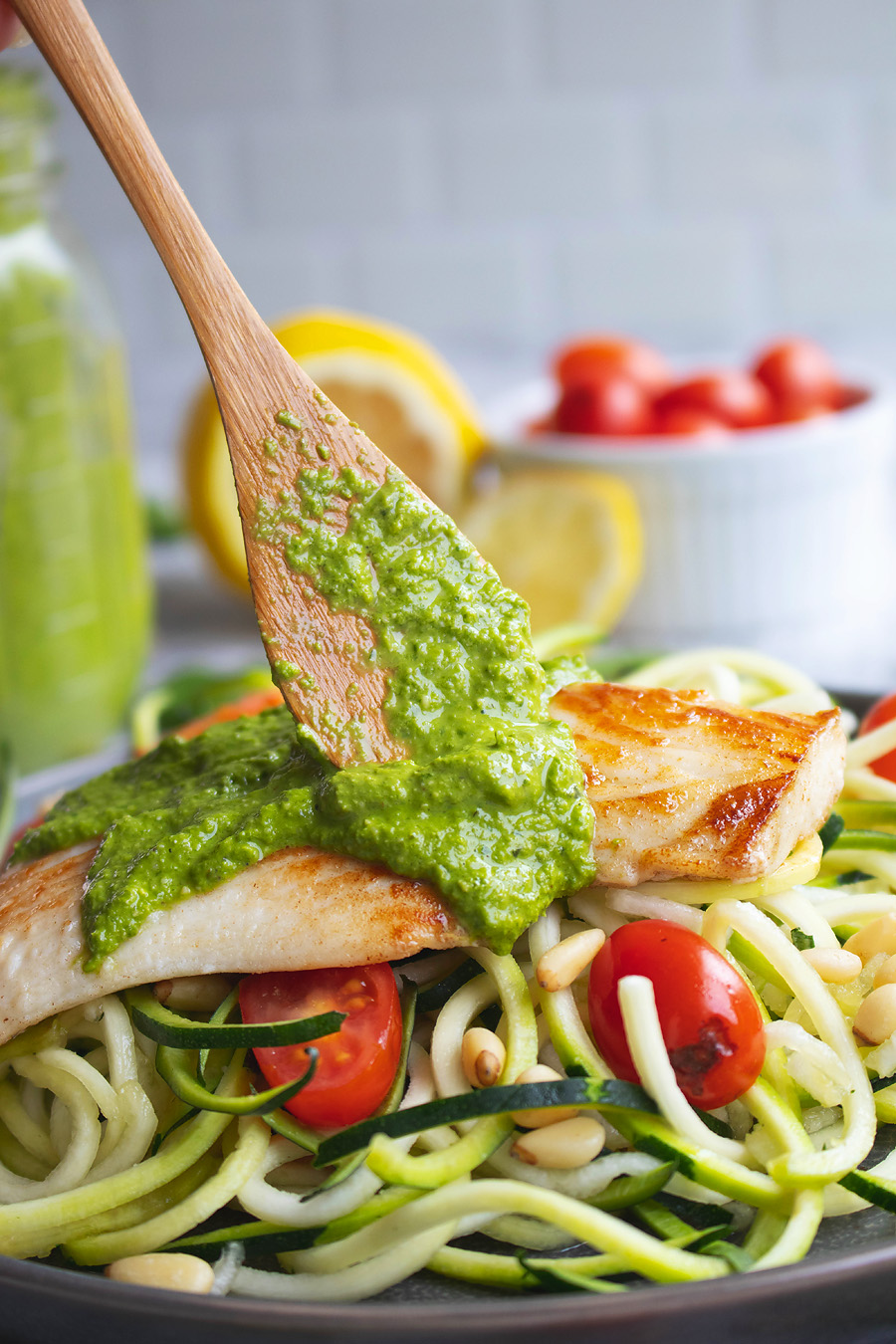 10 Ways To Use Pesto Sauce:
to top ANY protein and/or pasta
as a pizza sauce
a dressing (thinned out a bit further with chicken stock)
spread it on sandwiches
mix it into dips like hummus
toss with sautéed veggies
garnish soups
mix in with scrambled eggs (soooooo good)
whip with ricotta cheese or cream cheese and stuff chicken breasts
stirred into riced cauliflower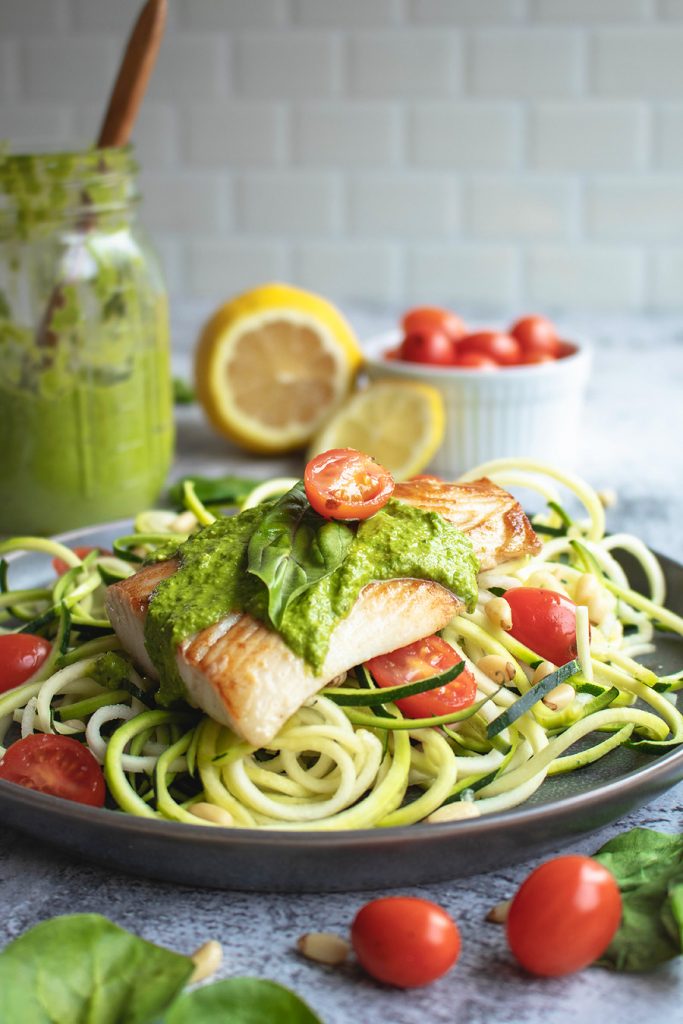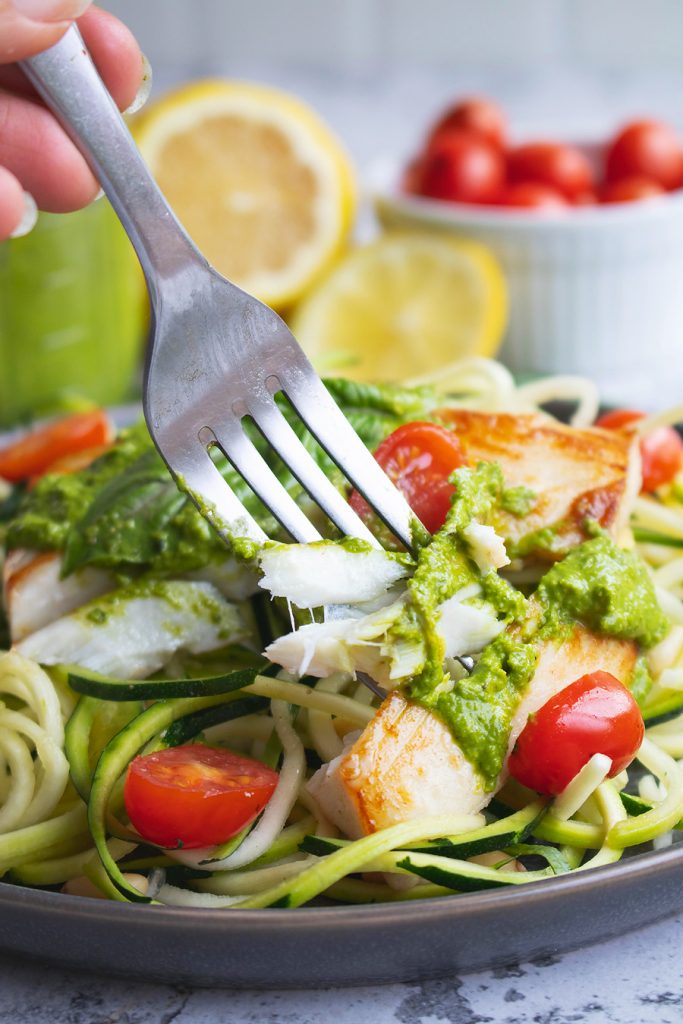 The possibilities are endless once you start to look at pesto sauce as an everything sauce!  The skies are the limit.  One other thing I want to mention is how to kick up your pesto flavors even MORE.
Tips to Boost Pesto Flavor:
toast the pine nuts (or walnuts)
use roasted garlic
do not skimp on the salt and pepper
don't be afraid to add more lemon juice
make the sauce 1-2 days ahead, this will let the flavors mingle even further
For this weeknight meal though, I kept it SUPER simple.  Homemade pesto, lightly seasoned halibut (salt, pepper, olive oil), zucchini noodles, and a few cherry tomatoes.  Dinner is on the table in less than 10 minutes.  This sauce literally turns ANY typically boring meal upside down.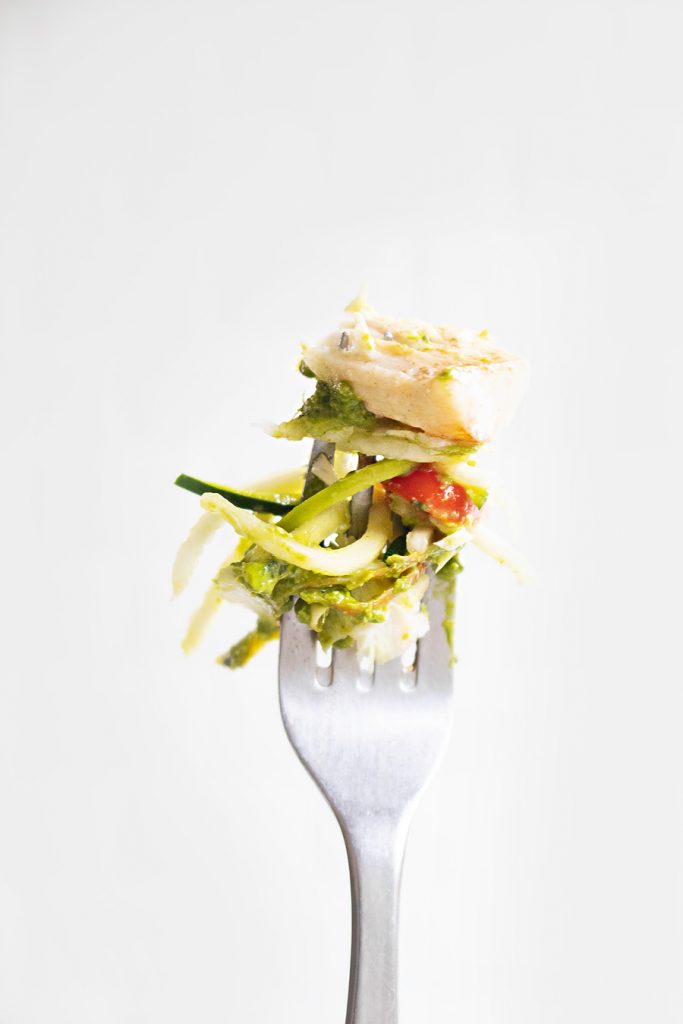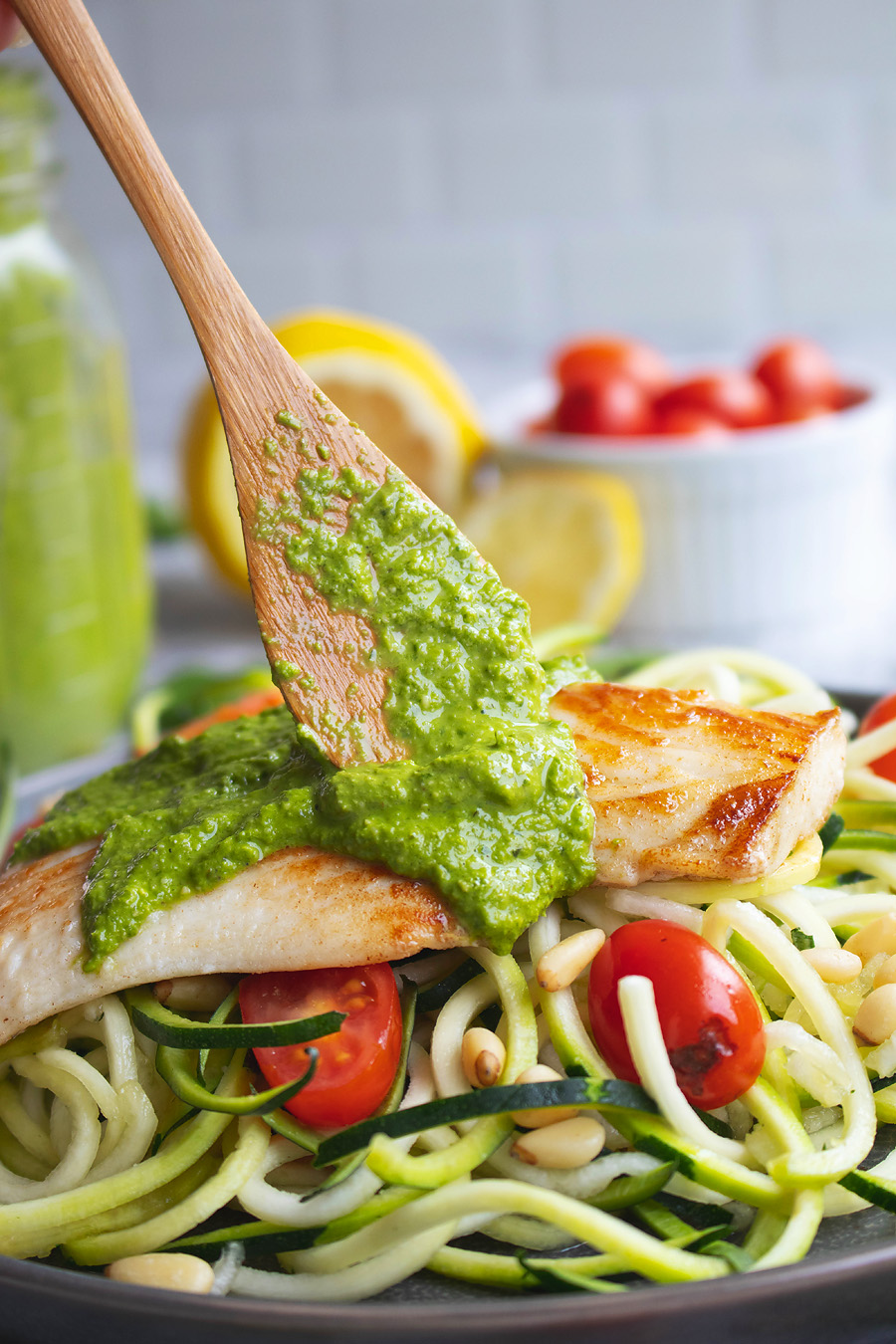 Print Recipe
Parmesan Crusted Pesto Halibut
Ingredients
For Pesto Sauce:

1/3 cup toasted pine nuts

1 large handful basil leaves

1 handful arugula

3 chopped garlic cloves

3 tablespoon extra virgin olive oil

2 tablespoon lemon zest

1/3 cup lemon juice

3 tablespoons parmesan cheese (or use nutritional yeast if dairy free)

1/4 cup chicken stock

1/2 teaspoon kosher salt

1/4 teaspoon black pepper

For Halibut:

4 pieces of fresh halibut fillets (cleaned and patted dry with a paper towel)

1/2 cup grated parmesan cheese (use nutritional yeast if dairy free)

1 tablespoon butter

1 tablespoon olive oil

1 teaspoon salt

1/4 teaspoon ground pepper

1 large lemon
Instructions
1
Put all pesto ingredients in a high speed blender or food processor . Mix on high until completely smooth. Adjust salt and black pepper to taste. Set aside.
2
Rub halibut steaks with olive oil, salt, and pepper. Coat in in parmesan cheese.
3
Heat a large cast iron skillet or pan and melt 1 tablespoon of butter under medium-high heat.
4
Cook halibut steaks on each side for 2-3 minutes depending on the thickness of the fish until golden brown.
5
Top with pesto sauce, extra parmesan cheese, and a squeeze of fresh lemon juice. Serve with zucchini noodles or pasta of choice.
Notes
For even better flavor, add pine nuts to a medium sized saute pan set over low-medium heat. Toast nuts for 3-5 minutes until fragrant. Do NOT burn.