With my cut/diet in full swing now, I had to start thinking out of the box when it comes to my meals and NOT eating the same old things every single day.  Don't get me wrong, I still eat a lot of the same foods day in and day out (because I really do love them AND frankly it's just easier when it comes to tracking) but getting to throw in some variety every couple of days helps me get through the daily monotony of my repetitive meals.  Some people can prep and eat the same 4-6 meals every single day during a diet/cut, but I know me and my LOVE for food (and eating).  I need the constant variety. Without it, I know eventually I would get tired and resentful of feeling that I have to eat the same things every day.  The beauty of being a flexible eater is knowing you can change your meals up anytime you want and enjoy the foods you have always loved without being restricted (as long as you can make them fit within your nutritional daily needs/macros).  I know plenty of girls who literally eat egg whites, brown rice, sweet potatoes, asparagus, broccoli, and tilapia all day/everyday out of tupperware for an entire competition prep (anywhere from 6-15 weeks).  If that works for them and they are happy to do it, I am nobody to judge however that's not my path or how I have chosen to diet.  To save my sanity and perk up my tastebuds a bit as I near my 1/2 way mark, I thought I would reach into my old recipe arsenal and reinvent a few things that I absolutely love!
Luckily this dish was already almost entirely healthy anyways so not many tweaks needed to be made…
One of my go to "easy entertaining" snacks to prepare has always been bruschetta.  It's such a fast and flavorful little appetizer dish that continues to be a big hit with friends and my family when they come over.  A couple of weeks ago, I got a craving for some but instead of the regular toasted baguette slices I would have normally had with it, I thought the concept would be perfect on some raw zucchini noodles and served as a "pasta" dish.  I was right… this was so delicious.  I added chicken to mine, but this can easily be a vegan or vegetarian dish that will definitely have you craving more after your last bite!  I definitely could have allowed for the baguette slices on my diet but chose to go with some extra veggies and save my carbs for ice cream instead!  Thank you flexible dieting!!!!
Here is my new take on a lower carb bruschetta!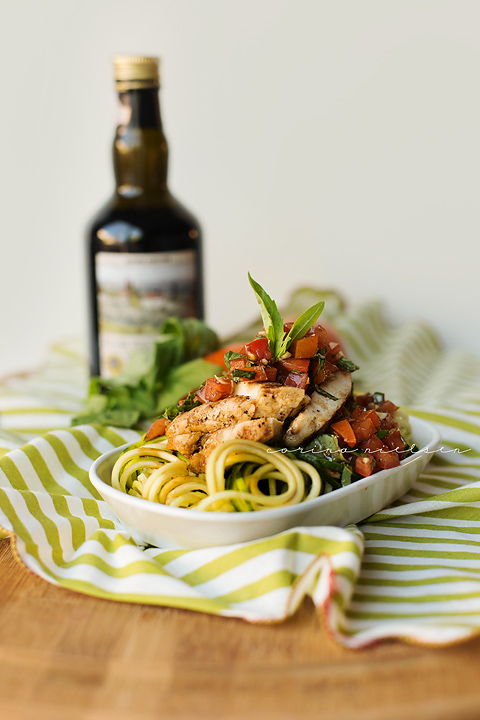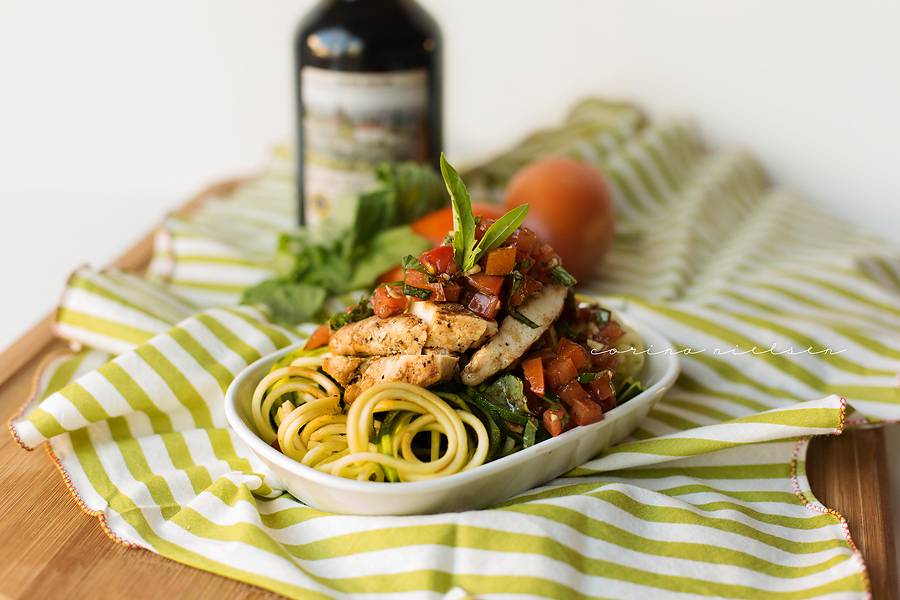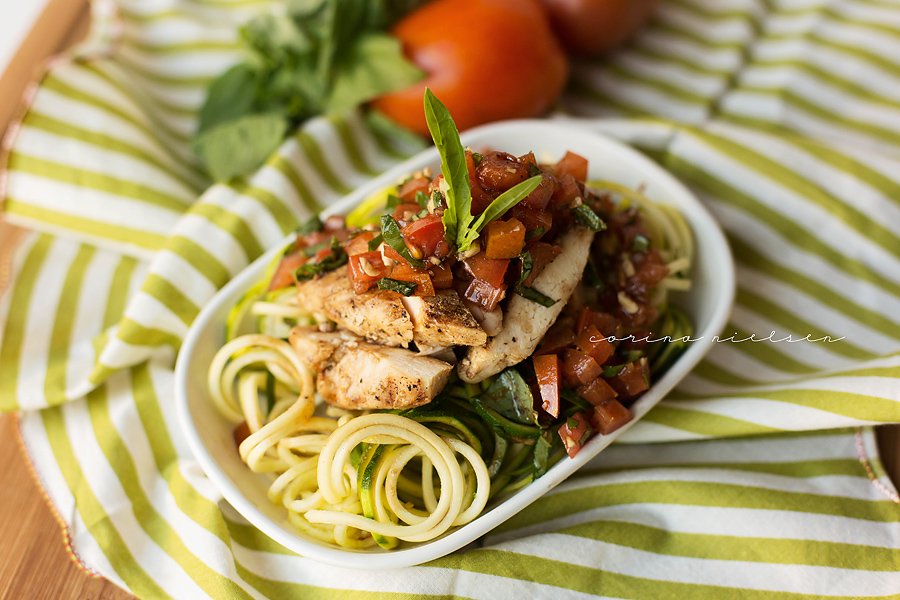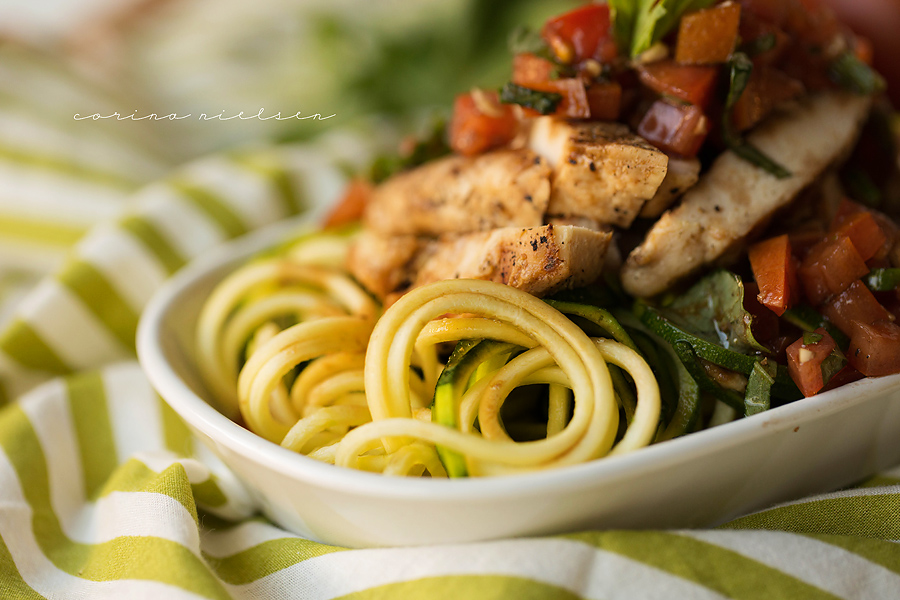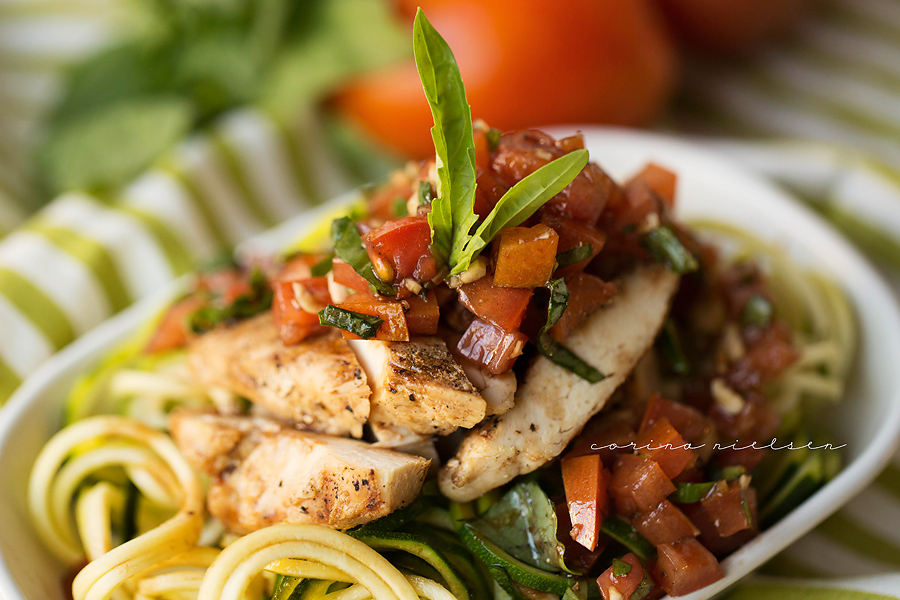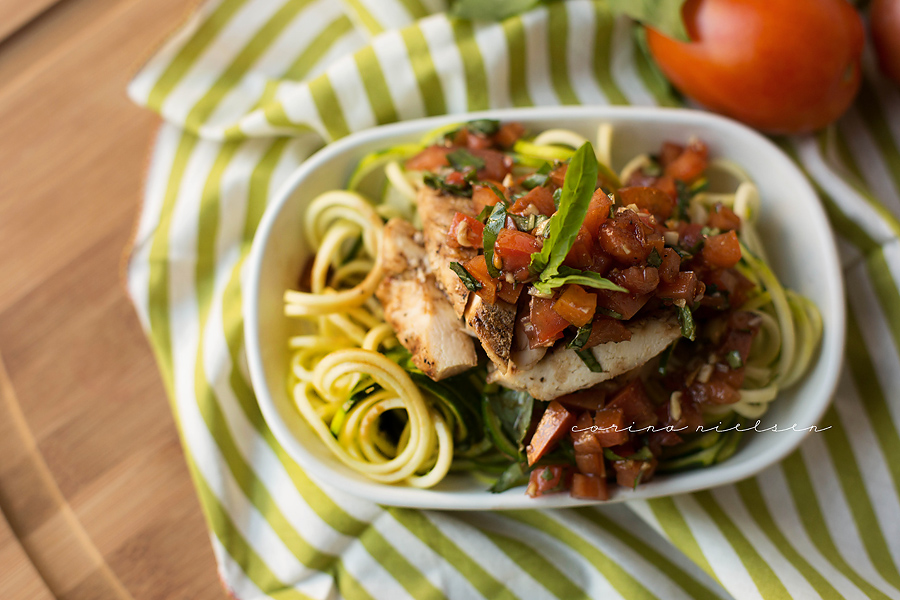 Aside from the ingredients and recipe below, the only other thing you will need to make the "noodles" is a "spiralizer".  I purchased mine from Amazon and it's honestly one of the best kitchen gadgets I own!  I mainly use mine for zucchini noodles, but you can use lots of different vegetables or even fruit.  If you are trying to get your kiddos to eat more fresh produce, this is an excellent little gadget to have.  Makes eating just a bit more fun!  However, if you don't want to order one and still want to make this dish, no problem at all!  You can easily just use a vegetable peeler for the zucchini.  It will give you a nice wide "noodle" that is equally delicious for this or any raw dish!  Simply just lay your zucchini on a cutting board and carefully peel each slice nice and thin.  Enjoy!
Raw Bruschetta Zucchini Pasta

Print recipe
Ingredients
1 Large roma tomato roughly chopped
garlic clove finely chopped
3-4 fresh basil leaves finely chopped
2 tablespoons balsamic vinegar
2 teaspoons extra virgin olive oil
1/8 teaspoon red pepper flake
1/4 teaspoon garlic powder
salt & pepper to taste
1 zucchini
1 chicken breast (** OPTIONAL **)
Directions
Step 1
Combine all topping ingredients into a small bowl (chopped tomato, basil, spices, olive oil, and garlic). Set aside for 5-10 minutes.
Step 2
"spiralize" or peel your zucchini.
Step 3
Add topping to "pasta" and mix until coated. Serve with chicken if you like.
Note
NUTRITIONAL INFORMATION (not including chicken): calories 153, carbs- 19 g, protein- 3, fat- 8 g