What do you do immediately after buying a huge bag of sun dried tomatoes from Costco?  Well, let me see.  After making hummus, pizza, pasta, and a few different types of dip and sauces the next logical thing you make with it is muffins right?  That's how things went down in my kitchen anyways after a recent Costco trip.  I'm so glad I reached a bit further into my brain to wrestle up one more idea for my bag because these muffins were the perfect little savory bites!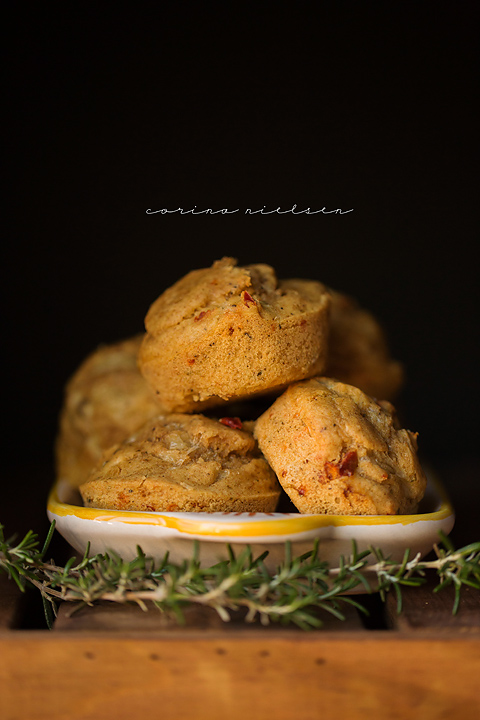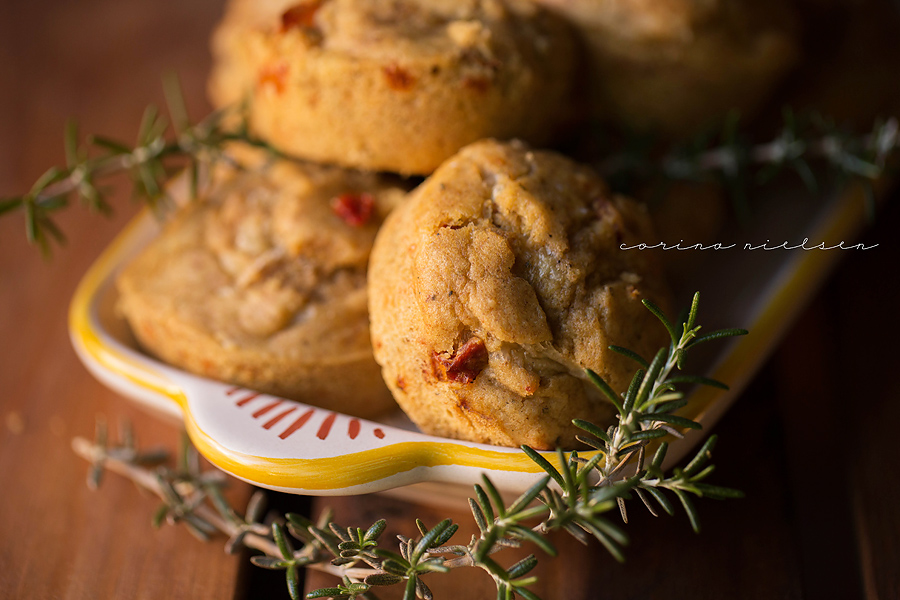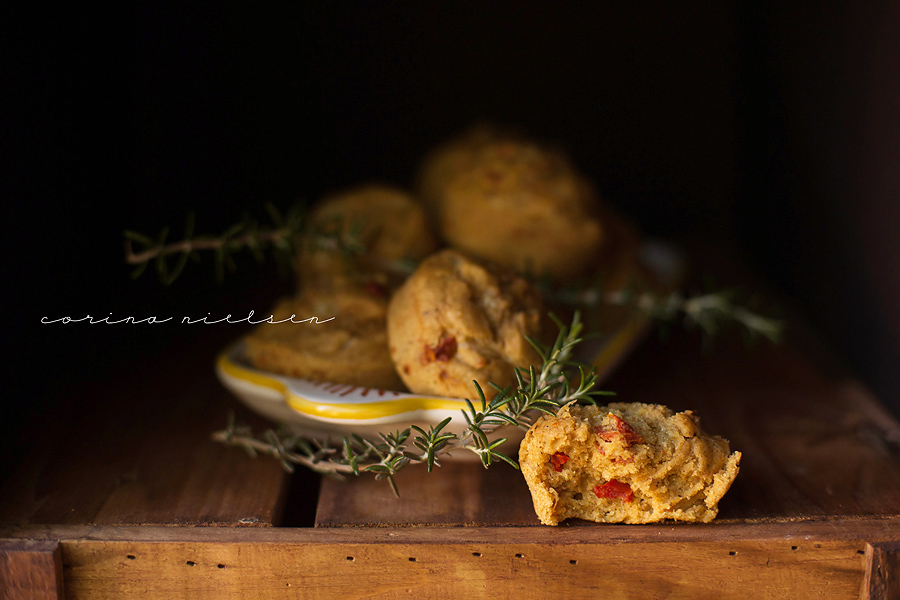 Note to self… as much as I love sun dried tomatoes and these muffins, I probably do NOT need a Costco sized bag.  A regular purchase t Trader Joe's or the regular grocery store will work just fine!  After all I have made, I STILL have over 1/2 of the bag left!  Definitely going to be making a few more batches of these though until I think of another recipe!
Herb & Sundried Tomato Muffins

Print recipe
| | |
| --- | --- |
| Serves | 12 |
| Prep time | 10 minutes |
| Cook time | 20 minutes |
| Total time | 30 minutes |
Ingredients
3/4 cups almond flour
1 cup whole wheat flour
1/4 cup nutritional yeast
1/4 cup chopped sundried tomatoes
3/4 teaspoons dried thyme
3/4 teaspoons dried oregano
1 teaspoon fresh rosemary
1/4 cup extra virgin olive oil
1 1/2 teaspoon baking powder
1/2 teaspoon salt
1/4 teaspoon pepper
1 Large egg
1 cup unsweetened almond milk
3 tablespoons honey
1 heaped tablespoon 0% Plain Greek Yogurt
1/2 cup shredded mozzarella or almond cheese
1/2 teaspoon garlic powder
Directions
Step 1
Preheat oven to 350º. Grease muffin tin with on stick spray or place liners down.
Step 2
Combine flours, spices, herbs, nutritional yeast, and baking powder in a small bowl.
Step 3
Combine all wet ingredients in a large bowl or bowl of a stand mixer (olive oil, egg, almond milk, free yogurt, and honey).
Step 4
Slowly add dry ingredients to wet ingredients and mix until well combined.
Step 5
Stir in chopped sundried tomatoes and shredded cheese.
Step 6
Fill each muffin with a 1/3 cup measure.
Step 7
Bake for 20-25 minutes until tops and edges are golden brown.
Note
NUTRITIONAL INFORMATION (per muffin):  calories- 150, protein- 5 grams, carbs- 9 grams, fat- 9