Regardless of who you talk to about nutrition, everyone stresses the importance of protein in your diet.  They are building blocks for our bones, muscle, cartilage, skin, and blood.  Protein is in each and every single cell in our bodies and also contains amino acids that help produce enzymes and hormones.  Our bodies use this macronutrient to help aid in recovery, curb hunger, and maintain a healthy weight.  So if protein is so vital to nutrition as adults, why wouldn't it be equally vital (if not more vital) for our kids to have an adequate amount in their daily diets as well?
Well, it IS important!
Most parents will often overlook the amount of protein in their kids diets entirely, but if you really think about it… kids probably need it even more than adults.  EVERY single inch of a child is growing so it stands to reason that protein is needed to support their rapid rate of growth.  The amount of recommended daily protein will vary depending on their age, but should range from anywhere between .85 grams per pound to 1.1 grams per pound.  I think 1 gram per pound of weight is pretty standard and easy enough to remember for all ages.
Luckily large amounts of protein can be found in a variety of foods such as eggs, milk, cheese, seafood, chicken, turkey, beef, and other meats.  It's also found in grains, nuts, vegetables, beans, and seeds.   However, even though there are vast amounts of protein sources available sometimes kids just don't enjoy eating those foods or they may not be able to properly chew the texture of most meats.  I never really had issues getting protein in my son (he is a huge carnivore), but my daughter has definitely proved more difficult when it comes to incorporating meat into her diet.  She eats it because we make her, but we usually have to sit through a range of faces before it's all gone.
For adults and children, it's important to have a nice steady stream of protein in your body throughout the day, starting with breakfast!  Not only will protein help fill you up quicker, it will also help keep you fuller longer!  My daughter almost always has some type of prepared eggs (hash, baked egg "muffins", scrambled, etc.) to eat alongside bread, pancakes, a waffle, or oatmeal.  When I was working on my weekly meal prep for her breakfasts a couple of weeks ago, I knew I wanted to give her a break from eggs but didn't know what I could do to substitute for protein.  I got to thinking about the baking I usually do for myself and how I usually add my PEScience protein to my baked goods.  Why wouldn't protein powder work for my daughter also?  Worth a shot!!!
We have been using KidzShake protein for our daughter's smoothies for over a year now and LOVE it.  It's all natural, no sugar added, non GMO, and doesn't have that same artificial taste that most adult protein powders are guilty of.  Our favorite KidzShake flavor is 'Chocolate Cream' (she's a HUGE chocoholic), but we like to use 'Vanilla Cream' a lot also because its so versatile and mild in flavor… pairs well with anything you add to it!  The 'Orange' and 'Strawberry' cream flavors are PERFECT for any and all kids smoothies where we use fruit!

I didn't know if KidzShake would work as beautifully as my beloved PEScience in baking, but figured I had to test it out when I got this wild idea for some kids protein pancakes!  I'm happy to report that KidzShake bakes up beautifully, adds extra flavor, and more importantly can provide a much more balanced nutritional profile to typical carb heavy baked goods.  I took healthy 'muffins' and made them even healthier!!!  It's nutrition for your kids you can be proud of!!!  I know I feel pretty proud giving my daughter this to eat!
Take a look at one of my daughters favorite breakfasts preps ever:
Instead of doing batches of pancakes in a pan or on a griddle, I decided to use the batter as mini "muffins" instead.  Easily portioned, mess free, and QUICK to whip up!  Batter takes less than 5 minutes to prepare (I used the blender)!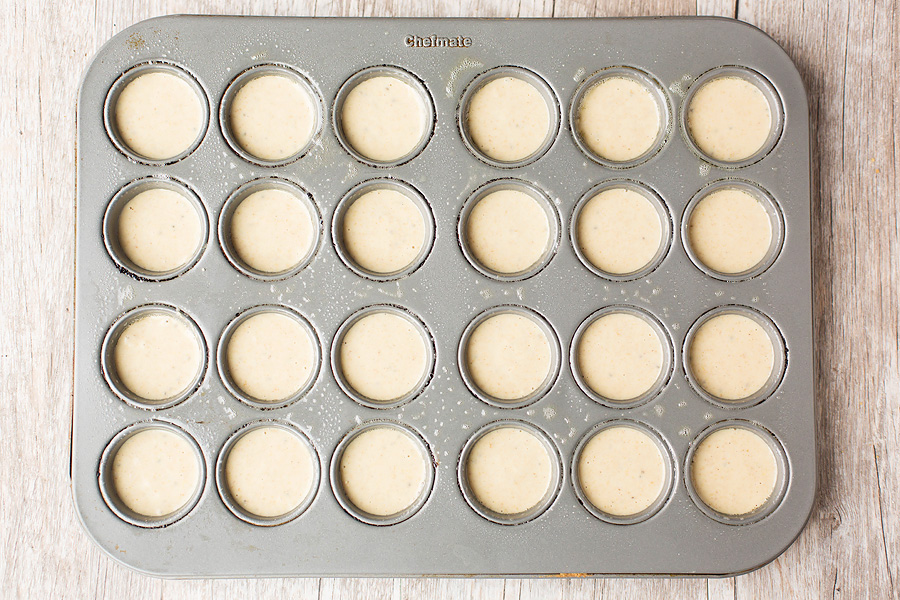 I love this method because I can easily flavor each "pancake" differently.  Since my daughter was going to be eating these for the entire week, I decided to give her a few different flavor options.  We went for dried blueberries, sprinkles, and healthy mini chocolate chips (gluten free, dairy free, soy free, nut free).  Other options would be to add nuts, fresh fruit, cinnamon/sugar, or even just different flavor extracts.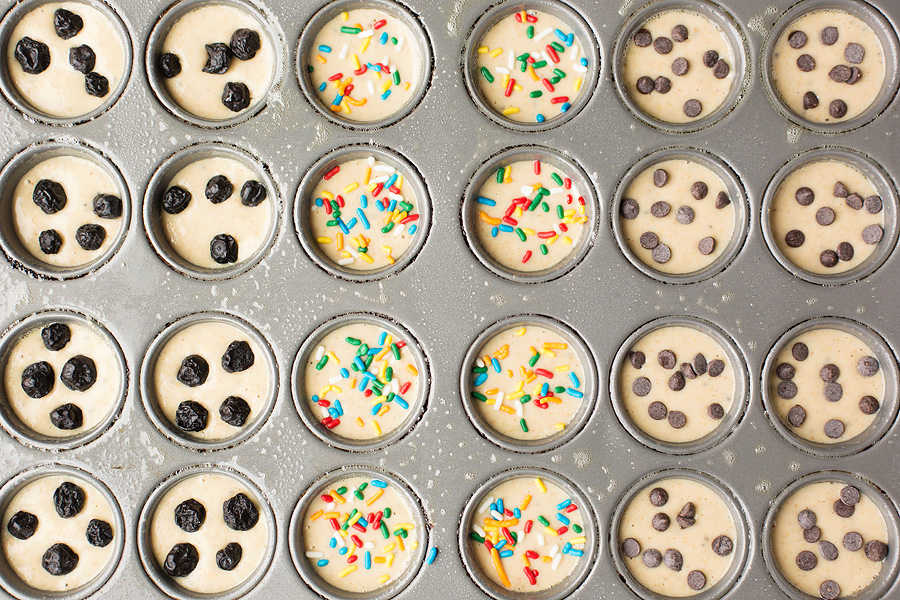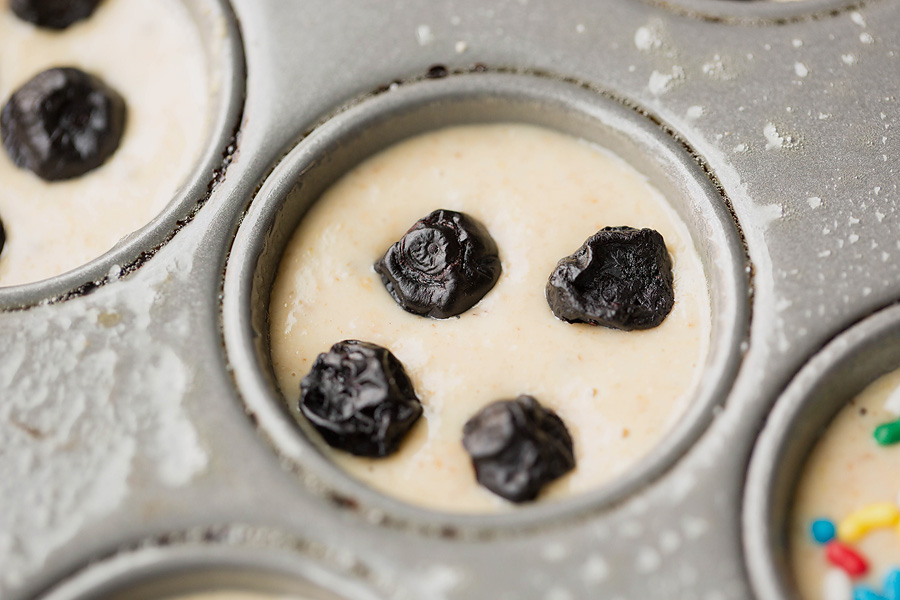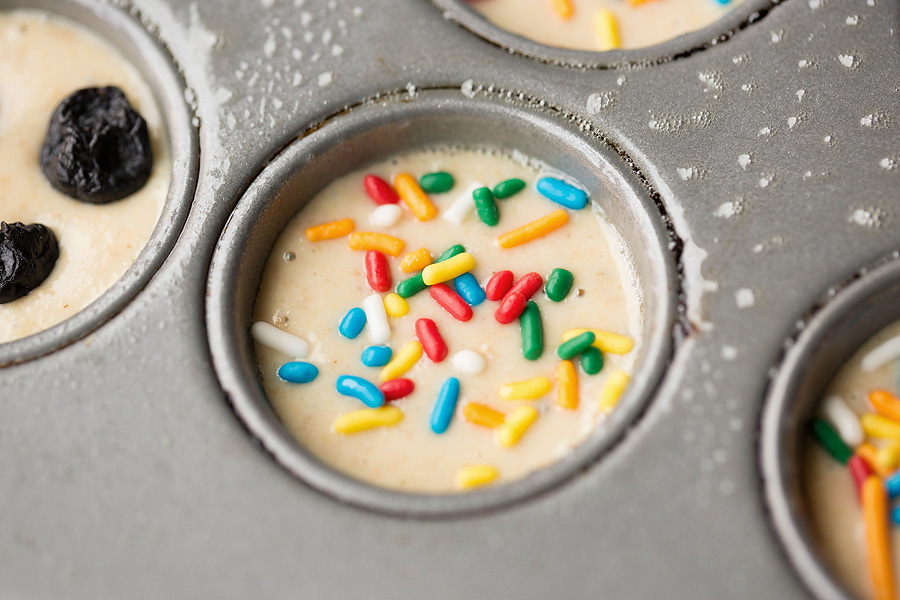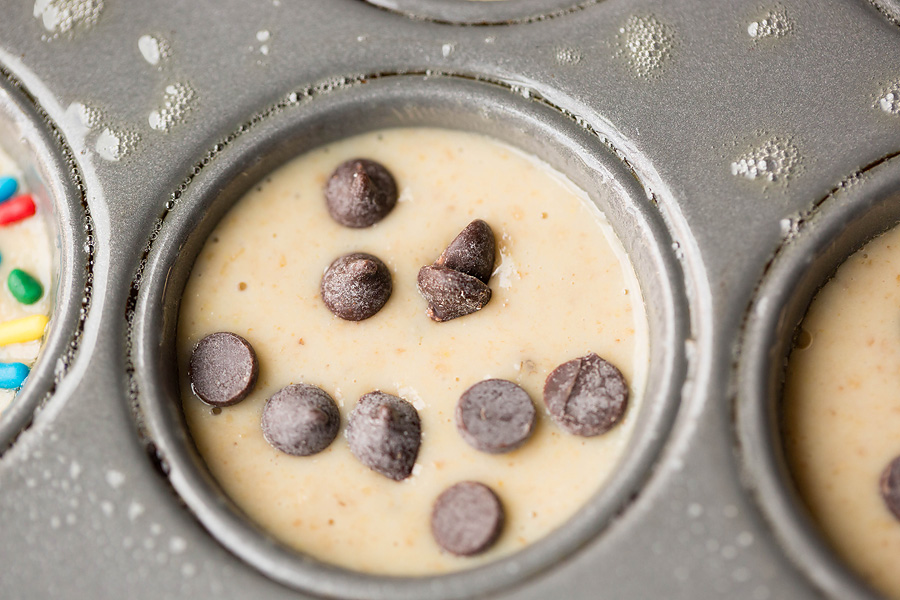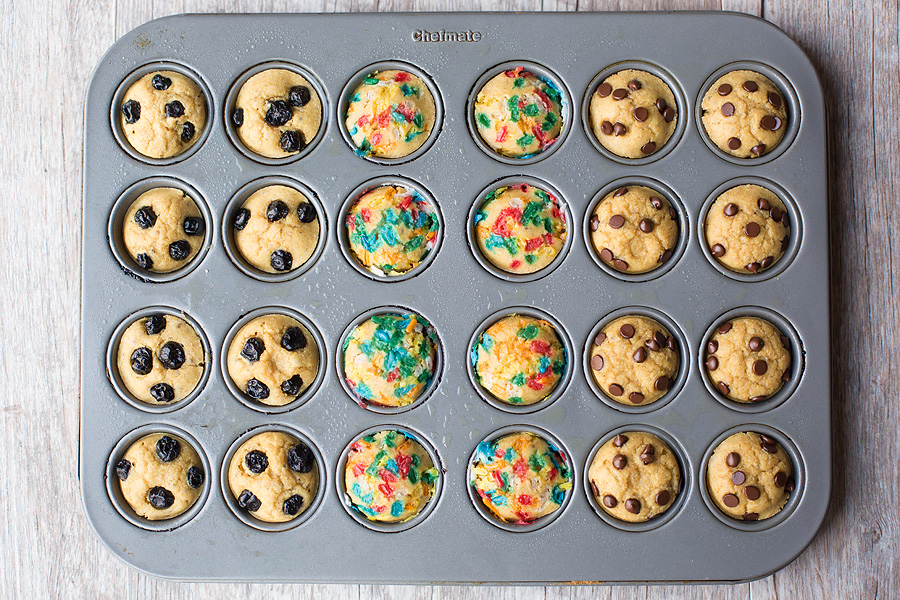 Aren't they adorable???  I didn't want to stop at just the pancake bites for her breakfast though… again, you want variety and well rounded nutrition for kids right?  I pulled my AWESOME meal prep containers out (seriously LOVE these so much) and took things to an higher level!   While the pancake bites were baking in the oven, I browned up some of her favorite turkey sausages and portioned out some of the freshly cut pineapple I had in the fridge.  This is what her final breakfast for the week looked like after less than 20 minutes of prep!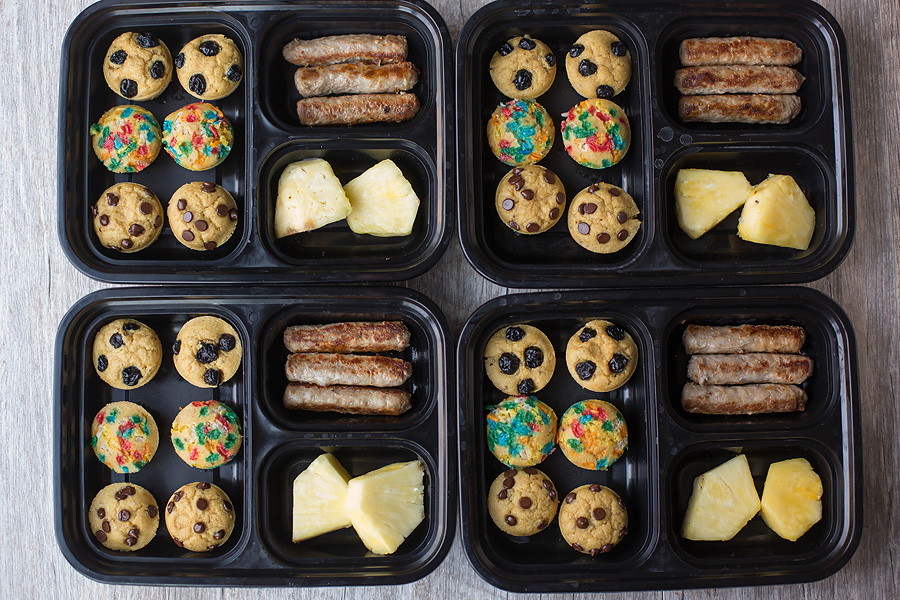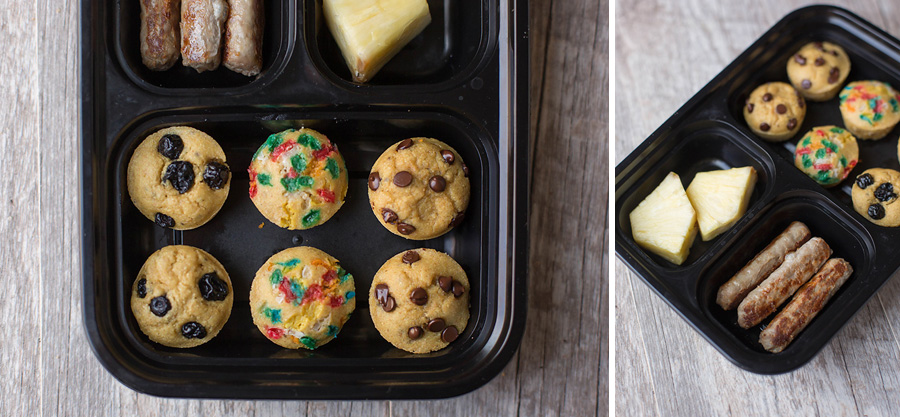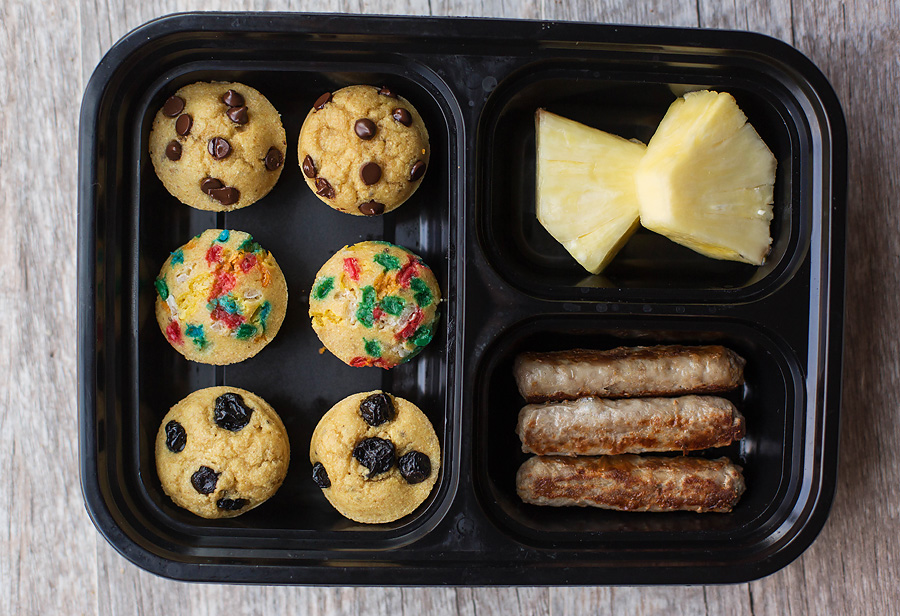 Like I said, breakfast for my daughter I can be proud of!!!  'Homemade' so I was able to control all of the ingredients used, easy, and a GREAT way for kids to start their long day at school!!!  I know I've said it many times before, but I cannot express how invaluable it is to take a little time on Sundays to prep food, especially kids breakfasts).  So much time, energy, and rushing saved EACH morning.  Once you try breakfast prep once, you will NOT do things any other way!!!  Promise 🙂
Mini Pancake Bites by Corina Nielsen

Print recipe
| | |
| --- | --- |
| Serves | 24 |
| Prep time | 5 minutes |
| Cook time | 15 minutes |
| Total time | 20 minutes |
| Meal type | Breakfast, Dessert |
Ingredients
1 1/2 cup Kodiak Super Food Mix
2 tablespoons coconut flour
3/4 teaspoons baking powder
4 scoops 'Vanilla' KidzShake protein powder
1/4 cup stevia
1 Large whole egg
3 tablespoons Cake Batter MuscleEgg egg whites (or plain egg whites)
1 teaspoon vanilla extract
1 3/4 cup milk of choice
Optional
2 tablespoons sprinkles
1/4 cup dried blueberries
1/4 cup mini chocolate chips
Directions
Step 1
Preheat oven to 375 degress and coat a mini muffin pan with non stick spray.
Step 2
Combine all ingredients (except sprinkles) in a large bowl or blender. Mix until smooth. Pour into prepared pan and add toppings if desired. Bake for 12-15 minutes.
Note
NUTRITIONAL INFORMATION (makes 24 mini muffins): calories- 37, fat- 1 gram, carbs- 5 grams, protein- 2 grams PER MUFFIN
Looking for MORE quick & easy & healthy ideas for breakfast???  How about a FULL SCHOOL YEAR'S worth right at your finger tips???
Find me on Facebook:

And find me on Instagram for daily food inspiration, ideas, and tips: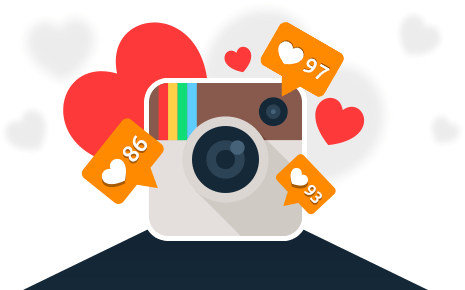 MY FAVORITE FOOD & MEAL PREP SUPPLIES