This dish easily makes my top 5 dinner (or lunches) of all time.  It was a staple of mine during my diet/cut and served as a nice change from regular zucchini "noddles".  It's light yet completely satisfying and extremely flavorful.  I certainly never miss the real lasagna pasta sheets you would find in the traditional dish.  And now that Summer is in full swing here, I can already foresee this being made at least once a week!  It's a great dish to prep at the beginning of the week to have for lunch or a quick, easy dinner to have any night of the week!  The whole family adores this one… although they really adore anything combined with my marinara sauce 🙂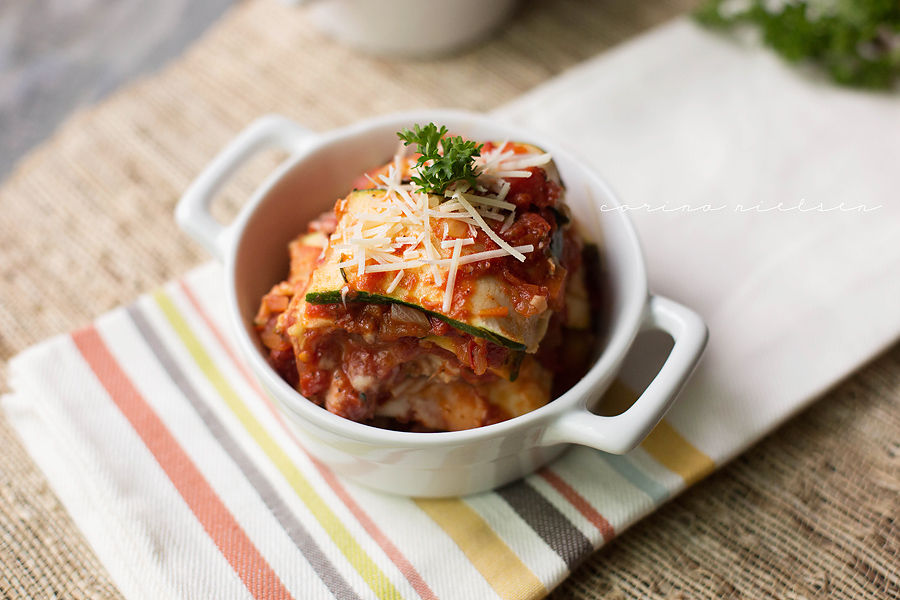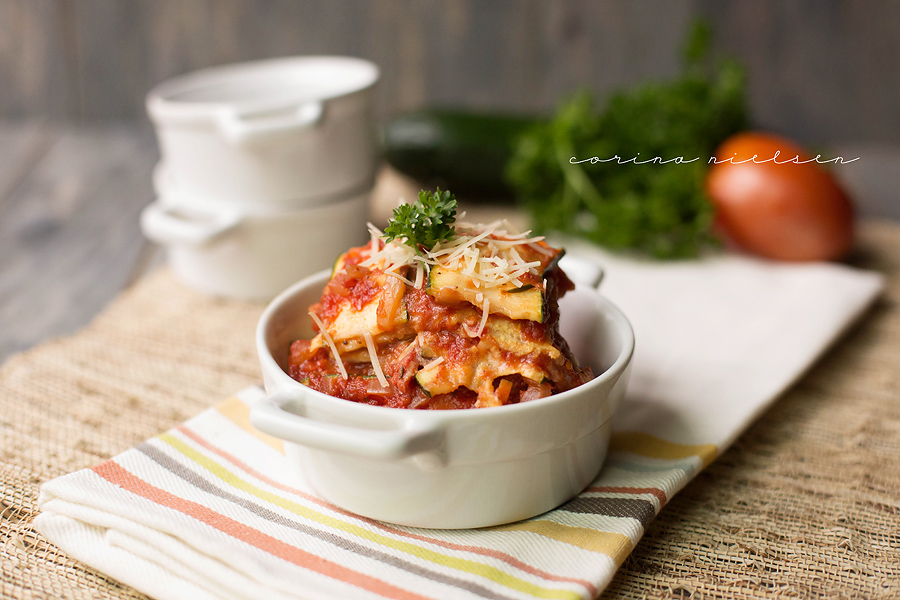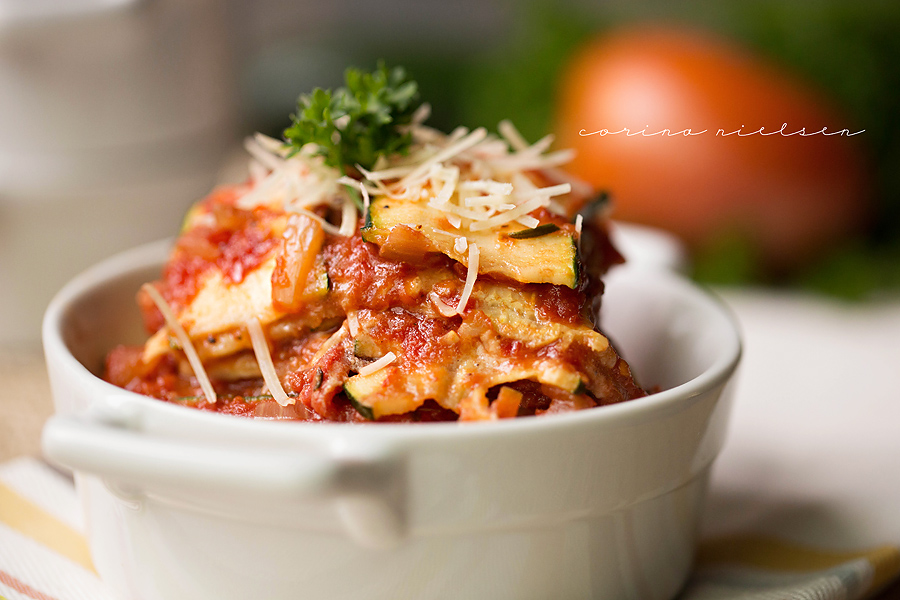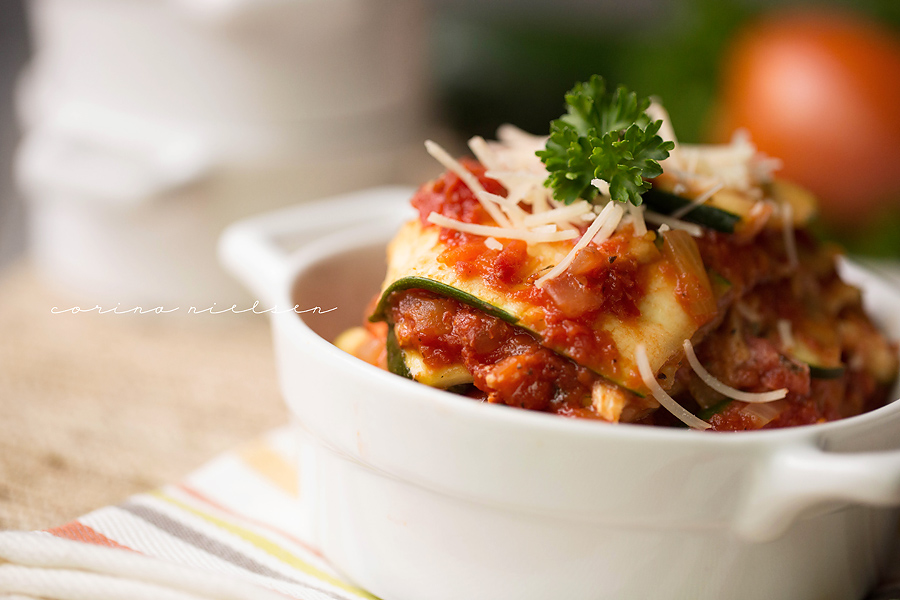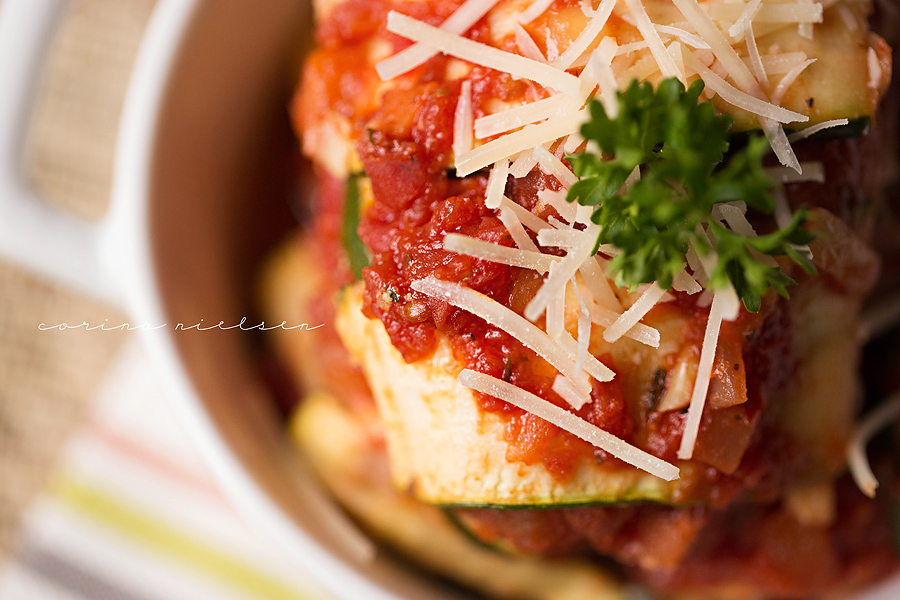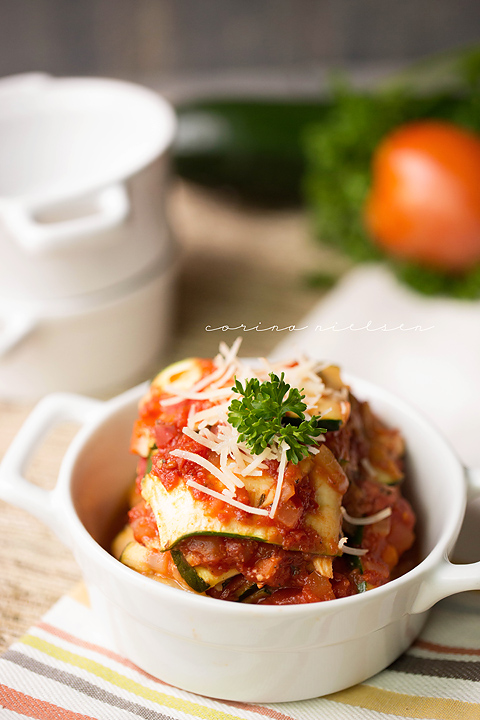 Let me walk you through these easy steps to make it!
All you will need is:
your favorite marinara (my recipe is posted below if you want to try an easy one from scratch)
4-6 large zucchini's sliced with a mandolin or vegetable peeler
1/2 cup low/no fat ricotta cheese
1 whole egg
1 tsp coconut flour
2 cloves chopped garlic
1/2 tsp fresh rosemary
1/2 tsp garlic powder
1/4 tsp salt (to taste)
1/8 tsp pepper (to taste)
3/4 cup shredded mozzarella cheese
1/4 cup shredded parmesan cheese
STEP 1: Preheat oven to 375° then combine filling in a small bowl (egg, ricotta, coconut flour, mozzarella cheese, salt, pepper, garlic powder, garlic, rosemary).  Mix until smooth.
STEP 2: place 1/4 cup sauce in the bottom of your dish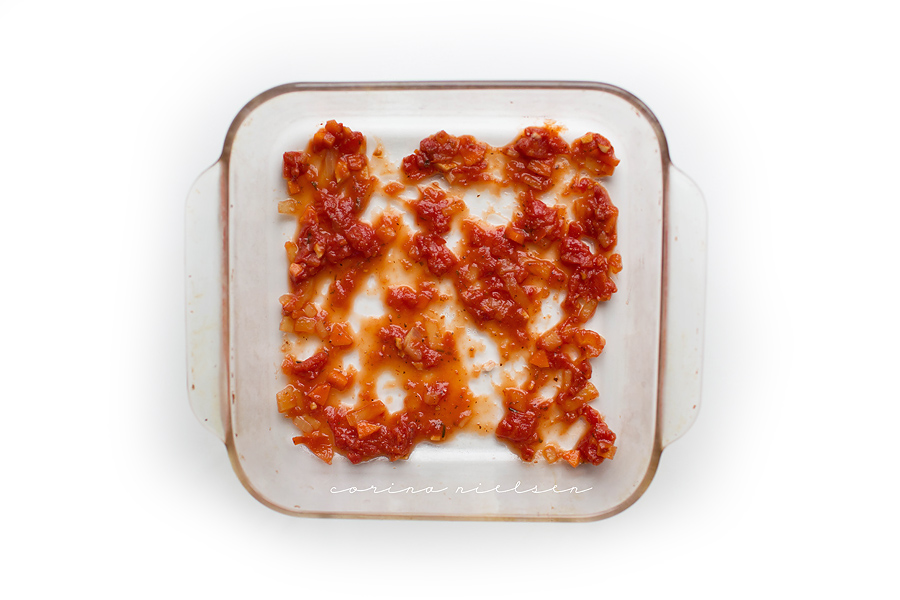 STEP 3: Layer sliced zucchini slices on top of sauce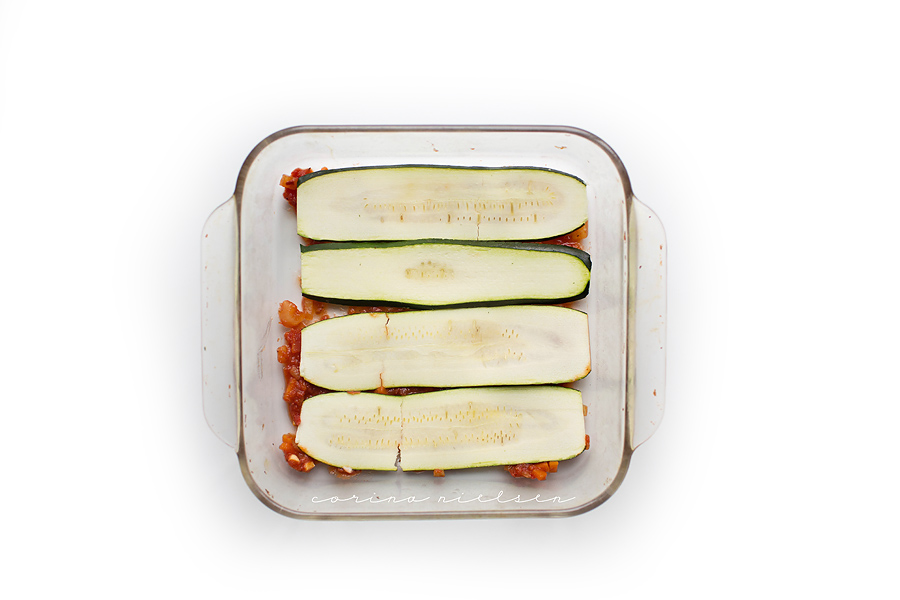 STEP 4: Spread a thin layer of filling on top of zucchini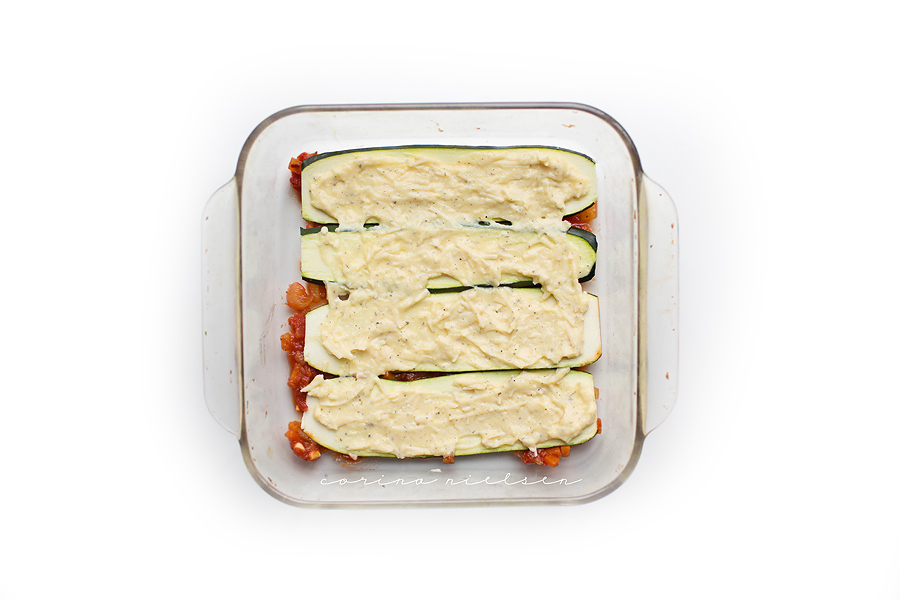 STEP 5: Repeat steps 2-4 until you reach top of baking dish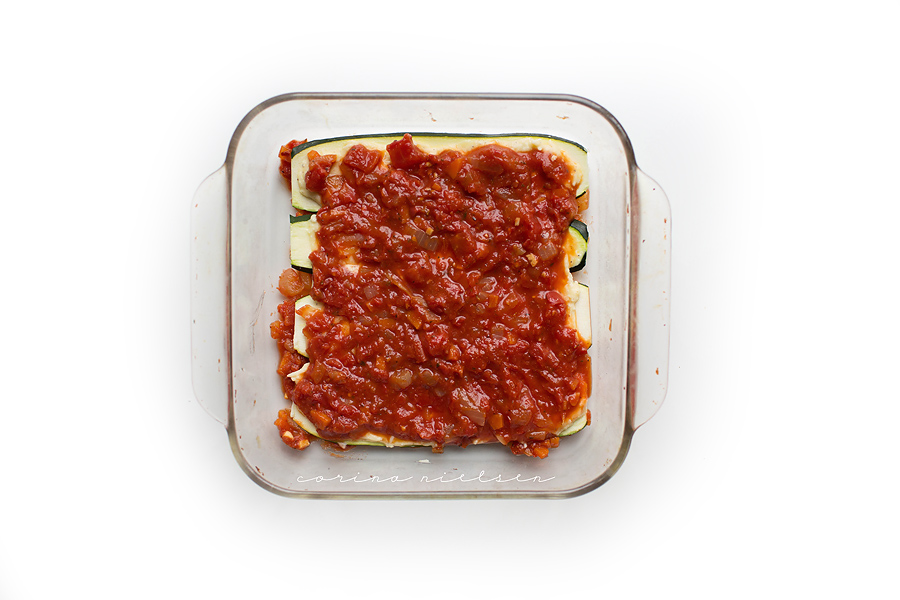 STEP 6: Repeat steps 2-4 until you reach top of baking dish.  Top with extra mozzarella & the shredded parmesan cheese, cover with foil, and bake for 25 minutes. Remove foil and bake an additional 10 minutes.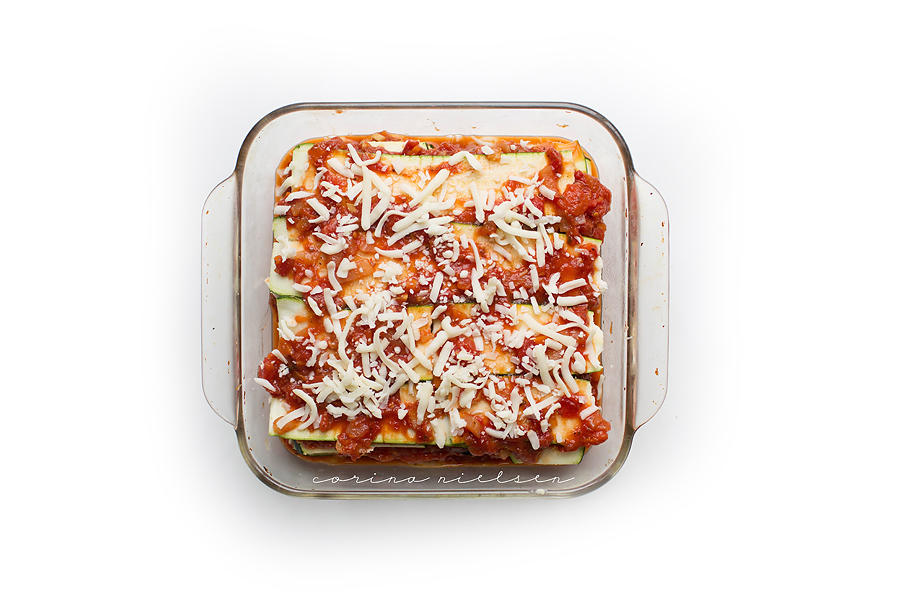 OPTIONAL: brown up some ground turkey or beef and layer that in as well OR add it to the marinara sauce for some protein!
NUTRITIONAL INFORMATION (makes 6 small ) servings: calories- 98, fat- 3 grams, carbs- 8 grams, protein- 10 grams PER SERVING
Basic Marinara

Print recipe
Ingredients
1 medium slice carrot
1 Small onion
1 Large clove garlic
1/4 cup white or red wine
2 tablespoons tomato paste
1 teaspoon garlic powder
1 teaspoon oregano
1/2 teaspoon rosemary
1/2 teaspoon thyme
1/4 teaspoon salt
1/8 teaspoon pepper
14 1/2oz can diced tomatoes
28oz can crushed tomatoes
Directions
Step 1
Heat a large sauce pan under medium heat and spray with non stick spray.
Step 2
Roughly chop carrot, onion, and garlic.
Step 3
Saute carrot and onion in pan for 3-5 minutes until slightly softened. Add garlic and stir for another 1-2 minutes.
Step 4
Stir in tomato paste to coat the carrot, onion, and garlic. Add all of the spices.
Step 5
Add the wine and cook for 1-2 minutes until liquid is dissolved.
Step 6
Add in diced and crushed tomatoes. Stir until combined, cover, and let simmer under low heat for 15-20 minutes.
Step 7
Adjust seasonings to taste.