This unique spaghetti squash bowl is full of fun Mediterranean flavors and uses a variety of pantry ingredients making it a wonderful quick meal option for leftovers.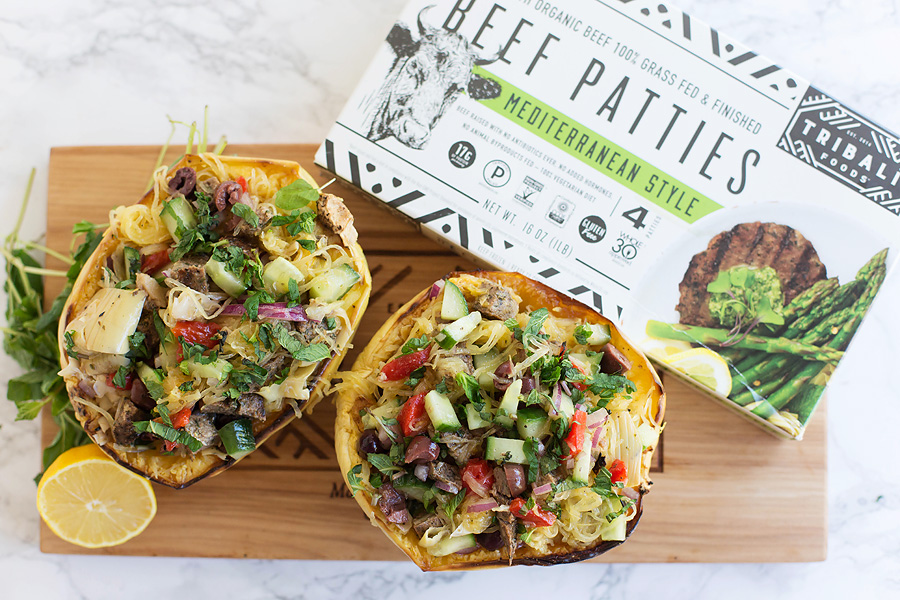 When the Tribali Foods company hired me to do a recipe video for them this month, I already knew which product I was going to use.  Their Mediterranean Style patties are easily my favorite variety they offer.  No question at all.  These organic grass fed AND finished beef patties come raw, frozen, certified paleo, Whole 30, non GMO, gluten free, and have such an amazing blend of ingredients.  I love that I can grab one of these from the freezer, let it thaw out a bit, and then grill it up in about 5 minutes.

Of course turning this into a sunless type burger would have been a bit easier, but definitely not exciting enough for me.  I wanted even more flavor, more texture, and more fun of course.  Fortunately I was able to come up with a dish that was almost just as quick and easy to make as a burger, BUT jam packed with some many more flavor and texture parties.  This spaghetti squash bowl is a great option to utilize a bunch of ingredients you probably already have in your fridge or pantry:
roasted red peppers
olives
aritchokes
red onion
lemon
cucumber
The most difficult part of making this dish is having to roast a spaghetti squash, but even that took me about 2 minutes of prep.  When I grabbed the patties from the freezer the night before I just went ahead preheated my oven, cut the squash in half, added a drizzle of olive oil, a few dashes of salt/pepper, and roasted them for about 25 minutes at 400 degrees.  They were pulled out of the oven, cooled, and then put them in the fridge overnight.  Because I had every intention of this being a "cold" dish, roasting and prepping the night before worked out perfect anyways.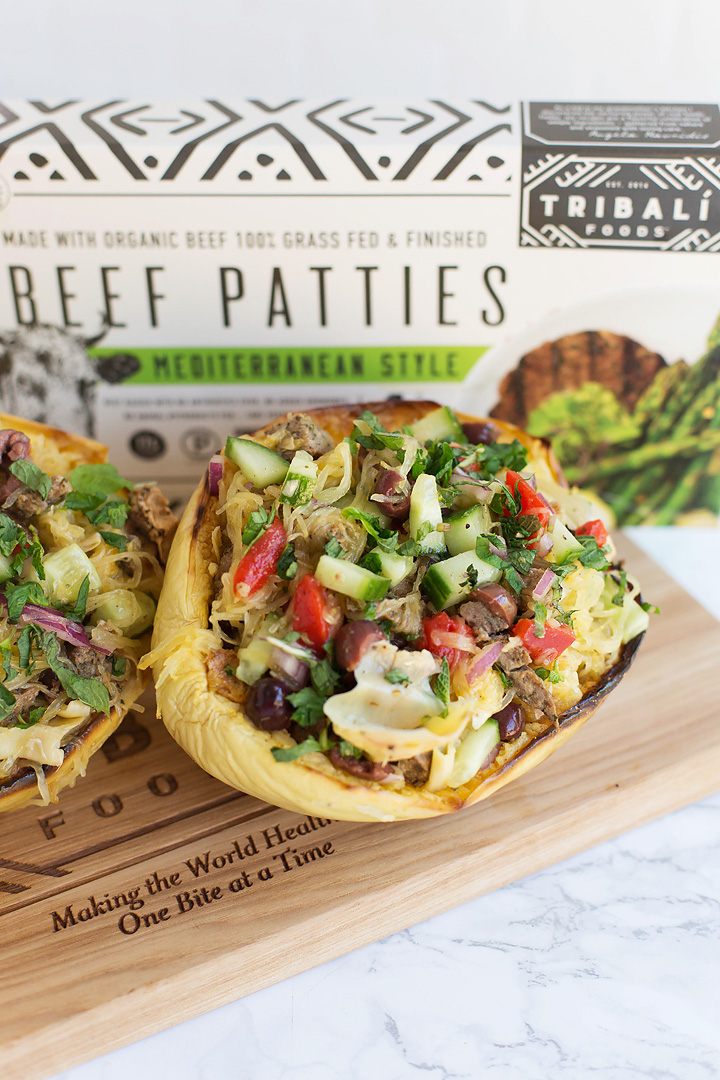 The following day, all I had to do was grill up my thawed patty, cut the veggies and canned/jarred items up, make a quick vinaigrette, and then put the dish together.  This would actually be a wonderful option for meal & food prep at the beginning of the week… I certainly would not mind having this a few days in a row (or more).  The time it takes to make one is just about the same to make five.
What I love most about this spaghetti squash dish is that although it has very rich flavors, its extremely light.  The lemon vinaigrette and burst of cool cucumbers really makes this extremely refreshing, perfect for any warm Spring or Summer day.  I'm not sure I will ever look at spaghetti squash quite the same… this is easily the BEST cold "noodle" dish I've made to date!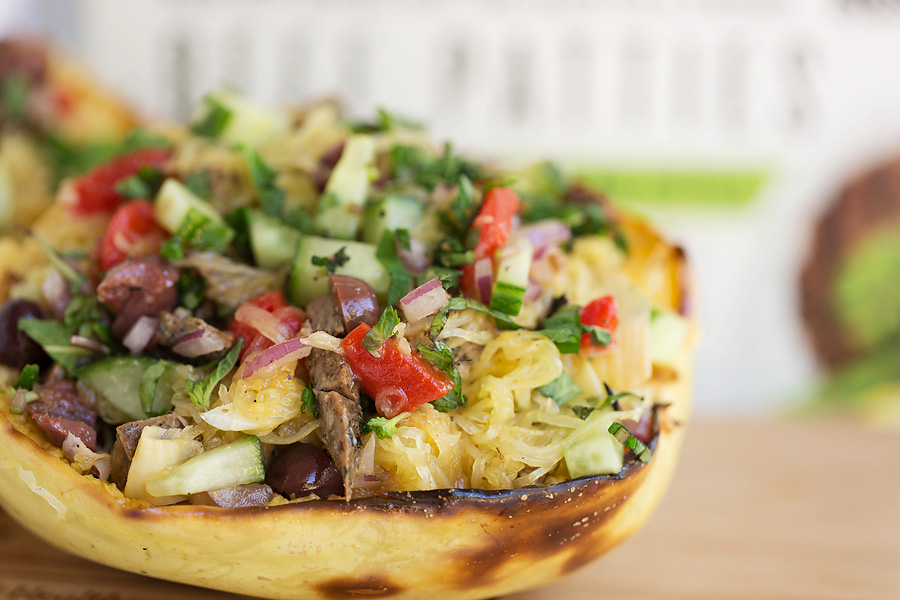 Mediterranean Spaghetti Squash Bowl

Print recipe
Ingredients
1 Medium spaghetti squash (roasted at 400 degrees for 25 minutes, then cooled)
2 Tribali "mediterranean" beef patties (grilled, then cooled)
2 heaped tablespoons chopped red onion
1/2 cup chopped cucumber
1/4 cup chopped roasted red peppers
1/2 cup marinated artichokes
1/4 cup sliced olives
2 tablespoons olive oil
1/4 cup lemon juice
1/2 teaspoon salt
1/4 teaspoon pepper
1 teaspoon oregano
10 drops stevia or sweetener to taste
3 tablespoons freshly chopped mint
Directions
Step 1
Cut spaghetti squash in half 9longways). Lightly sprinkle with salt and pepper. Roast squash in a preheated 400 degree oven for 25 to 30 minutes until the edges are golden brown. Let cool completely.
Step 2
Grill thawed Tribali "mediterranean style" beef patties for 3-4 minutes per side. Remove from heat and let cool.
Step 3
In a small mason jar, add lemon juice, olive oil, salt, pepper, oregano, and stevia/sweetener. Shake well until combined.
Step 4
Assemble bowls by adding cooled spaghetti squash and all ingredients to a large bowl. Refill spaghetti squash skins and serve. Sprinkle with freshly chopped mint.