Tis the season for all things "holiday" flavored!!!
Truth be told, I'm actually not a huge fan of gingerbread per se.  On Christmas Eve, the family ALWAYS makes, bakes, and decorates gingerbread cookies for Santa but aside from that one batch of goodies each year, I never really have or use "gingerbread" flavor much around here.  It's one of those things that I guess I like, but I'm also fine not having it.  Gingerbread has an interesting flavor profile though so I do enjoy it when I have it, just never have it too often if that makes any sense.  However, a few weeks ago when I was coming up with my December recipes for MuscleEgg, I knew I wanted to use the rest of my Pumpkin Spice gallon but didn't necessarily want to make something solely "pumpkin" or "Fall" flavored.  I figured I would go ahead and think of some other holiday flavors that would pair well with the pumpkin flavor… obviously gingerbread was one of the first things that came to mind since it's also has that warm and spicy thing going on.  It had also been awhile since I used my handy dandy donut pan, so that's the gingerbread goodie I decided to go with!  I mean really, how can anyone resist a donut?  And instead of only eating one regular fried donut from the store, I knew I would be able to enjoy any entire batch of these.  Seemed like a win-win situation for this girl.
After whipping these up, I think I'm officially addicted to all things gingerbread… honestly, I feel like I have been missing out all these years now.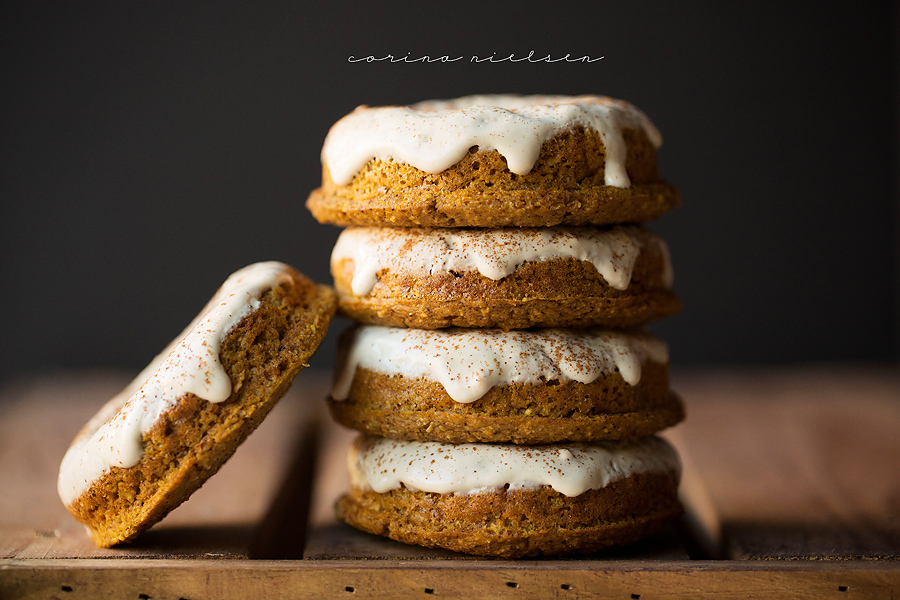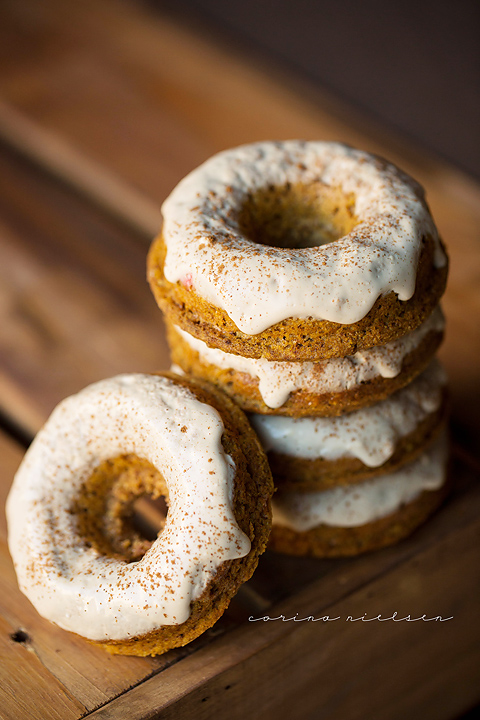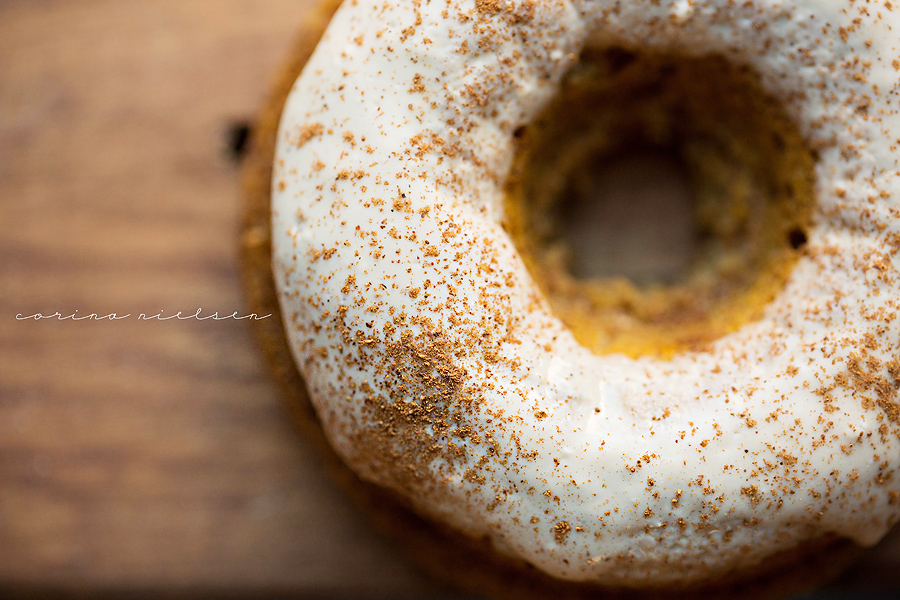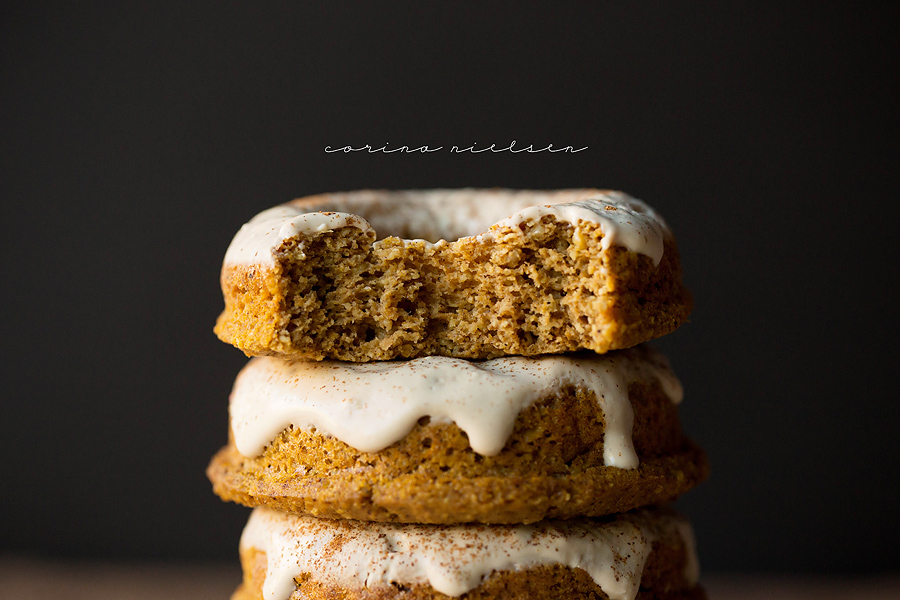 Tell me these don't look absolutely perfect for the holidays?
Gingerbread Maple Glazed Protein Donuts

Print recipe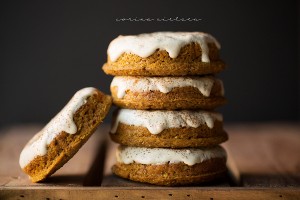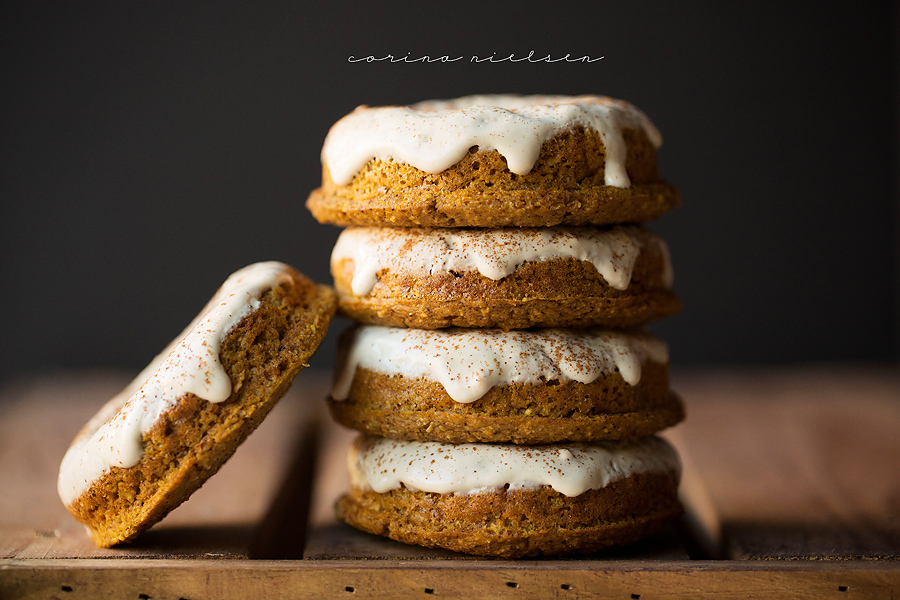 | | |
| --- | --- |
| Serves | 6 |
| Prep time | 5 minutes |
| Cook time | 20 minutes |
| Total time | 25 minutes |
| Meal type | Breakfast, Dessert |
Ingredients
1/2 cup oat flour
2 tablespoons coconut flour
1 scoop PEScience Snickerdoodle Protein (** 50% off at www.pescience.com using code CORINA50 **)
1 teaspoon baking powder
1/2 teaspoon baking soda
1 teaspoon cinnamon
1 pinch salt
1 tablespoon black strap molasses
1/4 teaspoon ground ginger
1/4 teaspoon cloves
1/4 cup Pumpkin MuscleEgg egg whites
3/4 cups almond milk
50 drops English Toffee Sweet Leaf Stevia
2 tablespoons softened Fat Free cream cheese (** topping **)
1/8 teaspoon maple extract (** topping **)
1 tablespoon maple syrup (** topping **)
1 tablespoon almond milk (** topping **)
Directions
Step 1
Preheat oven to 350 degrees and coat a donut pan with non stick spray. (You could turn this recipe into muffins as well if you don't have a donut pan.)
Step 2
Combine donut ingredients (first 13 listed) in a bowl and mix until smooth. Let sit for 2-3 minutes.
Step 3
Carefully divide batter and pour into prepared donut pan.
Step 4
Bake donuts for 18-22 minutes.
Step 5
While donuts are cooling, prepare topping by mixing cream cheese, maple extract, syrup, and almond milk in a small bowl.
Step 6
Dip tops of donuts into cream cheese topping and sprinkle with cinnamon if desired.
Note
NUTRITIONAL INFORMATION (makes 6 donuts): calories- 74, protein- 7 g, carbs- 9 g, fat- 2 g