First off, I think "strawberry "might just be my current favorite MuscleEgg flavor.  If you have ever had Fruity Pebbles, you already know what the leftover milk tastes like (um, delicious) and I swear the Strawberry MuscleEgg tastes JUST like that BUT without the cereal.  It's perfectly sweet and honestly reminds me of a strawberry milkshake.  Gah, it's so good.  Considered trying flavored egg whites to spruce up your baking, smoothies, sweet eggs, French Toast, pancakes, or even just to help get your protein in each day?  I highly recommend the strawberry… their chocolate flavor comes in a very close second though (tastes just like chocolate milk)!  I NEVER ever use plain egg whites in ANY of my baking anymore now thanks to MuscleEgg.  Having that extra bit of flavor and sweetness in the whites makes a BIG difference to whatever you are making!  They are brilliant.
Second, I'm almost positive that Kodiak Cake pancake/waffle mixes might just be replacing my regular go to baking & cooking flours (oat, brown rice, white, wheat, etc.).  Initially I was only using my Kodiak mix in pancakes and waffles (obviously), but then figured I would go ahead and try it in other baked goods.  I had absolutely no issues with the exchange (1 cup flour=1 cup Kodiak) on anything I have attempted and the taste/texture come out perfect (maybe even better because the mixes are so fine in texture)!  I have tried using each of the pancake/waffle mix in cookies, cupcakes, and a cake without a single hitch, so I decided to branch out a bit more and try something a bit more unique… SCONES!!!!
They were ten times better than I could have ever imagined!  Here they are fresh out of the oven, in all of their glory!  I didn't even put the "glaze" on at first because it was just too beautiful and perfect on their own.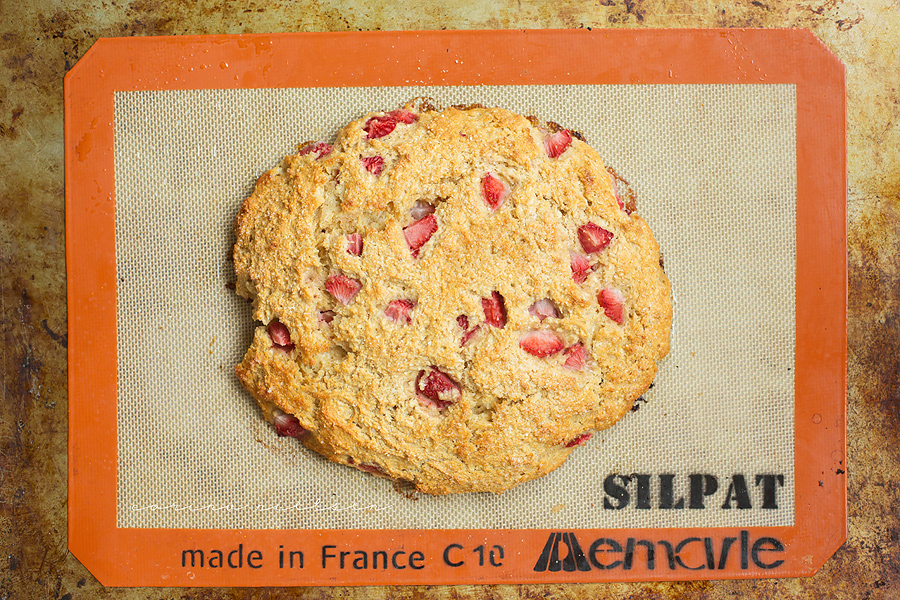 Can we take a moment to just notice the sweet, golden brown, crispy edges?
OK, time for that glazed drizzle…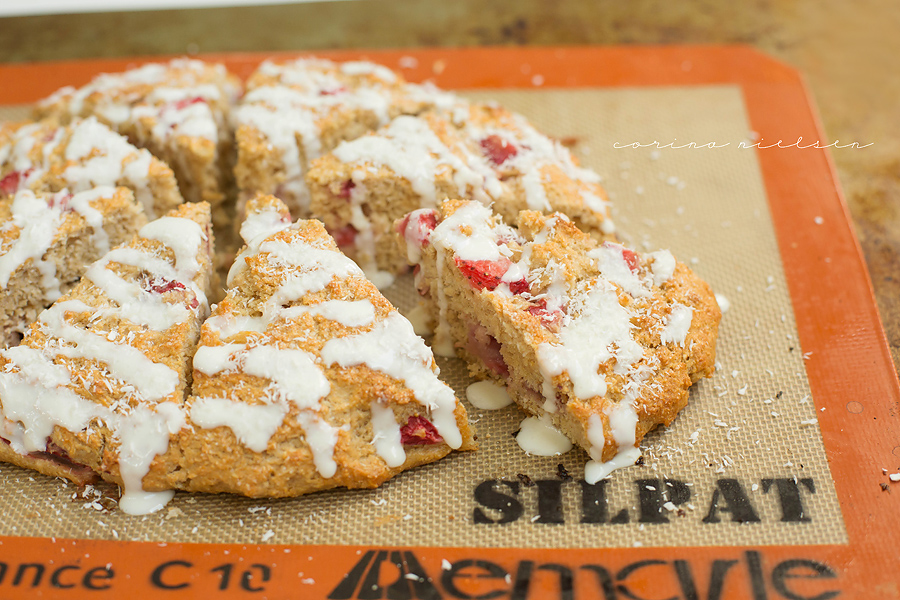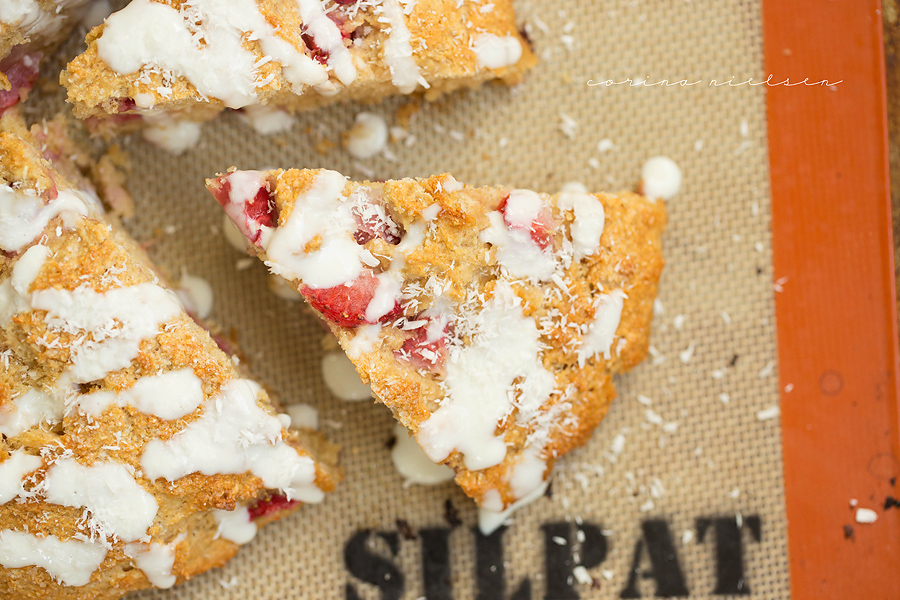 And I told you… the texture is sheer perfection.  It's so cakey on the inside!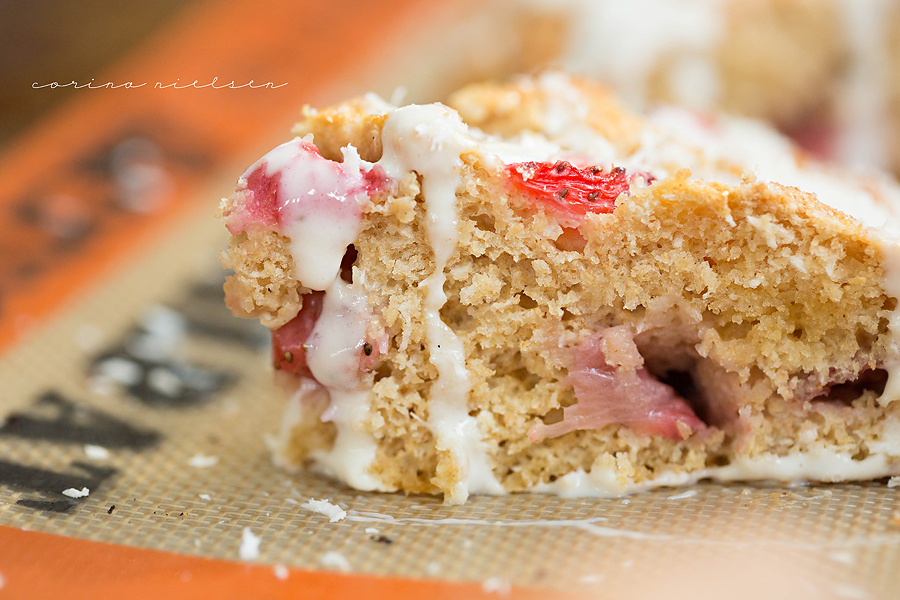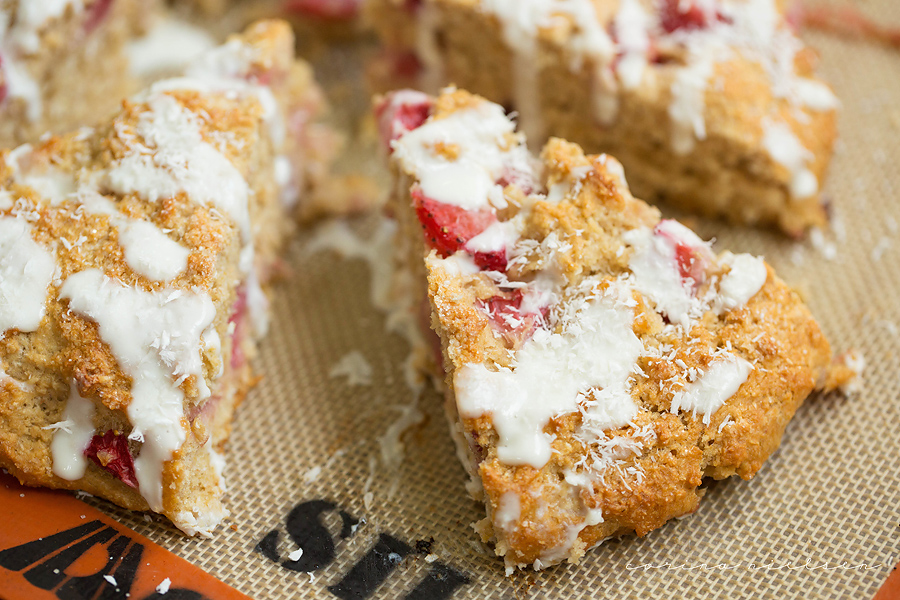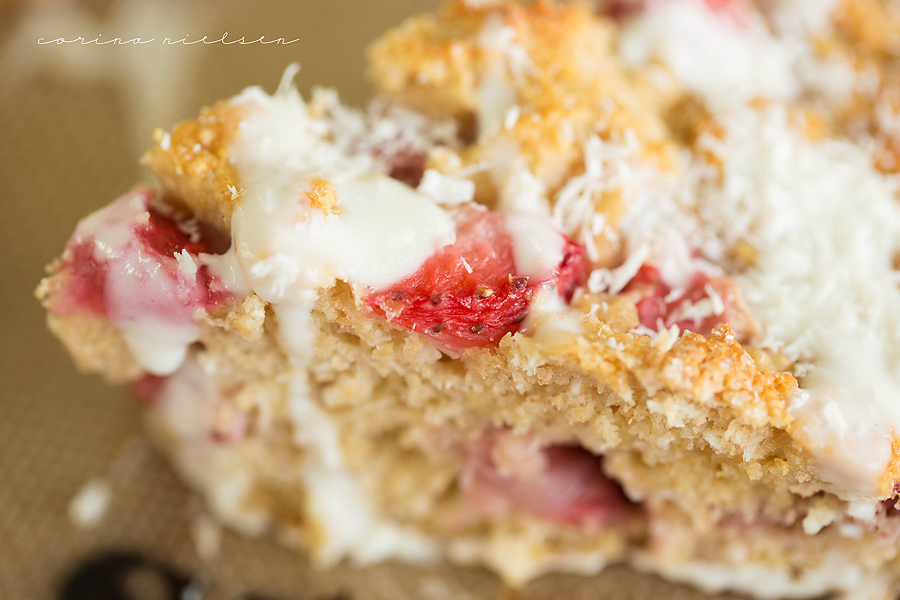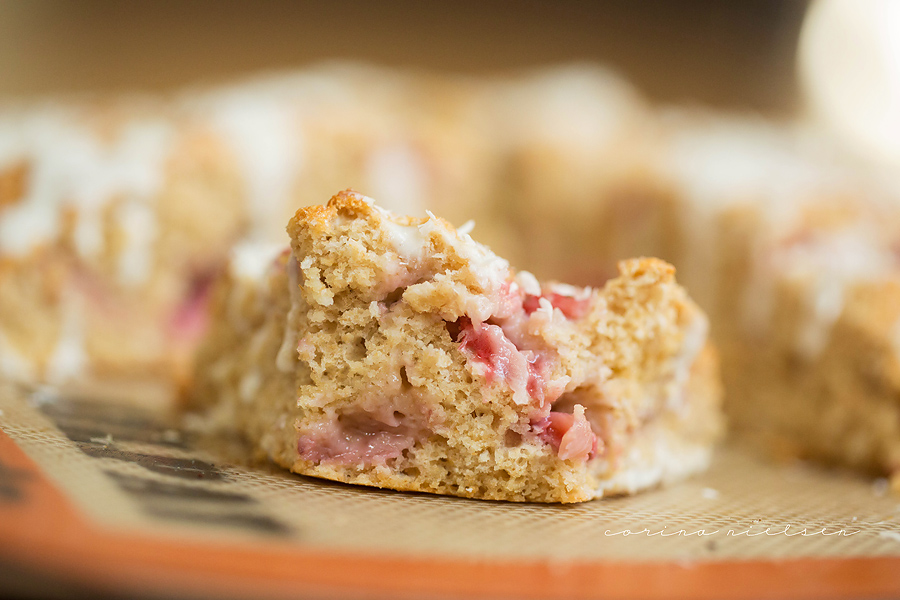 These certainly speak for themselves.  They taste JUST as good as they look!  Nice strawberry flavor thanks to the my MuscleEgg and fresh strawberries, perfectly tender and moist on the insides thanks to Kodiak.
It's a match made in heaven… and SO easy to make!
Strawberry Coconut Scones

Print recipe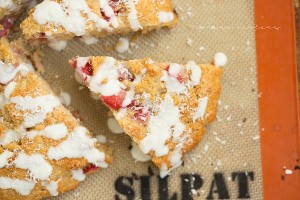 | | |
| --- | --- |
| Serves | 8 |
| Prep time | 10 minutes |
| Cook time | 15 minutes |
| Total time | 25 minutes |
| Meal type | Bread, Breakfast, Dessert |
Ingredients
2 cups Kodiak Cakes- Power Cakes Mix
1 teaspoon baking powder
1/4 teaspoon salt
1/4 cup unsweetened coconut
4 tablespoons cold butter (cubed into small pieces) (can substitute w/ coconut oil)
3/4 cups Sugar Leaf Stevia
1/4 cup Strawberry MuscleEgg egg whites
1 teaspoon coconut extract
1/4 cup 0% Plain Greek yogurt
1/3 cup unsweetened coconut milk
1 cup strawberries (quartered)
1/2 tablespoon Sugar Leaf Stevia or coconut sugar (** OPTIONAL TOPPING **)
1/4 cup 0% Plain Greek yogurt (** OPTIONAL TOPPING **)
1/2 scoop Vanilla protein powder (** OPTIONAL TOPPING **)
1/3 cup unsweetened coconut milk (** OPTIONAL TOPPING **)
1/2 teaspoon coconut extract (** OPTIONAL TOPPING **)
2 tablespoons unsweetened coconut (** OPTIONAL TOPPING **)
Directions
Step 1
Preheat oven to 400 degrees and line a sheet pan with parchment paper or Silpat
Step 2
In a small bowl, combine egg whites, extract, greek yogurt, and milk. Mix well and set aside.
Step 3
In a large bowl, combine Kodiak mix, baking powder, salt, coconut, and stevia. Using your hands, add COLD butter and work into dry mixture until it resembles a course meal. Stir in cut strawberries.
Step 4
Slowly add wet mixture and stir until dough forms (it will be sticky). Form individual scones or one large circle (roughly 7-8 inches in diameter and about an inch thick). Sprinkle top with 1/2 tablespoon of coconut sugar or stevia crystals.
Step 5
Bake for 16-18 minutes until edges are golden brown and a toothpick comes out clean. Remove from oven and let cool slightly.
Step 6
Prepare topping/glaze by combining Greek yogurt, protein, coconut extract in a small bowl. Add milk until desired consistency is achieved.
Step 7
Divide scones and drizzle glaze over the tops.
Note
NUTRITIONAL INFORMATION (makes 8 scones): calories- 199, fat- 9 grams, carbs- 22 grams, protein- 12 grams (per scone)