I swear every single time I post a recipe here on my blog, I feel a little pang of sadness.  Why?  Because I am forced to see these treats, meals, and dishes all over again EXCEPT they are long gone and eaten.  Thanks to having a business and household to run, most of the recipes & pictures I'm posting are at least 30 days old.  Sigh.  All I want to do is remake whatever I am posting that day when I actually set aside some time to actually blog!
Had those feels just now uploading these "Chicken Pot Pie Casserole" pictures… mouth is watering.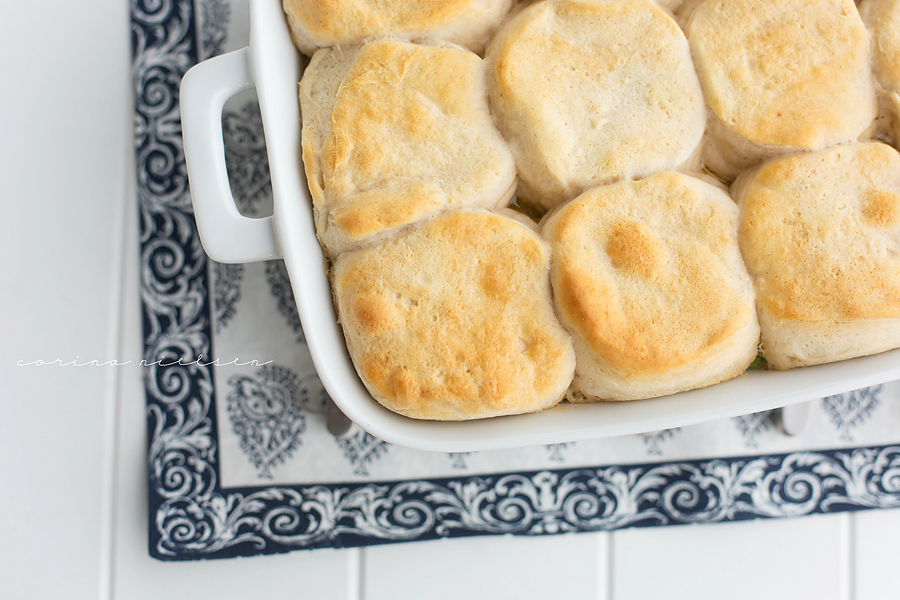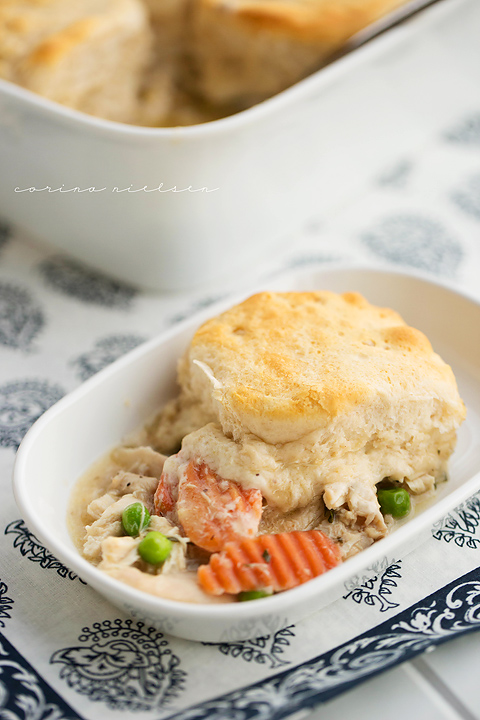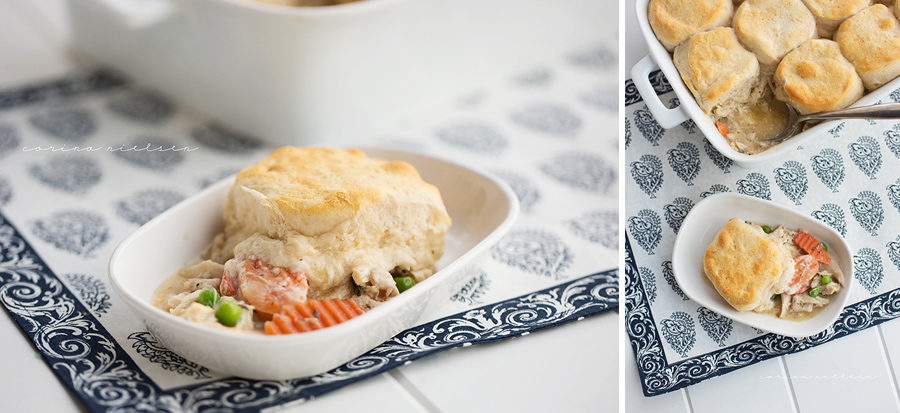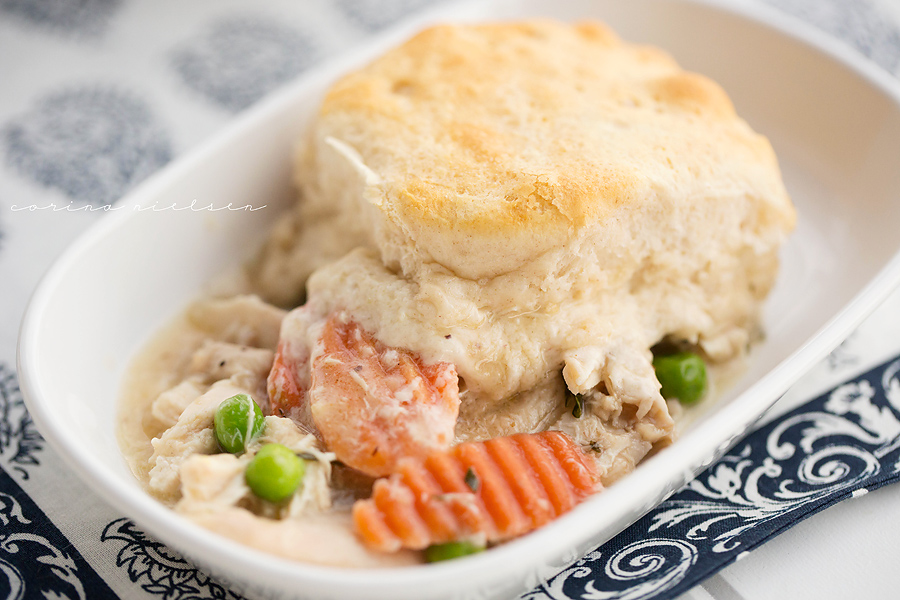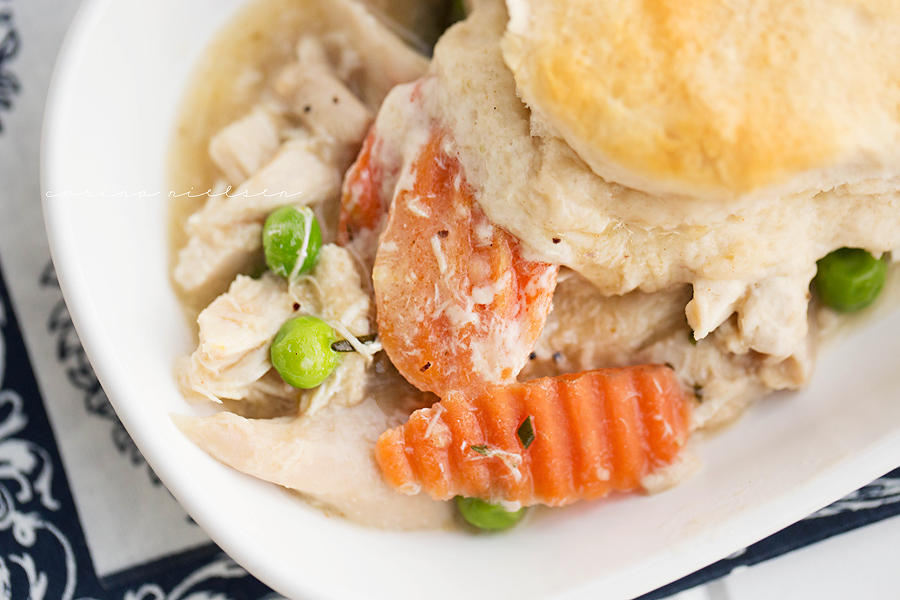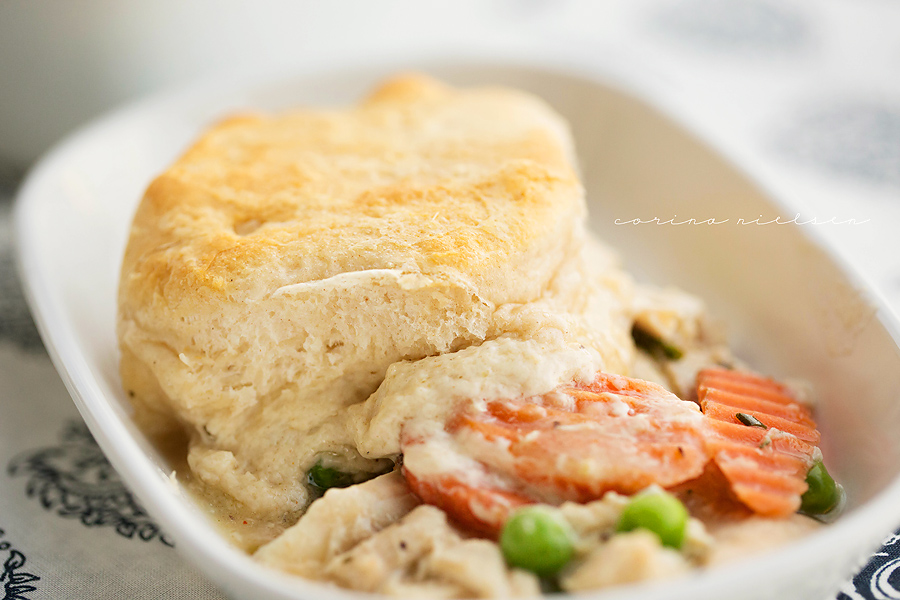 See what I mean?  I kinda just want to jump through my computer right now and dive into some casserole!
This was the first time I had ever made this dish BUT it immediately became a family favorite (thank you Pinterest inspiration).  With most of our dinners, we have 1-2 servings left over but not with this meal.  My little family of four ate every. single. bit.  It was a hit with both kids and the husband.  That is a rare occurrence but I will take it!  Making your own chicken stock makes a BIG difference.  Also, because I cooked my chicken for quite some time (close to 2 hours), it wasn't just tender but was literally just falling off off the bones!  I actually think I prefer the shreds of chicken to chunks now that I think of it… kinda thickens the entire mixture without having to add anything additional!   Warm, comforting, perfect for a family dinner on a cold Sunday (or any other night of the week), and a dish that everyone will LOVE!!!
Chicken Stock (broth) & Casserole

Print recipe
Ingredients
1 Large whole chicken
1 Large onion (quartered)
2 Medium carrots (rough chop)
6 Small garlic cloves (smashed)
2 Medium celery stalks (rough chop)
1 Small bunch parsley (rough chop)
1 tablespoon salt
2 teaspoons fresh pepper
Directions
Step 1
Place all ingredients in a large stock pot and add enough water just to cover top of chicken. Bring to a boil, reduce heat, and cook for 1 1/2 hours.
Step 2
Remove chicken, place in a large bowl, and cut/shred meat to be used in your dish.
Step 3
Strain & reserve stock, discard solids.
Chicken Pot Pie Casserole

Print recipe
Ingredients
2 tablespoons olive oil
2 Medium carrots (sliced)
1 Small onion (chopped fine or sliced)
1 heaped tablespoon garlic (minced)
1 Large stalk celery (chopped)
1 teaspoon salt
1/2 teaspoon pepper
1 teaspoon garlic powder
1/2 teaspoon fresh thyme
3 tablespoons flour
2 cups chicken stock
2 1/2 cups shredded
3/4 cups peas
12-15 uncooked biscuits (I used reduced fat Pilsbury Grand's Homestyle Buttermilk)
Directions
Step 1
Preheat oven to 375 degrees and coat a 3-4 baking dish with non stick spray or butter.
Step 2
In a large saute pan, cook onion, carrots, and celery under medium heat for 3-5 minutes until slightly softened. Add garlic and cook an additional 1-2 minutes. Add seasonings and fresh thyme. Stir in flour to coat vegetables, cook under low heat for 1-2 minutes. Slowly add chicken stock. Add shredded chicken and cook 5-6 minutes until mixture has thickened. Stir in peas.
Step 3
Pour mixture into prepared baking dish and top with a single layer of canned biscuits. Cook for 25-30 minutes until tops of biscuits are golden brown. My dough was still slightly undercooked at 25 minutes so be sure to remove your dish from the oven and check center and bottoms of dough.
Step 4
Let cool 5-10 minutes before serving.