For quite some time, I have been seeing pictures of gourmet donuts floating around on social media.  Cookies & Cream, Red Velvet, S'Mores, Creme Brûlée, Salted Caramel, Samoa, and countless ones topped with cereal.  As I've mentioned many times, I'm a total sucker for cereal.  I could eat easily eat 5-6 bowls of the same or different cereals each and every single day.  I'm addicted.  So clearly when I was craving donuts recently and wanted to come up with something new & fun for myself, I knew it had to include some type of cereal.  I also knew I would be using my Strawberry MuscleEgg egg whites (because I have been on a serious kick with these) and Kodiak mix (my go to source now for all things baked)!  When it was time to grab my cereal at the store for these, the first thing that came to mind for the flavors I had in mind was Fruity Pebbles!  I honestly don't think I could have made a better choice for my yummy cereal topping.  They were just perfection.  Small enough in size to coat the tops of the donuts, yet big enough in flavor to pack a sweet, fruity punch!
I'm just going to come out and state this here for the blog record….
This donut is hands down, with zero questions… the BEST donut I have made yet!!!  Texture, flavor, donut aesthetics.  Best (so far) for sure.  I had a fairly clear idea in my mind of what I wanted and they came out exactly as planned, even better actually!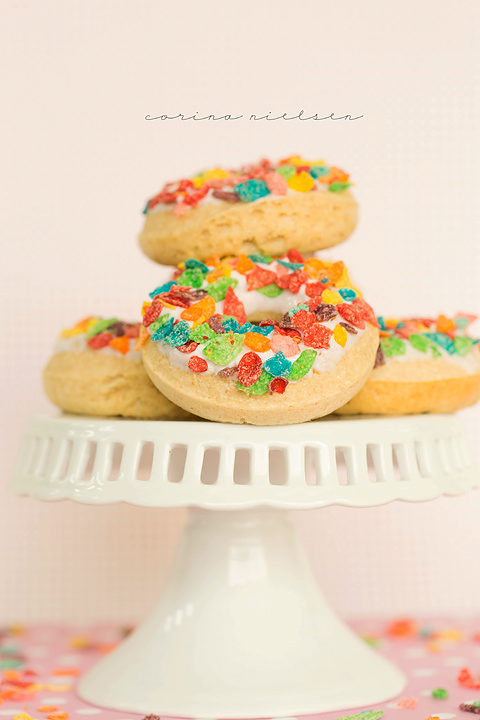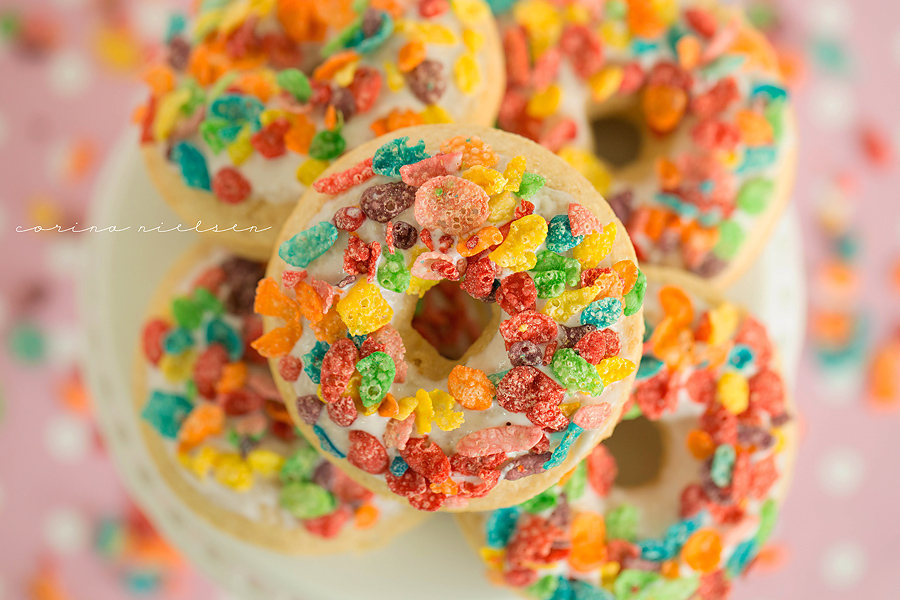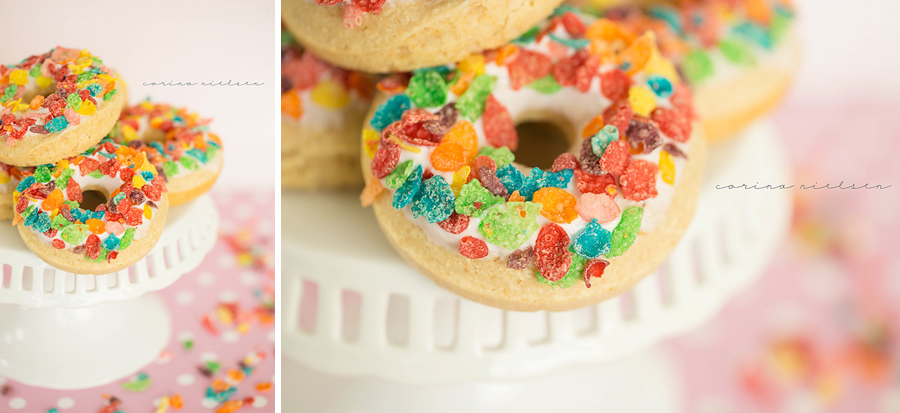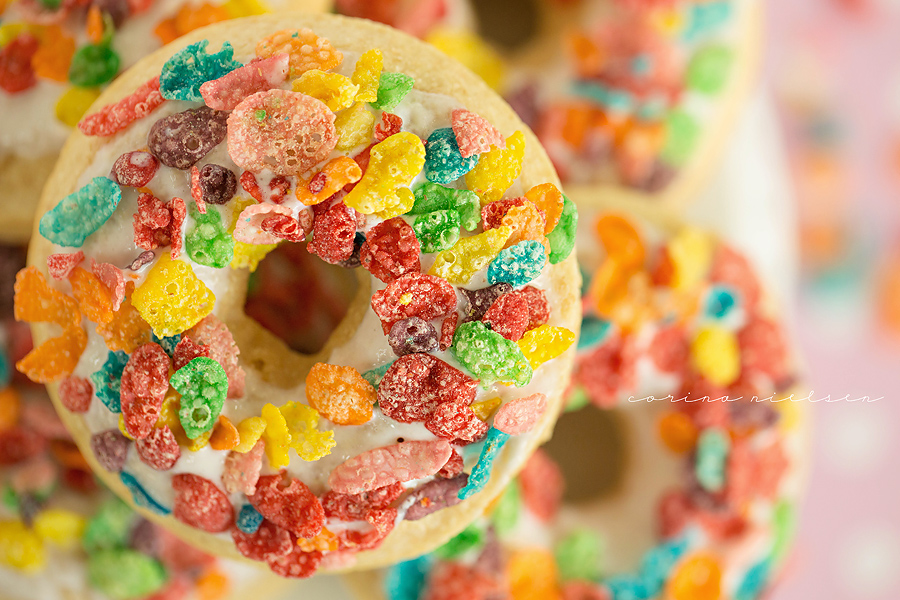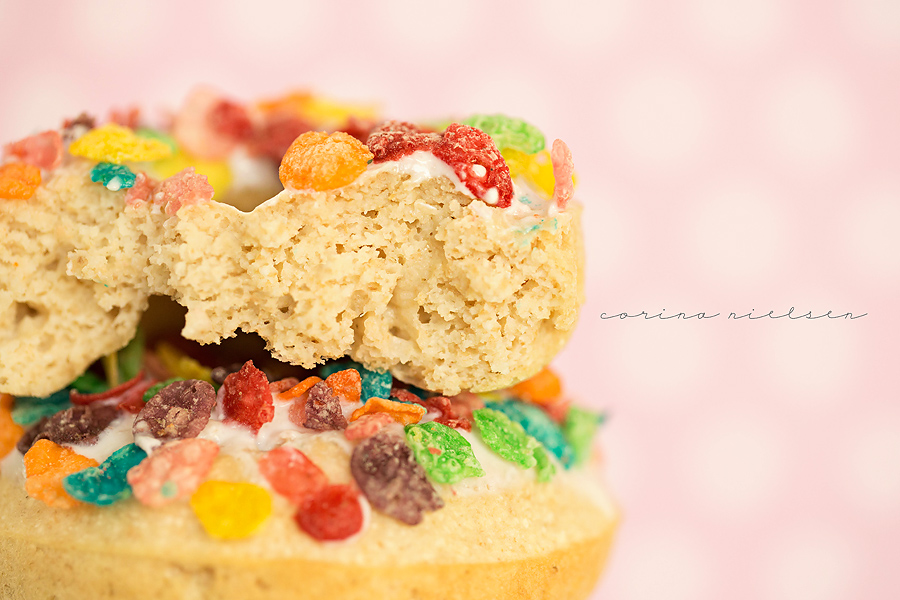 As with ALL of my recipes, I will always try to make my food as nutrient dense and "healthy" as possible.  I substitute ingredients when I see fit and where I can.  So while I don't consider Fruity Pebbles an "optimal" source of actual nutrients, my beliefs about eating are strong and unequivocal… moderation with everything  (in life and on your fitness journey)!  A little sprinkle of fun  (A.K.A sugary processed foods) HERE & THERE make my heart, mind, tummy and soul happy!  It also provides me with a "diet" that is completely sustainable because I am eating EVERYTHING I want (within limits and small amounts).  I also know that eating these types of foods (again, in moderation… are you catching on to my point here!?) will not drastically change my body composition, make me feel sluggish, or cause rapid weight gain!  Therefore, the Fruity Pebbles on these donuts are a MUST!!!
Fruity Pebble Donuts

Print recipe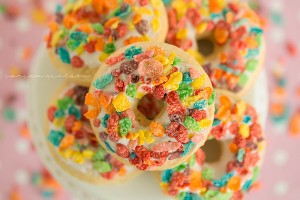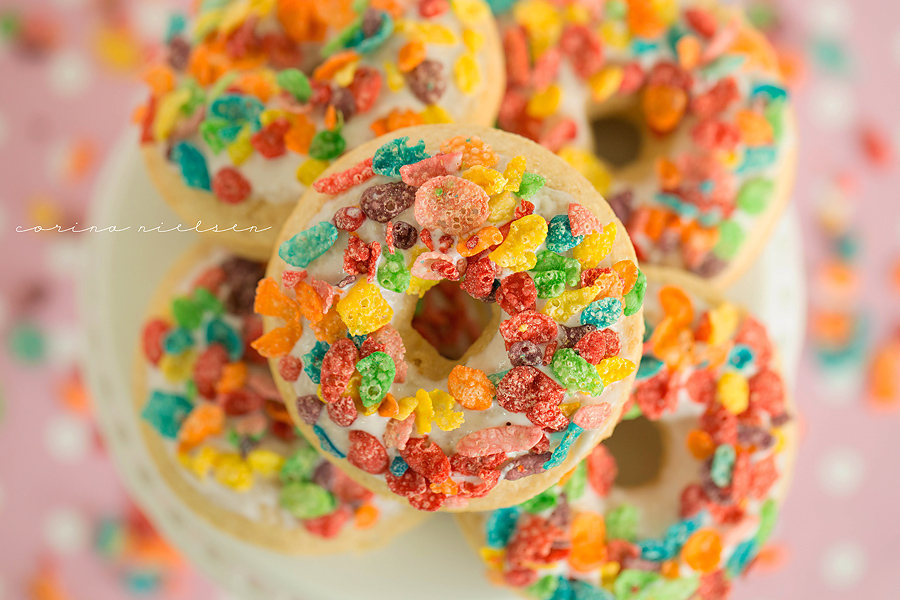 Ingredients
1/2 cup Kodiak Buttermilk & Honey Mix
1/2 scoop Vanilla protein powder
2 tablespoons coconut flour
1/2 teaspoon baking powder
1/4 cup Strawberry MuscleEgg egg whites
1/2 teaspoon vanilla extract
3/4 cups milk of choice (I used Silk unsweetened almond)
40 drops Berry Sweet Leaf Stevia drops (or 2 tbsp sweetener of choice)
1oz Strawberry yogurt (I used Dannon Light & Fit Greek)
1/2 cup Fruity Pebbles Cereal
Directions
Step 1
Preheat oven to 350 degrees and coat a donut pan with non stick spray. You can use a cupcake pan also if you like.
Step 2
Combine all ingredients (except yogurt and cereal) in a medium sized bowl and mix until smooth. (If you do NOT want to use protein powder, add an additional 2 tbsp of Kodiak Mix.)
Step 3
Divide and pour batter in donut pan. Bake for 14-16 minutes until a toothpick comes out clean when poked in the center.
Step 4
Place yogurt and cereal in separate shallow bowls or small plates. Dip each donut in yogurt then dip in cereal to cover the top of each donut.
Note
NUTRITIONAL INFORMATION (makes 6 donuts): calories- 70, fat- 1 grams, carbs- 11 grams, protein- 6 grams PER DONUT