Highlighting a special product today because I am a new die hard fan…
"Forte" High Protein Gelato!!!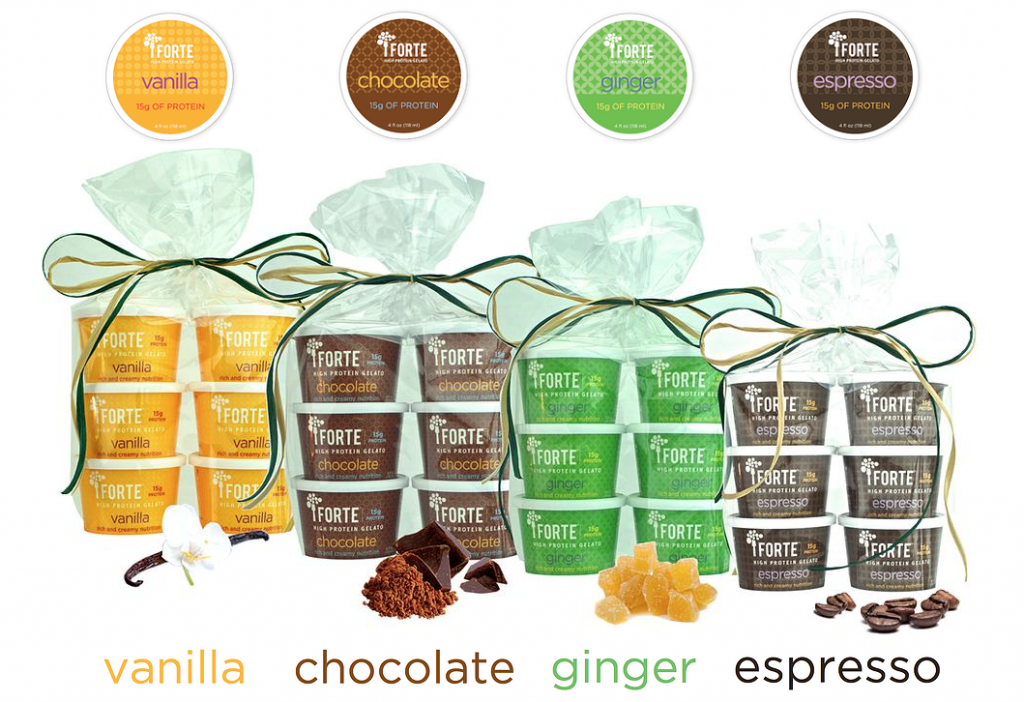 This stuff is absolutely incredible.  Now, I've had plenty of regular gelato in my day, served right from high end frozen cases, and I can honestly say that Forte ranks right up there with any and all of them.  Their gelato is every bit as smooth, flavorful, and rich BUT with a much better nutritional profile.  They may not have a huge variety of flavors (chocolate, espresso, ginger, and vanilla), BUT the ones they do have?  Nothing short of perfection.  The quality and care that went into each of the flavor shines through with EACH and every single spoonful.  Espresso would probably be my favorite flavor (duh) but the ginger… oh the ginger!  It's SO good.  Ginger itself can be a pretty overwhelming flavor on its own, but the company did an outstanding job ensuring it was strong and distinct without being overpowering.
After devouring my first cup, I was particularly inspired by that rich ginger flavor that I thought I would set out and create something special for an anytime treat!  AND the fact that my local Sprouts had all of their Forte on clearance for $0.99 each?  Yeah, you bet I stocked up!!!  Anyways, not many people would be on the lookout for a healthier alternate to an ice cream sandwich… one thats higher in protein, higher in fiber, lower in carbs, includes some healthy fats, and slightly more "grown up" in flavor.  However, I think I just came up with just that!  It takes a lot to beat traditional chocolate chip cookies and vanilla ice cream, but this comes pretty darn close.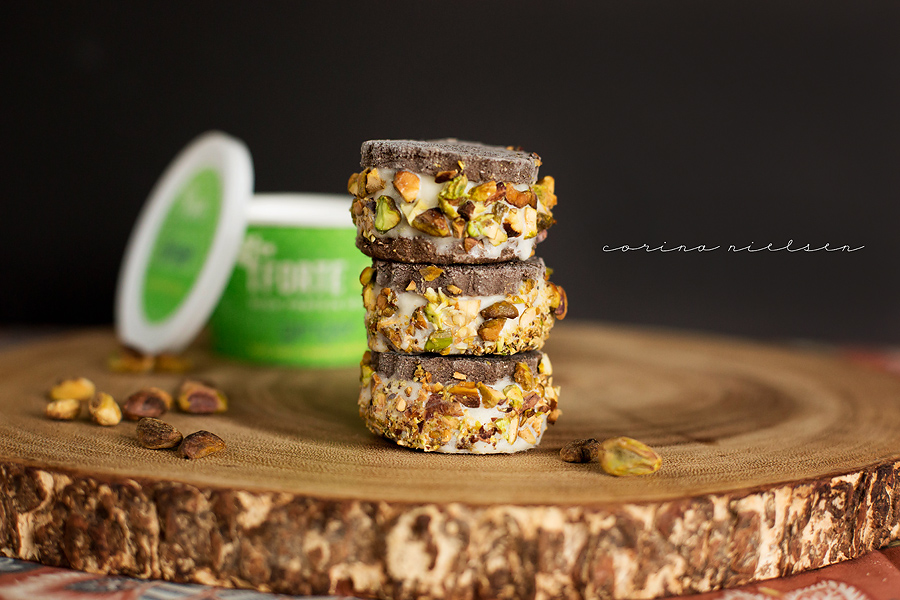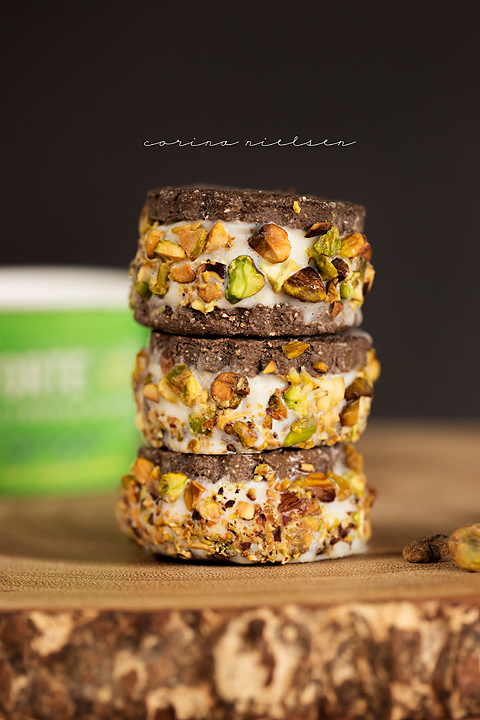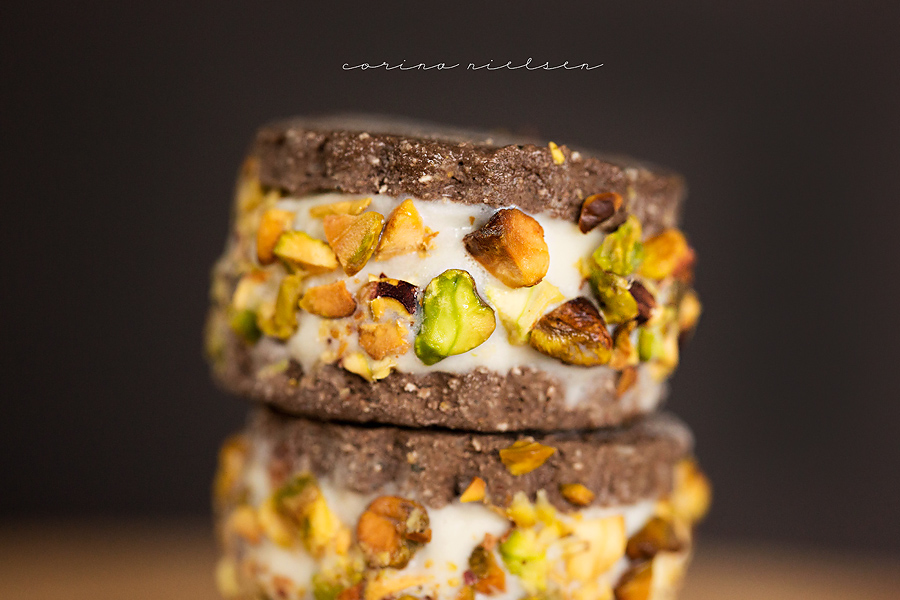 Love at first bite…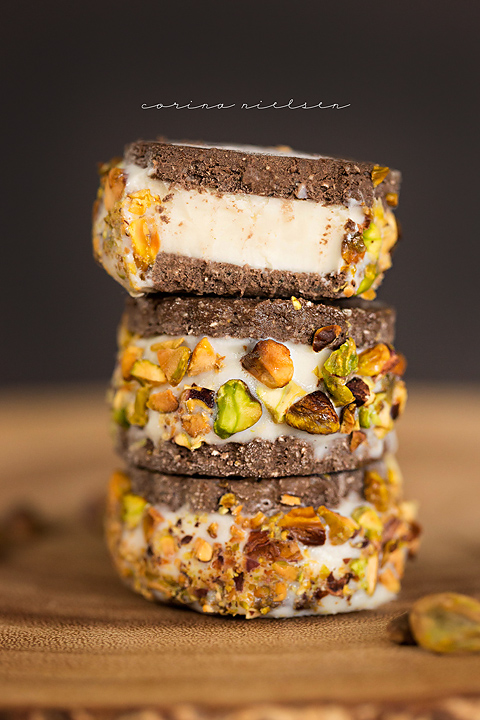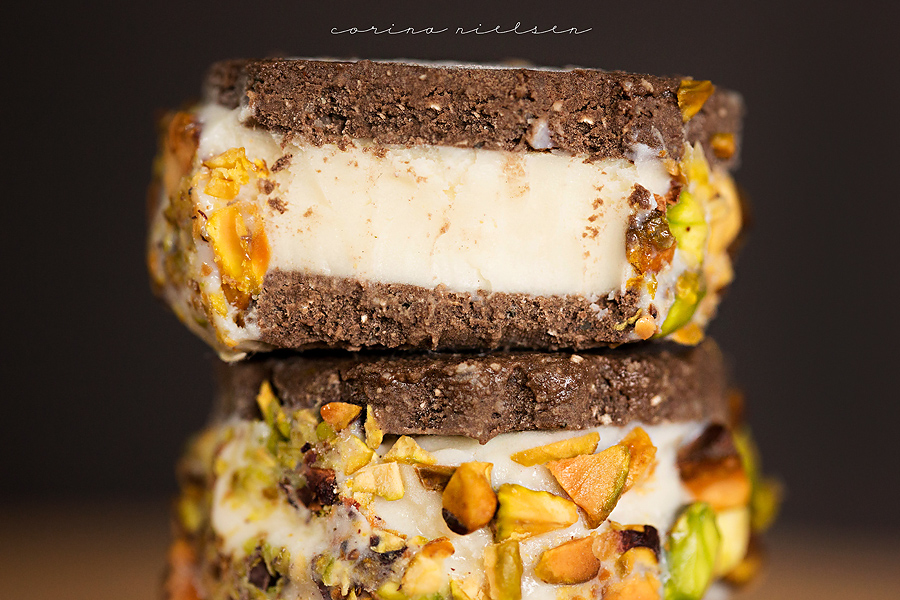 Chocolate Ginger Ice Cream Sandwiches

Print recipe
| | |
| --- | --- |
| Serves | 3 |
| Prep time | 15 minutes |
| Meal type | Dessert |
Ingredients
1 tablespoon Sweet It Vita Fiber Syrup (www.mysweetit.com)
1 scoop PEScience Milk Chocolate Protein (30% off coupon below)
1 tablespoon coconut flour
1 tablespoon almond flour
1 tablespoon cacao powder
3 tablespoons milk of choice
4oz Ginger Forte Gelato
1 heaped tablespoon pistachios (roughly chopped)
Directions
Step 1
Combine & mix all ingredients in a small bowl (EXCEPT for gelato and pistachios) until a small dough forms. Transfer mixture to a piece of parchment paper and roll to 1/4" thick. Using a 2" cookie cutter, cut 6 circles out (you may need to ball dough back up and reroll). Carefully place cut circle in the freezer for 10-15 minutes.
Step 2
Once cookies are firm, place 1/3 of the softened gelato onto three of your circle cut outs. Top with remaining three cookies and press down each carefully.
Step 3
Roll each cookie sandwiches in chopped pistachios. Return to freezer for 15-25 minutes.
Note
NUTRITIONAL INFORMATION (makes 3 small sandwiches): calories- 147, fat- 5 grams, carbs- 15 grams/8 grams fiber, protein- 15 grams PER SANDWICH
If you are interested in receiving 30% OFF on Milk Chocolate Select protein or any other PEScience products, use my code CORINA at checkout on www.pescience.com