I don't know about anyone else, but weeknight meals around my house need to be quick and EASY!  Between dropping off/getting kids at two different schools twice a day, tutorial, their sport practices & games, last minute grocery trips, never ending errands, homework, school projects, getting my husband off to work in the evening, and trying to squeeze workouts in… there isn't a whole lot of time for big elaborate meals all of the time.  Rachel Rae and her people were genius's for coining the whole "30 minute meal" action… most mothers will agree that's exactly about all they have to give come 5 or 6pm.   And honestly, most days I barely have time for that!  This is where the "crockpot meal" and "one pot meals" are your best friend.  The crockpot is definitely my go to option on days I know I will have ZERO time to think about what we are going to do for dinner and also don't feel like grabbing take out.
However, our family does have a handful of QUICK & EASY, 20-30 minute "go to meals" in the recipe arsenal that we rotate around every few of weeks.  They are staple meals for us.  These are meals we all love, don't get tired of, and that turn to in a pinch when I'm super pressed for time.  One of those said meals is "Beef & Broccoli" served over white rice!!!  I might even go out on a limb and say it's one of my husbands favorite top 5 meals ever.  Luckily for me, it's so simple to make!  Looks pretty tasty as well!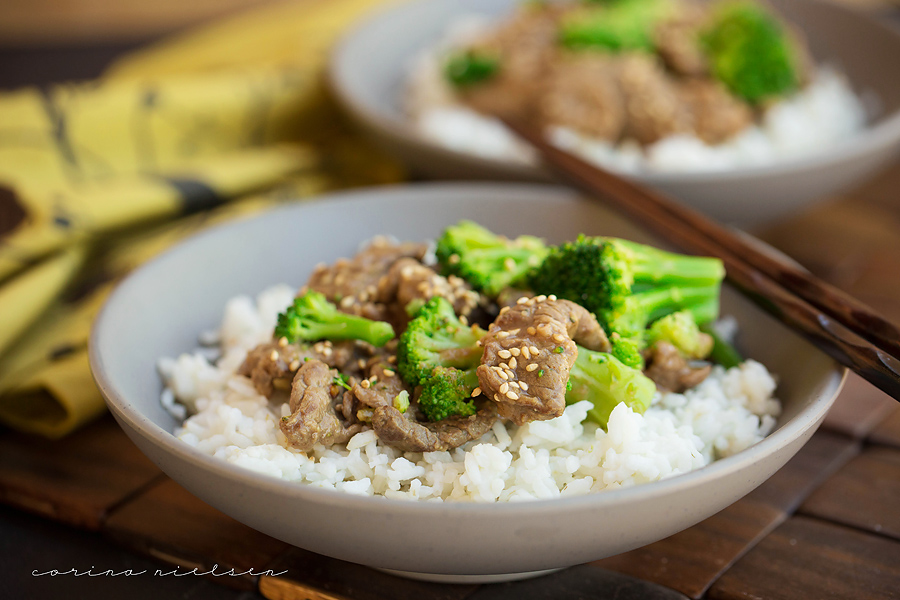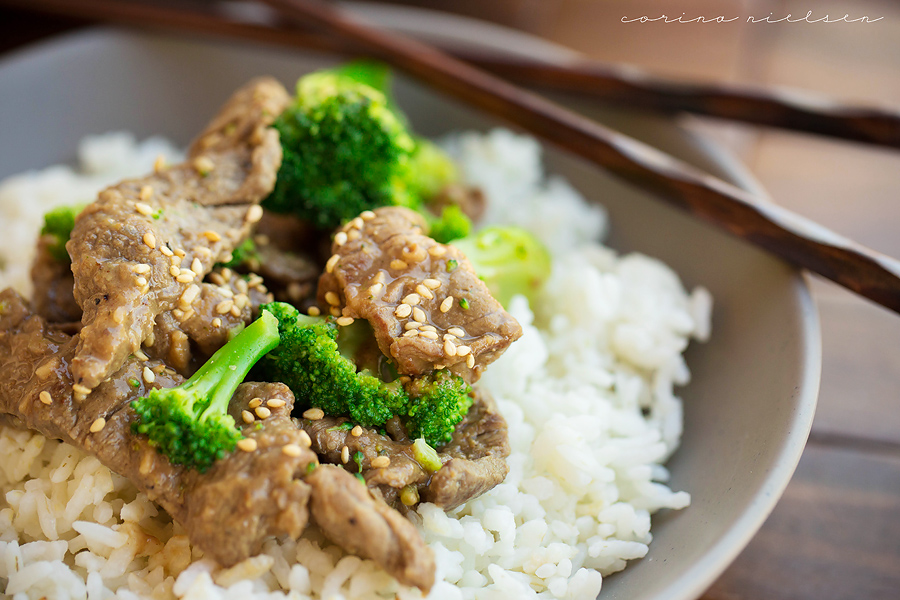 Another couple of things I love about this meal (other than it's tasty and easy to make of course)… #1 aside from having to buy the cut beef, we usually have everything else on hand here at the house and #2 the marinade becomes the sauce!  Also, if I know I won't even have those 30 minutes to make dinner one day, I will marinade the beef the night before, make the rice in the afternoon before I grab the kids from school, then take a whole 10 minutes cooking that night!  How's that for getting dinner on the table with ease?  I actually prefer this method because the meat has had a chance to really soak in the flavors.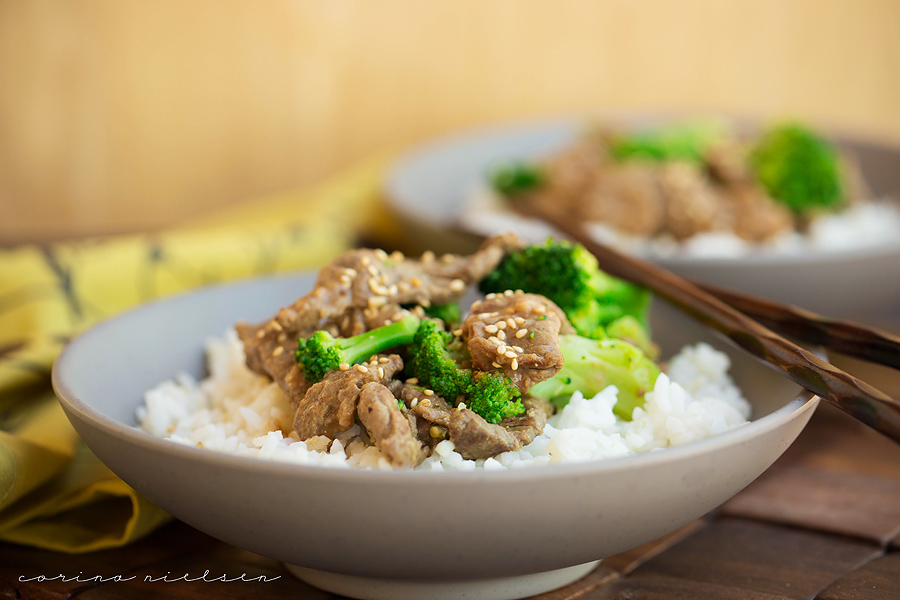 Looks impressive but takes no time at all to whip up!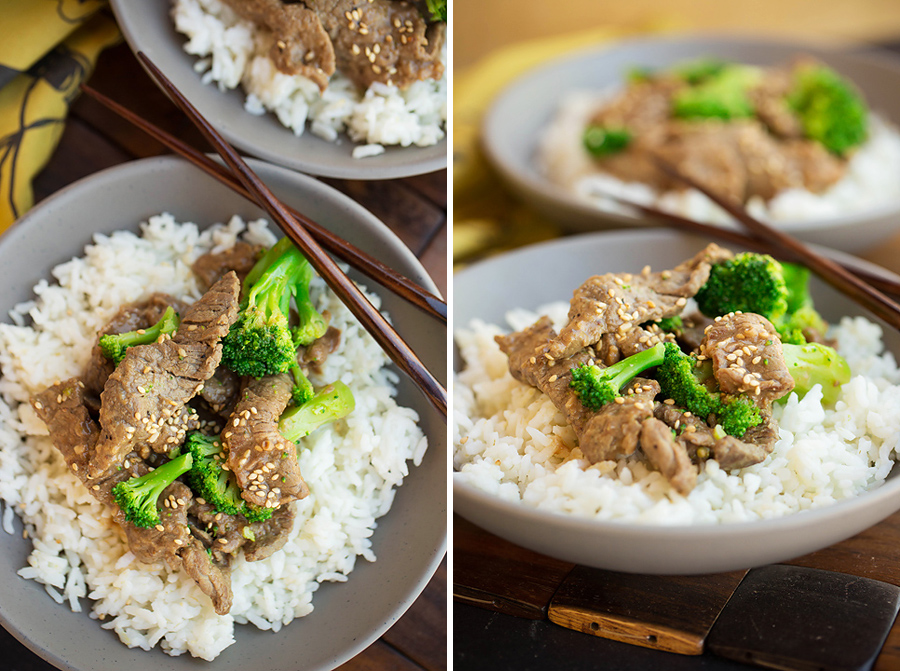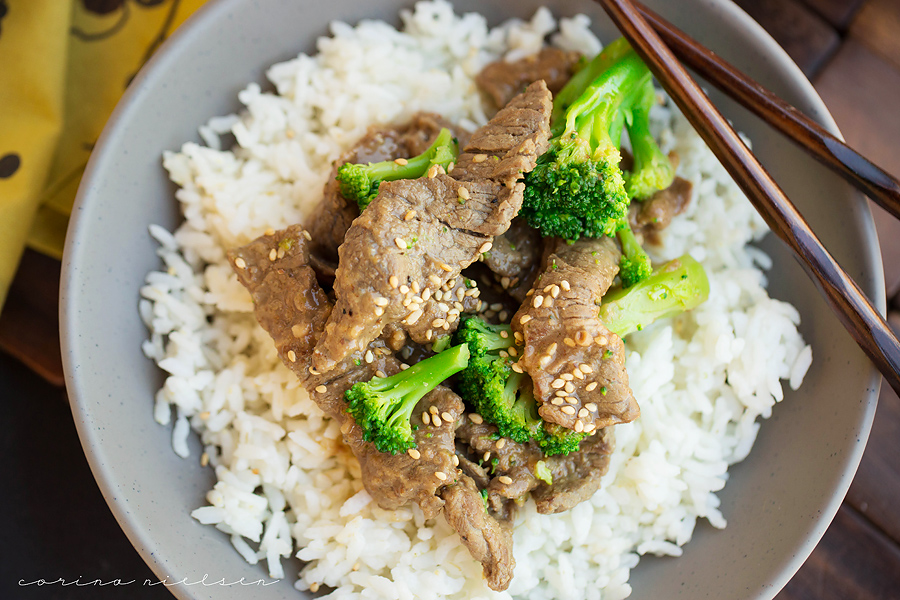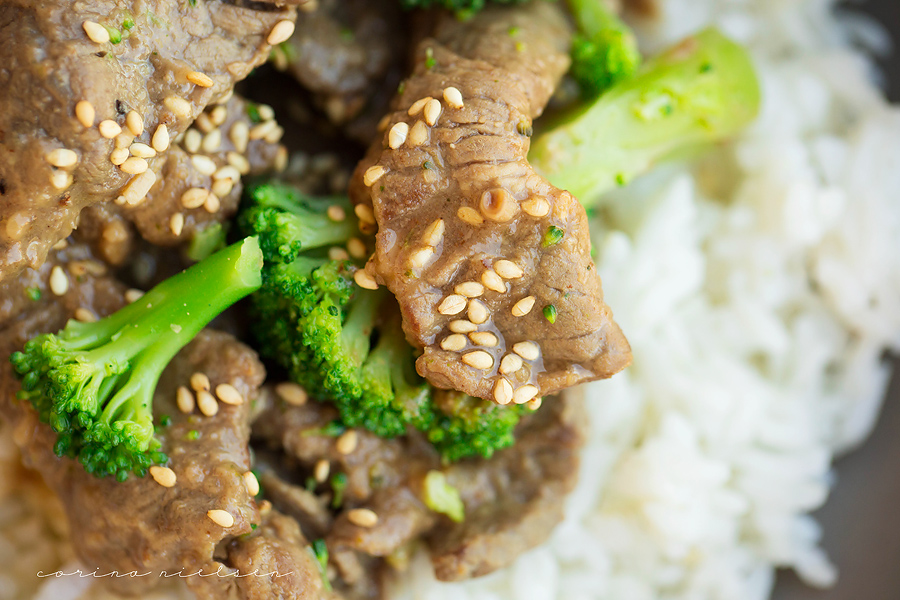 I also like to make a HUGE batch of it so everyone has leftovers for school/work lunches the following day.  It reheats beautifully, is just as delicious, and I love that I can portion the servings out in tupperware while cleaning up dinner.  Kids and the husband just need to grab their containers and are set.  Easy dinner & I don't have to make lunch for everyone the following day!  Love this dish more and more now that I think about it!!!
Easy Weeknight Beef & Broccoli

Print recipe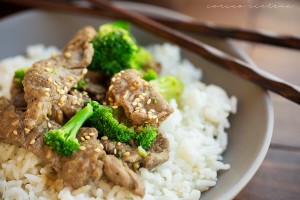 Ingredients
1/4 cup low sodium chicken or beef stock
1/4 cup low sodium soy sauce
1/4 cup coconut aminos
2 tablespoons honey
1 tablespoon rice wine vinegar
1/4 teaspoon sesame oil
1 tablespoon finely chopped garlic
1/2 teaspoon freshly grated ginger
1/8 teaspoon red pepper flake
1/2 teaspoon salt
1/4 teaspoon pepper
1/2 teaspoon garlic powder
2 tablespoons cornstarch or arrow root powder
1 tablespoon olive oil
1 1/2lb thinly sliced beef shoulder or flank steak
1 1/2lb broccoli (I usually use a thawed frozen package)
Optional
1 tablespoon toasted sesame seeds
Directions
Step 1
Add all ingredients EXCEPT beef, broccoli, and oil to a large bowl. Once thoroughly mixed, add thinly sliced beef and let marinade for 10-15 minutes (or over night if you prefer).
Step 2
When you are ready to cook, heat oil on HIGH in a large wok or pan (I also like to coat the pan with non stick spray). Pan needs to be VERY hot. Using a slotted spoon or tongs, shake off as much as liquid as you can and add beef in batches to pan in a single layer (I usually do 2-3 batches). Sear for 20-30 seconds per side, remove from pan, and place in a separate/clean bowl. Repeat with the remaining meat.
Step 3
Once meat is all seared in separate bowl, return to the pan and add leftover marinade. Add broccoli. Let cook for an additional 2-3 minutes until broccoli is heated through. Serve over rice and garnish with toasted sesame seeds.