This yummy chicken sheet pan meal makes the perfect easy and healthy dish for any busy weeknight dinner.  It is packed with rich flavors, great for meal prep, and gluten free.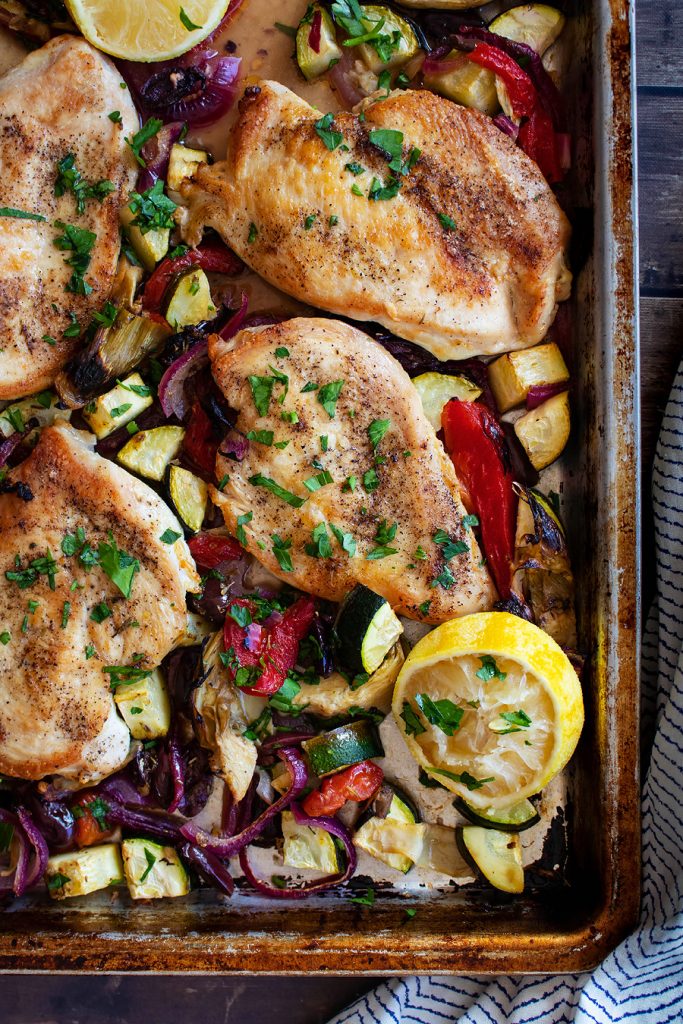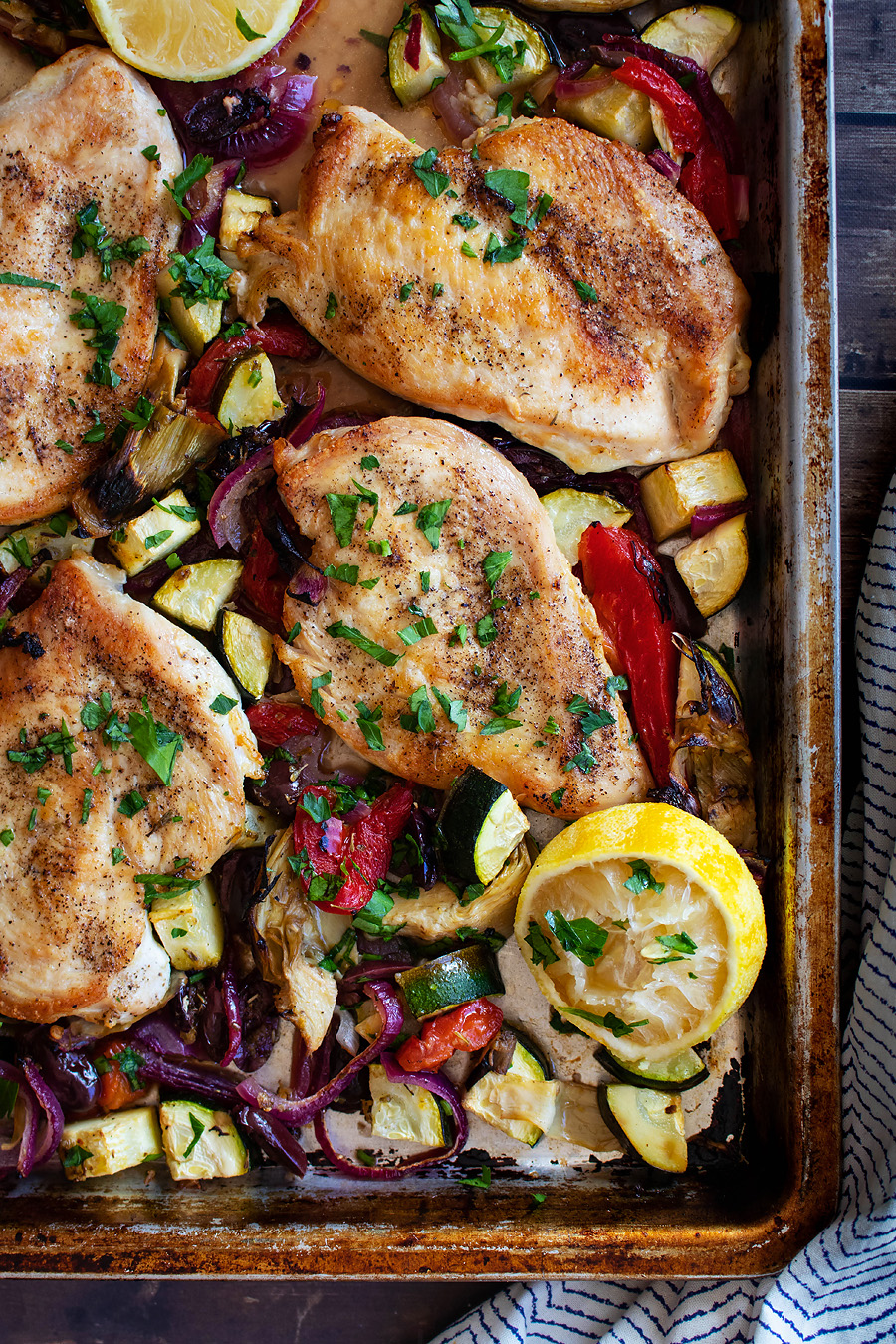 Mediterranean flavors. Oh how I love you.  There is something special about ingredients such as fresh oregano, roasted red bell peppers, zesty kalamata olives, and tangy lemon juice.  These flavors always come together in perfect harmony, especially when they are roasted in the oven.  This is a dish you will fall in love with time and time again.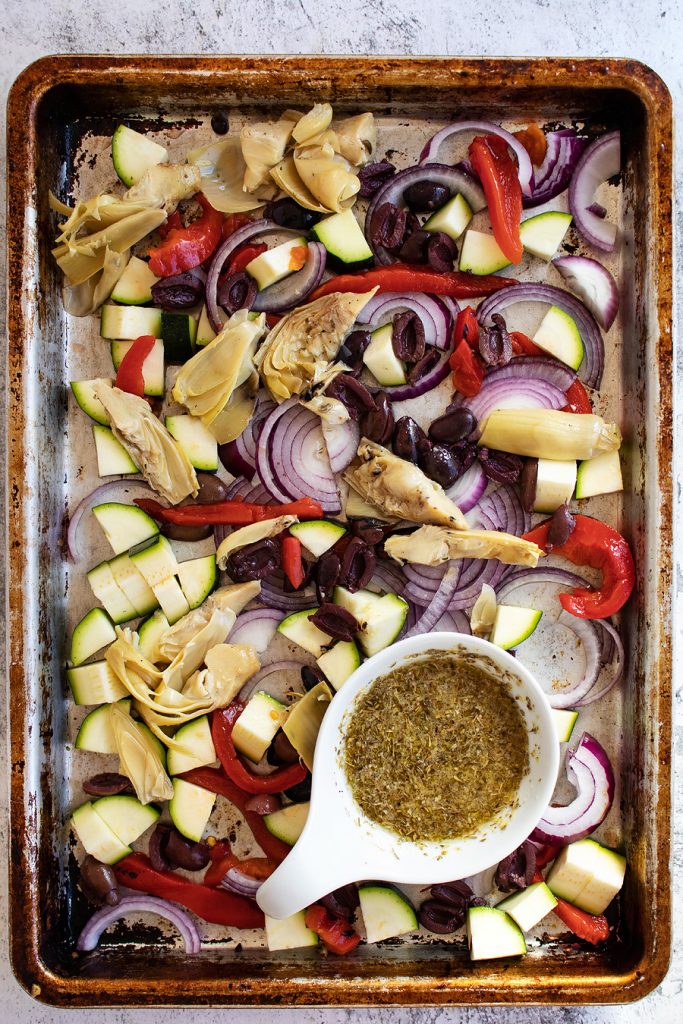 It all starts with fresh and whole ingredients.  Herbs and spices make a huge difference in cooking and how tasty your food will be, therefore do not skimp on them for any dish.  The beauty of chicken recipes like this Greek chicken sheet pan meal is the ability to add any vegetables you might have on hand.  This dish is not picky.  Again, it really comes down to those spices and herbs.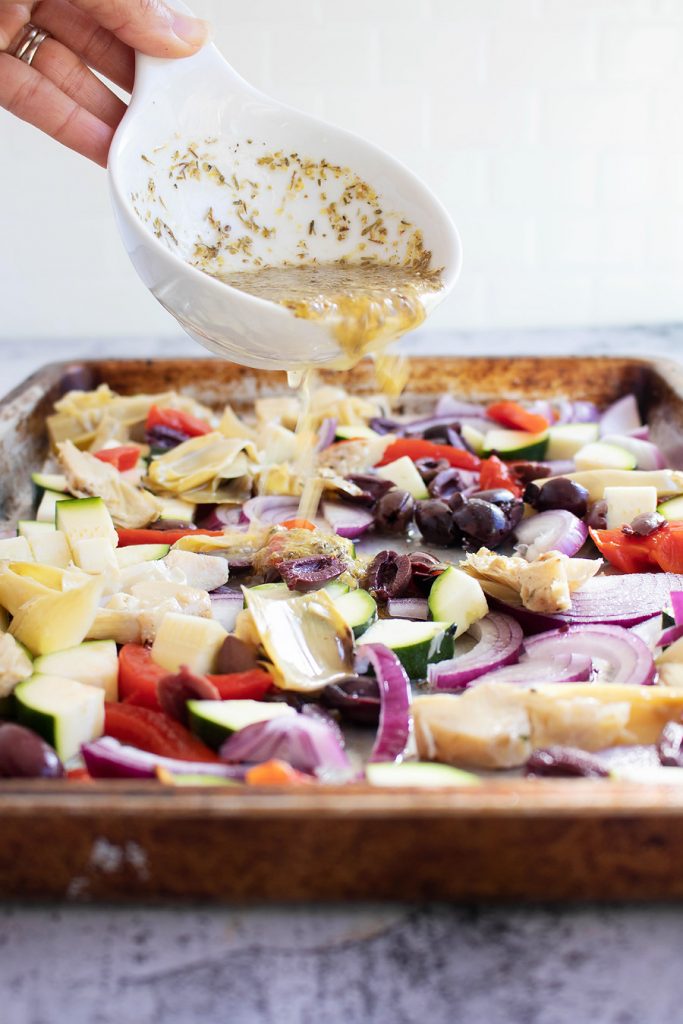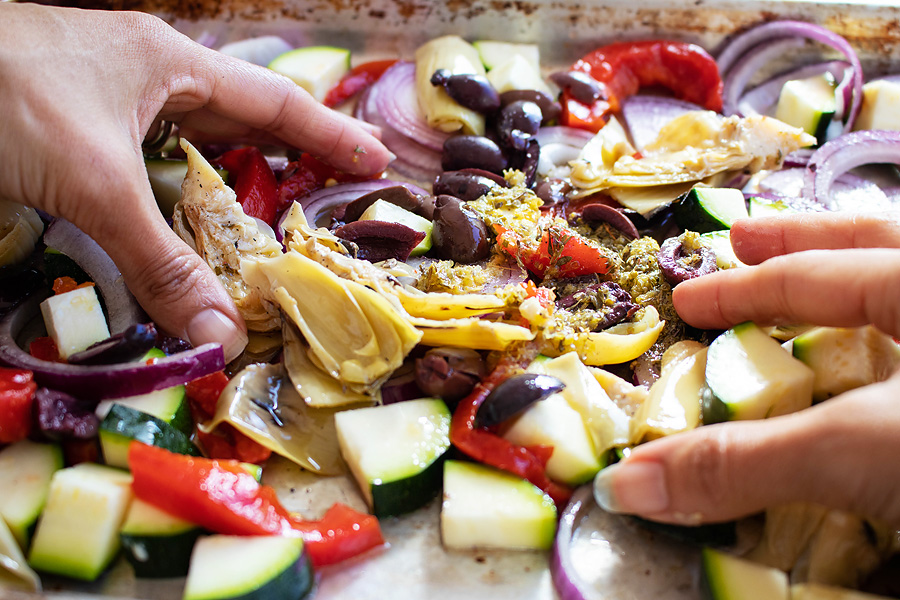 The lemon vinaigrette makes this chicken recipe.  Hands down, so be generous when rubbing it into the vegetables.  Would you believe me if I said this is the most difficult part of this dish friends?  True story.  It is.  Now its just a matter of getting your chicken on the baking sheet and you are ready to rock.  However, I do have an extra tip when it comes to your proteins for sheet pan meals!
Quick Protein Tips:
Think about the flavors of the dish and if you want your protein extra flavorful and juicy, marinate your meat.  For example with this dish add a little olive oil, salt pepper, oregano, lemon zest, and lemon juice to a large bowl and let the chicken marinade for a couple of hours.  For a BBQ chicken dish, add some extra sauce to a large bowl and marinade your chicken for a few hours or even overnight.  This is a game changer.
Before adding your chicken, pork, or beef to the sheet pan its always a good idea to sear it off in a HOT pan or skillet.  Just add a little olive oil and butter to your pan set to medium-high heat.  Get it smoking hot, then sear the meat on both sides.  This will create a ton more flavor to your meat.
If you need a meal even quicker, chop or slice your proteins.  Large cuts of meat will add more cooking time, therefore the smaller the pieces the faster you can eat.
Be generous with you seasoning, especially salt.  People complain all of the time about how bland some dishes are.  I bet if you add just a touch more salt, your feelings would change instantly.  Season liberally and only add a little at a time.  Taste everything as you cook and adjust recipes accordingly for salt and pepper.  Game changer.
OK, now the magic happens in the oven.  The the herbs, the spices, the lemon juice, and the vegetables all come together to party on the sheet pan.  The oven can be a beautiful thing.  Sometimes it just provides the most bang for your buck when it comes to flavor.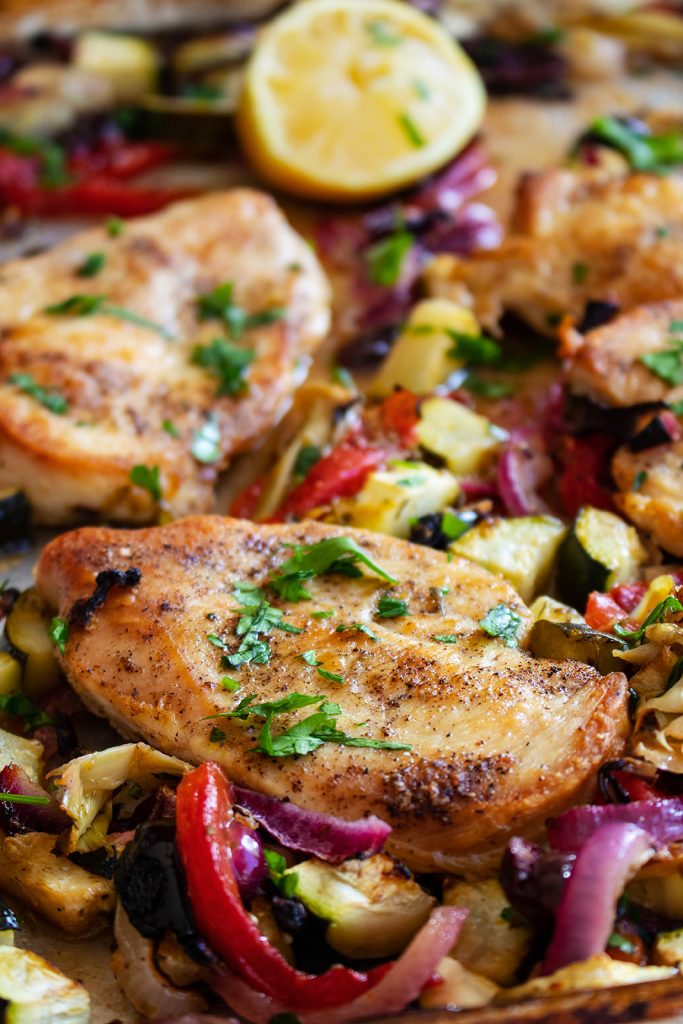 You will not believe these flavors.  This Greek sheet pan meal will be a staple in your weeknight dinner rotation.  No doubt.  It is great to serve on its own, along side cauliflower rice (preferably cooked with some lemon and herbs), drizzled with a touch of extra virgin olive oil, and topped with a little healthy garlic hummus.  Talk about flavor.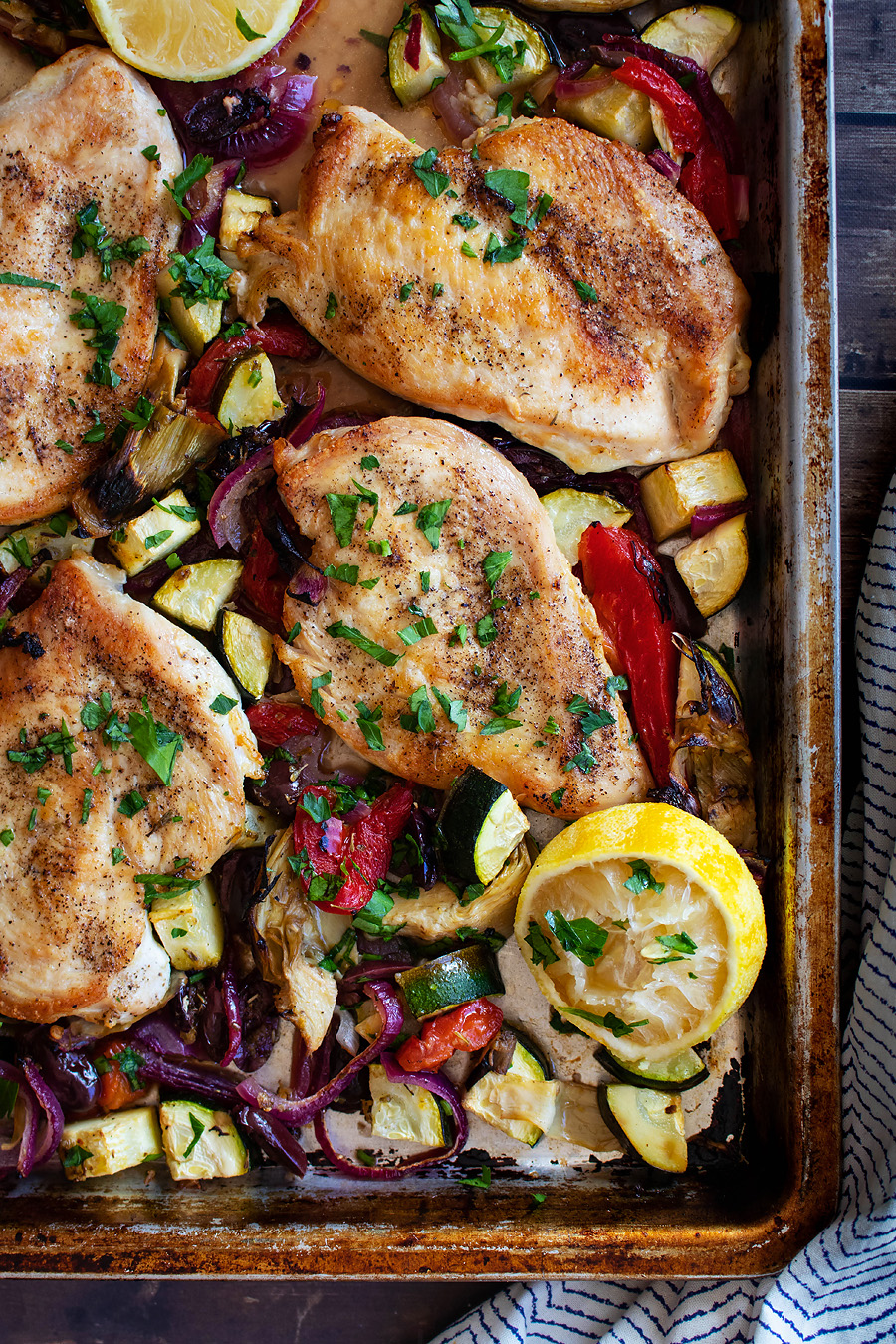 Print Recipe
Greek Sheet Pan Chicken
This yummy chicken sheet pan meal makes the perfect easy and healthy dish for any busy weeknight dinner. It is packed with rich flavors, great for meal prep, and gluten free.
Ingredients
4-6 thinly sliced chicken breasts

1 tablespoons olive oil

1 lemon (zest and lemon juice reserved)

1 teaspoon kosher salt

3/4 teaspoon black pepper

2 teaspoons oregano

1/2 teaspoon thyme

1 large zucchini

1 small red onion

1/2 cup roasted red bell peppers (from a jar)

1/2 cup kalamata olives

3 cloves garlic

1 cup marinated artichoke hearts

1/2 cup feta cheese (optional)
Instructions
1
Preheat to 450°F and line a baking sheet with parchment paper for easy clean up.
2
Add 1 tablespoons olive oil, lemon zest, lemon juice, 1/2 teaspoon each salt, 1/4 teaspoon pepper, and 1 teaspoon of oregano in a small bowl.
3
Add sliced zucchini, red bell peppers, olives, and red onion to baking sheet. Pour lemon mixture over vegetables and coat thoroughly.
4
Mash garlic and the remaining ½ teaspoon salt with the side of a large knife to form a paste. Combine the garlic paste with remaining oregano, thyme and the remaining 1 tablespoon oil, 1/2 teaspoon of salt, and ¼ teaspoon pepper in a small bowl. Rub paste all over chicken to coat. Nestle the chicken into the veggies.
5
Roast until veggies are are tender and a meat thermometer inserted into the thickest part of the chicken reaches 165°F, 20 to 25 minutes.
6
Sprinkle with feta cheese and fresh oregano if desired to serve.