If you look through my Instagram account, amongst the many many crazy waffle stacks, protein treats, and the occasional gym selfie, you will also find pictures of my absolute favorite thing in the world… hamburgers, cheeseburgers, and pulled pork sandwiches!  BBQ style ones to be exact, complete with onion rings and globs of sauce (2 must must MUST haves for me).  Most of the time when my family eats out, I usually end up having a salad (because I honestly do love them) UNLESS the restaurant we are going to has really really delicious burgers OR a juicy BBQ pulled pork sandwich.  Some people go crazy over pizza or pasta, but not me.  I'm a sandwich girl and BBQ anything will always my first choice!
We already eat a lot of burgers/turkey burgers here at home (it's in our regular dinner rotation every couple of weeks), but up until a few months ago, I had NEVER tried making my own pulled pork.  Not sure if I was under the impression it was a long & tedious process or if I needed to grab a lot of ingredients at the store, but I guess I was just always intimated with making my own.  After doing a little digging online to see how it's actually done (cooking time, temperature, etc.), I decided I would finally attempt my own!  The first time I made it, I had no idea what to expect.  I gathered my ingredients (all of which I actually had already except the pork roast), threw everything into a baking dish, covered it up, put it in the oven, and prayed.  Aside from a turkey, I hadn't ever had anything in the oven for more than a couple of hours.  Having to leave this pork in there for 6+ hours didn't seem right to me, but I trusted the process and was SHOCKED at the result.  I literally just made pulled pork.  I couldn't believe my eyes.  Not only was it simple, it tasted delicious AND at that point I hadn't even added my BBQ sauce!  Again, that was a few months ago and since then, I've probably already made 2-3 more batches.  SO easy, great for a weekly meal prep, just about idiot proof, and it's a bonus that the WHOLE family loves it.
Ready to see how simple this is?
Grab a big old pork roast, a few whole onions, staple spices & seasonings, some chicken/vegetable/beef stock, a couple of tablespoons on apple cider vinegar, throw it all in a roasting pan, cover with foil, put it in the oven for 5-6 hours, check the meat, if it starts to easily pull apart with two forks, shred it up, add your favorite BBQ sauce, stir, put it back in the oven for 15-30 minutes, and viola… BBQ pulled pork at your service!  Easy right?


SIDENOTE: IF you happen to be near a Trader Joe's anytime soon, give this BBQ Rub & Seasoning with COFFEE a try!  It's SOOOOO good.  The company carried it for a very brief time last year and it hasn't been restocked again until now.  Pulled pork is outstanding with this seasoning mix!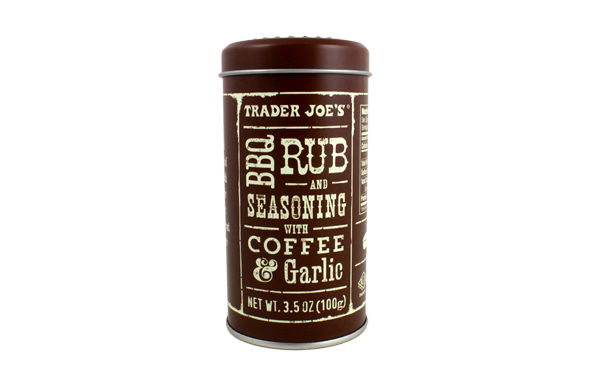 OK, back to this regularly scheduled post…
Final product shot topped with those DELICIOUS caramelized onions that the pork was roasted with!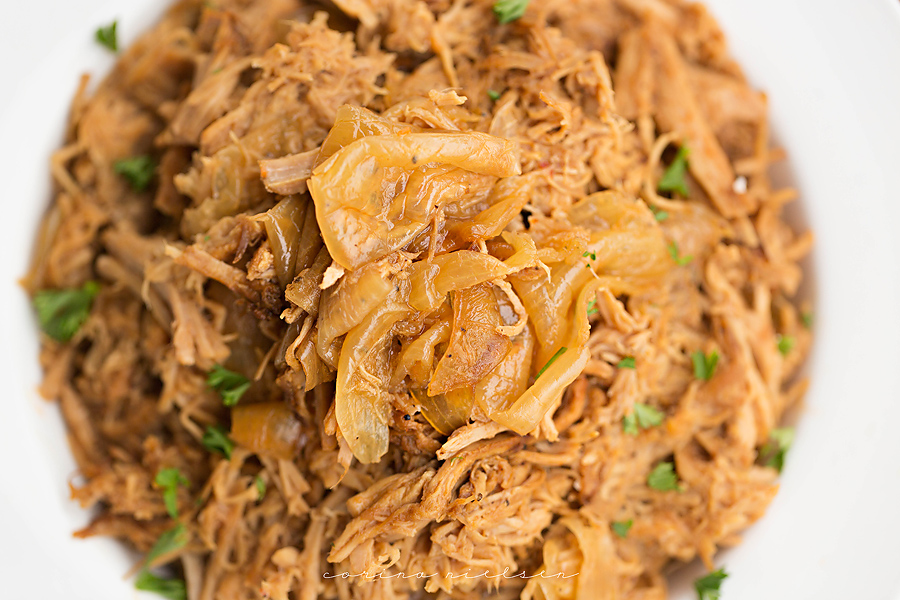 I usually make my pulled pork sandwiches with my favorite healthy BBQ sauce made by Alterna Sweets (all natural ingredients, low calorie, low carb, and sweetened with stevia) and my favorite "bun" which is actually an "onion pocket" made by Thin Slim Foods (high protein, high fiber, low carb)!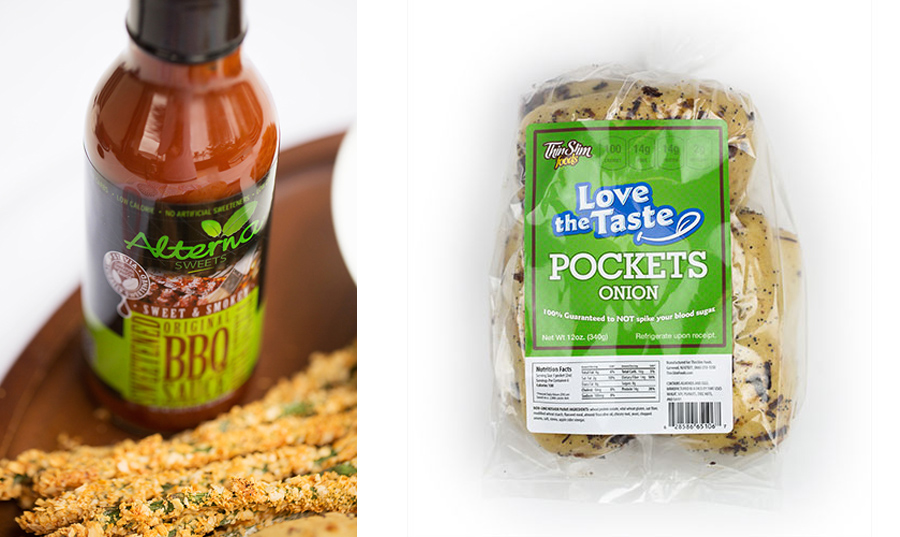 And the final sandwich topped with more BBQ sauce and my onion rings of course…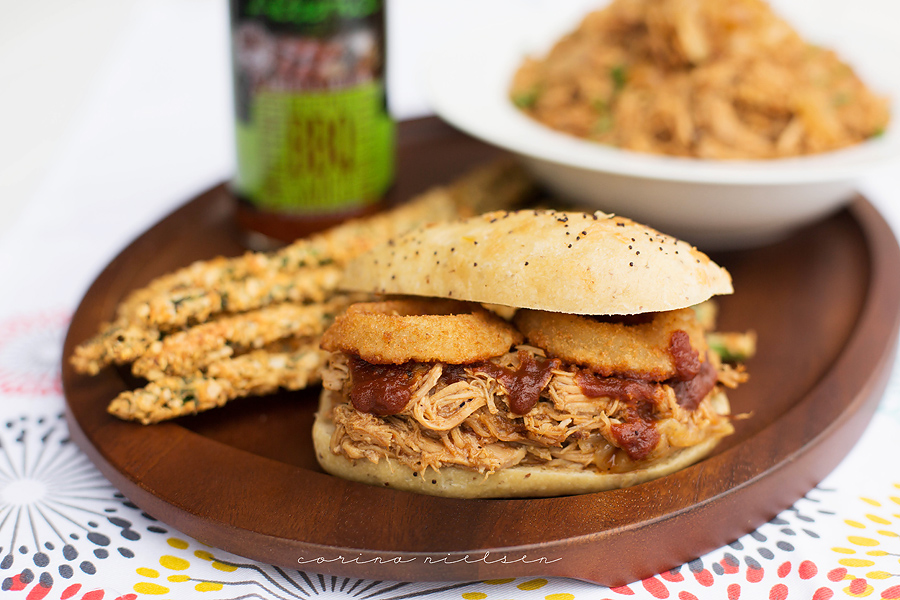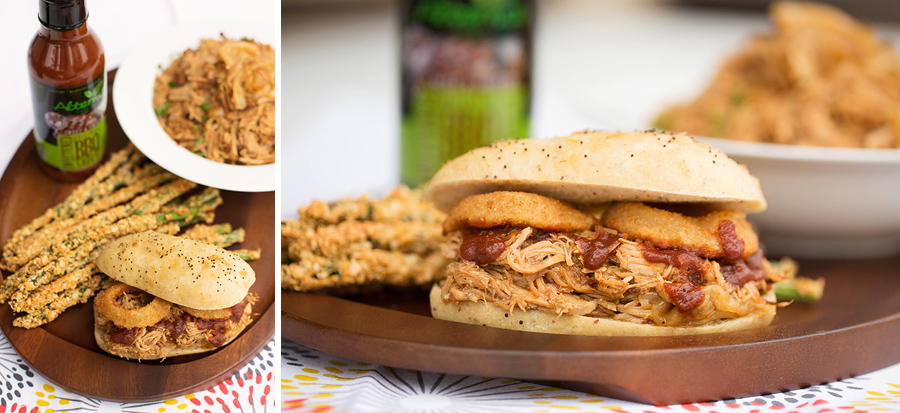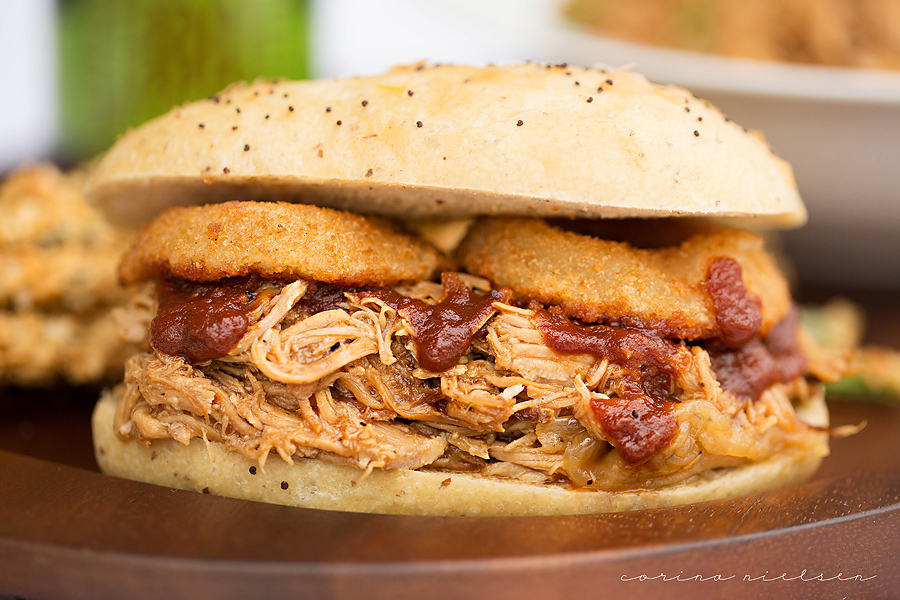 I also had my sandwich with a side of BBQ "breaded" baked asparagus (recipe also below)!!!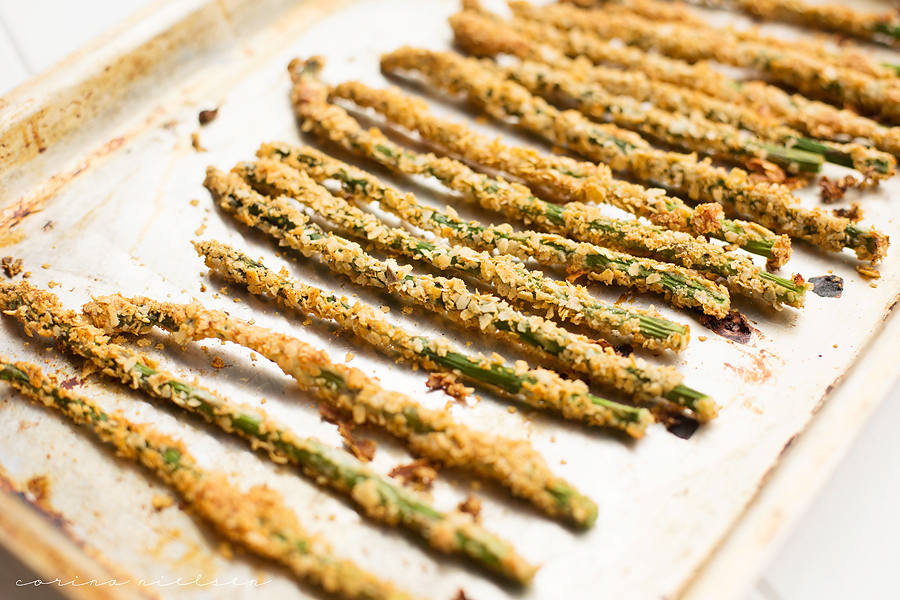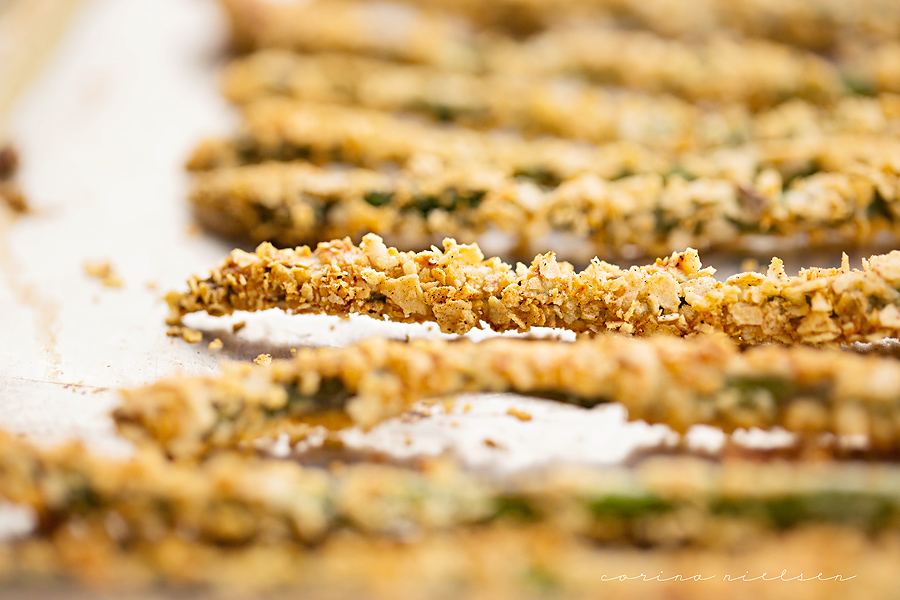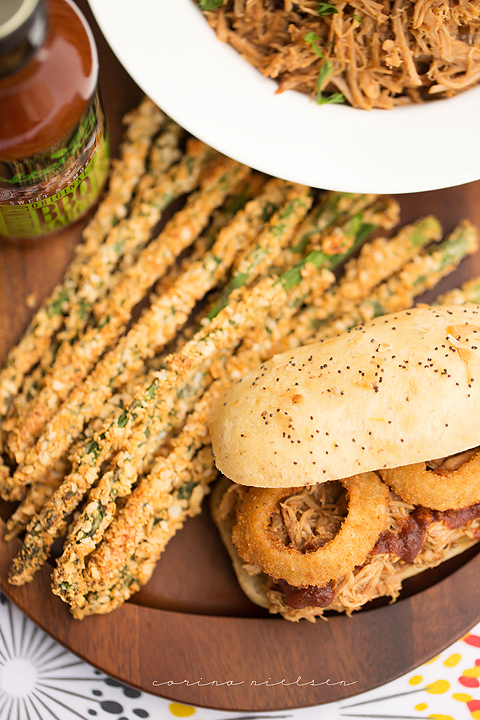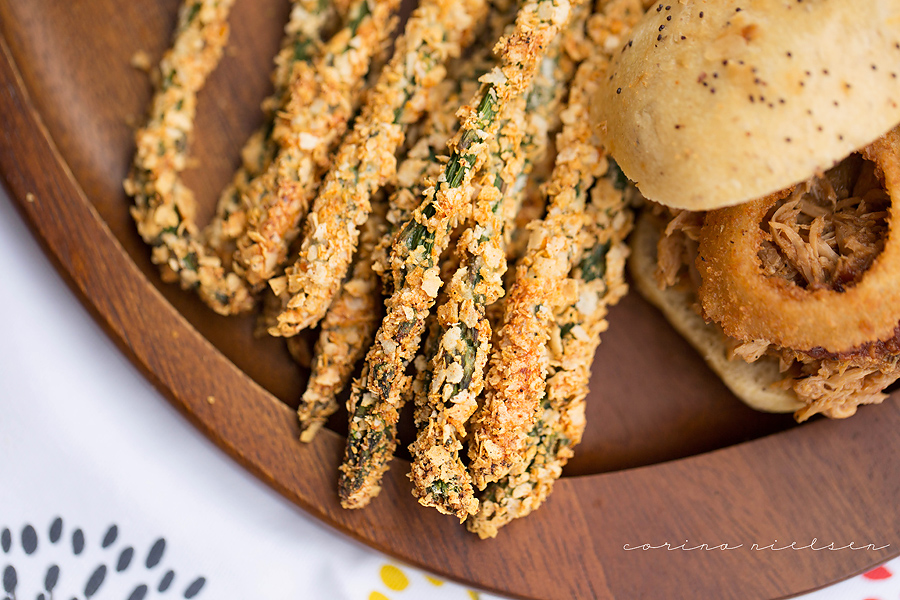 And here are a couple of other things I did with my leftovers…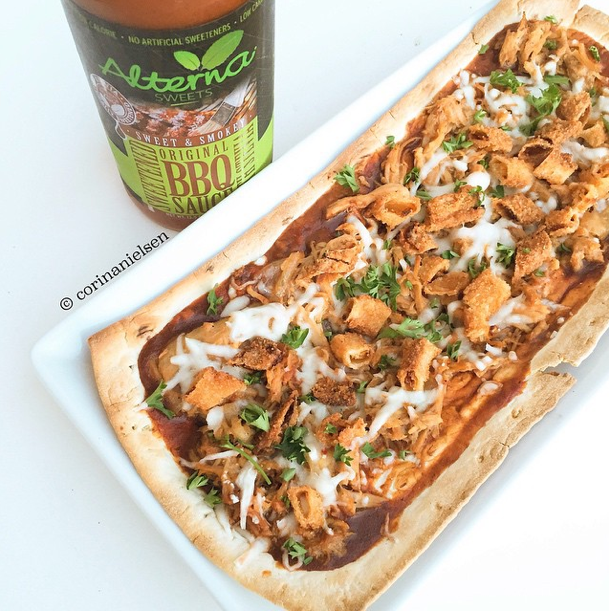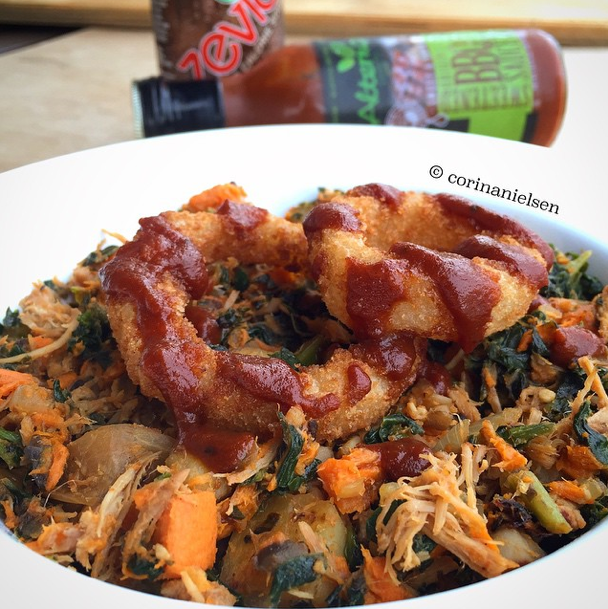 Lots more ideas for my next batch of leftovers but for now, I will leave you with my basic BBQ pulled pork recipe and my BBQ Quest Asparagus!  Enjoy!
Slow Roasted BBQ Pulled Pork

Print recipe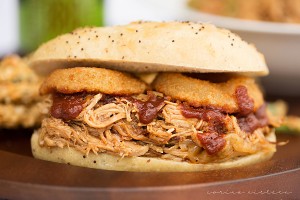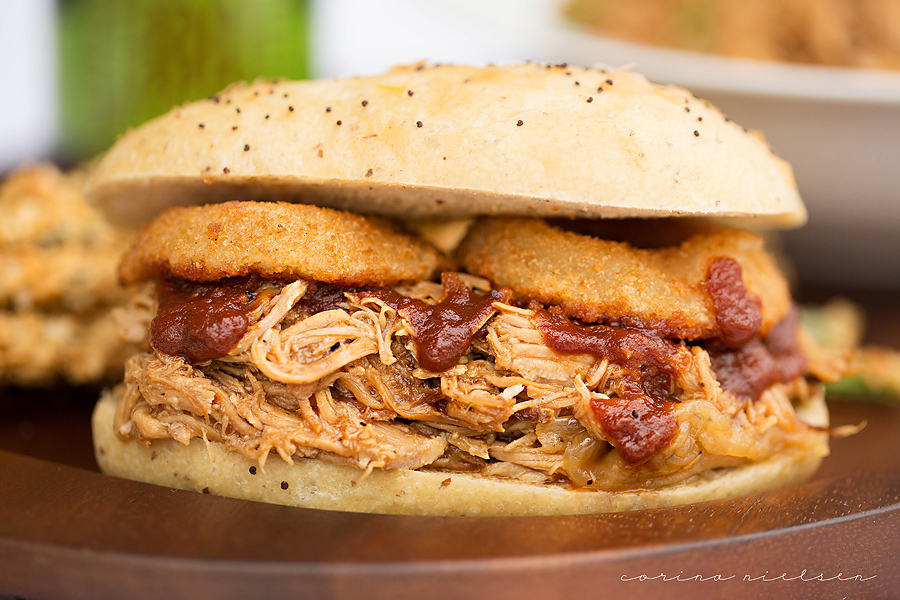 Ingredients
3lb pork loin roast
4 Medium yellow onions (quartered)
1 tablespoon salt
1/2 tablespoon pepper
2 teaspoons garlic powder
1 teaspoon paprika
1/2 teaspoon red pepper flake
1/2 teaspoon cumin
1/4 cup coconut sugar
3 tablespoons apple cider vinegar
1/3 cup chicken stock
1/2 cup Alterna Sweets BBQ sauce (or BBQ sauce of choice)
Optional
2 tablespoons Trader Joe's BBQ Rub & Coffee Seasoning
Directions
Step 1
Preheat oven to 300 degrees.
Step 2
Evenly place quartered onions in the bottom of your baking dish. pour in apple cider vinegar and chicken stock. Combine all seasonings and spices in a small bowl and begin to rub mixture onto pork roast ensuring it's coated on the top, bottom, and sides. Put roast on top of onions, cover with foil, and place in the center of your oven.
Step 3
Roast for 4 1/2 hours. Remove from oven and check meat. If it easily pulls apart using two forks, begin to shred the entire roast. If it's not tender enough, cover and return to the oven for 30 additional minutes to 1 hour. Recheck meat.
Step 4
Once meat is done and shredded, stir in BBQ sauce and coat all of the meat. Return to the oven for an additional 15-20 minutes until ready to serve.
BBQ Quest Breaded Asparagus

Print recipe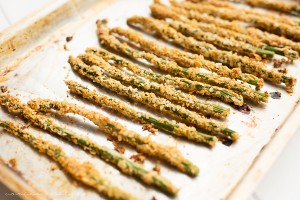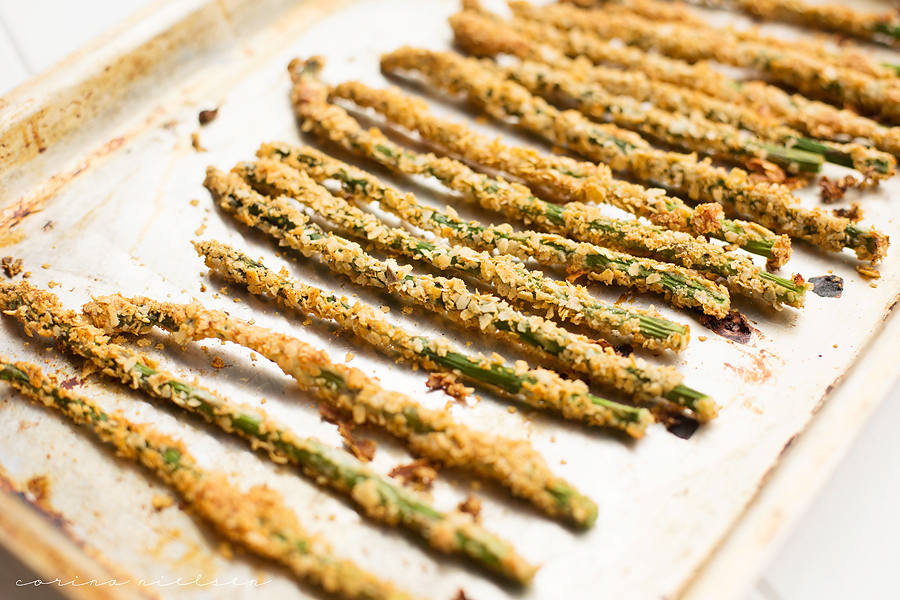 Ingredients
1lb asparagus
1/3 cup Kodiak Power Cakes (or plain flour)
32g Quest Protein Chips (1 package)
1 Large whole egg
2 tablespoons MuscleEgg Organic egg whites
1/2 teaspoon salt
1/4 teaspoon pepper
1/2 teaspoon garlic powder
1/2 teaspoon granulated onion
1/2 tablespoon Trader Joe's BBQ Rub & Seasoning with Coffee
Directions
Step 1
Place Quest chips in a mini food processor and pulse for 20-30 seconds. Pour contents into a shallow dish. Beat whole egg and egg whites. Pour into another shallow dish. Mix Kodiak Cakes and seasonings in another separate shallow dish.
Step 2
Preheat oven to 400 degrees F and line a pan with coin, parchment, or coat with non stick spray.
Step 3
Begin breading asparagus by dipping each spear into egg wash, then coat with Kodiak Cake/seasoning mix, dip back into the egg mixture, into the broken Quest chips, and then onto the baking sheet. Repeat with remaining asparagus.
Step 4
Bake for 15-20 minutes until asparagus is softened and golden brown.
Note
NUTRITIONAL INFORMATION (makes 4 servings): calories- , fat- , carbs- , protein- PER SERVING